You'll be surprised how easy Chocolate Marbled Banana Bread is to make! This banana bread recipe has it all: a moist, fluffy crumb, dots of chocolate chips, and a gorgeous chocolate banana swirl. 
Make sure to try my Chocolate Chip Banana Bread too! I use a special trick to make it the best!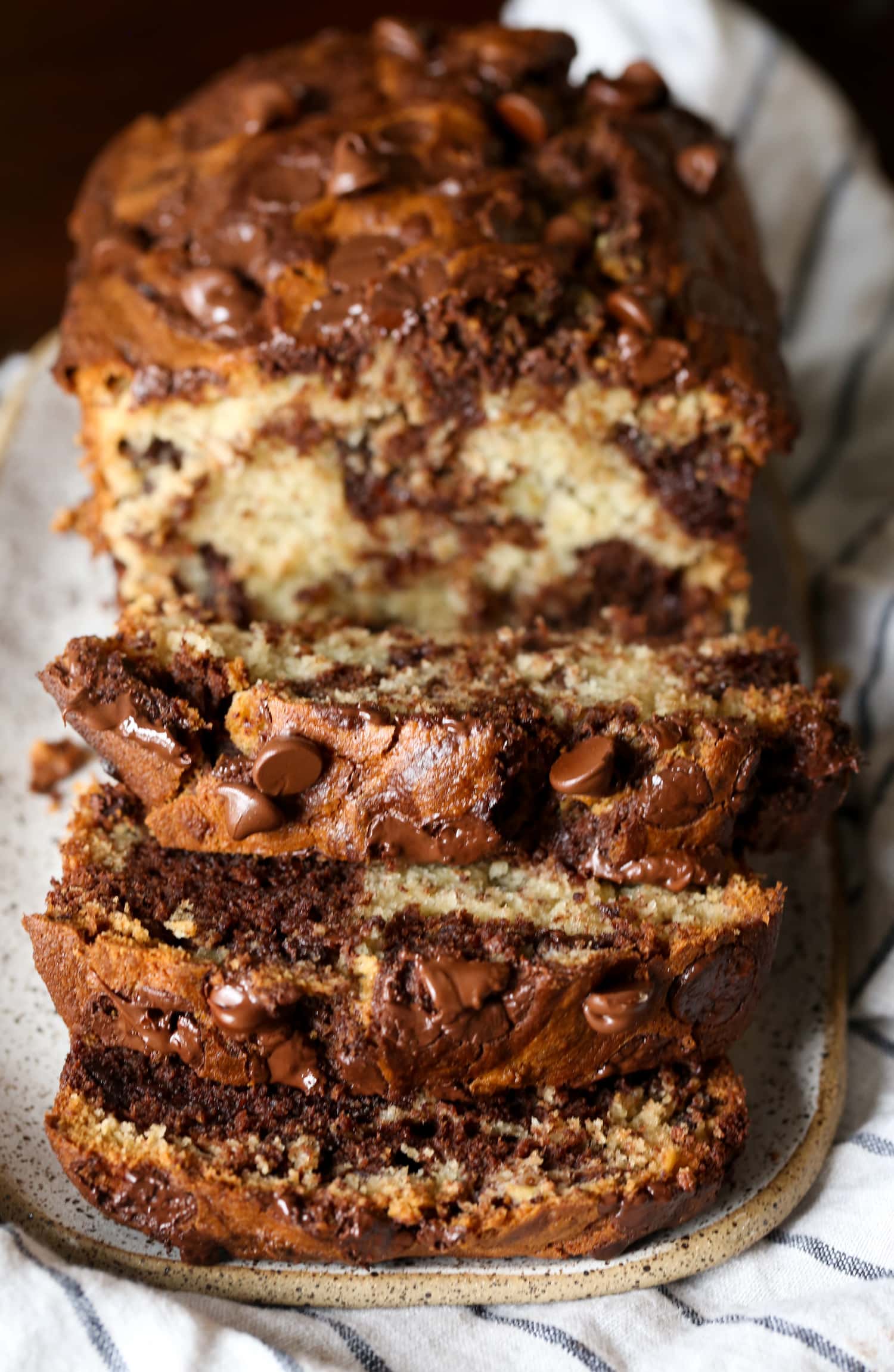 Chocolatey Marble Banana Bread
In case you're new around here, I'm a huge fan of banana bread. This site alone is home to about a dozen or more banana bread recipes, and I swear each one is better than the last! Can't stop, won't stop.
Just when I thought I reached the pinnacle of banana bread glory with my Best Ever Chocolate Chip Banana Bread, however, this Chocolate Marbled Banana Bread comes busting out of the oven!
This marbled chocolate banana bread has it all: sweet fruity flavor, a wonderfully fluffy yet moist crumb, and swirls of chocolate-banana goodness. Sigh. And to top it all off (literally AND figuratively), there's decadent chocolate chips scattered throughout!
What You'll Need
Flour: All-purpose flour is my go-to.
Cocoa Powder: Unsweetened cocoa powder. You can use Dutch process if you prefer, for a fudgier flavor.
Leavening: This banana bread recipe uses baking powder as well as baking soda to achieve a nice rise.
Butter: melted and cooled slightly
Sugar: You'll need light brown sugar for the chocolate banana bread batter, as well as granulated sugar for the regular batter.
Bananas: This is the time for your senior bananas to shine! You'll need bananas that are ripe or slightly overripe for mashing, to give your banana bread the perfect sweetness and texture.
Vanilla: Ideally pure vanilla extract, and not the imitation kind.
Eggs: I use large and like them to be room temperature!
Sour Cream: You can use another dairy alternative, like Greek yogurt or buttermilk. These will also work to bring the banana bread the acidity it needs, plus a hint of tang and added moisture! 
Semi-Sweet Chocolate Chips: This isn't just any old marbled chocolate banana bread – it's also brimming with loads of semi-sweet chocolate!