Updated January 05, 2017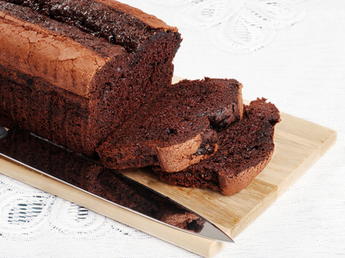 As quintessentially French as a quatre-quarts is, it's hard not to see it as the American pound cake's next of kin, a moist loaf cake with great keeping qualities, the kind of cake you like to have around for anytime nibbling. The name means "four quarters," and it refers to the classic four ingredients in this type of cake, as well as to the fact that the ingredients are used in equal proportions. Traditionally, a quatre-quarts is made by weighing 3 whole eggs—to get the mathematical base, so to speak—and then weighing out equivalent amounts of sugar, flour, and butter. The proportions for the quatre-quarts from bread baker/pastry chef Jean-Luc Poujauran are almost traditional, give or take a few grams here and there, but the use of brown sugar and the inspired addition of chocolate, while timelessly delicious, are not recorded in the history books—a grievous oversight.
Keeping: Wrapped airtight, the cakes will keep for 4 days at room temperature or for 1 month in the freezer.
AN AMERICAN IN PARIS: I sometimes spice up this cake by adding 1½ teaspoons ground cinnamon or ¼ teaspoon freshly grated nutmeg to the dry ingredients or by beating the grated zest of 1 orange into the batter when I'm beating the eggs and sugar together. In fact, if you like the flavor of orange with chocolate, you might want to fold about ½ cup chopped candied orange peel into the batter before you spoon it into the loaf pans.
Makes4 Small Loaf Cakes

Recipe CourseDessert, Snack
Dietary ConsiderationPeanut Free, Soy Free, Tree Nut Free, Vegetarian
Five Ingredients or LessYes
MealBrunch, Dinner, Snack, Tea
Taste and TextureChocolatey, Sweet
Type of DishCake, Chocolate Cake, Chocolate Dessert, Dessert, Pound Cake
Ingredients
4 ounces (115 grams) bittersweet

chocolate

, finely chopped

1¼ cups (175 grams) all-purpose flour

1 teaspoon double-acting

baking powder

1¼ sticks (5 ounces; 140 grams)

unsalted butter

, at room temperature
1 cup (180 grams) packed

light brown sugar

4 large

eggs

, at room temperature
1 large

egg yolk

, at room temperature
1/3 cup (85 grams) homemade creme fraiche, or store-bought or heavy cream
Instructions
Center a rack in the oven and preheat the oven to 350°F (180°C). Butter four 5¼ x 3 x 2½-inch (14.5 x 7.5 x 6.5-cm) disposable aluminum foil mini loaf pans. Dust the insides of the pans with flour, tap out the excess, and put the pans on an insulated baking sheet or on two stacked regular baking sheets.
Melt the chocolate in a bowl over—not touching—simmering water or in a microwave oven; set it aside. Whisk the flour and baking powder together and set aside as well.
Working in a mixer fitted with the paddle attachment, beat the butter on medium speed until it is smooth and light. Add the sugar and beat for 2 minutes. One by one, add the whole eggs and the yolk, beating for 1 minute after each addition. Don't be concerned when the mixture curdles—it will come together when you add the dry ingredients. Reduce the mixer speed to low and beat in the cream, followed by the melted chocolate. When the chocolate is thoroughly incorporated, add the dry ingredients, mixing only until they disappear into the batter.
4. Divide the batter evenly among the pans. Bake the cakes for 35 to 40 minutes, or until a knife inserted into the center comes out clean. Transfer the cakes to a cooling rack and cool for about 5 minutes before unmolding; turn the cakes right side up and cool to room temperature.
2002 Dorie Greenspan
YOUR RECENTLY VIEWED RECIPES
We are adding your Comments.

Thank you! Your comment has been added.
We are sorry. There was an error tyring to post your rating and review.