Cilantro Lime Marinated Steak with Corn Salsa is just about as good as dinner can get! Sublime cilantro and lime-marinated steaks with a hint of garlic and spice meet roasted corn salsa with jalapeños, cilantro, onion, and more lime for juicy, tender steak. 
For more great grilled steak recipes, bookmark these for your next cookout: Grilled Steak and Mushroom Kabobs, Black N' Blue Grilled Steak Salad, and a Quick Steak Marinade.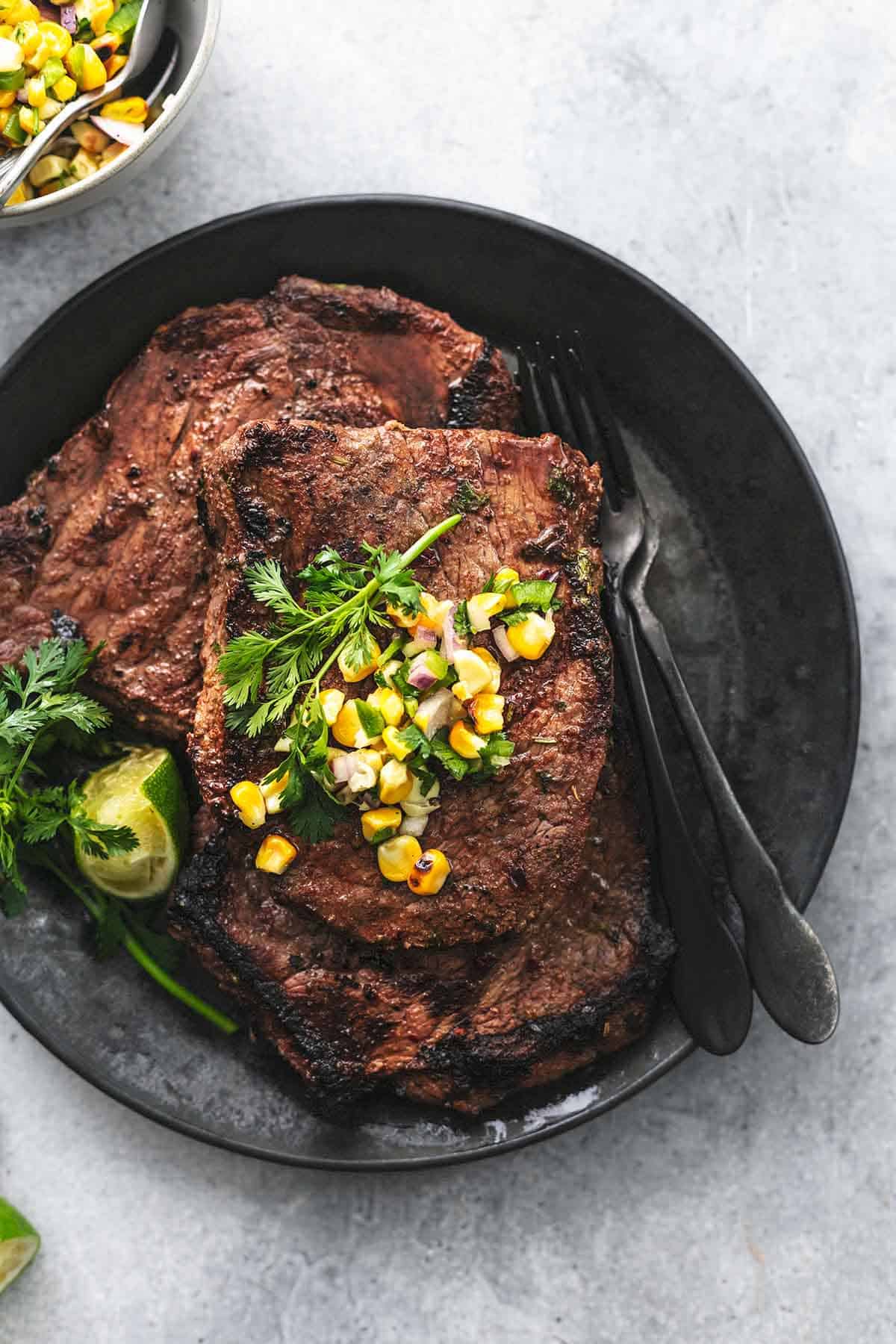 I can't stop grilling! Before I've plated the meat I'm currently grilling for dinner, I'm already asking the hubs what we should grill the next night. I can't help it — the weather has been fantastic and we have been cooped up way too long the past few months. I want to do everything I possibly can outside, including cooking and eating! 
When a steak craving hits, I always try to think of a new way to marinade it. One of my favorites is in lime juice, as the acid helps the juices and other seasonings to really soak through and penetrate all of the meat for a juicy, delicious, out-of-this world tender steak. 
Add to it the roasted corn salsa (another favorite summer indulgence) and what we have here is one of the most perfect grilled recipes ever, if I do say so myself! 
Here's how you make it
First off, you'll want to make the quick grilled steak marinade. To do this, you'll want to combine all of the marinade ingredients (oil, salt, lime juice, red pepper flakes garlic and onion powder, plus cilantro) in a bowl, then add the steaks into the marinade or zip them up all together in an airtight bag. Place in the fridge for 30 minutes. 
While the steaks are doing their thing, get the corn ready to be roasted by rubbing the cobs all over with olive oil and salting. Set those aside and get to work on the rest of the salsa ingredients, by adding together the jalapenos, onions, and cilantro in another bowl.
Preheat the grill to medium, grill the corn for 10-12 minutes, turning occasionally to allow it to be roasted on all sides. When it's cooled enough to handle, use a knife to cut off the kernels and add them to the other salsa ingredients. Mix together with lime juice and salt to taste. Put it aside again till the steak is done.
Add the steak to the preheated grill or pan, and throw out any extra marinade. Cook for 6-8 minutes on each side, or until your steaks have reached desired doneness. Take the steaks off the heat, let them rest for 5 minutes, then slice and serve with the corn salsa!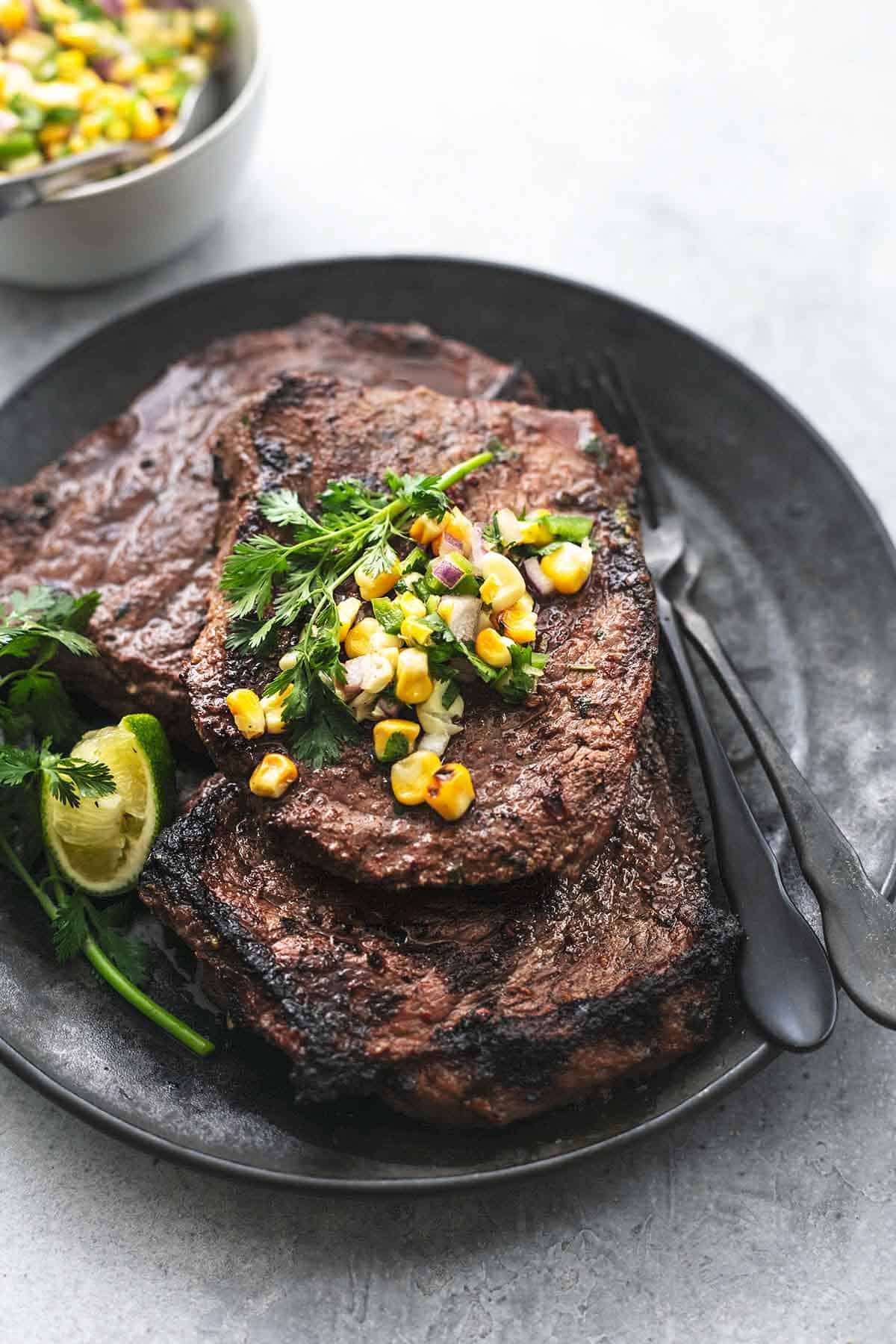 How long do you cook steak on each side?
Depending on how you like your steaks done, the amount of time they need to grill or cook in a pan will vary. 
For rare, cook the steaks for only 2-3 minutes on each side. For medium-done, cook them for 4 minutes per side and for well done, cook for 5-6 minutes per side. Be sure to only turn the steak once, so as not to dry it out. Use tongs rather than a fork to turn the meat so that the juices don't run out before it's had time to rest. 
What is the best steak to grill?
I like to grill flank or skirt steaks, but other great cuts of beef that cook up well with this steak recipe on the grill include ribeye, filet, t-bone, porterhouse, top sirloin, flat iron, bottom round, and striploin.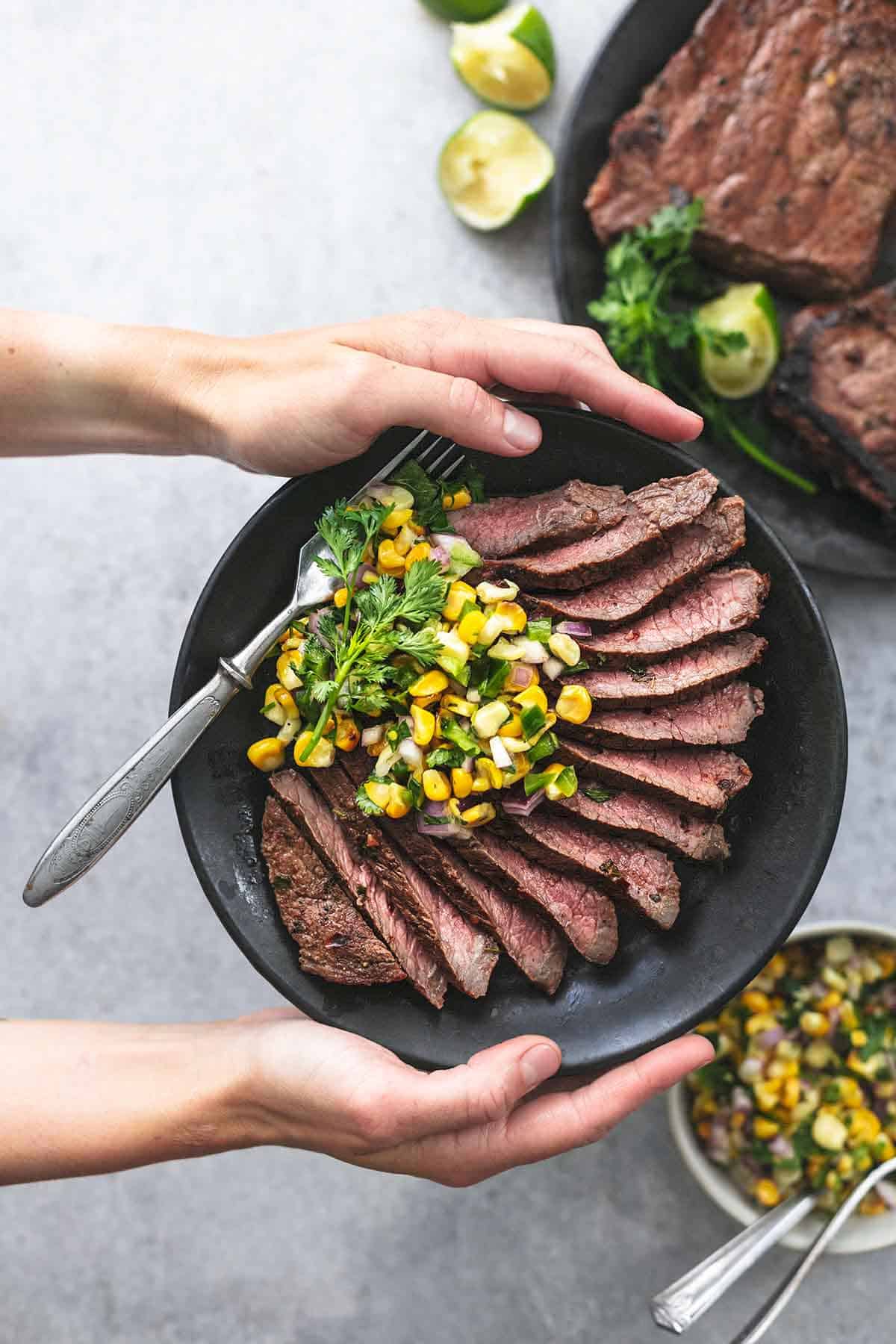 Should you close the grill when cooking steak?
I close the grill lid when I'm cooking thick steaks because the temperature stays high and even. This doesn't work as well with thinner cuts as closing the lid will cause the steak to cook too fast and dry out. 
Serving Suggestions
While the corn salsa makes a great topper for this steak marinade without soy sauce, I do like to add some other side dishes to round out this meal.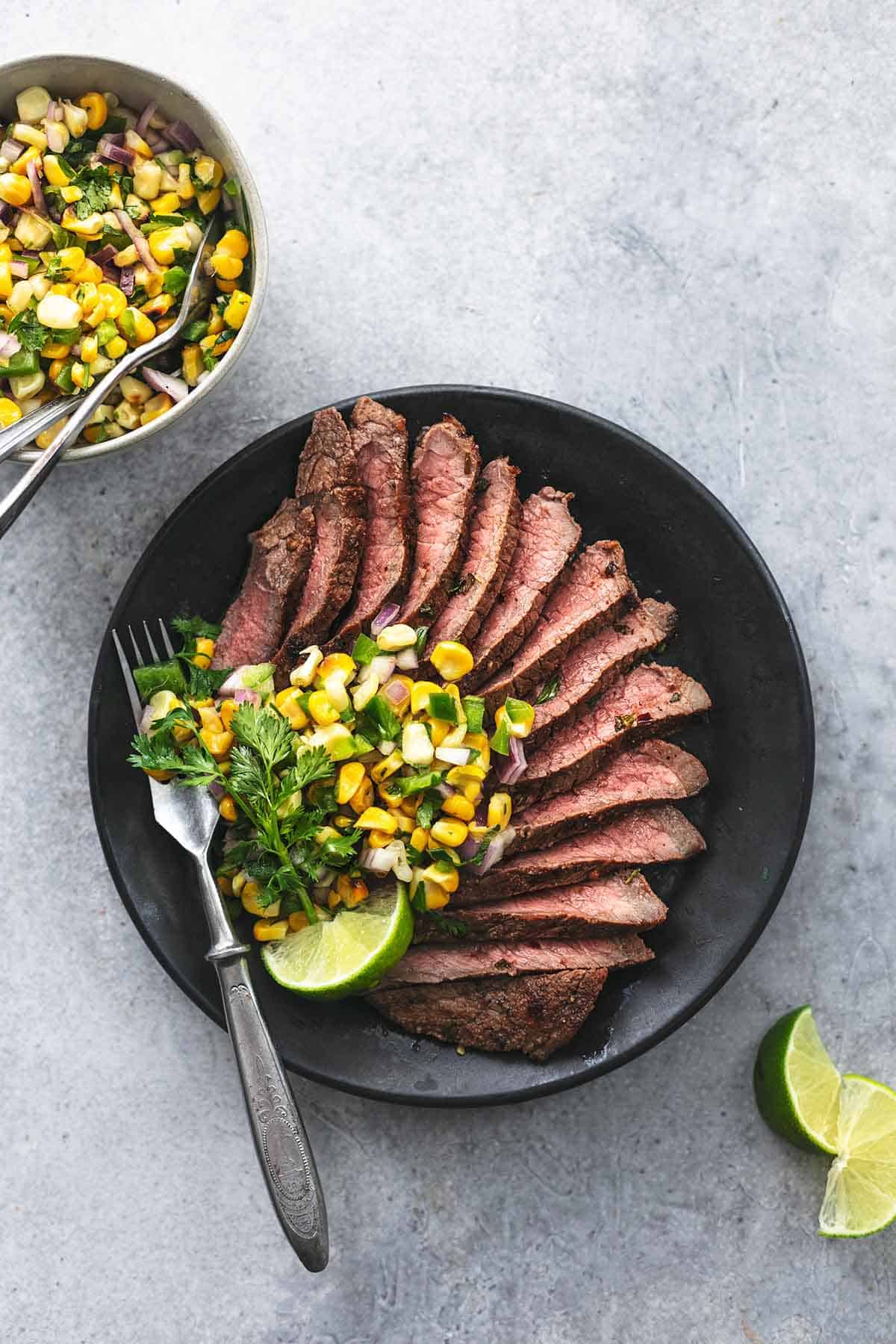 Most popular beef recipes
Did you make this recipe? I'd be thrilled if you would give it a rating!
Combine all marinade ingredients and stir vigorously. Combine with steaks in a bowl or zip-seal bag and chill for 30 minutes.

While steaks are marinating, begin preparing the corn salsa. Rub olive oil all over corn and season generously with salt. Set aside.

In a medium bowl combine diced jalapenos, onions, and cilantro. Set aside.

Preheat grill to medium. Grill corn for 10-12 minutes, turning occasionally. Allow to cool until you can handle the corn, then slice off kernels and combine with the salsa. Add lime juice and salt to taste. Set aside until ready to serve.

Transfer steak to preheated grill, discard excess marinade. Grill for 6-8 minutes on each side until cooked to desired doneness. (140 degrees F for medium, or 150 degrees F for medium-well)

Remove from heat and rest for 5 minutes before thinly slicing and serving with corn salsa. Enjoy!
Steak cuts: This marinade works well for any grilling steak – flank steak or skirt steak, sirloin, bottom round, new york strip, etc. 
Stovetop method: To make this on the stovetop, follow directions as written but cook over medium-high heat for 5-7 minutes, then turn the steaks and reduce heat to low for another 5-7 minutes until cooked to desired doneness. 
For the corn salsa: You can use canned and drained corn for the salsa. Sautee the corn in a pan for 3-5 minutes to give it a roasted flavor, or toss it in straight from the can. Make it extra spicy by adding another jalapeno. 
Calories: 532kcal | Carbohydrates: 10g | Protein: 47g | Fat: 35g | Saturated Fat: 15g | Cholesterol: 138mg | Sodium: 711mg | Potassium: 741mg | Fiber: 1g | Sugar: 3g | Vitamin A: 226IU | Vitamin C: 3mg | Calcium: 16mg | Iron: 4mg