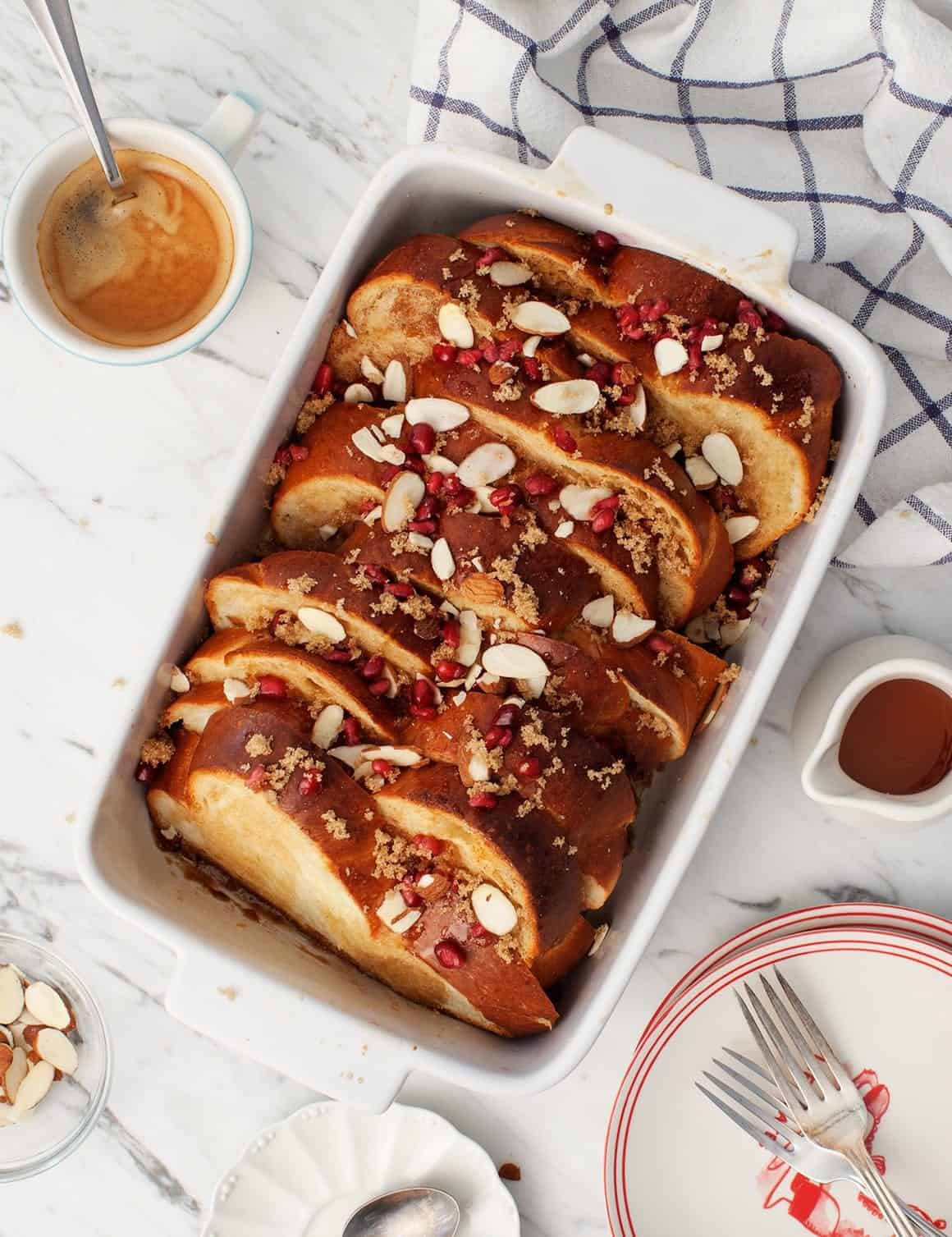 Tell me, what's your breakfast weakness? Pancakes? Waffles? Mine is French toast. Eggy bread that's soft in the middle and crisp around the edges with a good dash of cinnamon throughout… what's not to love? Well, it can often be quite an indulgent sugar bomb, which is why I like to make it at home where I can use ingredients that are a bit lighter. I usually make French toast on the stovetop for just myself and Jack, but today I'm sharing this baked version which would be so delicious for Christmas morning or a holiday brunch where you're cooking for more than 2 (though Jack had no problem finishing this off…).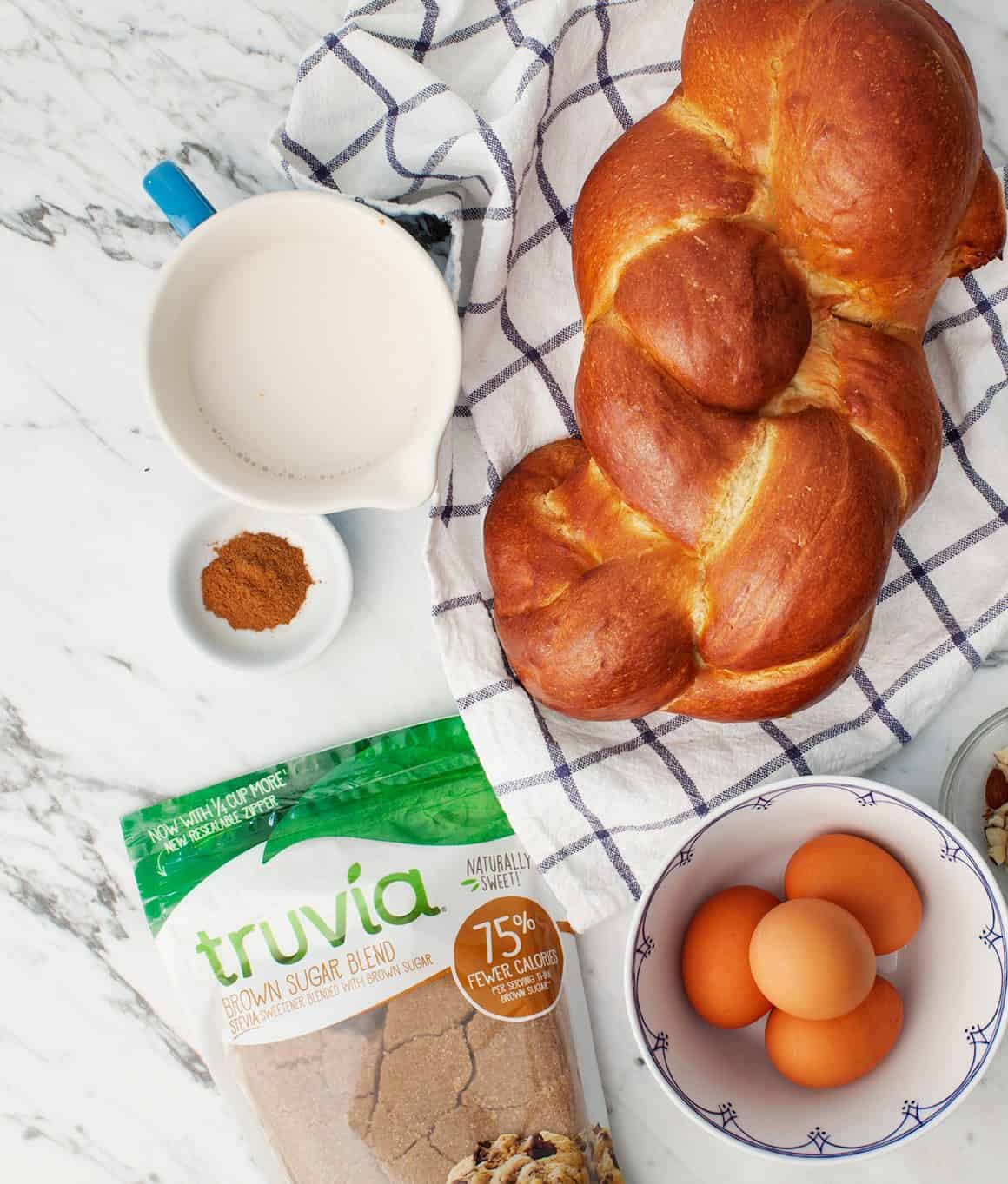 This French toast is lighter than most – I swapped out heavy cream for almond milk and instead of regular sugar I used Truvia Brown Sugar Blend. I get SO MANY requests for lower sugar recipes stevia-based sweetners. That's why I'm happy to share this recipe in partnership with Truvia.
The best thing about Truvia Brown Sugar Blend is that the texture is the exact same as regular brown sugar because it's made from a blend of Truvia Natural Sweetener and brown sugar. The blend is sweeter than regular brown sugar so you use half as much for the same flavor and sweetness but with 75% fewer calories than full-calorie brown sugar. I mixed it with cinnamon and sprinkled it all over this dish before I baked it. It caramelized on top in the oven giving the top of the bread a delightful crisp edge. 

This recipe is super easy to make. Start with challah bread that's a few days old and slice it pretty thick. Dip it in the egg/almond milk mixture, and load it into the baking dish.

Sprinkle with the Truvia Brown Sugar Blend and cinnamon mixture before baking. Once baked, I topped mine with pomegranates and toasted almonds, but feel free to serve this with whatever toppings or fruit you like – blueberries or raspberries would be delicious!

Cinnamon Brown Sugar Baked French Toast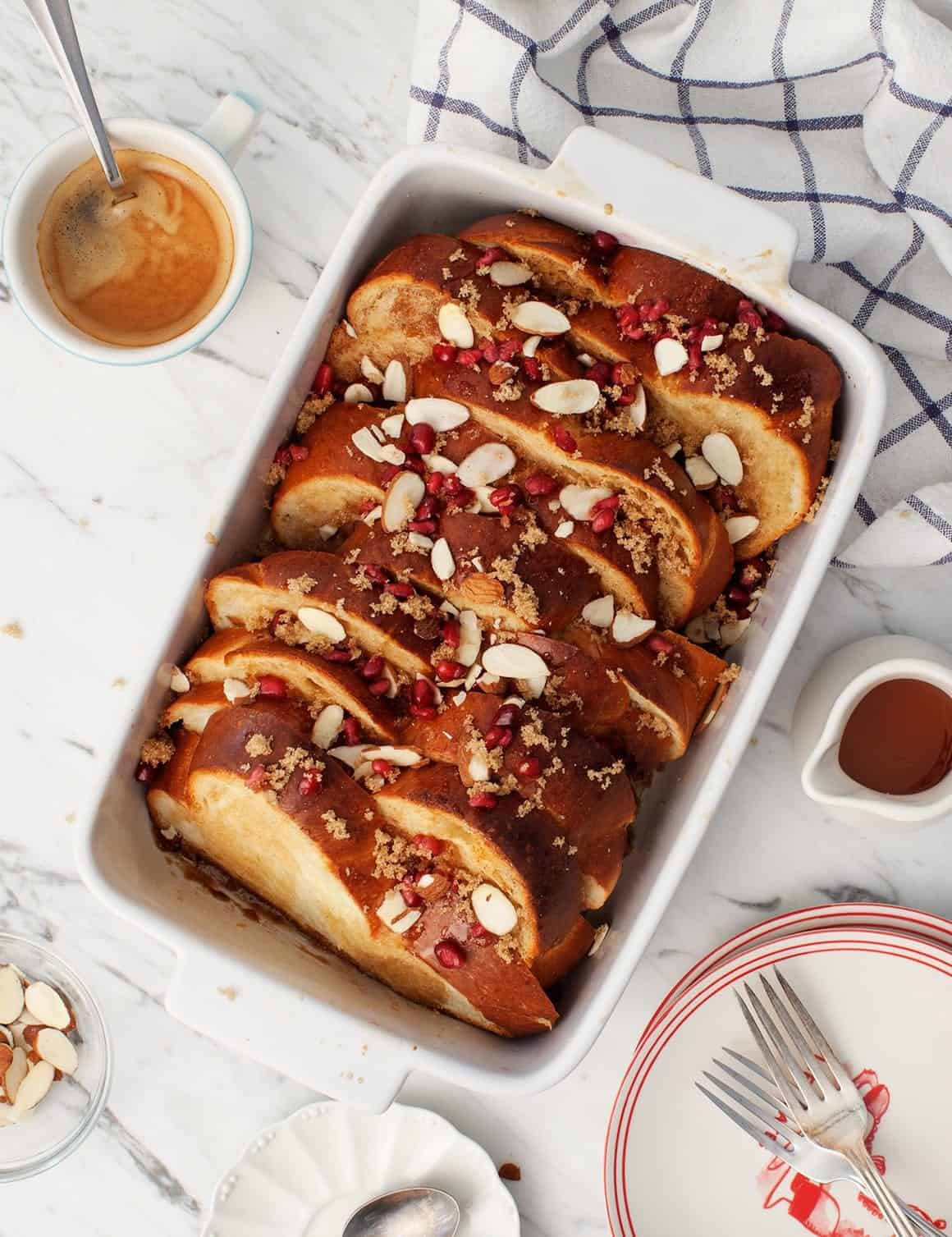 3 eggs
¾ cup almond milk
1 tablespoon Truvia Brown Sugar Blend
1 heaping teaspoon cinnamon
pinch of sea salt
10 to 12 (1-inch) slices challah bread, about 1 loaf, cut on a slight diagonal
Non-stick spray or olive oil
3 tablespoons Truvia Brown Sugar Blend
¼ heaping teaspoon cinnamon
¼ cup sliced almonds, toasted
¼ cup pomegranate arils, or desired fruit
Maple syrup, optional
Preheat the oven to 350°F and lightly grease a 9×13 baking dish with nonstick spray or olive oil.
In a medium bowl, whisk together the eggs, almond milk, 1 tablespoon brown sugar, 1 teaspoon of cinnamon, and sea salt.
In a small bowl, stir together the 3 tablespoons of brown sugar and ¼ teaspoon of cinnamon.
Dip each slice of bread into the egg mixture and overlap them, slightly tilted, in the baking dish. If one side of your loaf is higher than the other, alternate the slices as you place them in the dish so the tops are vertically equal. This will help them bake and brown more evenly. Sprinkle with the brown sugar/cinnamon mixture and bake for 30 minutes or until the eggs are set and the top is golden brown and crisp.
Top with the toasted almonds and fruit and serve with maple syrup, if desired.
3.4.3177
This post is in partnership with Truvia, thank you for supporting the sponsors that keep us cooking!
If you make this, let us see! Tag your photo with
#loveandlemons
on
Instagram
.