This easy Cinnamon Butter recipe goes on EVERYTHING! Buns, muffins, banana bread, your morning toast, and more. A Texas Roadhouse copycat that you won't be able to live without!
Friends.
This recipe has been a looooong time coming.
I've been making this Cinnamon Butter on repeat for months now, and we've been putting it on all kinds things.

MY LATEST VIDEOS
Although this is the closest thing to the famous and totally addictive Texas Roadhouse Cinnamon Butter, it's actually not inspired by it.
Don't get me wrong, I've indulged in my share of warm Texas Roadhouse rolls slathered in cinnamon honey butter over the years when I get down South. But this recipe came about when I realized that the cinnamon spread my mom used to buy us for our toast was no longer sold at the grocery store.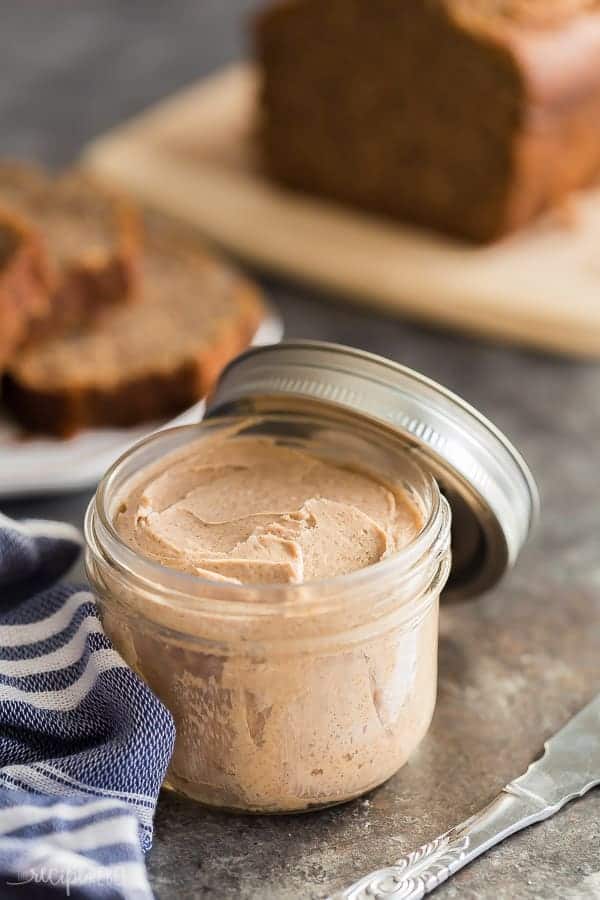 I'll be honest — I was a little distraught.
I had a serious craving that wasn't going to just go away, so my only option was to figure out how to make it at home.
Since that day I haven't stopped making it, and I often will bake more breads and muffins just so I don't resort to eating it with a spoon.
How do you make Cinnamon Butter?
There are only 5 ingredients that make up this easy and delicious spread: Butter, honey, powdered sugar, cinnamon and salt.
I have tried making cinnamon honey butter without the powdered sugar, and I could just never get the taste and texture quite right like that. So for me, a little powdered sugar makes this recipe just perfect, though if you prefer you could try adding additional honey in place of the powdered sugar, but I think this way is the best way.
Tips for storing this Cinnamon Butter:
You can store cinnamon butter on the counter at room temperature for up to 1-2 days. If you use hard margarine (don't judge!) you might be able to store it even longer, but at that point I really like to refrigerate to extend the life of it (since, believe it or not, I don't eat the whole jar with a spoon the day I make it 😉 ).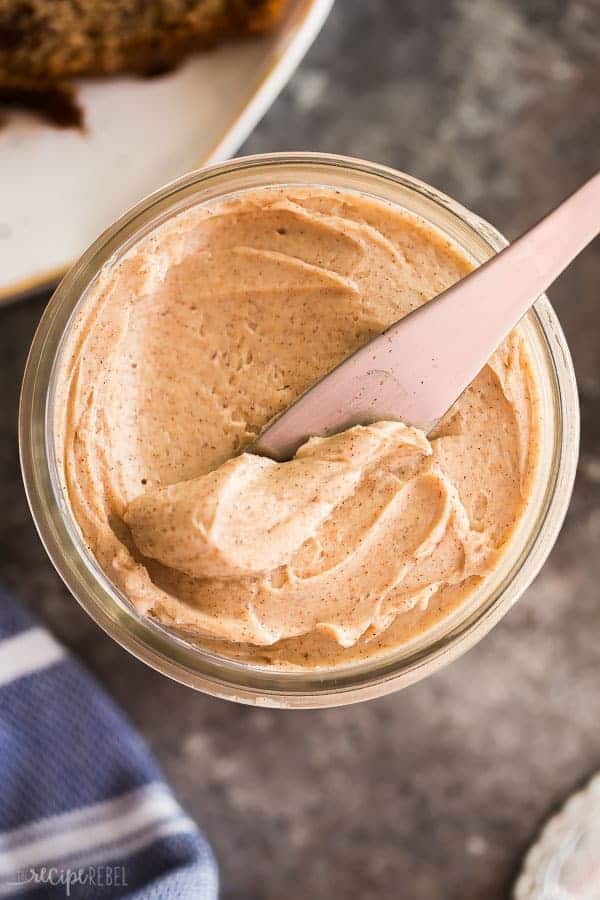 Cinnamon honey butter can be refrigerated for 1 month or frozen for 6 months without the quality becoming affected.
What to serve this Cinnamon Butter with (besides a spoon):
These quick breads are all recipes we enjoy with this spread!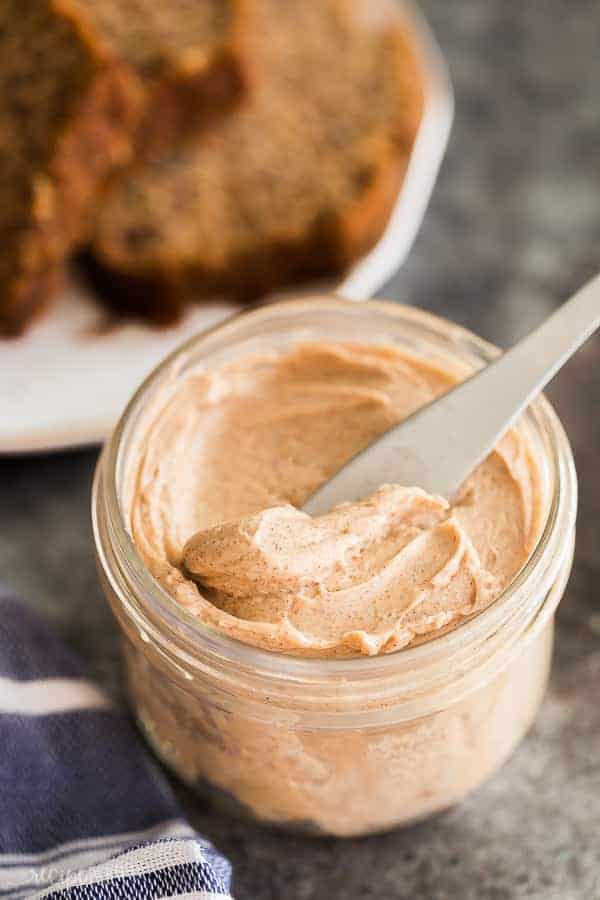 It's also great on pancakes, waffles, bagels or toast (I highly recommend you try it with cinnamon raisin bread!).
Variations of this recipe:
This cinnamon honey butter is naturally gluten-free and vegetarian.
You can easily make this recipe dairy-free by substituting the butter for vegan margarine (I use Becel)
You can make this recipe vegan (though I haven't tried this way myself) by substituting the butter for vegan margarine and the honey for maple syrup. Note that this will give it a distinct maple flavour.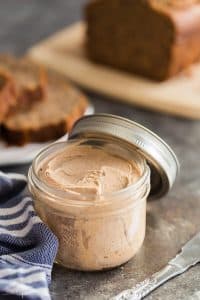 Cinnamon Butter
This easy Cinnamon Butter recipe goes on EVERYTHING! Buns, muffins, banana bread, your morning toast, and more. A Texas Roadhouse copycat that you won't be able to live without!
Prep Time 5 minutes
Total Time 5 minutes
Servings 16 tablespoons
Calories 90kcal
Author Ashley Fehr
Ingredients
1/2

cup

unsalted butter

room temperature

1/2

cup

liquid honey

1/4

cup

powdered sugar

(plus more to taste)

2

teaspoons

ground cinnamon

1

pinch

salt
Instructions
In a medium bowl, beat butter, honey, sugar and cinnamon until smooth. 

Add salt and beat until smooth. Taste and adjust salt, sugar, and cinnamon to your preferences.

Serve with bread and other baked goods. See post above for more information on storage.
Nutrition (this is an estimate)
Nutrition Facts
Cinnamon Butter
Amount Per Serving
Calories 90
Calories from Fat 45
% Daily Value*
Total Fat 5g
8%
Saturated Fat 3g
15%
Cholesterol 15mg
5%
Sodium 3mg
0%
Potassium 5mg
0%
Total Carbohydrates 10g
3%
Sugars 10g
Vitamin A
3.5%
Vitamin C
0.1%
Calcium
0.5%
Iron
0.4%
* Percent Daily Values are based on a 2000 calorie diet.