Coffee Protein Smoothie
Easy3 minsGluten-Free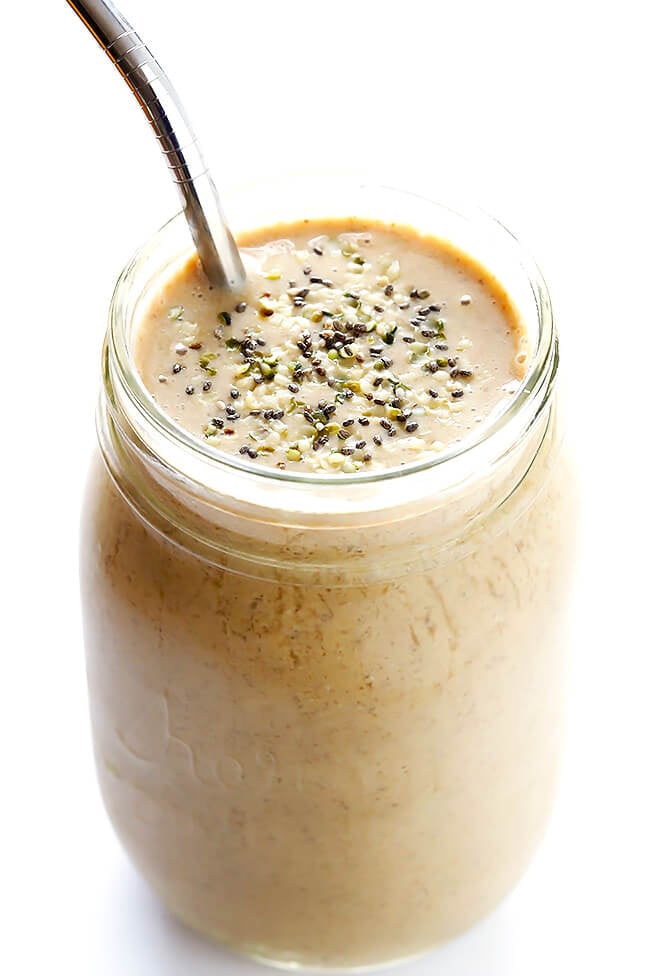 This body of mine has never done well with long winters.
I wish it did — that I could be that girl who looks forward pulling out her cozy winter clothes each year, who loves bundling up in layers upon layers to go out, who feels a thrill when that sharp blast of cold winter air takes your breath away, who thinks there's nothing more magical than snow on the ground, who can't wait to come inside when the sun goes under at 5pm and make a warm meal and take a piping hot bath, who tells everyone that this is her most wonderful time of the year. I have good friends like this.
But man, the older I get, the more I'm convinced that — as The Weepies say — I was made for sunny days.
Nice, warm, bright, long, grassy, flip-floppy, sundress-y, picnic-y, swimming-pool-y, iced-beverage-y, grill-All-The-Things-y, sunny summer days.
Man, I love 'em. And at this time of year, I find comfort in at least knowing that we're now on the upswing again, and the days are getting longer and brighter and moving us closer and closer to summertime. And I do, at least, enjoy me a good warm bowl of soup and piping hot bath, and some of my other favorite ways to push through those winter blues. But, let's be real, a good cup of coffee (or three) also helps. And for an extra boost this winter, I've been blending mine into a smoothie with lots of extra protein and electrolytes to give some extra energy to my days. And — you know — maybe pretend for a hot second while holding my icy smoothie in January that it's nearly summertime again?! ?
Ha, whatever works, right?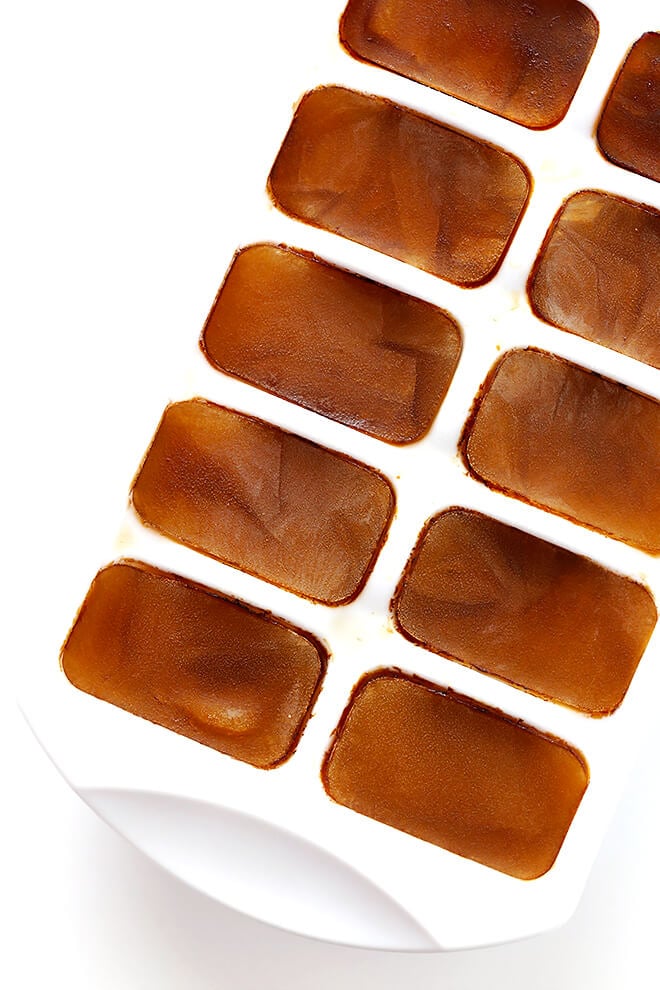 Well, whether you're reading this post in January or sometime later this July, I really do think that this smoothie is a good one that you can enjoy any time of year. And it's super delicious. And…it's the perfect use for leftover coffee!
Simply pour your coffee into an ice cube tray to make some little coffee ice cubes. Then freeze 'em until solid.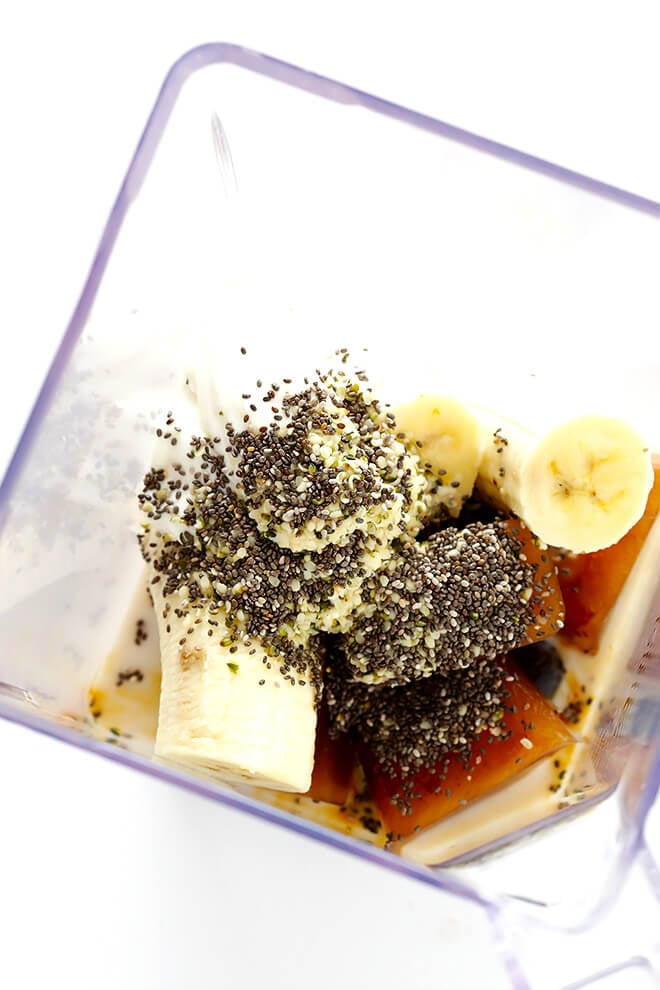 Then, once you're ready to make the smoothie, just add them to a blender, along with a banana (full of good potassium/electrolytes), and all of those good protein-packed ingredients (Greek yogurt, almond milk, chia seeds and hemp seeds). Oh, and if you're into protein powders, feel free to add in a tablespoon if you'd like. (I'm into this one lately.)
Blend it all up until smooth…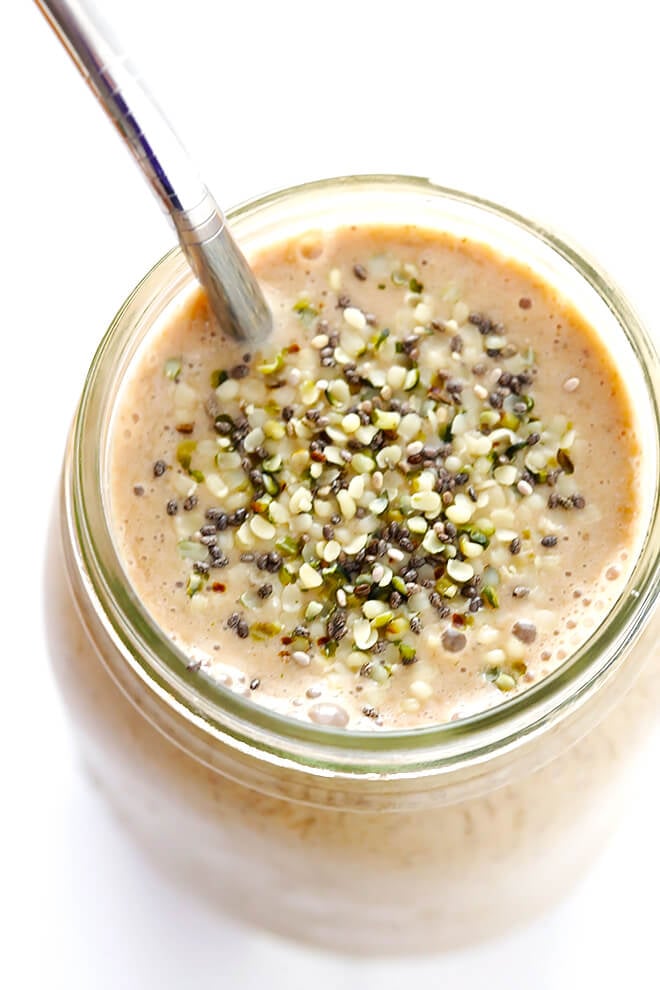 …and then voila! This delicious protein-packed smoothie (or frappe, if we want to get fancy) will be yours to enjoy.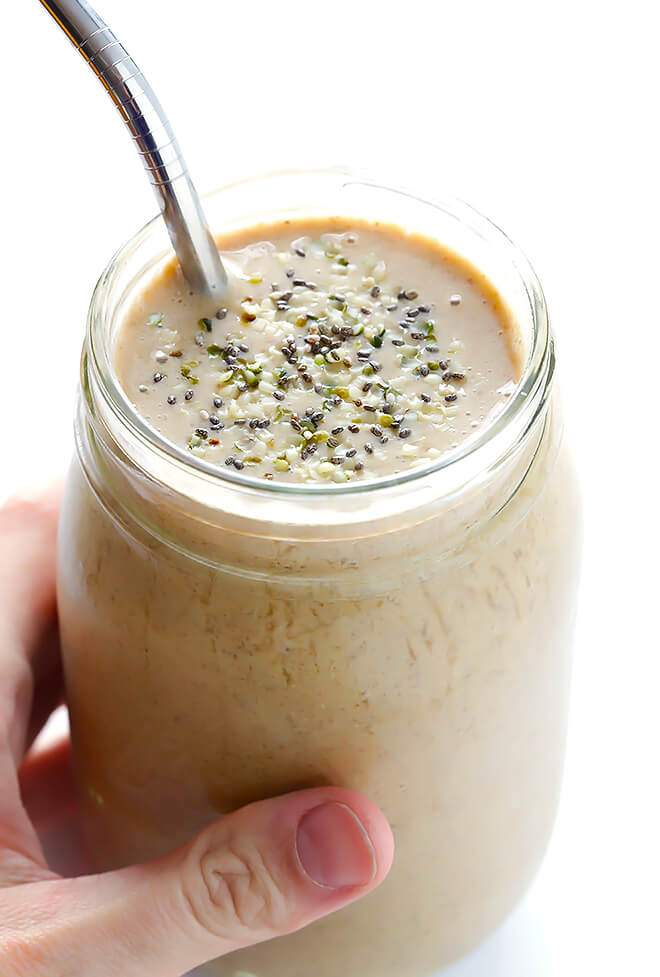 Perfect for giving you a boost to make the most of a snowy wintery day…or a gloriously warm and sunny day…or any ol' day in between.
Enjoy, friends! ♡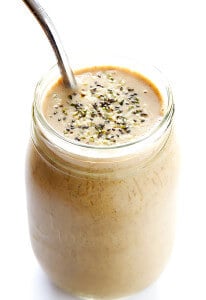 Yield: 1 serving
Coffee Protein Smoothie
Ingredients:
1 cup strong coffee, frozen into ice cubes (see tips below)
1 banana
2/3 cup almond milk
1/3 cup plain or vanilla Greek yogurt
1 tablespoon chia seeds
1 tablespoon hemp seeds
Directions:
Add all ingredients to a blender and pulse until smooth.
Serve immediately, garnished with extra chia and/or hemp seeds if desired.

Difficulty: Easy
Category: Gluten-Free

If you make this recipe, be sure to snap a photo and hashtag it #gimmesomeoven. I'd love to see what you cook!
This post contains affiliate links.