M&M Cookie Dough Stuffed Chocolate Sprinkle Cookies are a soft chocolate cookie filled with sweet sugar cookie dough loaded with M&Ms candy!! There is so much fun packed into this perfect party cookie recipe!
I have been waiting for the perfect day to share these cookies with you. I feel like a broken record saying this, but these might be my new favorite cookie I have created in a while. I mean, I said that with my Cinnamon Roll Cookies (dude, make them) and I might have said it again even more recently with my PB&J cookies…but I'm on roll I guess? Because these beauties are the ultimate party cookie!
Stuffed cookies have kinda-sorta become my new favorite thing. I feel like the possibilities are endless…you should see my working list! BUT in the meantime, here are some stuffed chocolate chip cookies I've already done that I think you will love: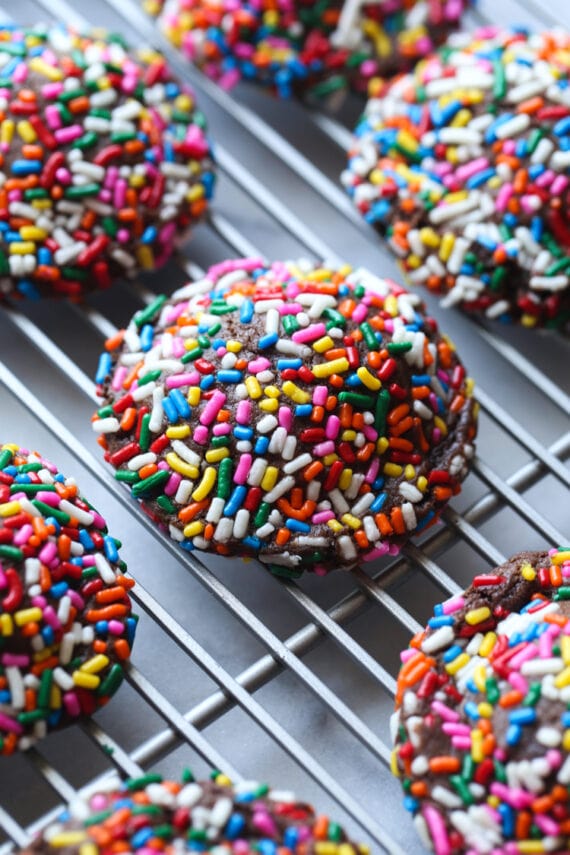 Stuffed Cookies are Easy to Make and SUCH a Fun Surprise Inside!
But today we I have a thick, chocolatey cookie rolled in SPRINKLES stuffed with M&M cookie dough that stays like cookie dough even after you bake them! Don't worry, the filling is egg-free so everything's safe!
The idea for these cookies came from Instagram, where one of my followers sent me a little video of someone breaking open a cookie…you know those videos, right? Seriously drool-worthy! She asked if I could try and recreate the recipe…and I konw a good idea when I see one!
So while I never tried the cookie on Instagram, I came up with MY version based on appearances only, and if theirs is half as good as mine, I think everyone's a winner!
How To Make Cookie Dough Stuffed Chocolate Sprinkle Cookies
Don't worry, this cookie recipe is SUPER easy, you just have to factor in a little chill time to the process. Everything will handle and bake better chilled, so don't skip that part!
How To Assemble The Cookies
Make both of the doughs, the filling dough AND the chocolate cookie dough. Let both of those chill for at least 2 hours.
When you are ready to bake, portion out the M&M dough into 16 equal balls of dough (1- tablespoon each).
Then scoop out the chocolate cookie dough using a medium (2- tablespoon) sized cookie scoop. With each scoop of chocolate cookie dough, I like to divide it in half and form two rounds of dough. Sandwich the M&M dough in between the rounds and then form the chocolate dough around the M&M dough, sealing it in.
THEN roll that ball of dough in sprinkles!
It's all very easy, don't let the multiple steps throw you because what you are about to bake up is SO worth it!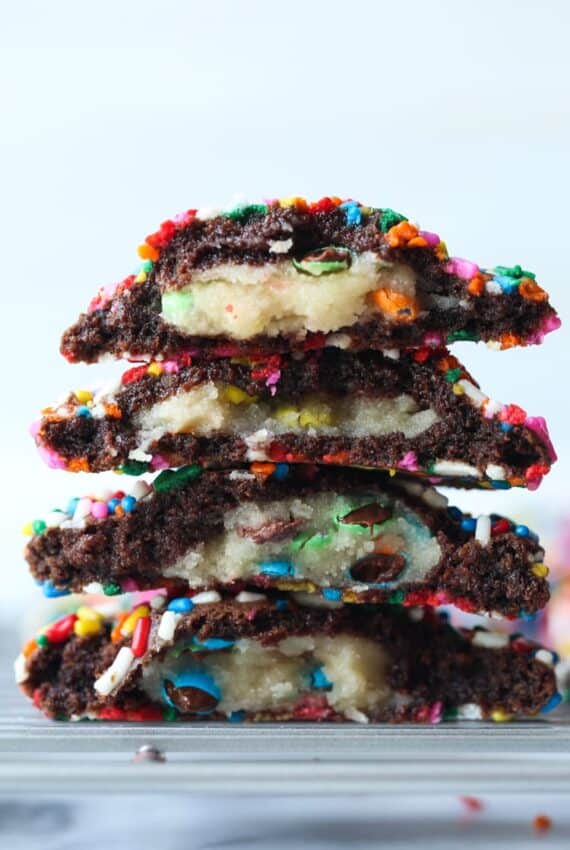 Looking for even MORE Stuffed Cookies? Try these: