Cranberry Orange Banana Bread
Easy1 hourQuick
Raise your hand if you grew up making cranberry orange bread around the holidays!
Ok, now, raise your hand if you grew up making it…from a box!
? ? ?
Hey hey, no shame if you did too. It was the 90s — box mixes and canned soups and scrunchy socks and pagers and Saved By The Bell were all the rage! And you'd better believe that — when it came to helping my mom with dinner — my little sister and I could whip up a mean loaf of cranberry orange box mix bread like pros. We excelled at following the directions on the box and making all kinds of quick breads and muffins, actually. But without a doubt, our favorite treat around the holidays was always, always cranberry orange bread.
We loved our cranberry orange bread. (<– Holding the nuts, please!)
And hey, let's be real, I still love a good slice of cranberry orange bread. Although nowadays, I'd rather hold all of the processed ingredients, please. So for a throwback Thursday recipe today, I thought it would be fun to make a batch from scratch! Oh, and I added bananas, since I had a bunch of ripe ones sitting on my counter that needed to be used up. (<– This ended up being a very good idea.)
Seriously, this recipe only takes about 10 minutes to prep, and within an hour, your home is going to smell absolutely amazing and a delicious loaf of bread will be yours to enjoy.
Let's do this!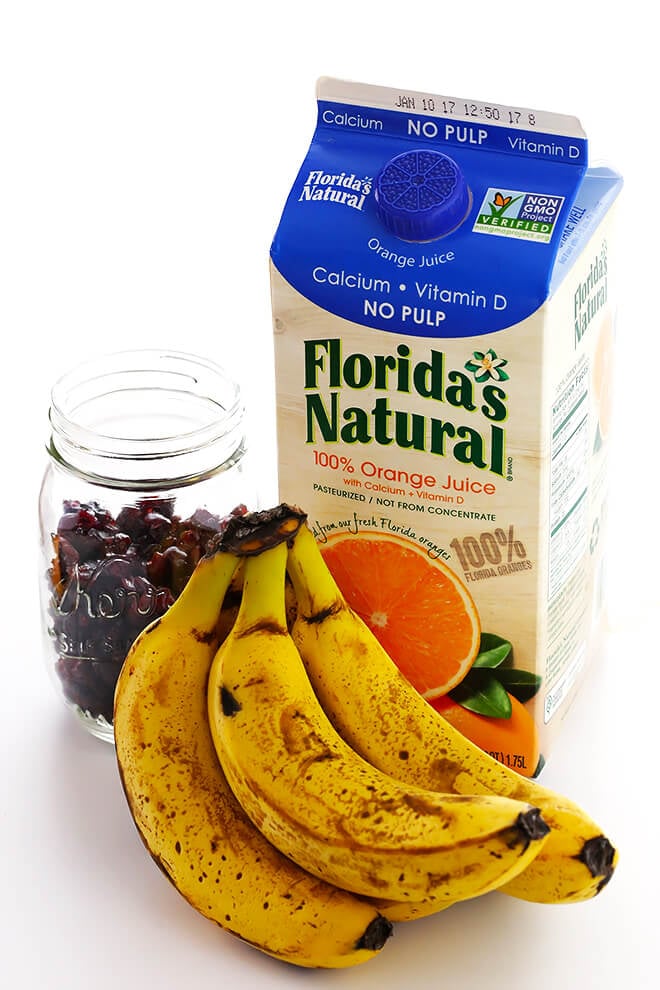 So, in addition to some basic baking ingredients, the main three things that you're going to need include:
a bunch of ripe bananas (the browner, the better!)
lots of dried cranberries (or you can also use halved fresh cranberries)
some good orange juice (I used Florida's Natural® Brand Orange Juice, which is not-from-concentrate and made from one ingredient — Florida oranges — and totally my fave. I love it because it has no water, sugar, or preservatives added, which helps me control the flavor and ingredients that make up this delicious, moist bread.)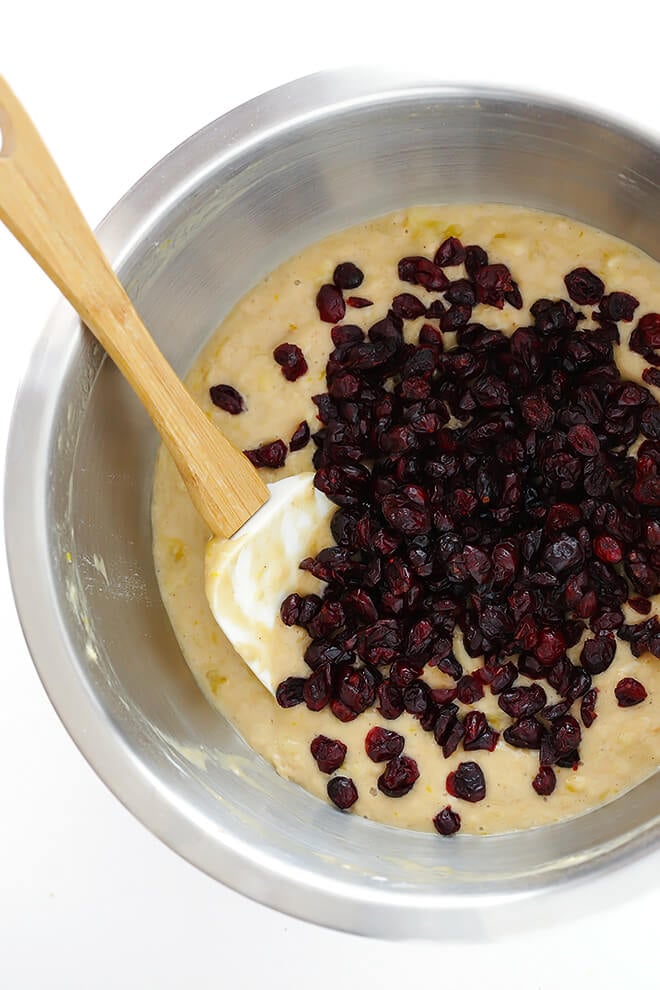 Whip up your batter, and then carefully fold in all of those berries.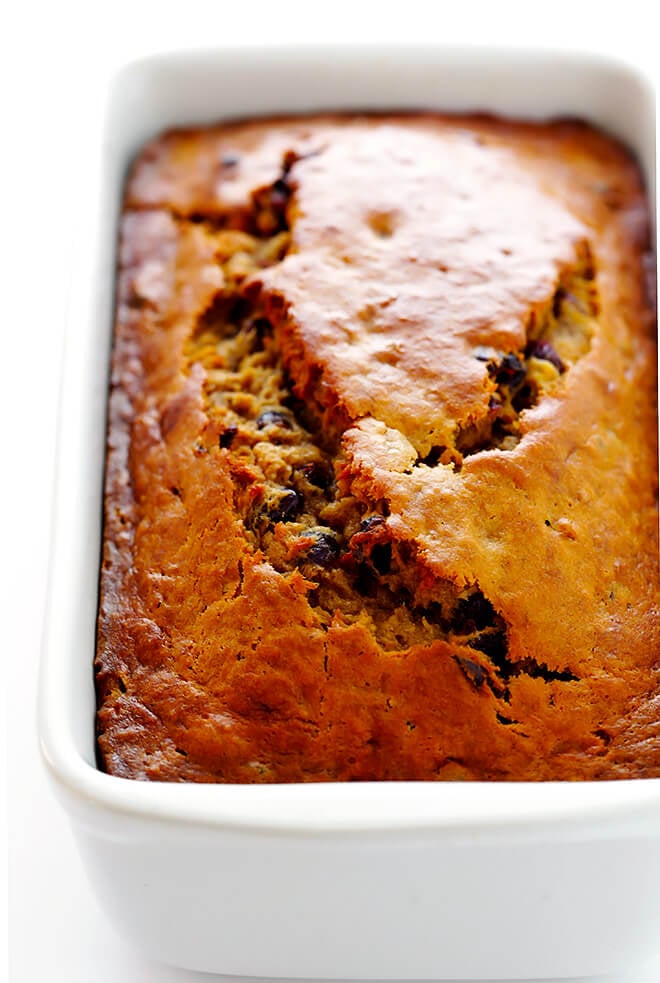 Then bake it up to moist, sweet, delicious perfection in the oven. (<– If the top starts to get too brown, just gently lay a sheet of aluminum foil on the top of the loaf to prevent more browning.)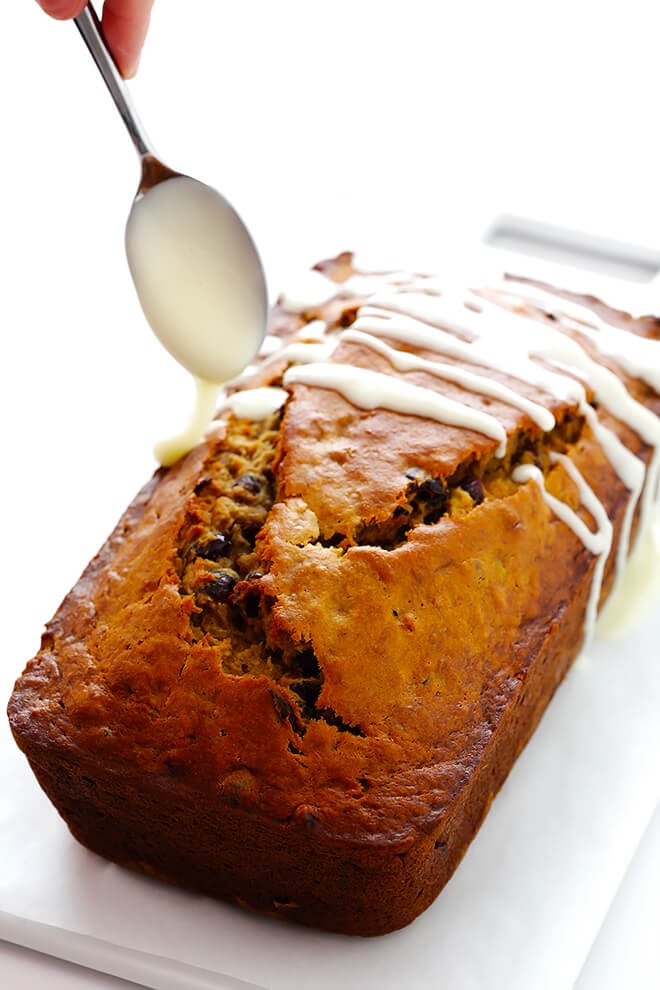 Then once your loaf has baked and cooled off a bit, I highly recommend finishing it off with a simple orange glaze.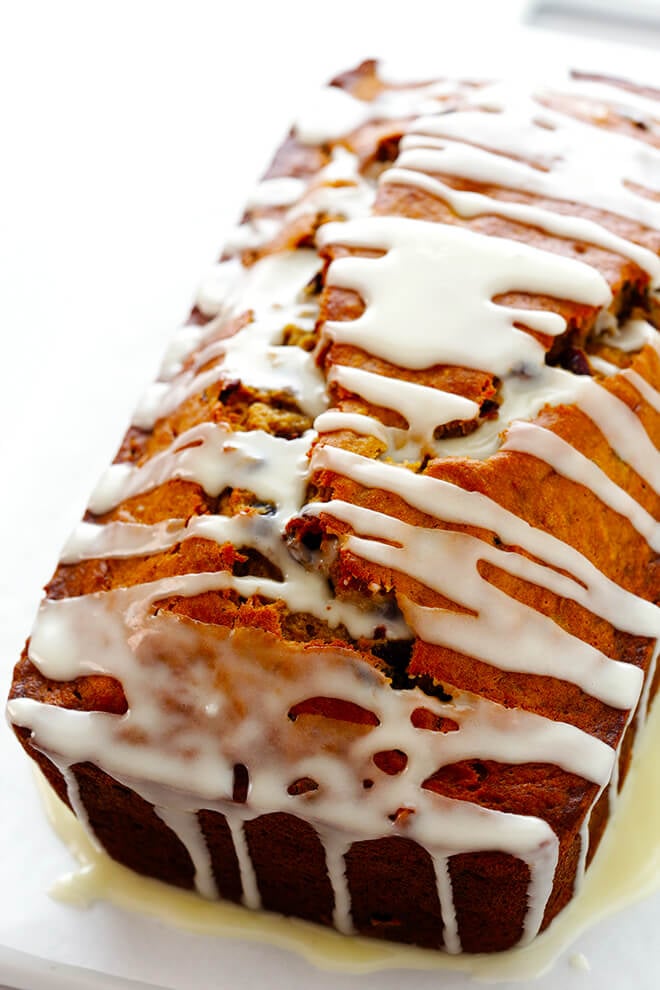 Then…dig in!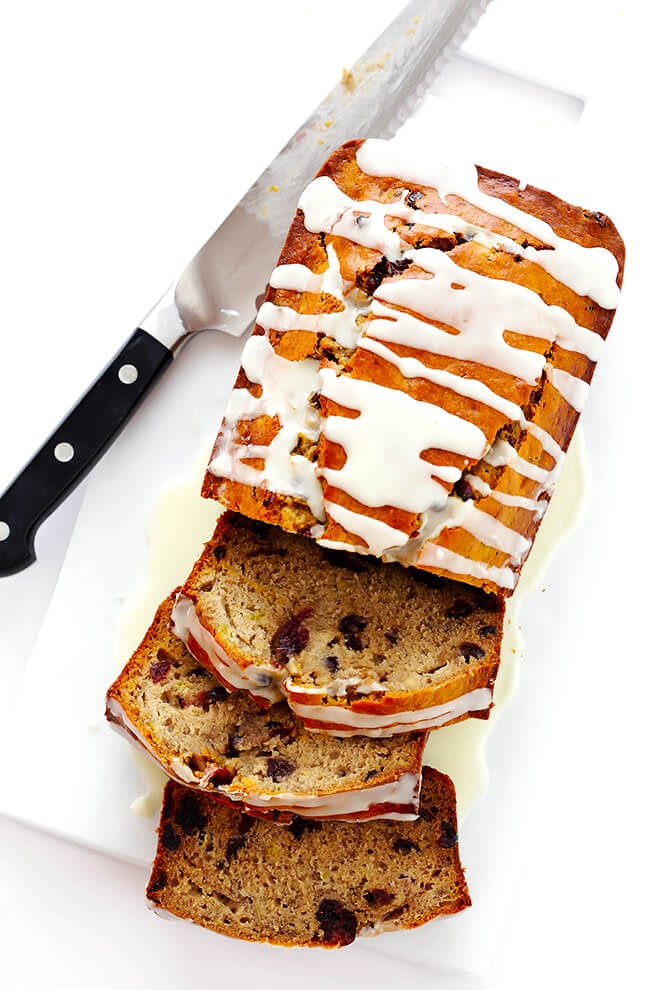 I actually loved this so much that I made three batches over the weekend — two to test out, and another that I baked in tiny bread tins to give away as holiday gifts. Because I'm convinced all over again, now, that the more cranberry orange (banana!) bread in this world, the better. 😉
Enjoy, everyone!

Yield: 12 servings
Cranberry Orange Banana Bread
This Cranberry Orange Banana Bread recipe is easy to make, wonderfully moist and sweet and flavorful, and it's drizzled with a yummy orange glaze.
Ingredients:
Cranberry Orange Banana Bread Ingredients:
1/3 cup canola oil (or any mild-flavored cooking oil)
1/2 cup maple syrup
1/4 cup Florida's Natural ® Brand Orange Juice
2 eggs
1 1/2 teaspoons vanilla extract
1 1/2 cups mashed ripe bananas
1 3/4 cups all-purpose flour (or white whole-wheat flour)
1 teaspoon baking soda
1 teaspoon salt
1/2 teaspoon ground cinnamon
1 1/2 cups dried cranberries
optional: zest of one orange
Orange Glaze Ingredients:
1 cup powdered sugar
2 tablespoons Florida's Natural Orange Juice
optional: zest of half an orange
Directions:
To Make The Bread:
Preheat oven to 325°F (165°C). Grease a 9 x 5-inch bread pan with cooking spray, or line it with parchment paper, and set aside.

In a large mixing bowl, whisk together oil, maple syrup, orange juice, eggs and vanilla extract until combined and smooth. Whisk in the mashed bananas, and whisked until mostly smooth. (There will be some small lumps due to the bananas – it's ok!)
In a separate large mixing bowl, whisk together the flour, baking soda, salt, and cinnamon until combined. Pour the dry ingredient mixture into the banana mixture, and stir until evenly combined, being careful not to over-mix the batter. Gently fold in the cranberries (and orange zest, if using) until they are evenly mixed into the batter.
Pour the batter into the prepared baking dish, and spread the top with a spoon so that it is flat and smooth. Bake for 50-60 minutes, or until a toothpick inserted in the middle of the bread comes out clean. (*If the bread starts to get too dark and brown on top while baking, place a sheet of aluminum foil lightly on top of the bread until it finishes baking.)
Remove from the oven, and let the bread cool on a wire rack for at least 15 minutes before slicing.
To Make The Glaze:
Whisk powdered sugar and orange juice (and orange zest, if using) together in a small bowl until completely combined. If you would like a thinner glaze, whisk in a little more orange juice. If you would like a thicker glaze, whisk in some more powdered sugar.

Difficulty: Easy
Category: Quick

If you make this recipe, be sure to snap a photo and hashtag it #gimmesomeoven. I'd love to see what you cook!
This post has been sponsored by Florida's Natural ® Brand Orange Juice, which I love because it's 100% juice that's straight from the orange groves of Florida. Thank you so much for continuing to support the brands who help make this site possible!