Published: August 18, 2022
This post may contain affiliate links. Read our disclosure policy.
Tangy, sweet, and so easy to make! This Creamy Balsamic Dressing is so good, you'll never buy salad dressing at the store again.
I've realized just how much better it is to make your own dressing and ditch the store bought ones. I always thought store bought dressings tasted a little off, which is probably due to added chemicals and sugars. I started making my salad dressings at home and I will never go back! This one is my take on a Creamy Balsamic Dressing. It is tangy and slightly sweet, and perfectly balanced with salt and herbs.
Whipping up a homemade dressing is worth it because you can add some extra flavor to whatever you're eating whenever you want! Not only is this a salad dressing, but you can also use this as a marinade for your favorite meats and veggies.
Try this dressing with my Berry Orzo and Spinach Salad for the perfect summer lunch!
Ingredients
Balsamic Vinegar– Use a high quality balsamic vinegar as the base for your dressing.
Honey– Honey is important because it will balance out the acid in the vinegar and make it ever so slightly sweet.
Dijon Mustard– It is important to use dijon mustard in this recipe and not any other mustard. The flavor and consistency come from the dijon mustard.
Minced Garlic or Garlic Powder– Garlic will add a more savory flavor to your dressing.
Herbs de Provence or Italian Seasoning– Some dried herbs will up the flavor of the dressing.
Lemon or Rice Vinegar– Use either fresh lemon juice or rice vinegar. It adds a different kind of acid flavor than balsamic vinegar offers.
Salt– Salt is essential in this recipe to balance and round out the flavors.
Cracked Black Pepper– Some freshly cracked black pepper will be a lovely addition to your dressing.
Olive Oil– Olive oil is the other base of the dressing.
Here's How You Make Creamy Balsamic Dressing
Step by Step Instructions
Using a blender or a food processor, add everything except for the olive oil. Blend until combined.
Slowly stream in the olive oil while mixing.
Once everything is combined, store in an airtight container on the counter for up to 8 hours or in the fridge for up to 1 week.
Why This Recipe Works
Packed with Flavor: This creamy balsamic dressing is packed with flavor. The addition of dijon mustard, herbs and salt all balance to create a sweet, tangy dressing with a little bite from the dijon.
Simple to Make: Most dressings are pretty simple to make at home, and they are so worth it. This one will only take you 5 minutes to completely up your salad dressing game!
Creamy and Dreamy: Unlike balsamic vinaigrette, this dressing is so creamy and dreamy. The balsamic vinegar, dijon mustard and olive oil all emulsify to create a lovely cohesive dressing.
Expert Tips and Tricks
When pouring the olive oil into the blender or food processor, make sure you slowly pour to make sure all the oil gets incorporated into the mixture. After storing, if the dressing separates just give it a shake or whisk it before using it again.
Some people add mayo to their creamy balsamic dressing. I prefer not to use mayo to keep it healthier but you can try adding mayo or even greek yogurt!
This dressing is versatile and you can make it how you love it! If you want it more garlicky, add an extra clove. Or if you want it sweeter, add some extra honey!
More Recipes You'll Love
This dressing is perfect for my Berry Orzo and Spinach Salad, but would go great with any great salad. Try it with my Balsamic Chicken, Strawberry and Apple Salad as well!
If you love this dressing, try some of my other dressings!
If you make this creamy balsamic salad dressing, please come back and let me know what you think by leaving a comment and rating the recipe! And be sure to snap a photo and email it or tag me on social media, I love connecting with you and seeing your CDLC creations!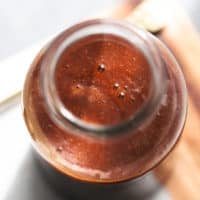 Creamy Balsamic Dressing
Tangy, sweet, and so easy to make! This Creamy Balsamic Dressing is so good, you'll never buy salad dressing at the store again.
Instructions
In a blender or food processor blend everything except for the olive oil.

Slowly stream olive oil into the blender until it is incorporated.

Store in airtight container at room temperature up to 8 hours or in the fridge up to 1 week.
Notes
Dijon mustard: this is key to the flavor and creamy consistency of the dressing! Do not skip or substitute with regular mustard. 
Nutrition
Calories: 270 kcal, Carbohydrates: 7 g, Protein: 0.2 g, Fat: 27 g, Saturated Fat: 4 g, Polyunsaturated Fat: 3 g, Monounsaturated Fat: 20 g, Sodium: 316 mg, Potassium: 25 mg, Fiber: 0.1 g, Sugar: 7 g, Vitamin A: 1 IU, Vitamin C: 0.2 mg, Calcium: 7 mg, Iron: 0.3 mg