Featuring tender sirloin steak in a creamy sauce brimming with mushrooms, onion, and parsley, this Crock Pot Beef Stroganoff is a savory meat-and-noodles dinner idea the family will devour!
Love slow cooker dinner ideas? Try this incredible chili recipe!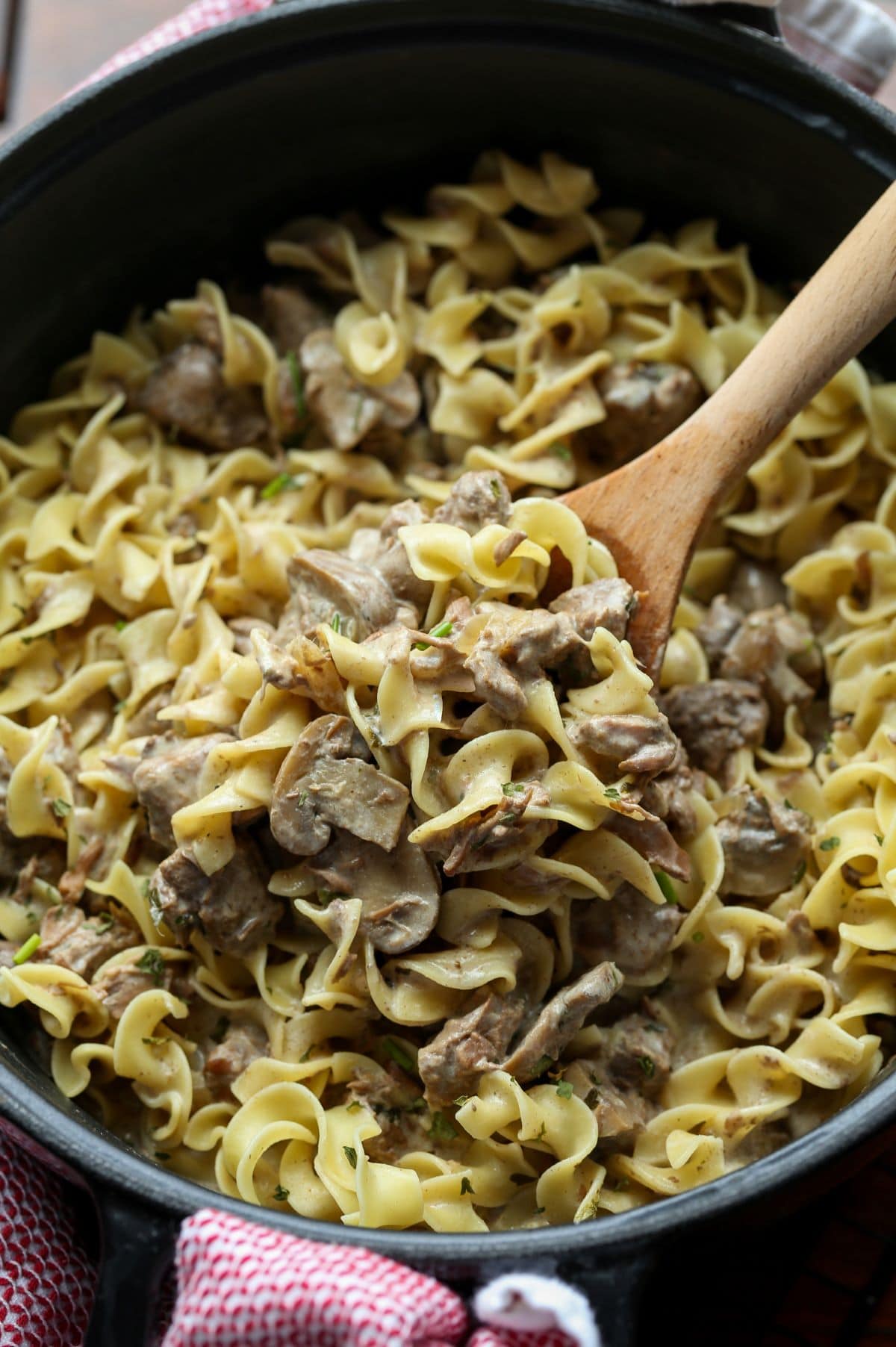 A Slow-Cooker Comfort Food Classic: Crock Pot Beef Stroganof
Beef Stroganoff is a classic dinner idea…one that I grew up eating. My recipe has evolved a little from what my mom's version (which included ground beef and cream of mushroom soup), and it's an easy family favorite. Made with sirloin steak, baby 'Bella mushrooms, and a from-scratch sauce made with cream cheese, Worcestershire, and lots of other goodies, it's a comfy-cozy dinner that the whole family loves. I serve mine over egg noodles (go the extra mile and make my Homemade Egg Noodles), but it's equally good over rice, or even spooned across garlic bread. Yum!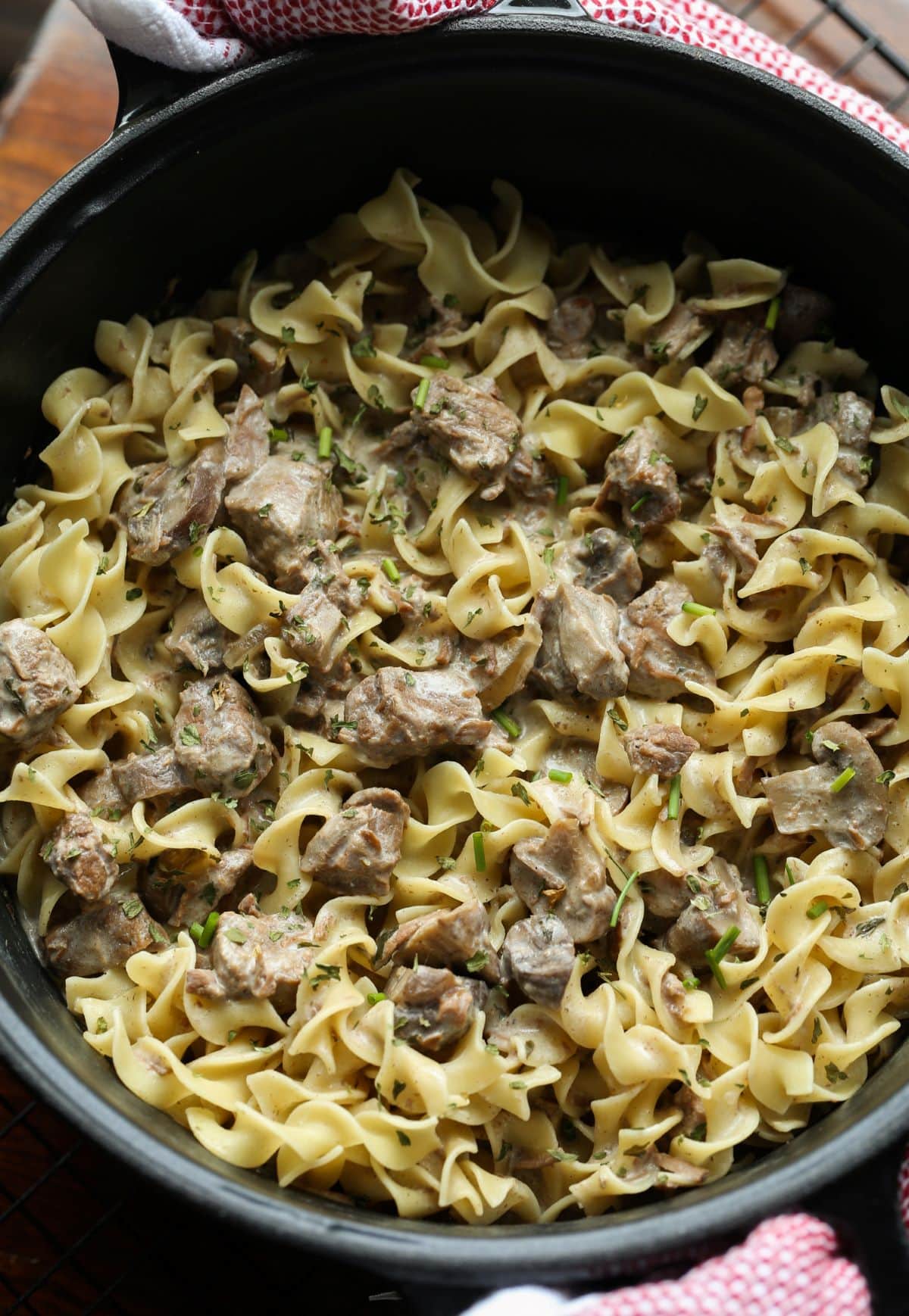 What You'll Need
The ingredients list for this recipe might look a little bit long, but you'll notice that many of the items are seasonings and spices, which are a snap to measure and add to your Crock Pot! The main ingredients come together easily as well, with hardly any prep.
Steak: Trim away any excess fat and cut the steak into cubes.
Mushrooms: I love baby bellas in this recipe, but button mushrooms are also fine. Wash them and quarter them before using. Smaller mushrooms can be halved or left whole.
Onion: Slice the onion, or if you have picky eaters who don't like to know they're eating onions (real talk, mom to mom), finely mince them.
Garlic: I like to use fresh minced garlic, but garlic powder also works well in this recipe. 
Salt and Pepper
Worcestershire Sauce: This helps give the sauce that "stroganoff" taste! It's tangy, salty, and full of umami richness.
Dijon Mustard: Another key component to that classic stroganoff taste.
Beef Stock: Homemade or store-bought is totally fine. 
Parsley: I use dried parsley and plenty of it, but you can chop up fresh parsley if you prefer!
Cornstarch: I find that a little bit of cornstarch really helps get the sauce satisfyingly thick. You can leave it out if you would rather not use it, though!
Water: For mixing with the cornstarch to make a slurry.
Sour Cream and Cream Cheese: I use both in my stroganoff, for the perfect balance of brightness and richness. 
Egg Noodles: Curly egg noodles are one of our favorite accompaniments to beef stroganoff. Spaetzle is also great!
What is the best cut of meat to use for crock pot beef stroganoff?
That depends! In general, tender cuts of steak are recommended, and I personally use sirloin steak. However, since the steak will be simmering in the Crock Pot, you could use a tougher cut of beef as well, such as a chuck steak or round steak. The long simmer time will give it a chance to tenderize.