This moist and fudgy Texas Sheet Cake is the chocolate cake lover's dream! Easy to make with basic pantry ingredients and smothered in homemade chocolate icing, this classic cake recipe was made for sharing.
Craving more chocolate desserts? Try my over-the-top Ridiculous Chocolate Cake or this Flourless Chocolate Cake!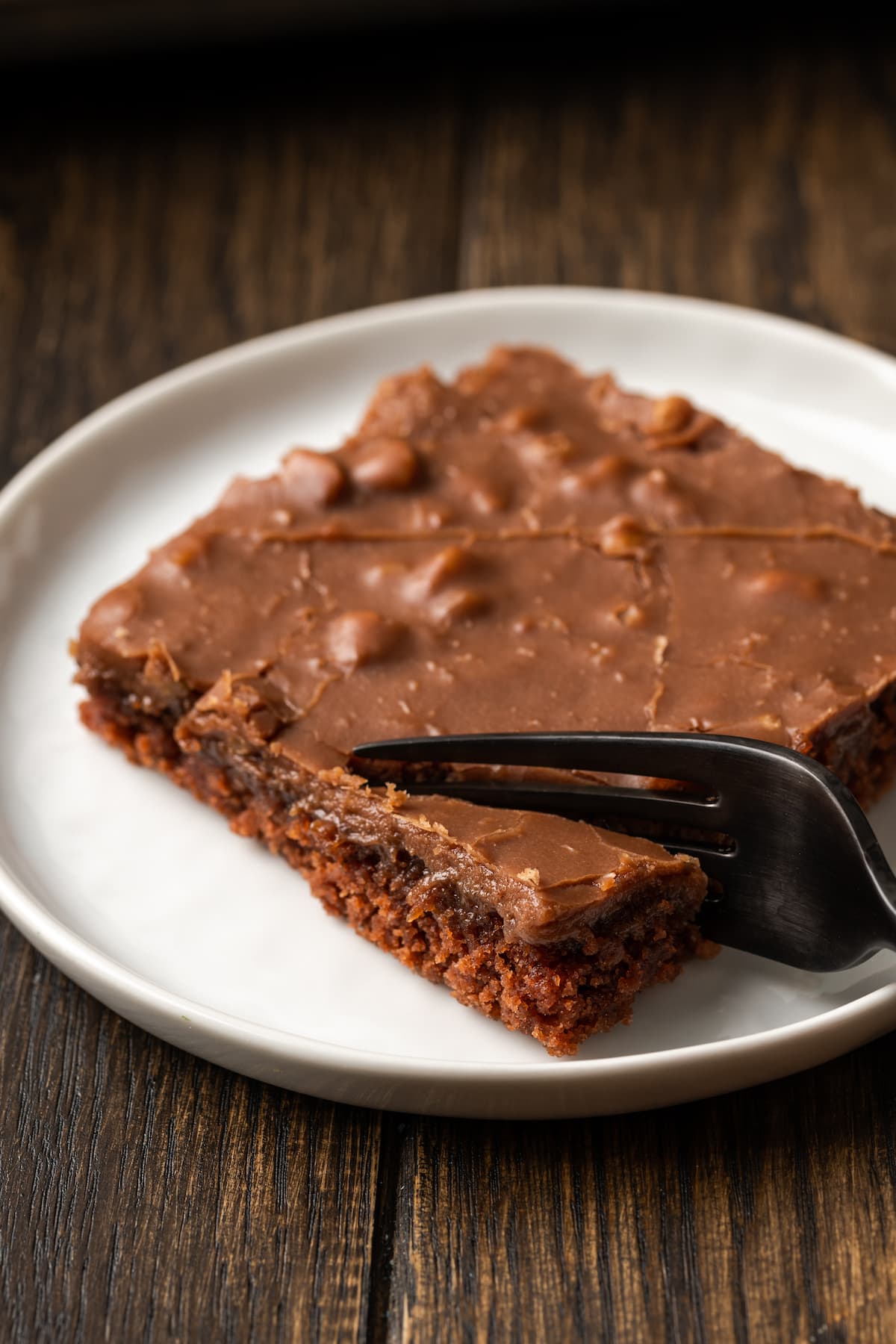 Moist Texas Chocolate Sheet Cake
Today we're making a classic Southern dessert: the Texas chocolate sheet cake. Apparently, it's true that everything is bigger in Texas, including their cakes. This classic chocolate cake recipe is soft and full of fudgy flavor and perfect for feeding a crowd.
Of course, you don't need a special occasion as an excuse to bake a delicious chocolate cake. My grandmother's answer to a Texas sheet cake was her Sunday Chocolate Sheet Cake, which she baked religiously on Sundays. Moist, rich, and unbelievably chocolatey, these cakes have a lot in common. You'll love how easy this Texas sheet cake is to make. Smothered in smooth chocolate icing filled with crunchy pecans, it's a chocolate overload, plain and simple!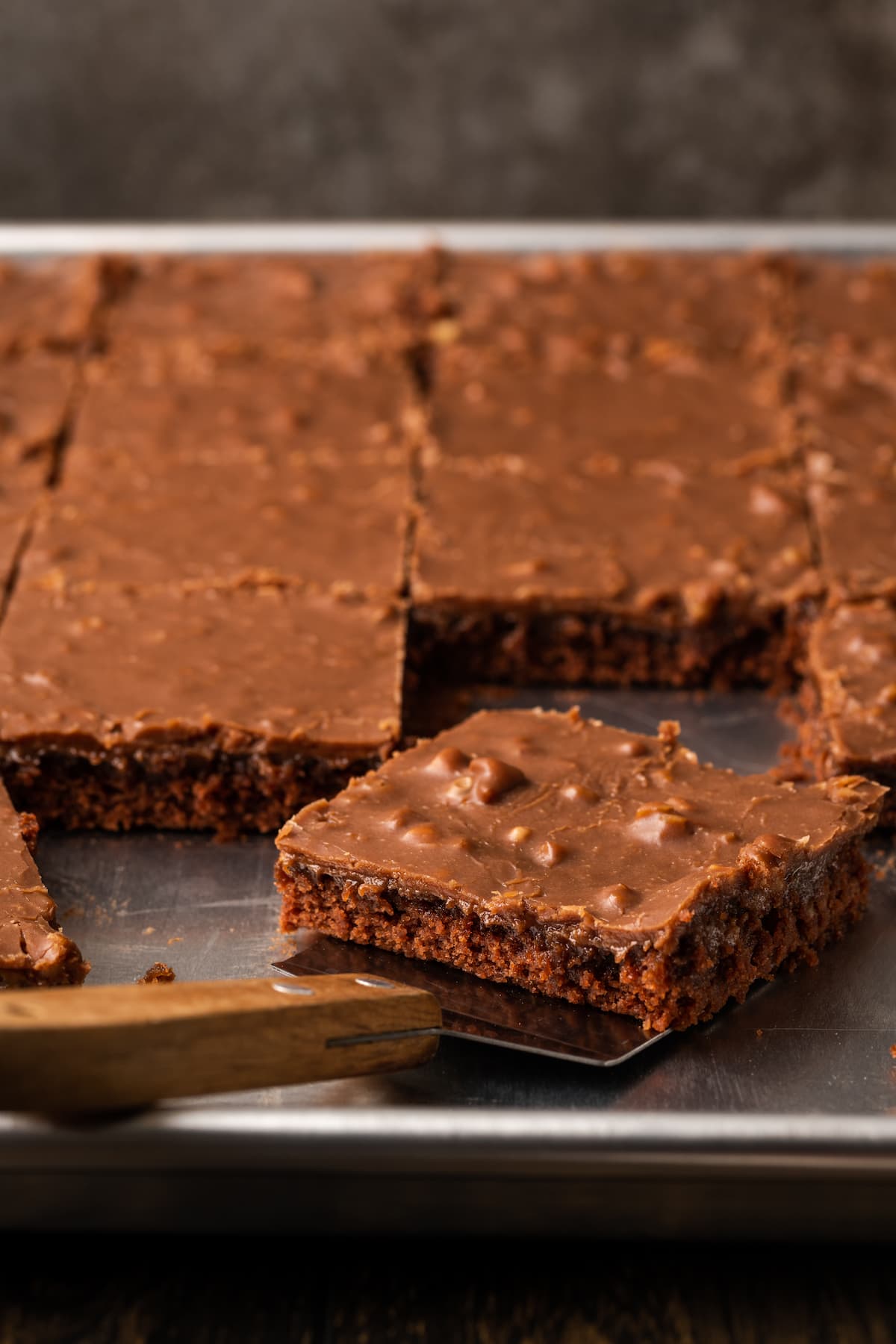 Why Is It Called a Sheet Cake?
A Texas sheet cake is traditionally baked in a jelly roll pan, or in another rectangular baking sheet. Its large, slab-like shape makes it perfect for sharing at parties, potlucks, tailgates, etc. (Or, you know, feeding a small family any day when there's a hankering for something chocolate-filled and delicious.)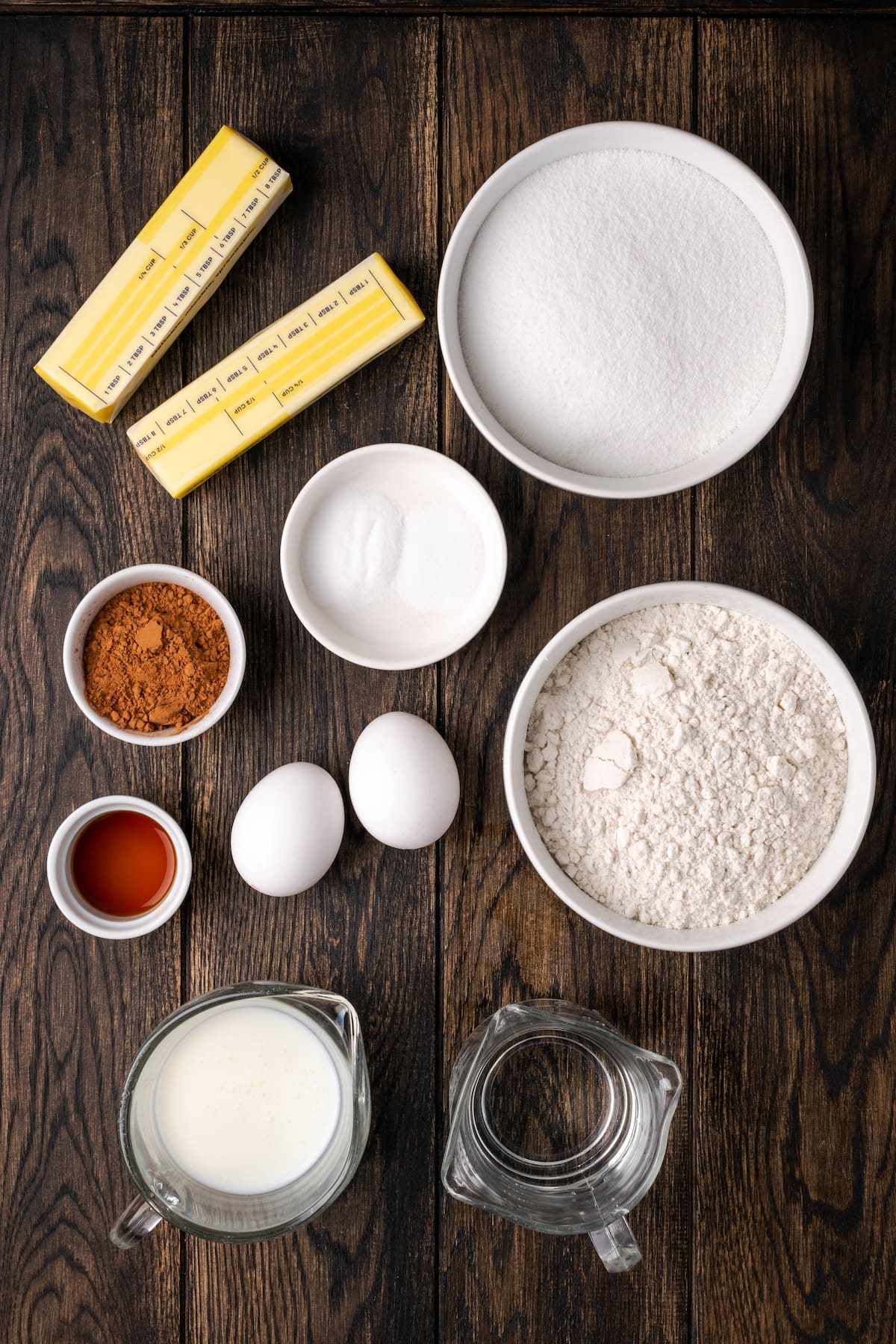 What You'll Need
One of the many things I love about a classic cake recipe is how simple the ingredients are. You don't need anything fancy to make a tasty Texas sheet cake, as you'll see in the overview below. Refer to the recipe card further down in the post for the full ingredient amounts:
Butter: I always stick to unsalted butter so that my desserts don't come out too salty.
Cocoa Powder: Use good-quality, unsweetened cocoa powder. You can use Dutch process cocoa powder for a darker, fudgier cake. 
Flour and Sugar: Baking basics. All-purpose flour and granulated sugar work perfectly. You'll also need baking soda and a pinch of salt to help the cake rise and balance the sweetness.
Buttermilk: The secret to an ultra-rich and moist chocolate sheet cake. If you don't have buttermilk, don't worry. See below for an easy buttermilk substitute. 
Eggs and Vanilla: Whisk up the eggs beforehand, and make sure to use real vanilla extract.
Chocolate Icing: I include an easy-peasy homemade chocolate icing with this recipe, and it never fails. It's made from basic ingredients including cocoa powder, milk, and powdered sugar, and comes together quickly. See the recipe card for details!
Pecans: Finely chopped. I add these straight into the chocolate icing, but that's optional.
What If I Don't Have Buttermilk?
If you're short the buttermilk needed in this cake recipe, never fear. There's a super simple substitute that you can make at home! All you need is some regular milk and white vinegar. I go over it in detail in my tutorial for Homemade Buttermilk, but here's a quick how-to:
Add 1 tablespoon of white vinegar (or lemon juice) to a measuring cup.
Add enough milk to make 1 cup.
Stir, and leave the mixture to sit for 5 minutes. Give it another stir, and that's it! Your very own buttermilk substitute, ready to use.
How to Make a Texas Sheet Cake
What are you waiting for? There's an EPIC chocolate sheet cake to be baked. The excitement is real. Here's how to make the ultimate Texas sheet cake: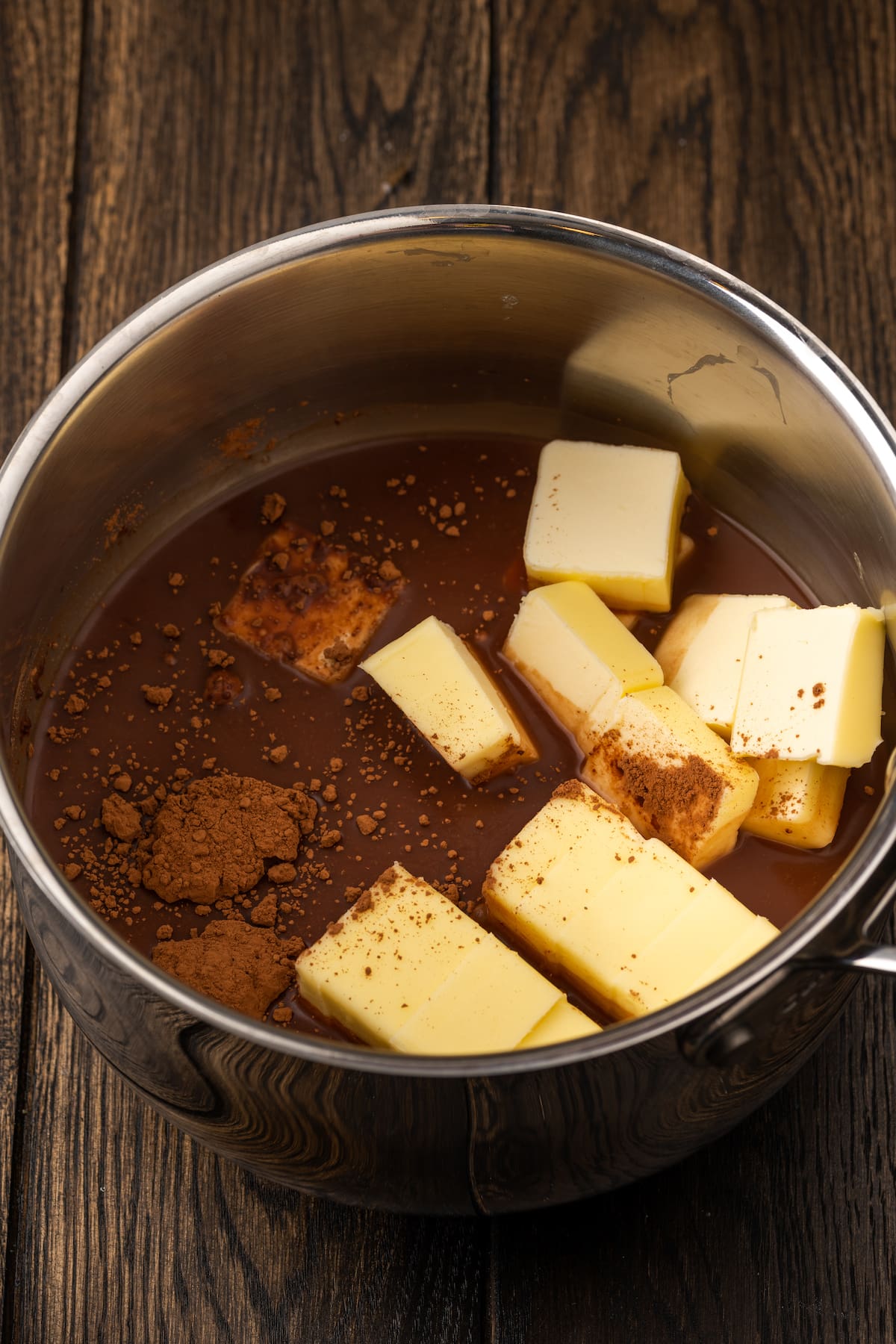 Melt the Butter: First, in a saucepan on the stovetop, whisk together butter with cocoa powder and a bit of water. Keep stirring every so often as the mixture comes to a boil. Let it reduce for about 30 seconds and then set it aside, off the heat.
Combine: Next, add the dry ingredients to a big ol' bowl. Stream in the hot butter mixture and give it a stir to combine. Mix in the buttermilk, whisked eggs, and vanilla.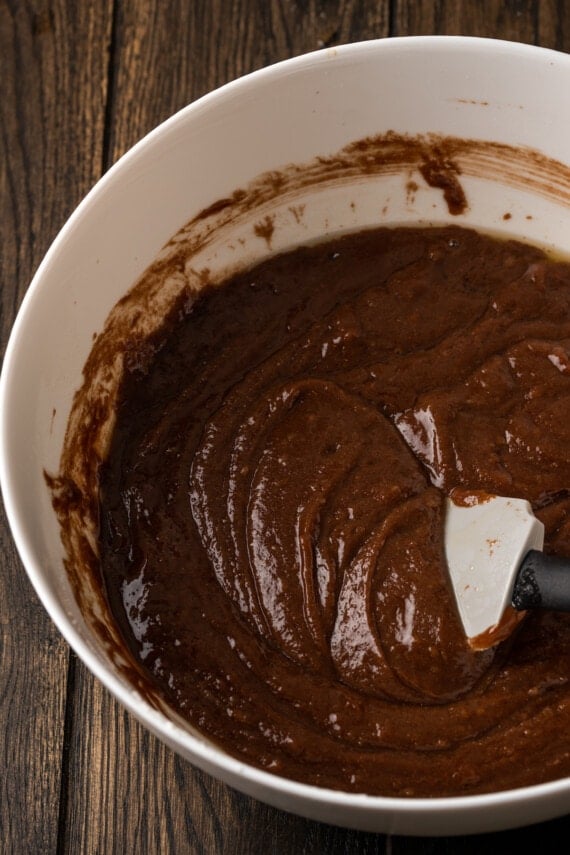 Bake: Pour the cake batter into a greased 18×13" baking pan. Bake your sheet cake at 350ºF for about 20 minutes or so, until set in the center.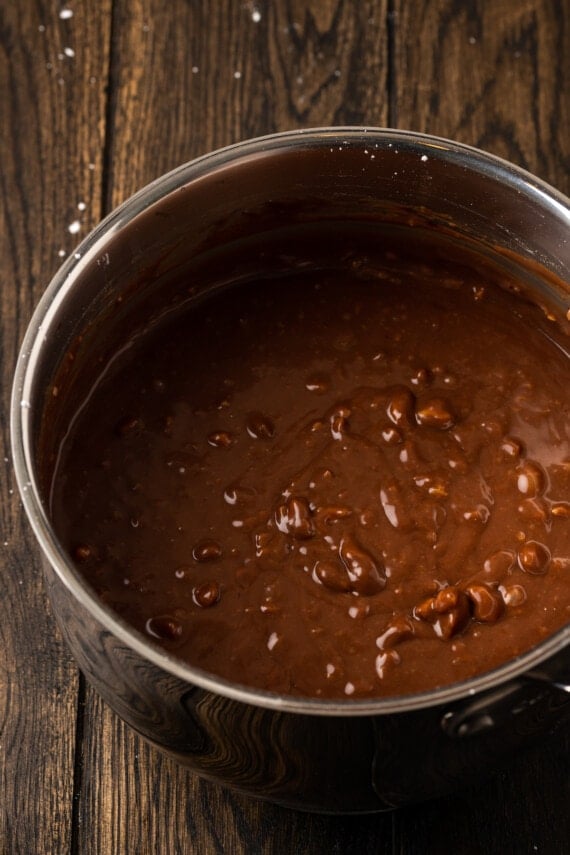 Prepare the Icing: As your cake nears the end of its baking time, whip up the quick chocolate icing. Again, melt butter in a saucepan, and whisk in the cocoa, milk, and vanilla. Take the pan off the heat before stirring in the powdered sugar, and pecans if you're using them.
Frost the Cake: When your sheet cake is hot from the oven, pour on the icing right away and use an offset spatula to smear it all over.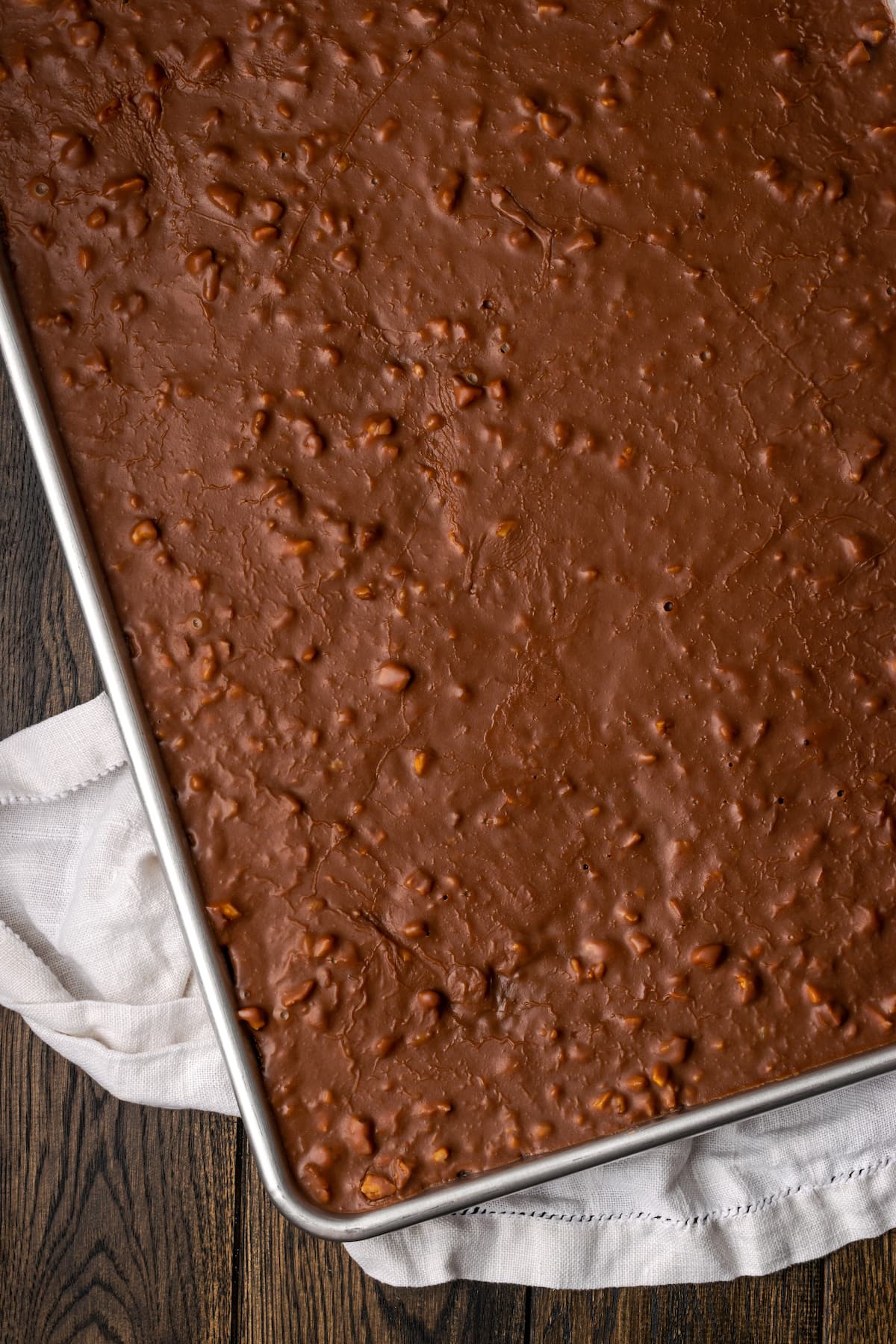 Tips for Success
Here are my tips for the perfect Texas sheet cake:
Use high-quality ingredients. Since there's not much involved in making a Texas sheet cake, ingredients like good-quality cocoa powder are key.
Avoid overmixing the cake batter. If your cakes often turn out dense and tough instead of moist and fluffy, chances are good that you're overmixing the batter. Make sure to only mix the ingredients until they're just combined, and try your best to not overwork the batter.
Don't overbake. The easiest way to check if your cake is ready is to stick a toothpick into the center of the cake. If the toothpick comes out clean, that cake is done.
Easy Decorating Ideas and Variations
There are so many ways to turn this decadent chocolate sheet cake into your own dreamy creation! Here are just some fun and easy ways to decorate a chocolate cake:
More Frosting: Top your cake with swirls of Creamy Chocolate Frosting or fluffy whipped cream. 
Add Candy: After it's frosted, top your sheet cake with colorful M&Ms, chopped caramels, or chocolate chips.
Add Sprinkles: Colored sprinkles are an easy way to jazz up this basic chocolate sheet cake for a variety of occasions. Change up the sprinkles for a birthday cake, for Halloween, or for the 4th of July.
S'mores: Stir mini marshmallows and crushed Graham crackers into the chocolate icing.
Chocolate Sauce: Once the cake has cooled and the icing is set, drizzle over Nutella Hot Fudge Sauce or Homemade Caramel Sauce.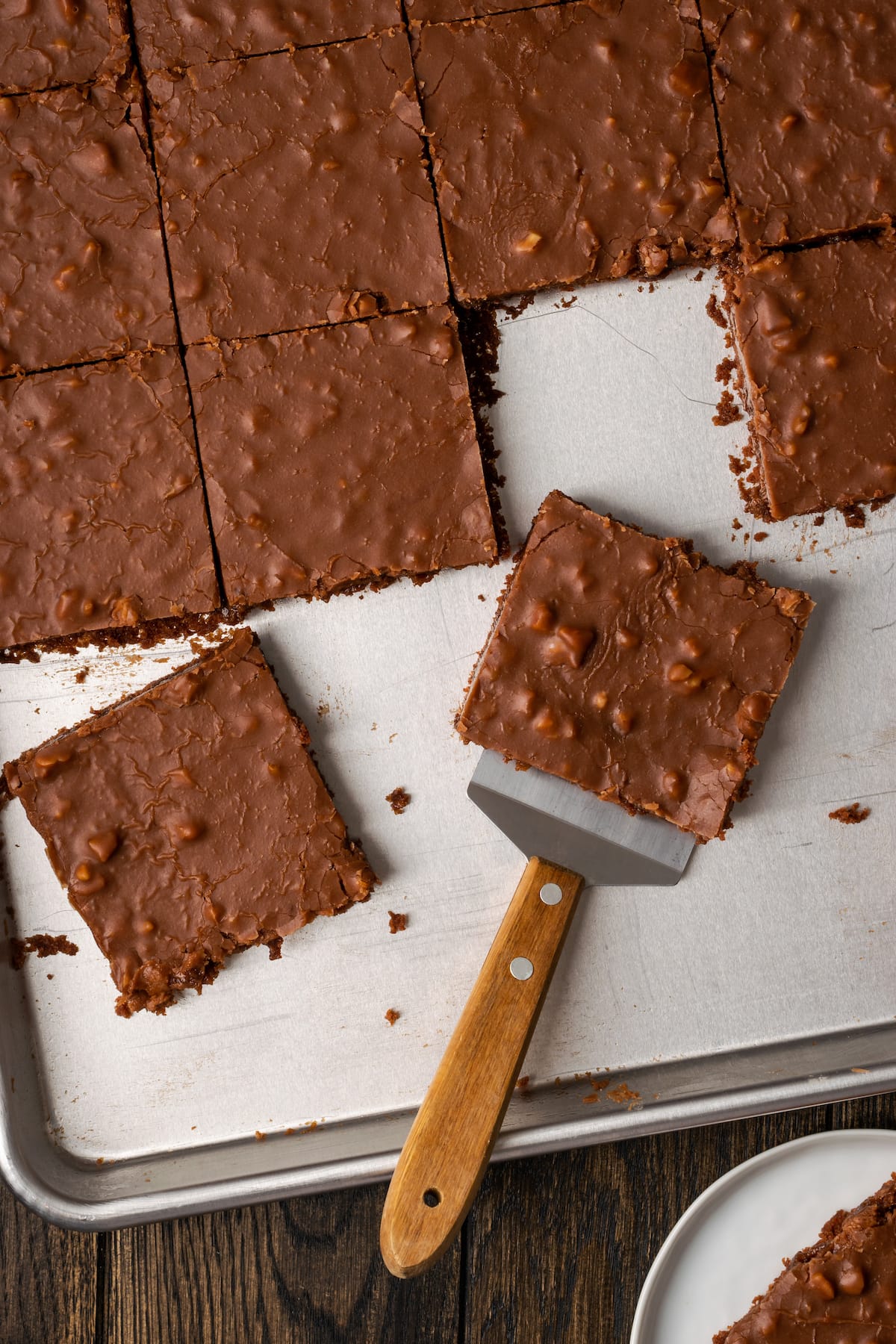 How to Store Texas Sheet Cake
Store this sheet cake airtight on the counter for up to 3 days. It's a good thing that a cake this size can be stored at room temperature. I don't even want to try fitting it in my fridge!
Can I Freeze Chocolate Sheet Cake?
Yes! A Texas sheet cake freezes well, making it a great make-ahead party dessert. Once the frosted sheet cake is fully cooled to room temperature, wrap it tightly in plastic wrap, plus a layer of foil, and store it frozen for up to 1 month. Thaw the cake in the fridge before slicing and serving.
---
Description
Moist and fudgy Texas Sheet Cake is the chocolate cake lover's dream! This is a classic cake recipe smothered in chocolate icing that's perfect for sharing.
---
Cake:
1 cup

butter

1/4 cup

unsweetened cocoa powder

1 cup

water

2 cups

all-purpose flour

2 cups

granulated sugar

1 teaspoon

baking soda

1/2 teaspoon

kosher salt

1/2 cup

buttermilk

2

large eggs, whisked

1 teaspoon

vanilla extract
Icing:
3/4 cup

butter

1/4 cup

unsweetened cocoa powder

1/3 cup

milk

1 teaspoon

vanilla extract

4 cups

powdered sugar
Optional – 1/2 cup finely chopped pecans
---
Cake: Preheat the oven to 350°F. Coat an 18×13 baking sheet with nonstick spray. Set aside.
Add the butter, cocoa powder, and water to a small saucepan over medium heat. Bring the mixture to a boil, stirring frequently. Boil for 30 seconds and remove from the heat.
In a large bowl whisk together the flour, sugar, baking soda, and salt. Pour the hot butter mixture into the flour mixture and stir to combine.
Add in the buttermilk, whisked eggs, and vanilla and stir until evenly incorporated and smooth.
Pour the batter into the prepared pan and bake for 20 – 22 minutes until the center is set and a toothpick inserted comes out clean.
Icing: When the cake has 5 minutes left, start making the icing. In a medium saucepan, melt the butter. Whisk in the cocoa powder, milk, and vanilla extract until smooth. Remove from the heat and whisk in the powdered sugar and pecans.
When the cake comes out of the oven, pour the icing on immediately and spread to coat.
---
Notes
Store airtight at room temperature for up to 3 days. 
Keywords: chocolate sheet cake, easy chocolate cake recipe, easy desserts for a crowd
Want To Save This Recipe?
Find more recipes like this:
More Irresistible Chocolate Cake Recipes