Creamy Lemon Chicken Piccata is tender, flavorful, lemony, garlicky — all the things you'd expect from chicken piccata but done in just 30 minutes! So grab a few pantry and fridge staples, a package of boneless, skinless chicken and get to work on this creamy, dreamy dish. 
For more 30-minute dishes like this one, slide on over to these recipe posts: Sheet Pan Pork Chops and Brussels Sprouts, Super Easy Mexican Rice, and Salmon Florentine.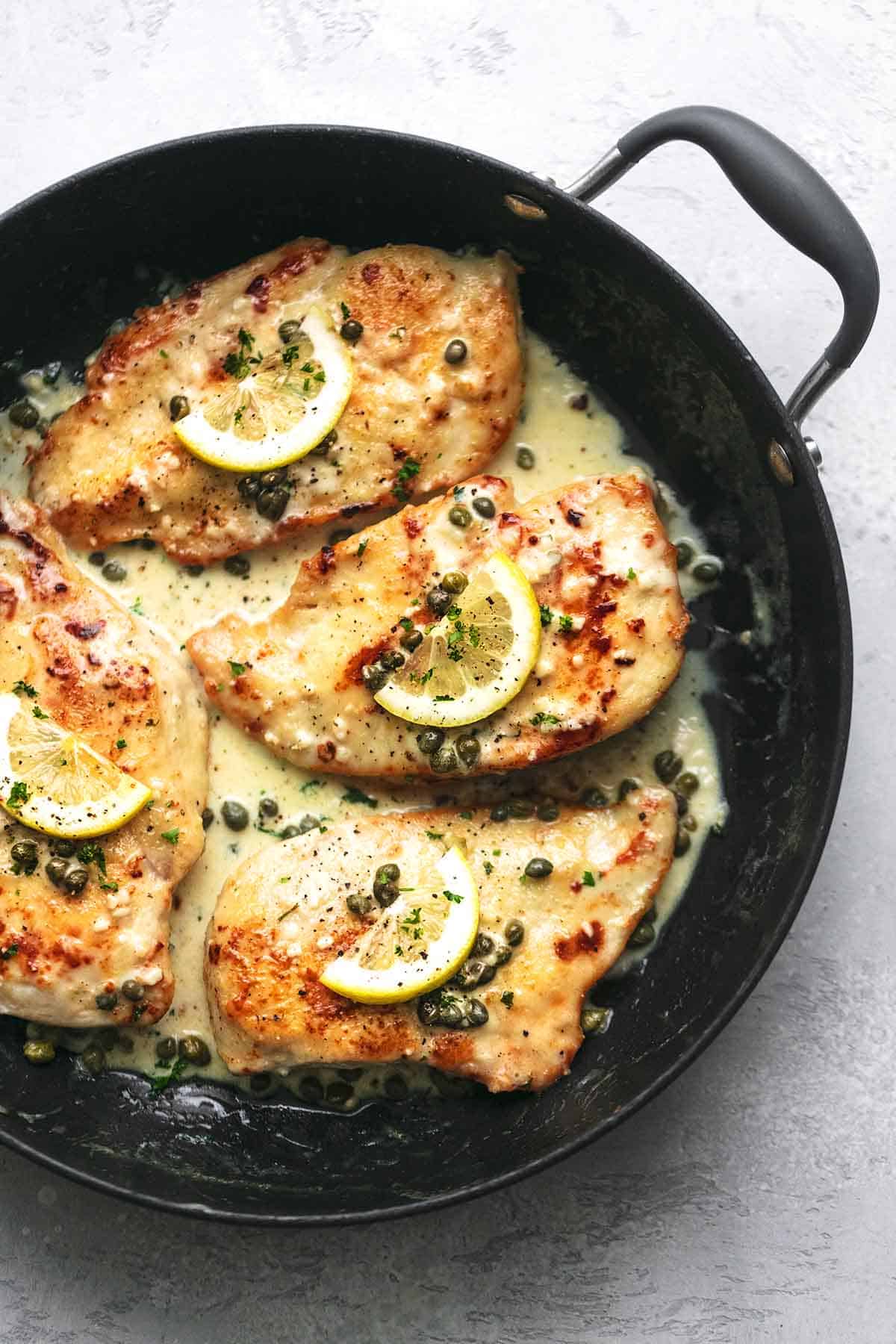 This Creamy Lemon Chicken Piccata came to me, like a lot of recipes do, when I had a craving for a certain restaurant's version, but wasn't able to get there to have it. So, what's a girl to do? Make her own, of course! 
And, I have to say, it came out just as good as the restaurant's version and totally satisfied my craving. Also, it was universally loved by the hubs and kids alike (okay they did pick out the capers, but…more for me, so no complaints there!) The only sad part was there was none leftover! So, the next time I make this creamy chicken piccata, I will definitely double the recipe.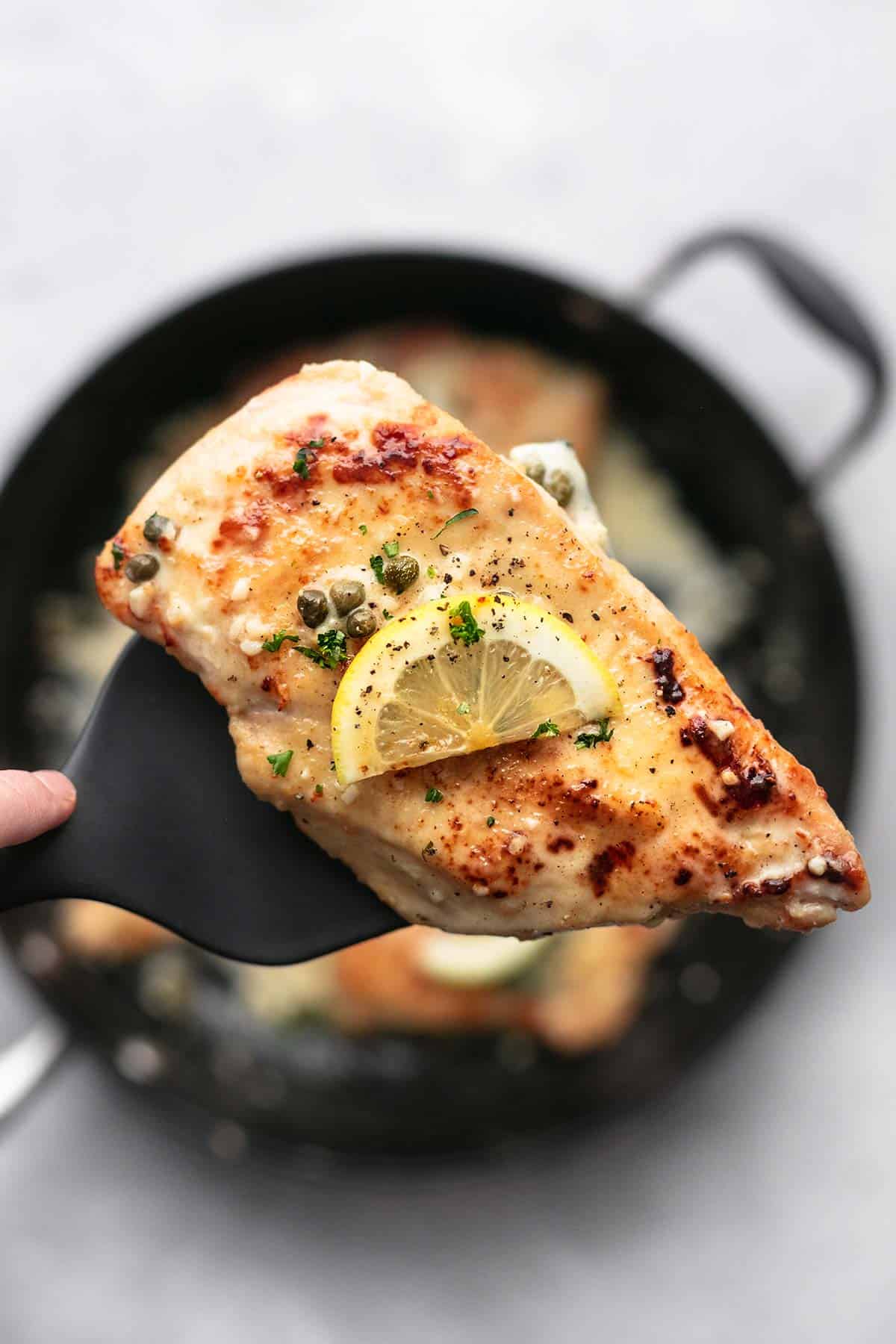 WHAT INGREDIENTS ARE IN CREAMY LEMON CHICKEN PICCATA?

Boneless skinless chicken breasts

Flour

Salt and pepper

Garlic powder

Butter

Minced garlic

Chicken broth

Heavy cream

Fresh-squeezed lemon juice

Capers

 
HOW DO YOU MAKE CREAMY LEMON CHICKEN PICCATA? 
First, you need to dredge the chicken fillets in a flour mixture. To do this, add together the following in a shallow bowl: flour, salt, pepper, and garlic powder. Take each chicken fillet and dredge it through the flour mixture, making sure to coat all sides of the chicken with the flour mixture. Set the chicken aside. 
Next, melt butter in a large skillet over medium heat and then place the chicken in the butter to cook for 3-5 minutes on the first side, then flip to cook for another 3-4 minutes on the other side. The chicken should be golden brown and cooked all the way through. Put the chicken on a plate and cover it to keep it warm.

Add garlic to the same pan, and stir in the butter for about 30 seconds or until it gets nice and fragrant. Stir in the chicken broth and lemon juice and let the liquids simmer. Then stir in the heavy cream and let all of this yumminess simmer for another 3-5 minutes. Then, add the capers and season the sauce with salt and pepper. 
Add the chicken back to the pan, spooning the creamy lemon chicken sauce over the chicken. Garnish with some fresh herbs like thyme, rosemary, or parsley and serve.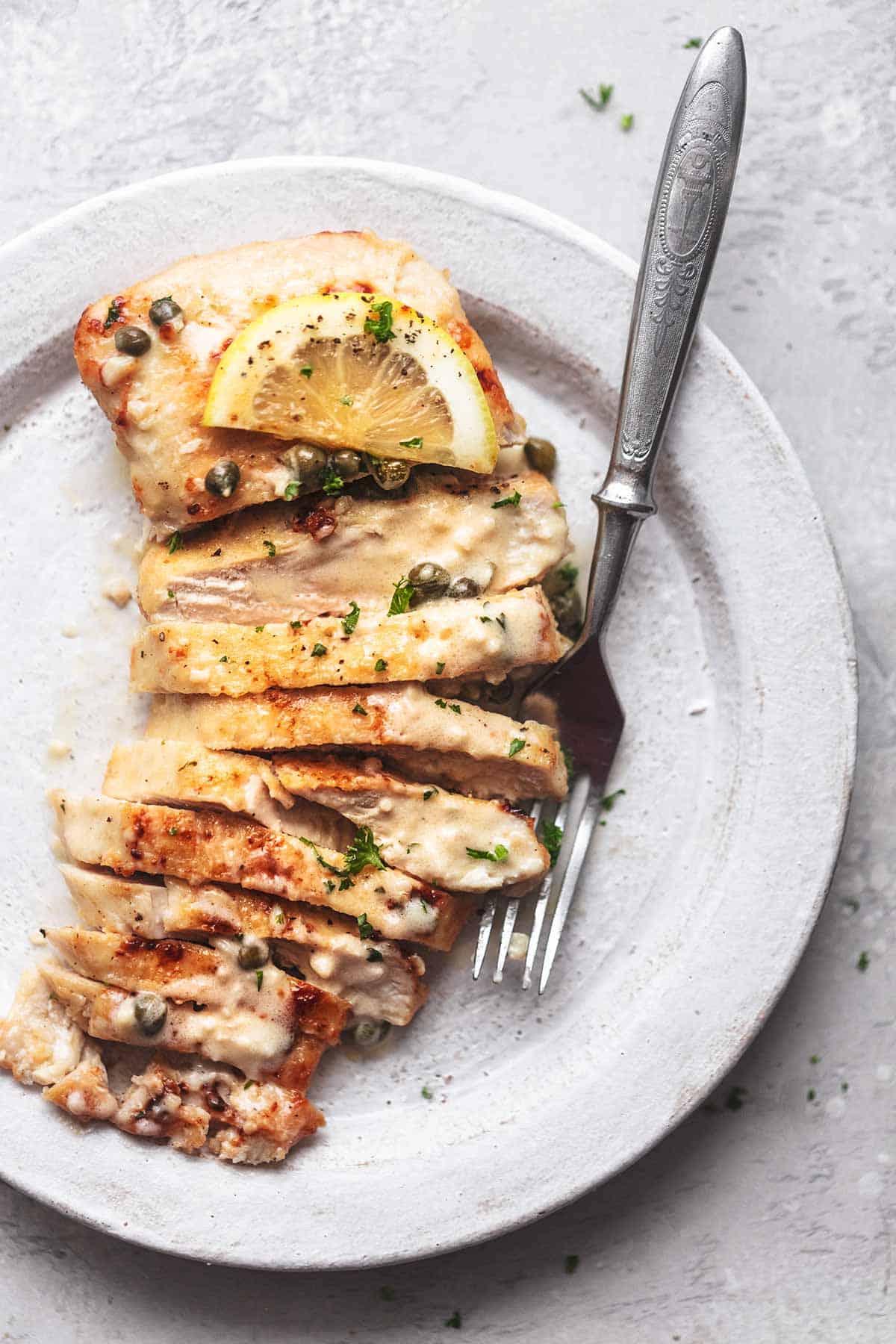 IDEAS FOR SIDES TO MAKE WITH CHICKEN PICCATA
What goes great with this easy chicken piccata? So many things! But here are the sides I've had on repeat lately: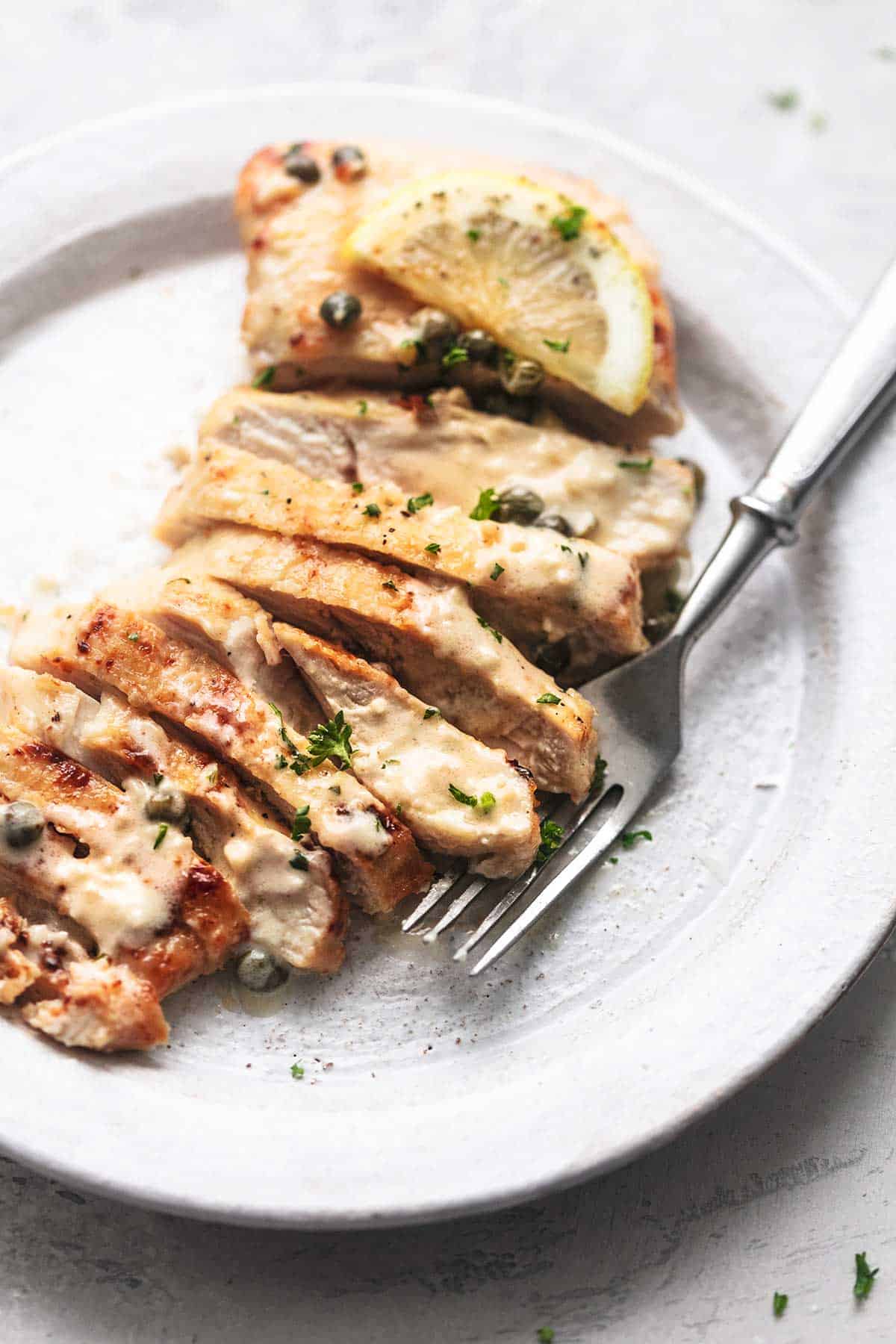 WHAT ARE CAPERS?
Capers are a little berry that grows on a plant called a Capparis Spinosa. They are pickled unripened until they get that nice briney, salty taste. 
Capers are actually related to cabbages, if you can believe that. I've only ever seen them used as garnishes like with salmon or chicken, but I'm sure you can find a lot of inventive ways to eat capers. They'd be good in tuna, chicken, or egg salad or in a regular salad too. 
IS THERE A GOOD SUBSTITUTE FOR CAPERS IN CHICKEN PICCATA?
If you don't like capers (like my kids!) then there are a few things you can use as a substitute (or skip them all together).
Many people will use green olives as a substitute for capers because they are similar in taste and will add that nice salty taste you're looking for. I would cut them up first though, to ensure that you get some olives in every bite. Use about 2 tablespoons of diced olives in this recipe.
Thyme and green peppercorns are also another substitute that will give you extra flavor, but sadly, none of that salty, briney bite. 
Or you could just eliminate them all together, and this dish will still be delish!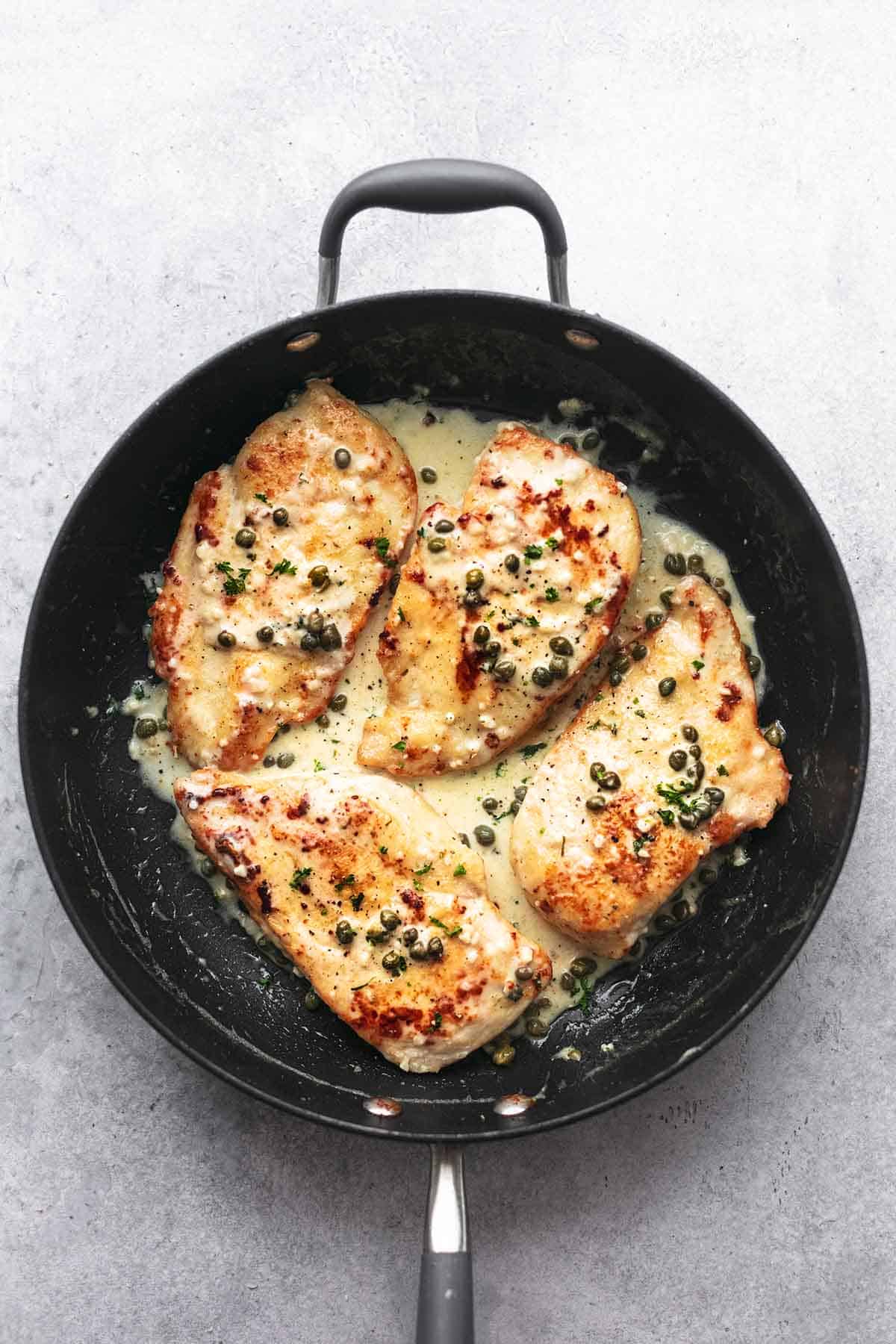 2

large boneless skinless chicken breasts, sliced in half lengthwise to yield four fillets

1/4

cup

flour

1/4

teaspoon

salt

1/8

teaspoon

pepper

1/2

teaspoon

garlic powder

4

tablespoons

butter

1

teaspoon

minced garlic

1/2

cup

chicken broth

1/3

cup

heavy cream

3

teaspoons

fresh-squeezed lemon juice

2

tablespoons

capers, drained

salt and pepper to taste
In a wide, shallow bowl stir together flour, salt, pepper, and garlic powder.

Dredge chicken in the flour mixture, flipping to coat all sides of the chicken. Set aside.

In a large skillet over medium heat, melt butter. Reduce

Once melted, Place chicken in the pan and cook – without disturbing – for 3-5 minutes. Flip chicken and cook another 3-4 minutes until chicken is golden brown and cooked through. Transfer to a plate and cover to keep warm.

Add garlic to the pan and stir for 30 seconds til fragrant. Stir in chicken broth and lemon juice and bring to a simmer. Stir in heavy cream.

Simmer for about 3-5 minutes. Stir in capers and season with salt and pepper to taste.

Return chicken to pan, spoon lemon caper cream sauce over the chicken, garnish with fresh herbs if desired, and serve.