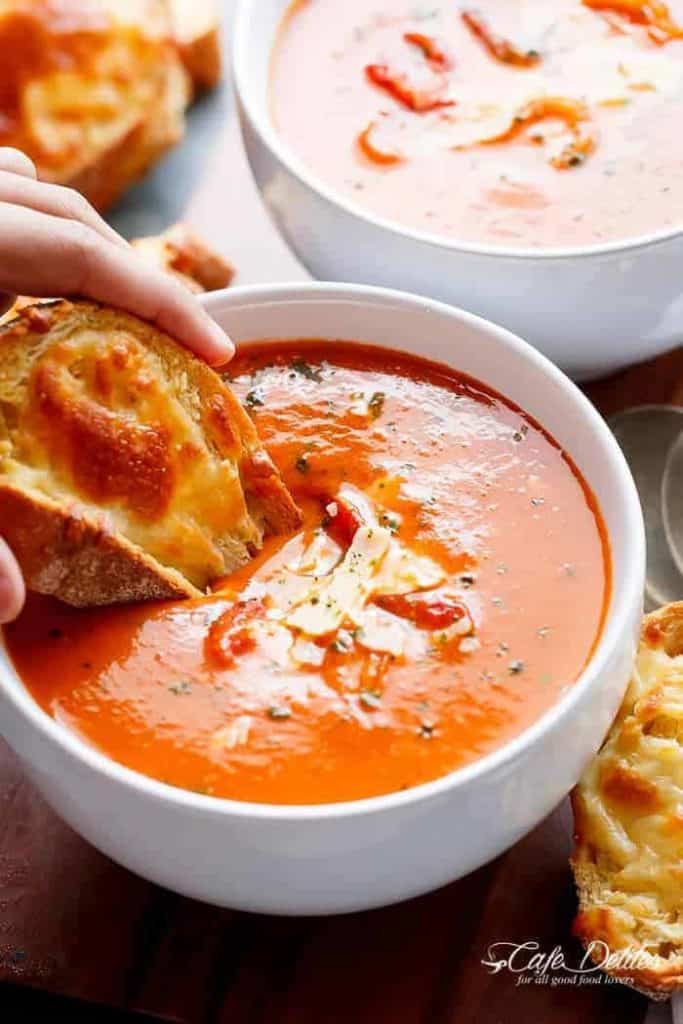 Creamy Roasted Tomato Basil Soup (No Cream)
An easy and Creamy Roasted Tomato Basil Soup full of incredible flavours, naturally thickened with no need for cream cheese or heavy creams!
Ready in less than 30 minutes, our tomato soup recipe is loved by so many readers around the world! For kids to ask for this Creamy Roasted Tomato Basil Soup repetitively, it must mean something…right?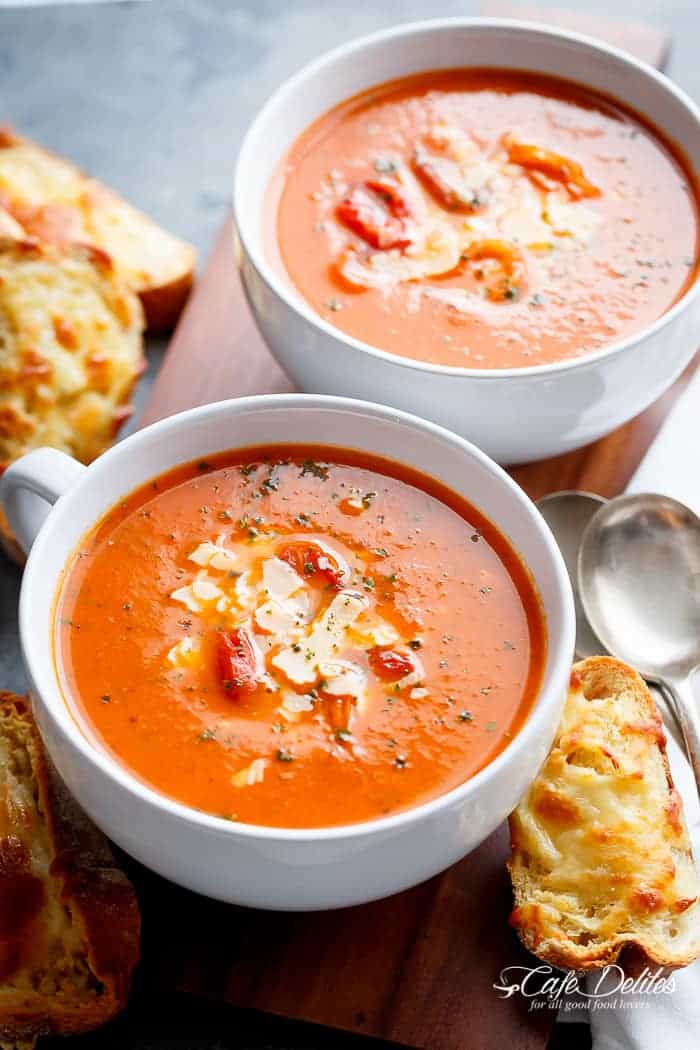 Creamy Roasted Tomato Basil Soup
Full of basil and a hint of garlic, this soup will most likely be on you weekly rotation, no matter the season. I garnished this soup with blistered tomato pieces, shaved parmesan and basil. Make ahead and freeze in advance OR serve immediately. This soup is the perfect start to a meal, or as a meal in itself. To get that creamy texture, I added in a secret weapon. No cream cheese or heavy/thickened creams are needed.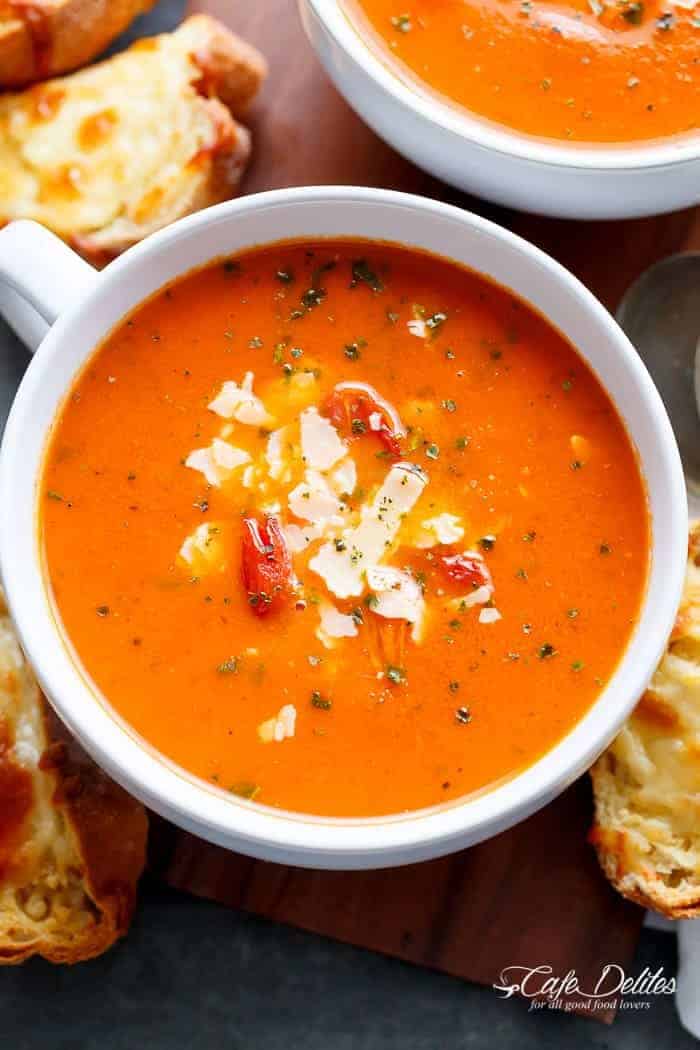 Roasted Tomatoes
With tomato soup, you can go the quick route and pour canned tomatoes in a pot and simmer them for 15-20 minutes until they're soft. Or, you can go the really lazy route, (which I have done on more than 552 occasions), and heat tomato soup directly from a can. The problem with that is:
Bland flavours
You don't know what's in it
Then there's this recipe. Going that extra step and roasting tomatoes along with whole (smashed) garlic cloves on a sheet pan until they're soft and sweetened naturally with their own juices, develops a natural flavour incomparable to canned soup.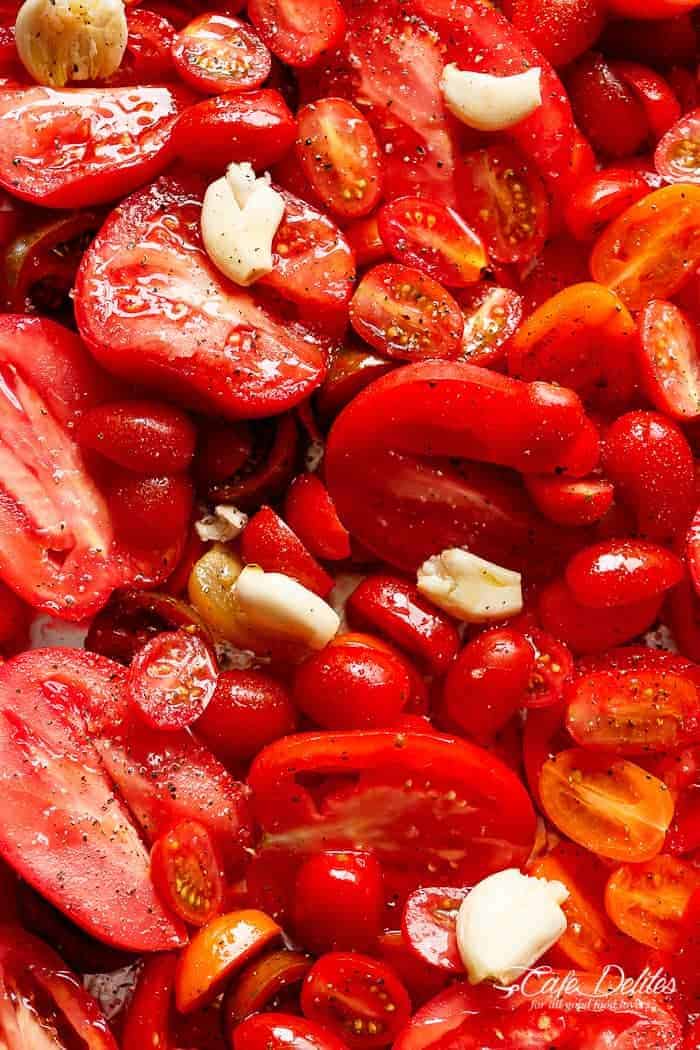 Most people I know are completely turned off making tomato soup because if you can get it in a can, then what's the point of going through all of the hassle of making your own, right? Not  'neymore. The flavours in this soup cannot be found on any supermarket shelf. Any. Where.
How To Make Creamy Roasted Tomato Basil Soup (No Cream)
I use a humble potato to thicken this soup. Of course you can leave it out if you wish, but is adds a thick and creamy texture and compliments the tomato flavour nicely. However, you can use thickened cream if you wish! (About 1/2 – 3/4 cup for the whole pot.)
If using the potato, fry it along with diced onion and red bell peppers (capsicums), until the onion is transparent and the potatoes are beginning to crisp up adds even more flavour into this soup (while your tomatoes are roasting).
Pour in your broth/stock and simmer the potatoes until they're soft.
Add the tomatoes once they're done; add the basil; blitz with a stick blender, and viola! SOUP! No additives, preservatives or artificial colours/flavours, and homemade soup done in less than 30 minutes.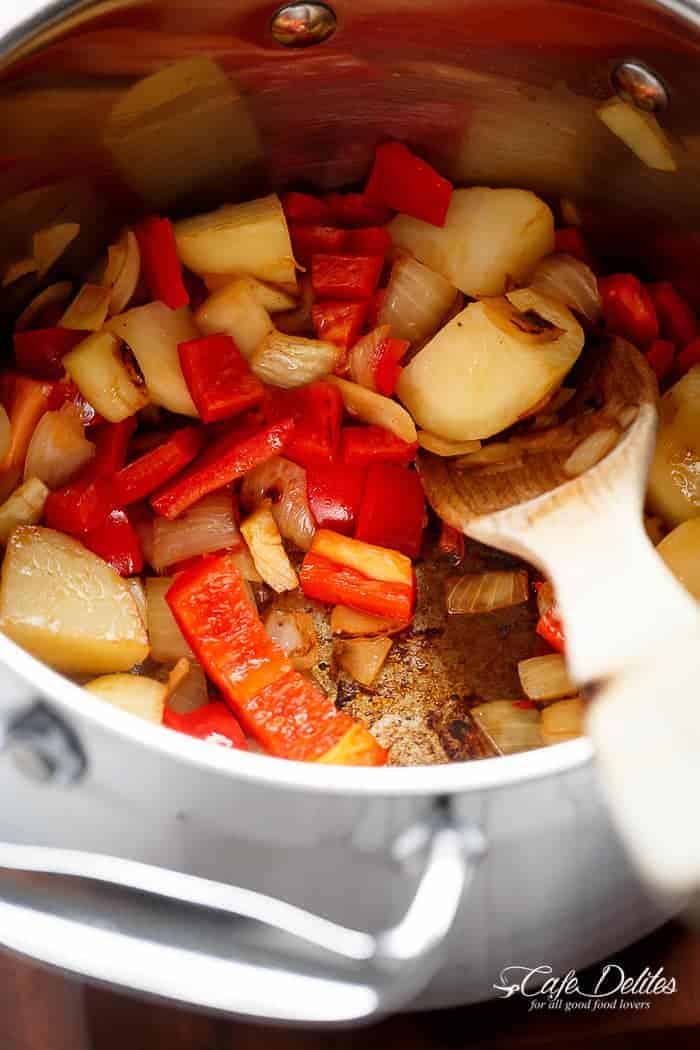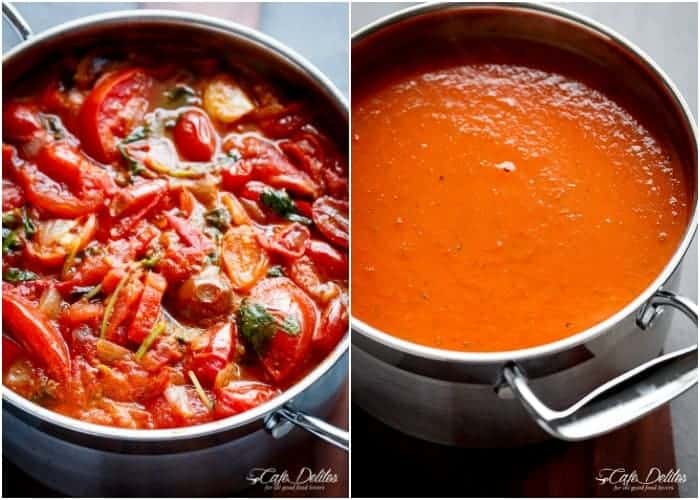 Serve with grilled cheese or cheesy toasts — whichever works for you.
And dip away, my friends.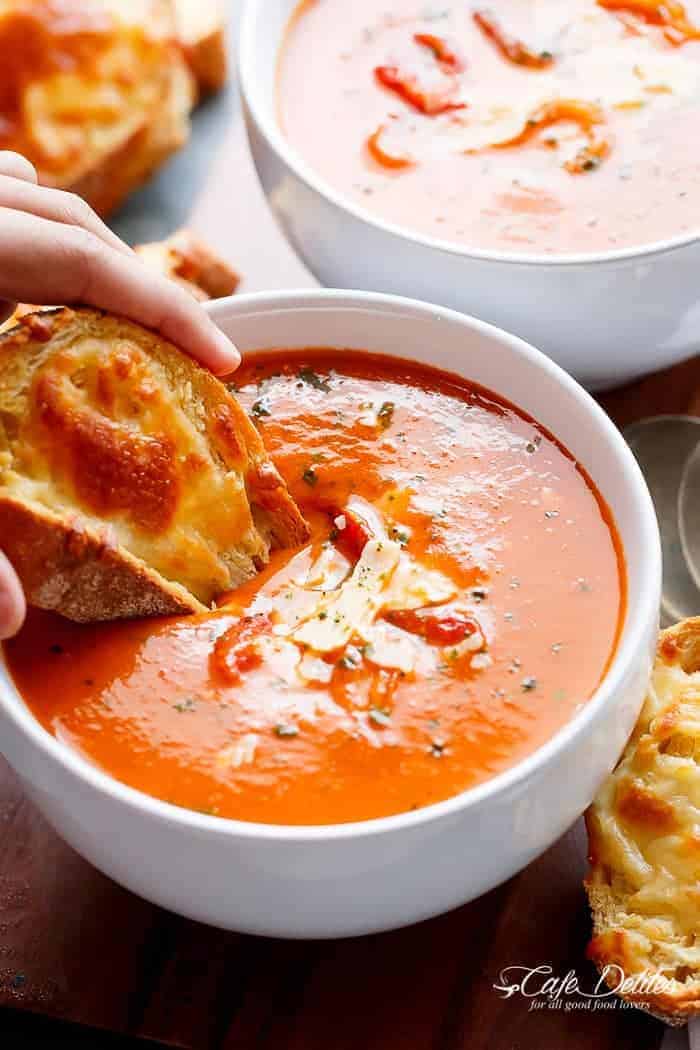 So thick and cream Roasted Tomato Basil Soup!
The Garlic Cheese Bread in the video is found here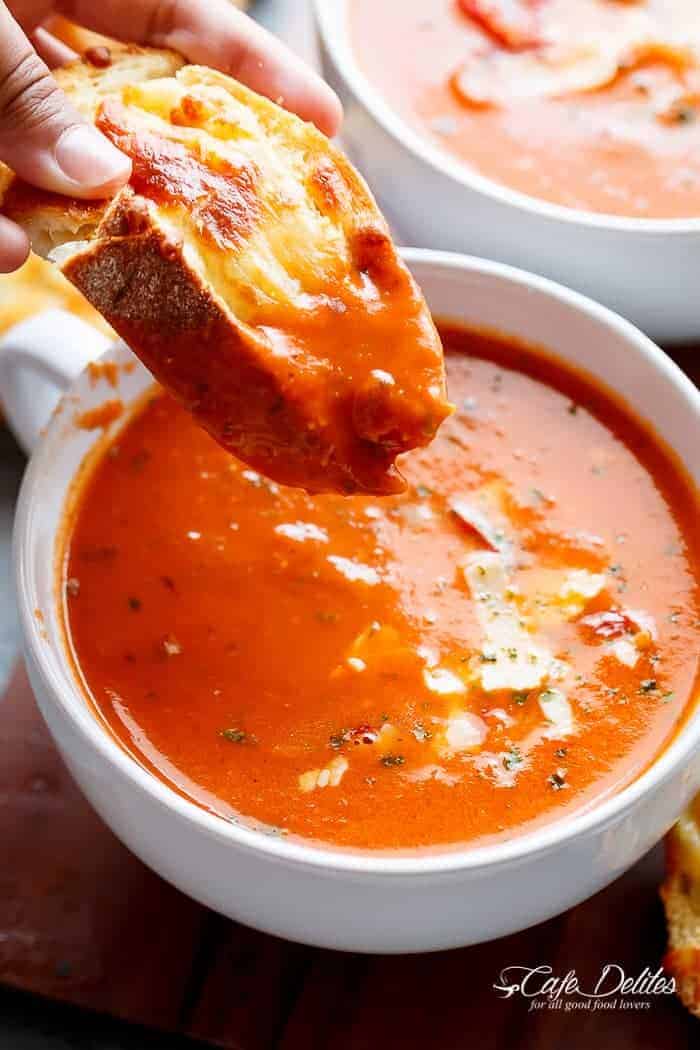 WATCH US MAKE Creamy Roasted Tomato Basil Soup!
More Soup Recipes To Soothe Your Soul!
Slow Cooker Creamy Tortellini Soup
Easy Slow Cooker Lasagna Soup + VIDEO!
Easy Broccoli Cheese Soup

The post Creamy Roasted Tomato Basil Soup (No Cream) appeared first on Cafe Delites.