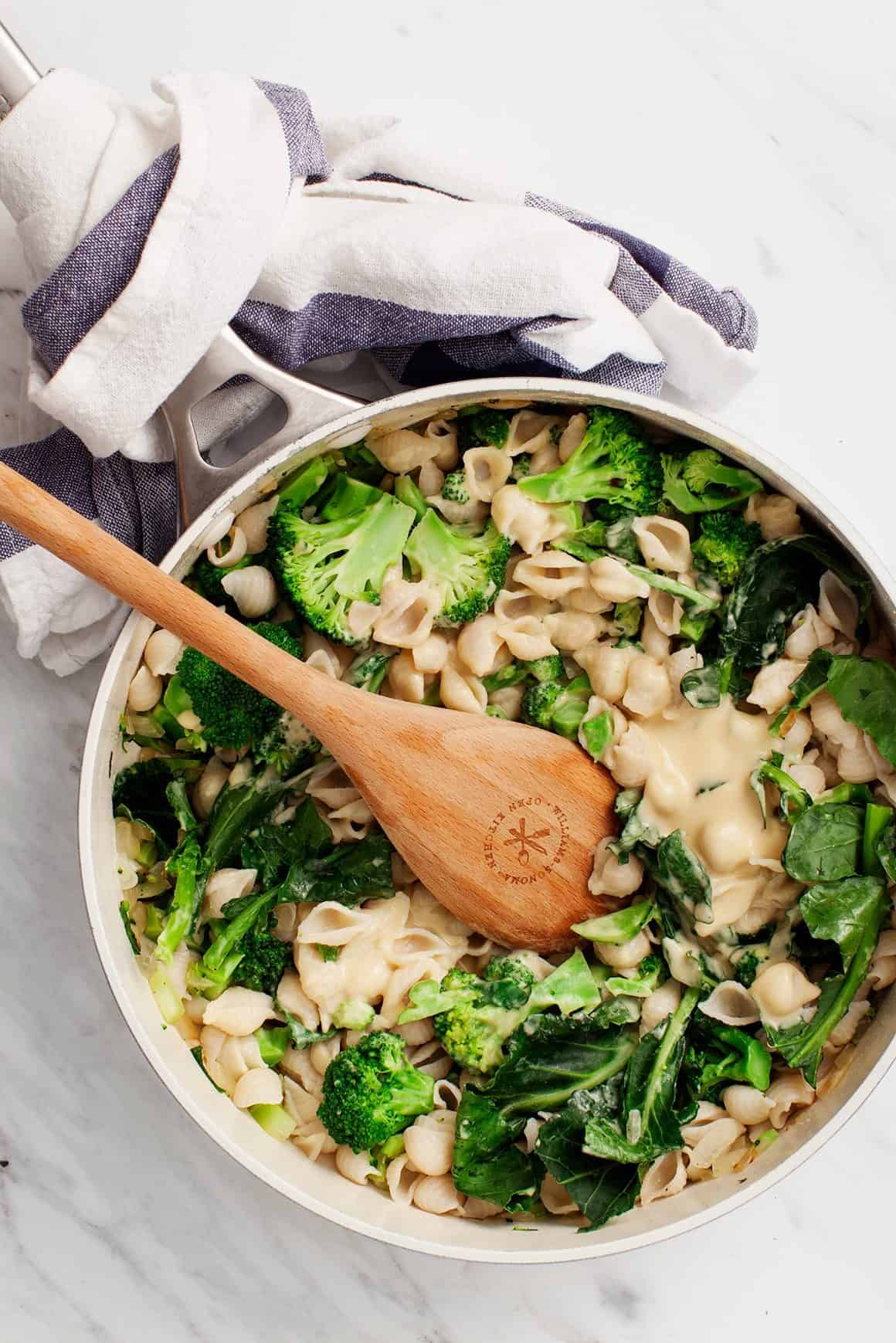 I finally got my pantry in order. Ok, that's not totally accurate – it's a mess of nuts, seeds, oats, and flours all piled on top of each other because nothing has "its place" yet in the new kitchen. But the fact that I have most of the essentials at least in there is progress (right?). So when I brought this beautiful broccoli home from the farmers market a few weeks ago, I turned to my mostly-stocked pantry to make my broccoli – stems, leaves, and all! – into a full meal. What came out is this creamy white bean puree that I poured over shells and broccoli.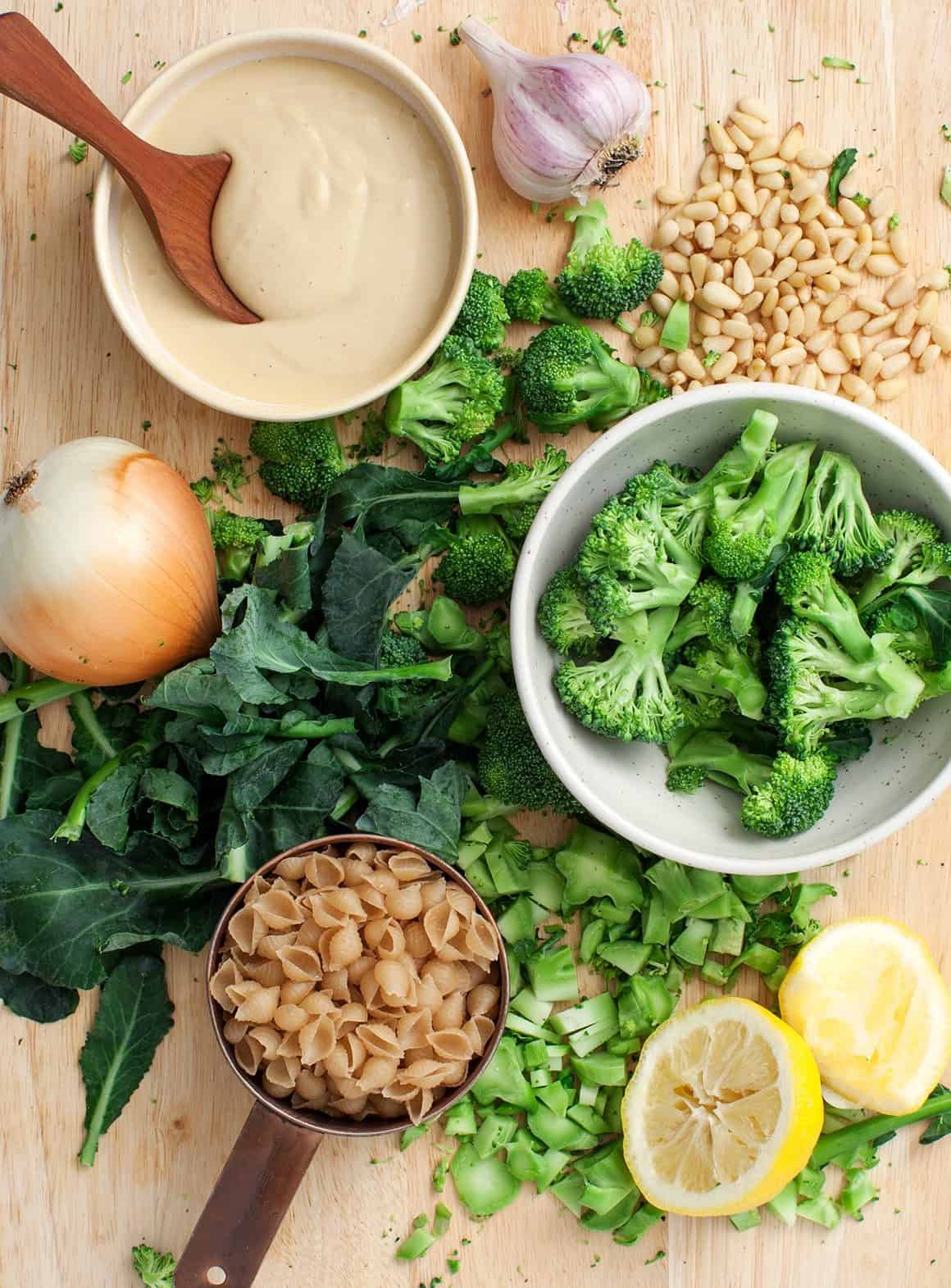 One thing about this recipe – it's not mac & cheese. I know it looks cheesy and there's an option below to use cheese if you don't want to use nutritional yeast, but this sauce isn't meant to recreate cheese. It's lusciously bean-y, a little tangy, super homey, and delicious in its own way.

I serve this the way I serve most saucey pastas – mix most of the sauce into the pan with the broccoli and the shells, and reserve the remaining sauce to spoon on top of the portioned bowls.

Creamy White Bean Shells with Broccoli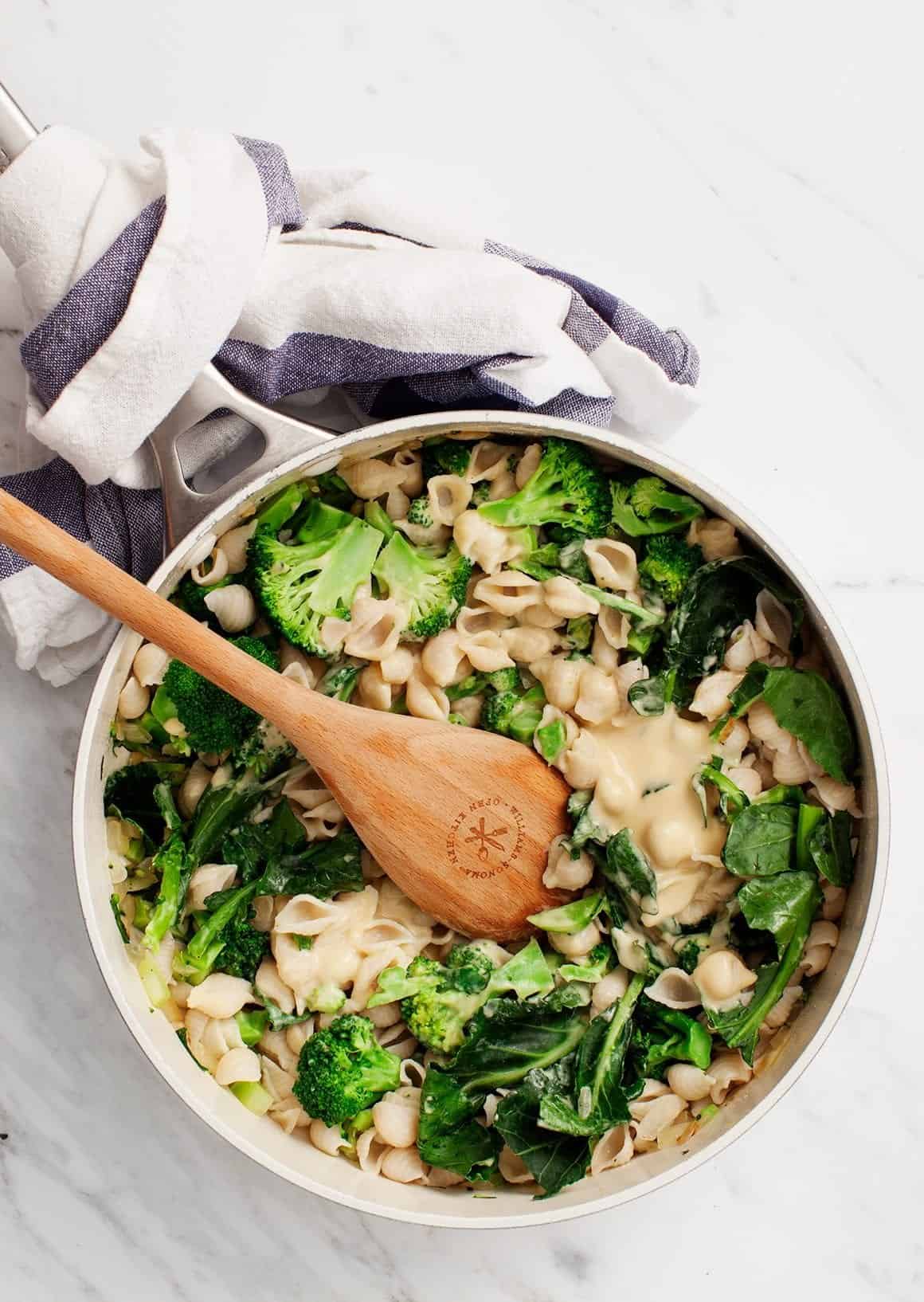 2½ cups small shell pasta
1 tablespoon extra-virgin olive oil
1 small yellow onion, chopped
5 cups broccoli florets, chopped stems, and leaves (keep stems separate)
¼ cup toasted pine nuts
lemon wedges, for serving
1 (14.5-ounce) can cooked white beans, drained and rinsed
¼ cup vegetable broth, more as needed
3 tablespoons fresh lemon juice
2 tablespoons extra-virgin olive oil
¼ cup nutritional yeast*
1 garlic clove, minced
¼ teaspoon onion powder
½ teaspoon sea salt
freshly ground black pepper, to taste
Make the sauce: In a blender, combine the white beans, broth, lemon juice, olive oil, nutritional yeast, garlic, onion powder, salt, and pepper, and blend until smooth. Set aside.
Bring a large pot of salted water to a boil. Prepare the pasta according to the instructions on the package, cooking until al dente. Drain and set aside.
Heat 1 tablespoon of olive oil in a large skillet over medium heat. Add the onion and sauté until soft, about 5 minutes.
Stir in the chopped broccoli stems and cook for another 3 to 5 minutes or until tender. Add the broccoli florets and leaves and a splash of water or vegetable broth. Cover and turn off the heat.
Allow the broccoli to steam for 2 to 3 minutes or until tender but still bright green. Add the pasta, then stir in ¾ of the sauce, adding more broth if the sauce is too dry.
Season to taste with more salt, pepper and lemon juice, as desired, and portion into bowls. Divide the remaining sauce onto each bowl. Top with the pine nuts and serve with lemon wedges on the side.
*If you don't have nutritional yeast, you can substitute with freshly grated parmesan cheese.
3.4.3177
If you make this, let us see! Tag your photo with
#loveandlemons
on
Instagram
.