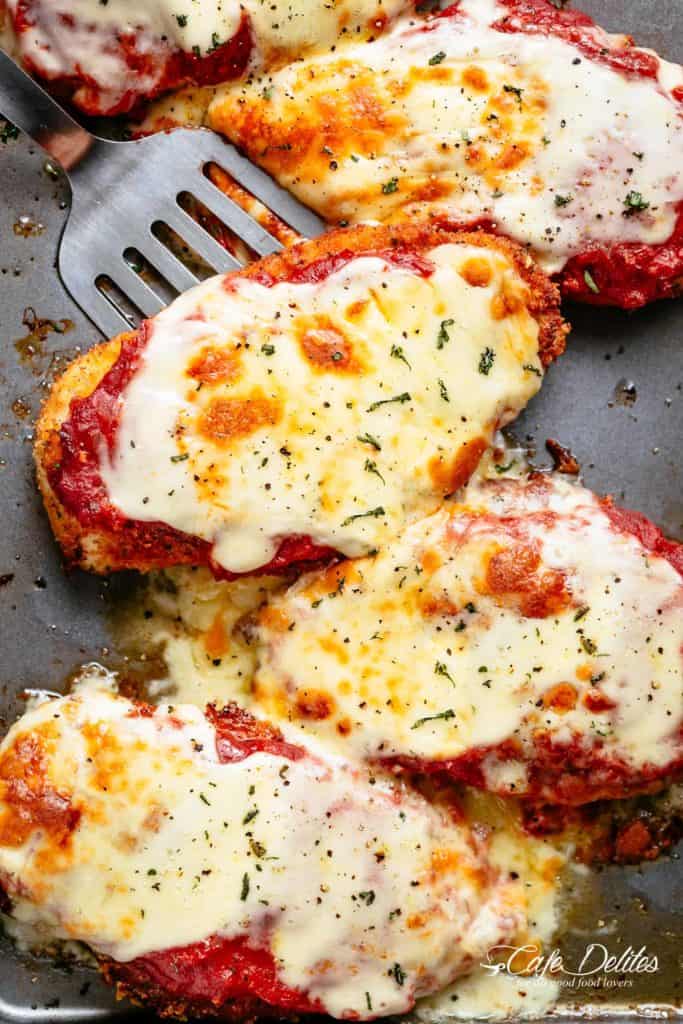 Crispy Chicken Parmesan (Parmigiana)
The Best Chicken Parmesan with a deliciously crispy coating, smothered in a rich homemade tomato sauce and melted mozzarella cheese!
Oven baked Chicken Parmesan is simple to make and worth every minute! If you love a crispy crumb coating vs a soggy crumb, look no further! This is the best Chicken Parmesan you will ever make!
You have all been loving this recipe so much that it was time to update the images! (Posted way back in 2014.)
The Best Chicken Parmesan
Chicken Parmesan (also called Chicken Parmigiana) is one of the most loved, most popular AND most ordered chicken recipes in the world. The ONLY thing my husband orders when we go to any restaurant is chicken parma, BUT he usually follows eating with complaining. Not enough flavour, not enough seasoning, too much sauce or not enough sauce, cheddar cheese instead of mozzarella, etc.. It became my life-mission to recreate our family favourite chicken dish!
How To Make Homemade Chicken Parmesan
Compared to all of the chicken recipes on this blog, this one may have more steps BUT they are all worth it:
Breading
Frying
Sauce-ing
Cheese-ing
Baking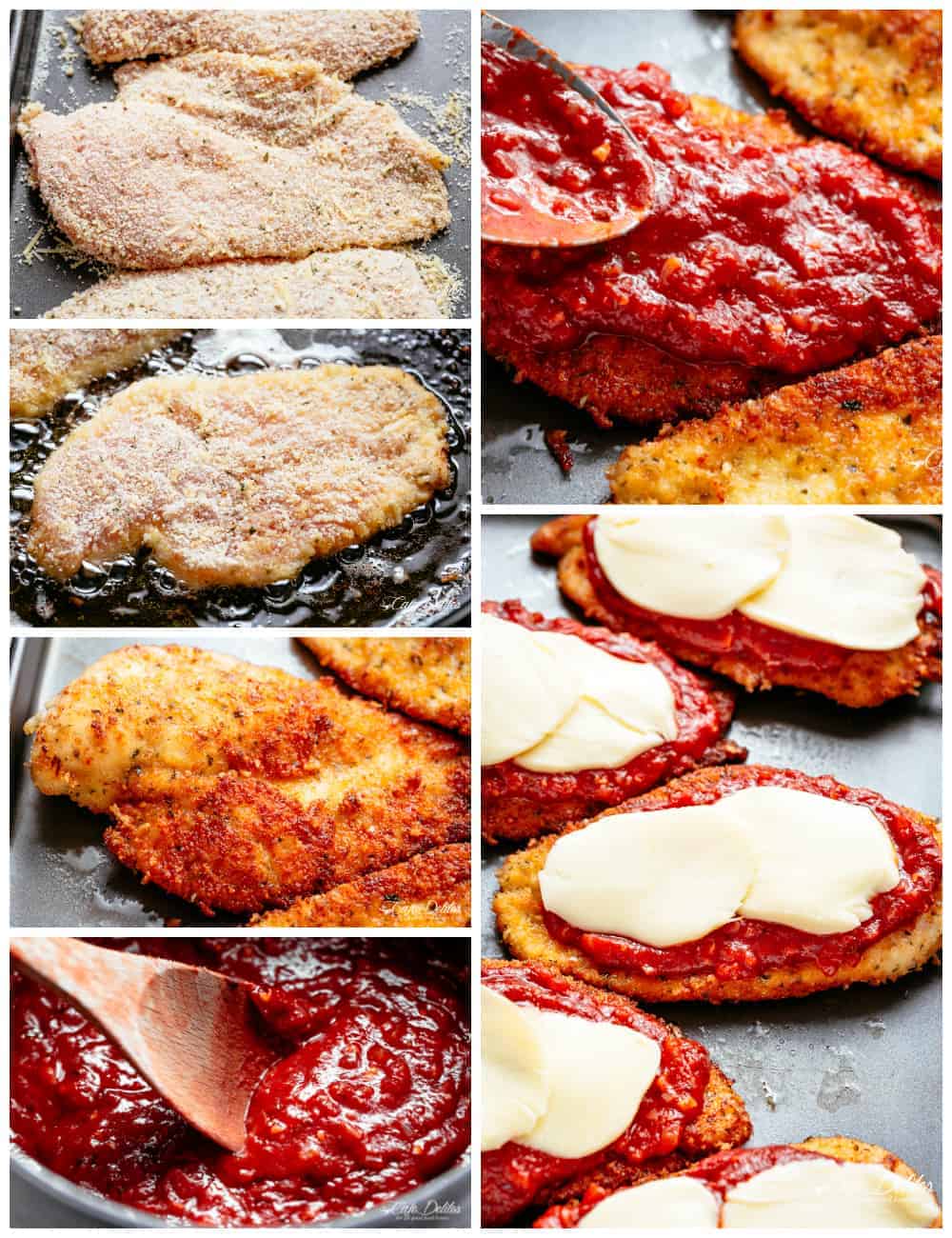 Breading:
For the best flavour combination, the breading is made up of a combination of four ingredients!
Panko —  a Japanese breadcrumb found in any supermarket or grocery store, usually in Asian isles. Dryer than regular breadcrumbs, they absorb less oil producing a crispy and crunchier crumb!
Breadcrumbs — Italian seasoned, golden or whatever you have on hand.
Parmesan cheese (or Provolone)
Garlic (or onion) powder.
Use our Homemade Sauce OR your favourite marinara!
For the purpose of giving you the ultimate flavour experience, I have provided a homemade tomato sauce we use for our parma. You are more than welcome to use store bought pasta sauce, marinara sauce or tomato sauce (U.S readers).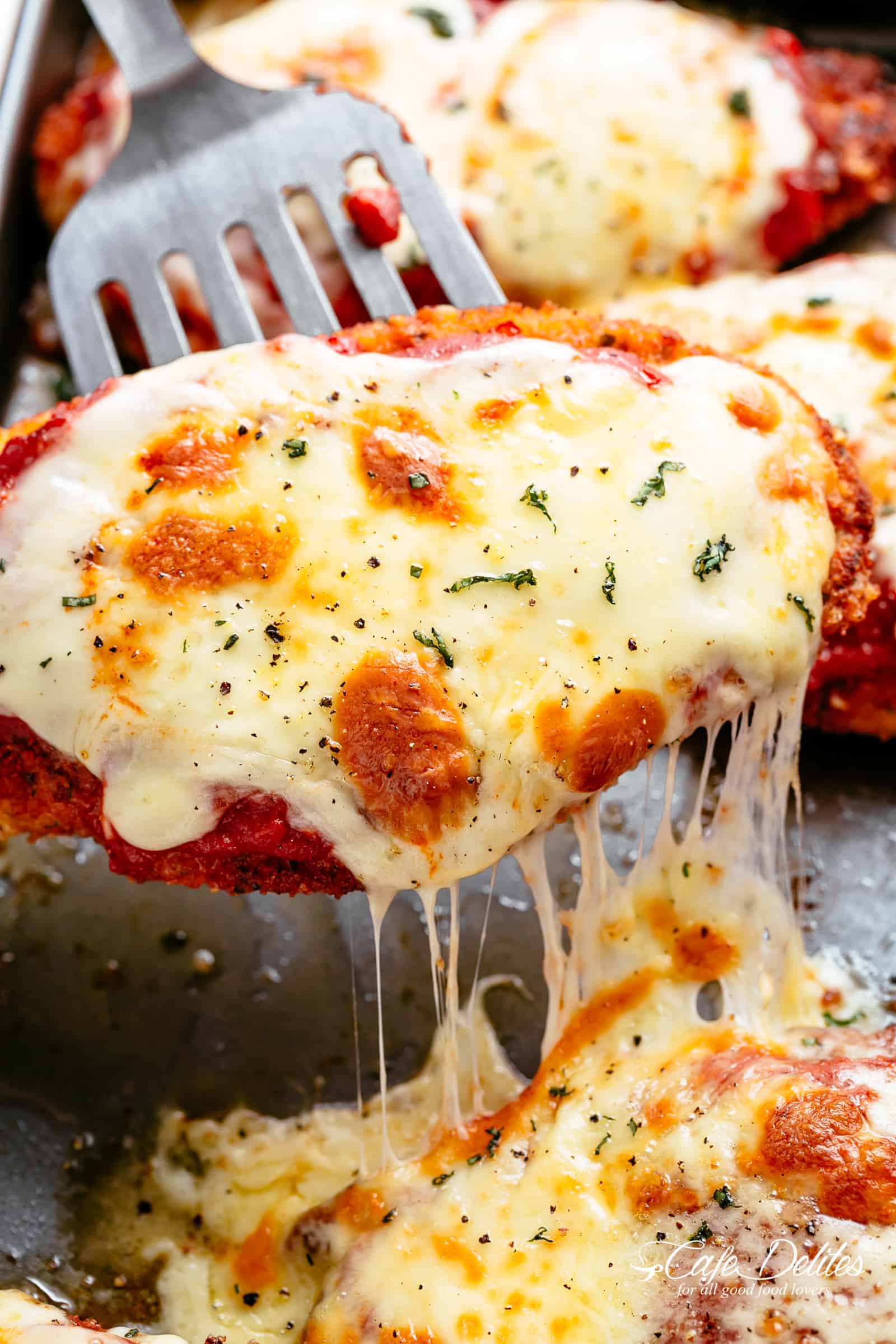 Is There A Difference Between Chicken Parmesan And Chicken Parmigiana?
Nope, they are the same! There are some variations to Chicken Parmesan depending on the type of restaurant you're ordering from, including layering toppings with ham or bacon, or changing mozzarella to cheddar (not our favourite), but they are all essentially the same. Chicken Parmesan or Chicken Parmigiana (Pollo alla parmigiana in Italian) is also known in Australia as a Parm, Parma, or Parmi.
Why do they call it chicken parmesan?
Before chicken parmesan was eggplant parmesan, where eggplant slices are breaded and fried and layered with sauce and parmesan cheese.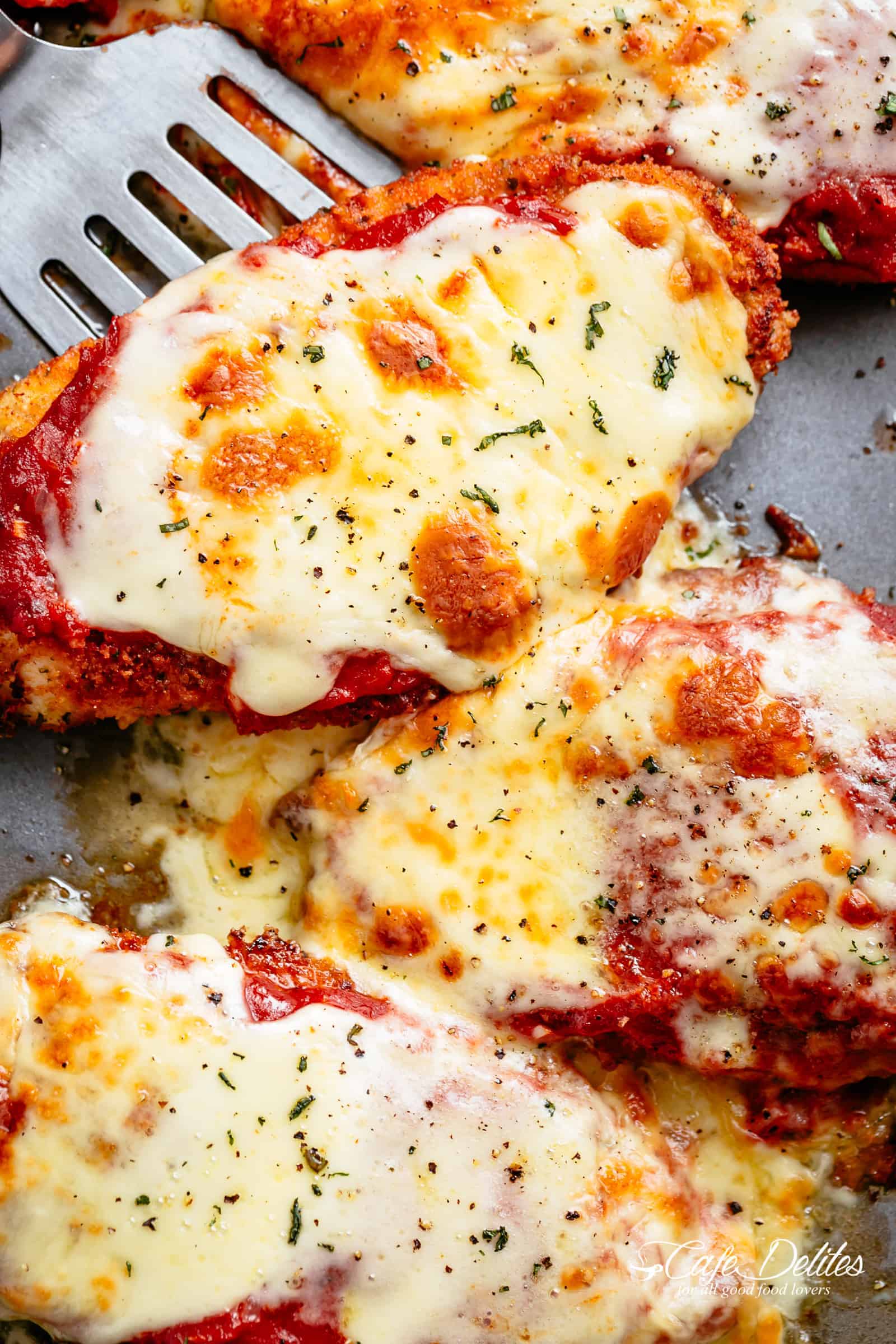 When running out of options on what to feed your family…look no further than these crispy succulent chicken breasts with so much melty cheesy!
What to serve with Chicken Parmesan
Pasta — thin spaghetti, angel hair pasta, fettuccini.
Steamed vegetables.
Zucchini noodles or cauliflower rice for a lighter option.
Looking for a low carb Chicken Parmesan? Try this Easy Mozzarella Chicken Recipe (Low Carb Chicken Parm)!
Crispy Chicken Parmesan
The Best Chicken Parmesan with a deliciously crispy breadcrumb coating, smothered in a rich homemade tomato sauce and melted mozzarella cheese! This is here best Chicken Parmesan you will ever make! Simple to make and worth every minute. If you love a crispy crumb coating vs soggy crumb, look no further! 
For The Chicken:
2 large eggs
1 tablespoon minced garlic
2 tablespoons fresh chopped parsley
Salt and pepper (to season)
3 large chicken breasts (halved horizontally to make 6 fillets)
1 cup Panko breadcrumbs
1/2 cup breadcrumbs ((Italian or golden))
1/2 cup fresh grated parmesan cheese
1 teaspoon garlic or onion powder
1/2 cup olive oil (for frying)
For The Sauce:
1 tablespoon olive oil
1 large onion (chopped)
2 teaspoons minced garlic
14 ounces (400 g) tomato puree ((Passata))
Salt and pepper (to taste)
1 teaspoon dried Italian herbs
1 teaspoon sugar ((optional))
For The Topping:
8 ounces (250 g) mozzarella cheese (sliced or shredded)
1/3 cup fresh shredded parmesan cheese
2 tablespoons fresh chopped basil or parsley
For The Chicken:
Preheat oven 430°F | 220°C. Lightly grease an oven tray (or baking dish) with non stick cooking oil spray; set aside.

Whisk together eggs, garlic, parsley, salt and pepper in a shallow dish. Add chicken into the egg, rotating to evenly coat each fillet in the mixture. Cover with plastic wrap and allow to marinate for at least 15 minutes (or overnight night if time allows for a deeper flavour).

When chicken is ready for cooking, mix bread crumbs, Parmesan cheese and garlic powder together in a separate shallow bowl. Dip chicken into the breadcrumb mixture to evenly coat.

Heat oil in a large skillet over medium-high heat until hot and shimmering. Fry chicken until golden and crispy, (about 4-5 minutes each side).

Place chicken on prepared baking tray / dish and top each breast with about 1/3 cup of sauce (sauce recipe below). Top each chicken breast with 2-3 slices of mozzarella cheese and about 2 tablespoons parmesan cheese. Sprinkle with basil or parsley. 

Bake for 15-20 minutes, or until cheese is bubbling and melted, and the chicken is completely cooked through.
For The Sauce:
Heat oil in a medium-sized pot. Fry onion until transparent (about 3 minutes), then add the garlic until fragrant (about 30 seconds).

Add the tomato puree, salt and pepper to taste, Italian herbs and sugar (If using). Cover with lid to simmer for about 8 minutes, or until sauce has thickened slightly. Taste test and adjust salt and pepper, if needed.
For this recipe, we use both chicken thighs and breasts.
Serve with pasta, mashed potato, a salad, steamed veggies, zucchini noodles or cauliflower rice for the perfect meal!
The post Crispy Chicken Parmesan (Parmigiana) appeared first on Cafe Delites.