Air Fryer Biscuits are so easy to make! Soft and tender on the inside with a buttery edge! Perfect with butter and honey or jam!
Make sure to check out my post: How To Use An Air Fryer. It covers everything from A-Z in choosing and cooking with an air fryer! 
Why Make Biscuits In An Air Fryer?
I LOVE this biscuit recipe and making them in the air fryer is now my new favorite method to cook them. Of course I still adore my Skillet Biscuits. But if you're looking for a more traditional style of biscuit, this is the perfect recipe. Cooking them in the air fryer gets that golden, crisp and buttery edge on all sides of the biscuit that I love so much. Plus, they're done a little quicker than in the oven, which makes them a great side dish. AND this is a great option when you don't want to turn on your oven and heat up your kitchen.
What Style Air Fryer Is Best?
I have covered this topic in great detail in my Air Fryer Breakdown post. So honestly, just use whatever air fryer you own. I prefer the air fryer that has racks (oven style air fryer) simply because you can cook more at once than the traditional basket-style. But both styles will work for this biscuit recipe!
PRO TIP: Even if you do have multiple racks in your air fryer, I still like to only cook on one rack for this recipe to produce the most evenly cooked biscuits.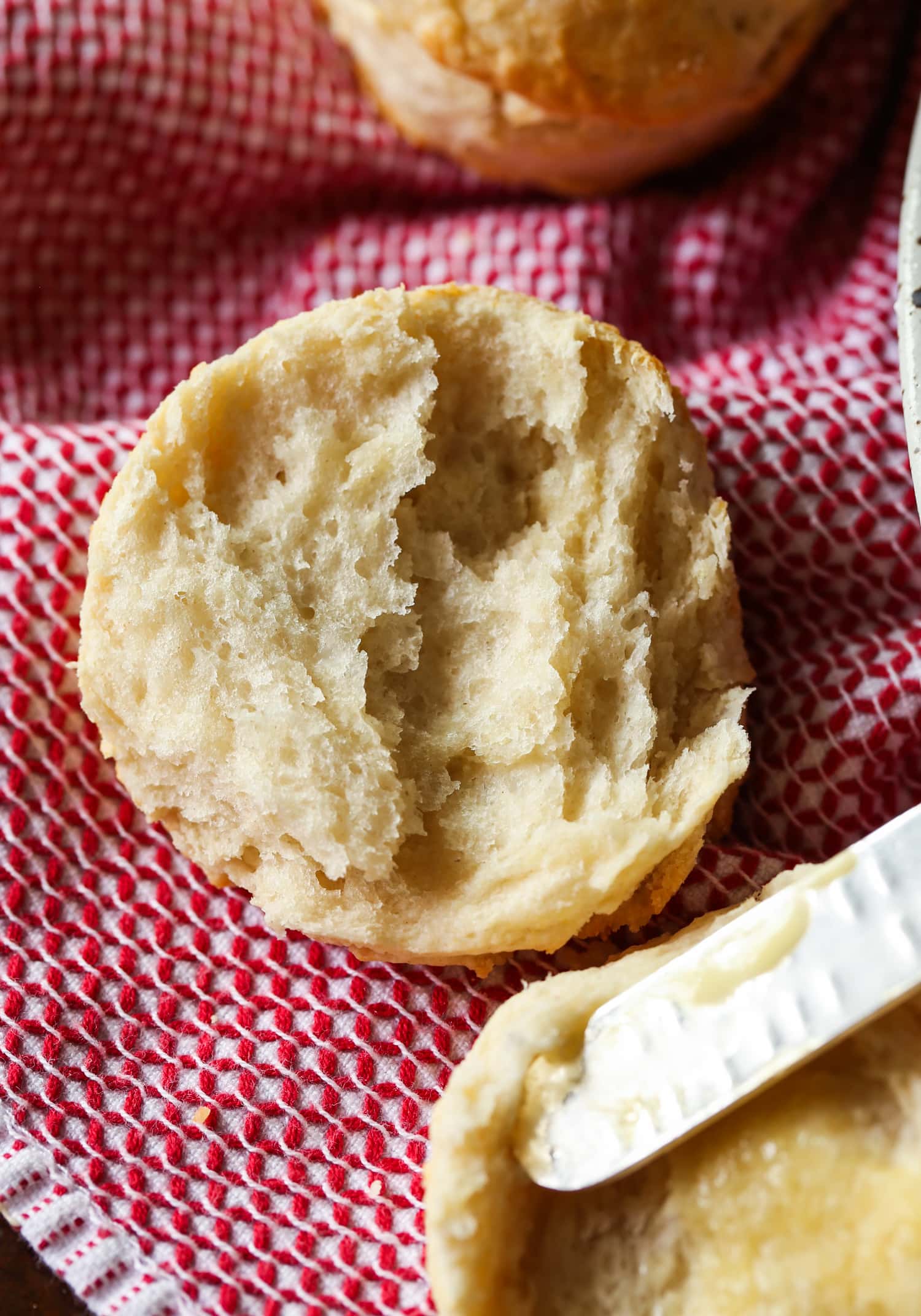 Why This Recipe Works:
This recipe works like a dream. Buttery, crisp biscuit edges with a tender and flaky interior. Perfect for butter and honey!
Simple ingredients.
Using salted butter gives you that salty, buttery edge.
The air circulating in the air fryer really get the coveted crisp edge, but leaves the insides super tender and flaky!
Using cold butter leaves pea sized bits throughout the dough, which is what gives you the flaky layers. You don't want to over-mix the dough!
The heat and the circulating air in the air fryer really gives the biscuits a lot of lift. Make sure your baking powder is fresh as well for sky high biscuits!