Dutch Apple Pie is everything I love in an apple pie recipe AND MORE! And by more, I mean a thick layer of buttery crumb topping instead of pie crust. This is a delicious spin on a classic!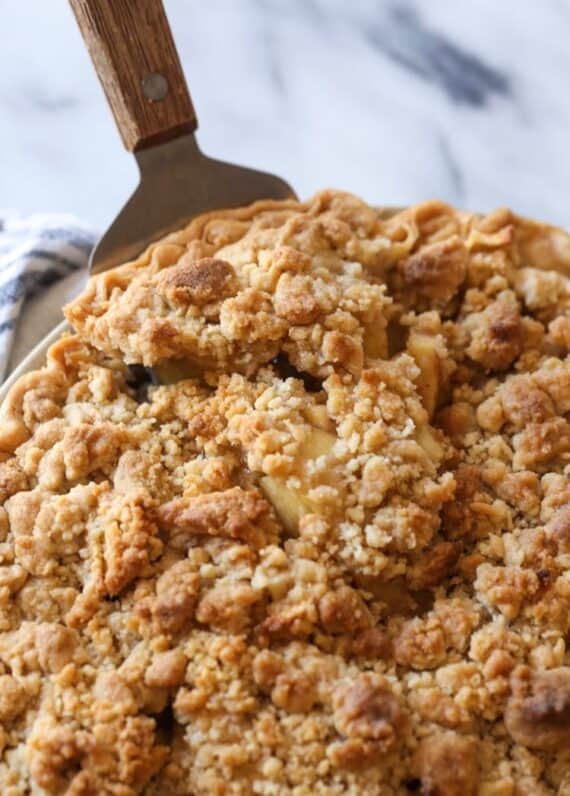 I am FULLY into Fall Baking this year. It's barely September and I feel like I've held out so long, so get ready for apple, pumpkin, and cozy coming at you in a major way. I want to make sure you are completely ready with options for the holidays, game day, or just a cozy Autumn Sunday.
So I'm following up my Classic Apple Pie Recipe that I shared a few weeks ago with this similar but different apple pie recipe, my Dutch Apple Pie!
Looking or More Apple Recipes? Try These:
Dutch Apple Pie is For All You Crumb Topping Lovers!
The thing with Dutch Apple Pie that sets it apart is the crumb/streusel topping. There are tons of variations on this recipe out there in the universe, but today I'm sharing my method, which I find to be the easiest!
Plus, I'm breaking down a few common mistakes and issue you might have when baking apple pie (or any fruit pie). So let's get started!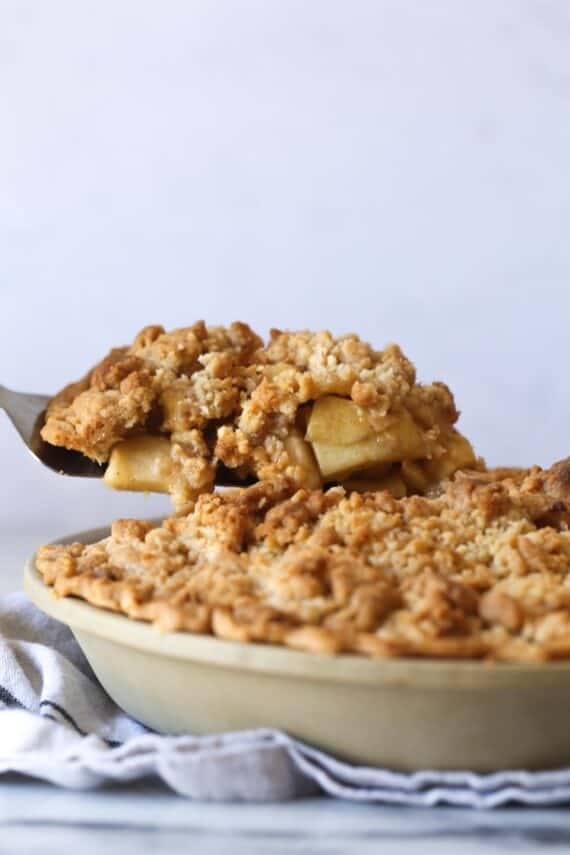 What IS Dutch Apple Pie?
Here's the thing, I am not a food historian, but after a little research it just looks like a Dutch Apple Pie is an apple pie with a crumb/streusel topping as opposed to a pie crust on top. I am not quite sure the authenticity of this recipe, but I do know it's delicious!
I like to bake mine with a traditional pie crust on the bottom, and the crumb on top, but I know that there are versions with a shortbread-type crust on the bottom, and even some with crumb topping baked inside the pie as well as on top! I wouldn't say no to any of those options!
What Type of Apples Work Best in This Pie Recipe?
There are tons of varieties of apples to choose from, and really there aren't a lot of bad choices, however I prefer Granny Smith, as they hold their texture and don't release as much liquid as others.
Other varieties that work well are:
Honeycrisp
Fuji
Braeburn
Winesap
Gala
Should You Bake the Apples Raw?
So this recipe, unlike my classic apple pie recipe is baked with the apples still raw, as opposed to cooking them before baking.
I like baking the raw apples in this recipe because as the apples cook they release liquid, and the crumb topping absorbs some of that juice, which creates a nice, thick crumb crust. The DOWNSIDE to this, is because they release liquid the bottom crust can get a little soggy.
How To Prevent A Soggy Pie Crust
So like I said, baking with raw fruit is great because it's quick and easy, but fruits release liquid as they bake, creating a lot of juice! Here are some tips on how to prevent that from happening:
Use a glass pan! This way you can actually SEE when the bottom crust is golden brown! It seems obvious, but the simple answer is sometimes the best!
If your recipe doesn't call for you to precook your fruit, toss them in a sugar mixture (like this recipe) and allow the fruit to sit for a bit. The sugars with draw out the liquids naturally and can be discarded when ready to fill your pie crust.
Certain fruits, and apples, have a higher liquid content than others. I love using Granny Smith Apples in my pies because I find they don't release as much liquid.
Place the pie plate on the bottom rack of the oven closest to the heating element!
Bake your pie for AT LEAST as long as the recipe calls for! Honestly it's pretty hard to over-bake an apple pie, as long as you protect the crust. You want the filling to be bubbly, and allow the filling to bubble for a while! The bubbling is boiling the filling, which is when your fruit liquid evaporate!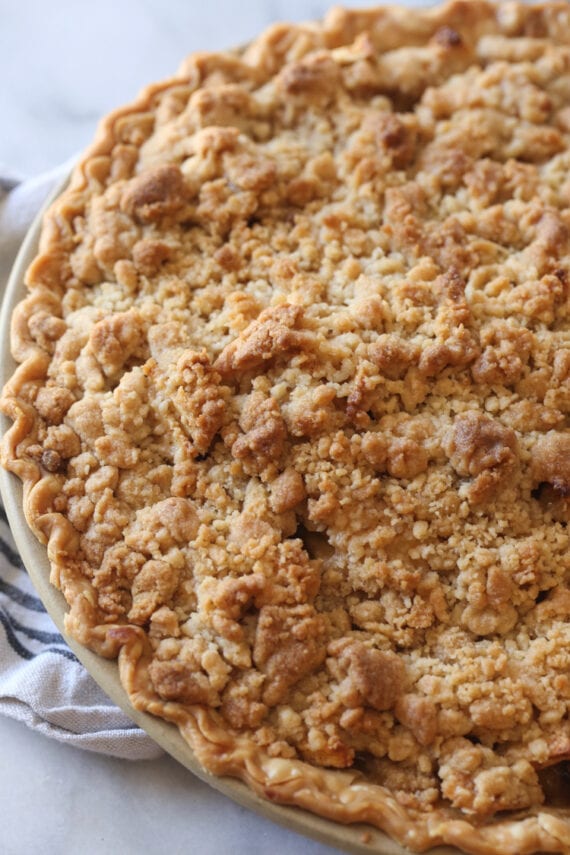 Feel free to make your own pie crust, or use a store bought pie dough for this recipe. Whatever you prefer! If you use my recipe for my All Butter Crust, note it makes enough dough for 2 crusts.
Looking For More Pie Recipes? Try These: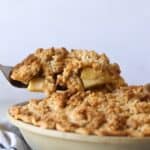 ---
Description:
This easy apple pie recipe has a thick, crunchy layer of crumb topping!
---
Ingredients:
1

pie crust (my recipe will create enough for

two

crusts)

5

–

6

cups Granny Smith Apples, peeled and sliced into

1/4

– inch pieces

1 tablespoon

lemon juice

1/3 cup

light brown sugar

1/3 cup

granulated sugar

1/4 cup

flour

1 teaspoon

ground cinnamon
Topping
1 cup

flour, plus 2 tablespoons

1/3 cup

granulated sugar

1/3 cup

light brown sugar

1/2 cup

cold butter, cubed
---
Instructions:
Preheat oven to 375°F. Adjust your oven rack to the lowest position.
Roll out your pie dough to a 12- inch circle and fit it into a 9- inch pie plate, crimping the edges. Place the pie plate in the refrigerator while you do the next steps.
In a large bowl combine the apples, lemon juice, brown sugar, granulated sugar, flour, and cinnamon. Stir to coat evenly. Set aside.
To prepare the topping, combine the flour, granulated sugar, brown sugar, and butter in a medium bowl. Using a pastry cutter or fork blend the mixture together until coarse crumbs form. Using your hands squeeze the mixture together until all the butter is absorbed and your crumb topping comes together.
Remove the pie plate from the refrigerator and spread the apples evenly into the crust, discarding any liquid that has been released from the apples. Sprinkle the crumb topping evenly on the apples.
Bake for 50-60 minutes, until the apple mixture is bubbly and the crumb and crust is golden. If the crust and/or crumb begins to brown too quickly cover the pie loosely with foil and/or pie shield. Make sure to bake the pie long enough that the mixture is bubbly to ensure that the bottom crust is cooked. Since you are baking the apples raw they will release juice which can make the bottom crust slightly soggy. Positioning the rack to the lowest position and baking the pie long enough will make sure that the bottom crust bakes properly.
Remove the pie from the oven when done and allow to come to room temperature before slicing.
---
Notes:
Store airtight at room temperature for up to 2 days, or in the refrigerator for up to 5 days.
Keywords:: cookies and cups, apple pie, dutch apple pie, pie crust, crumb topping, pie recipe, fall baking
Want To Save This Recipe?
Pin For Later