These easy pecan pie bars are amazing (as in, move over pecan pie)! That tasty buttery, shortbread crust is topped with the classic crunchy, sticky, sweet pecan filling and baked until golden. Yum!
I've realized over time that people either love pecan pie or they hate it.
Where do you fall on the pecan pie spectrum?
Anyone out there who's just "meh" about the whole pecan pie thing?
In keeping with the "fudge theme" from Monday, I guess this week I'm all about posting recipes for foods that I haven't been crazy about in the past.
Because I'm a nut-avoider for most baked goods (these white chocolate pecan blondies are a notable exception), I never really gave pecan pie the time of day until this chocolate pecan pie came into my life.
That pie single-handedly made me a believer that I could actually love pecan pie.
Because of that, I've been itching to get a really great, really easy, really delicious pecan pie bar recipe up for you guys (and ok, for me, too).
There's something about that buttery shortbread base that kind of beats out pie crust any day.
Both in terms of ease AND deliciousness.
Sorry, pie crust. The truth hurts sometimes.
Throw on a classic, sticky, sweet, crunchy, decadent pecan pie filling over the crust, and you have some of the best pecan pie bars ever.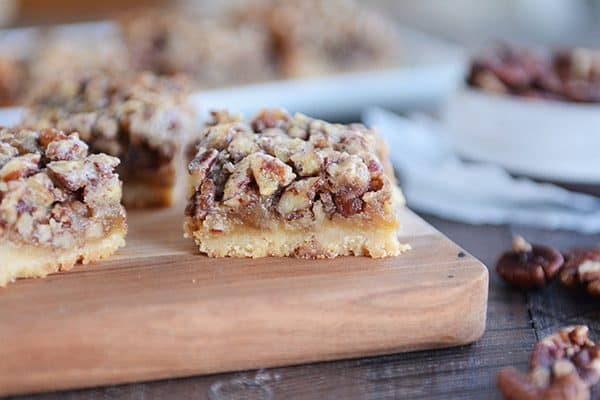 For someone who really doesn't like to take on dessert if there's no chocolate in sight, I could not get over these bars.
I kept cutting off tiny pieces here and there until I realized I should have just carved out 1/3 of the pan.
I mean, seriously. Own the serving, right?
But…for chocolate lovers, there's an easy fix. Toss a cup of chocolate chips (dark, always) in the filling before baking and you'll have a really stellar chocolate pecan pie bar.
Yikes. Talk about irresistible.
As much as I love chocolate, this classic, no-frills version for pecan pie bars is fantastic.
And I'm guessing you might even convert some pecan pie naysayers along the way.
One Year Ago: One Pot Creamy White Lasagna Chicken Soup
Two Years Ago: Chocolate Fudge Sour Cream Bundt Cake
Three Years Ago: White Chocolate Pecan Brownies
Four Years Ago: Homemade Peppermint Patties
Five Years Ago: White Chocolate Cherry Shortbread Cookies
Yield: 9X13-inch pan of bars
Pecan Pie Bars
Ingredients:
Crust:
3/4 cup butter (12 tablespoons, 6 ounces), softened
1/2 cup (3.75 ounces) light brown sugar
2 cups (10 ounces) all-purpose flour
1/4 teaspoon salt
Pecan Filling:
3/4 cup butter (12 tablespoons, 6 ounces), melted
1 1/2 cups (11.25 ounces) light or dark brown sugar
1/2 cup pure maple syrup, not pancake syrup (see note)
3 tablespoons heavy cream
1/4 teaspoon salt
3 large eggs
2 1/2 cups (10 ounces) chopped pecans
Directions:
Preheat the oven to 350 degrees F. Line a 9X13-inch pan with foil and lightly grease with cooking spray. Set aside.
For the crust, in a stand mixer fitted with the paddle attachment or in a bowl using a handheld electric mixer, beat together the butter and brown sugar until creamy, 1-2 minutes. Add the flour and salt, and mix until combined. It will be crumbly (might be easier to finish the mixing with your hands).
Press the crust mixture evenly into the bottom of the prepared pan. Bake for 10 minutes until just barely golden. It will bake longer with the filling.
For the filling, in a large bowl, whisk together the melted butter, brown sugar, maple syrup, cream, salt, and eggs until well-combined. Stir in the pecans.
Pour the filling evenly over the crust, using a spatula to make sure the pecans aren't clumped up in any area (just get them as evenly distributed as possible).
Bake for 20-25 minutes until the edges are starting to set and the mixture is bubbling. The middle will still be a little jiggly but will set up as the bars cool. If the middle seems overly soupy when the pan is shaken gently, bake for another few minutes, but keep in mind you definitely want to take the bars out before the middle is set.
Let the bars cool completely before cutting into squares. These are delicious at room temperature or chilled.
Notes:
Chocolate Variation: add 1 cup chocolate chips (my recommendation would be semisweet or bittersweet) to the filling before pouring on top of the crust. 
I haven't tried it, but I'm guessing that light corn syrup might sub well for the pure maple syrup (although if you have pure maple syrup, the depth of flavor it lends this recipe is amazing!).
All images and text ©Mel's Kitchen Cafe.