These Easy Air Fryer Latkes are made with a traditional blend of Russet potatoes, onions, and egg, and cook up into golden-brown perfection in your air fryer! You'll love the savory flavor, crisp lacy edges, and steamy, soft interior.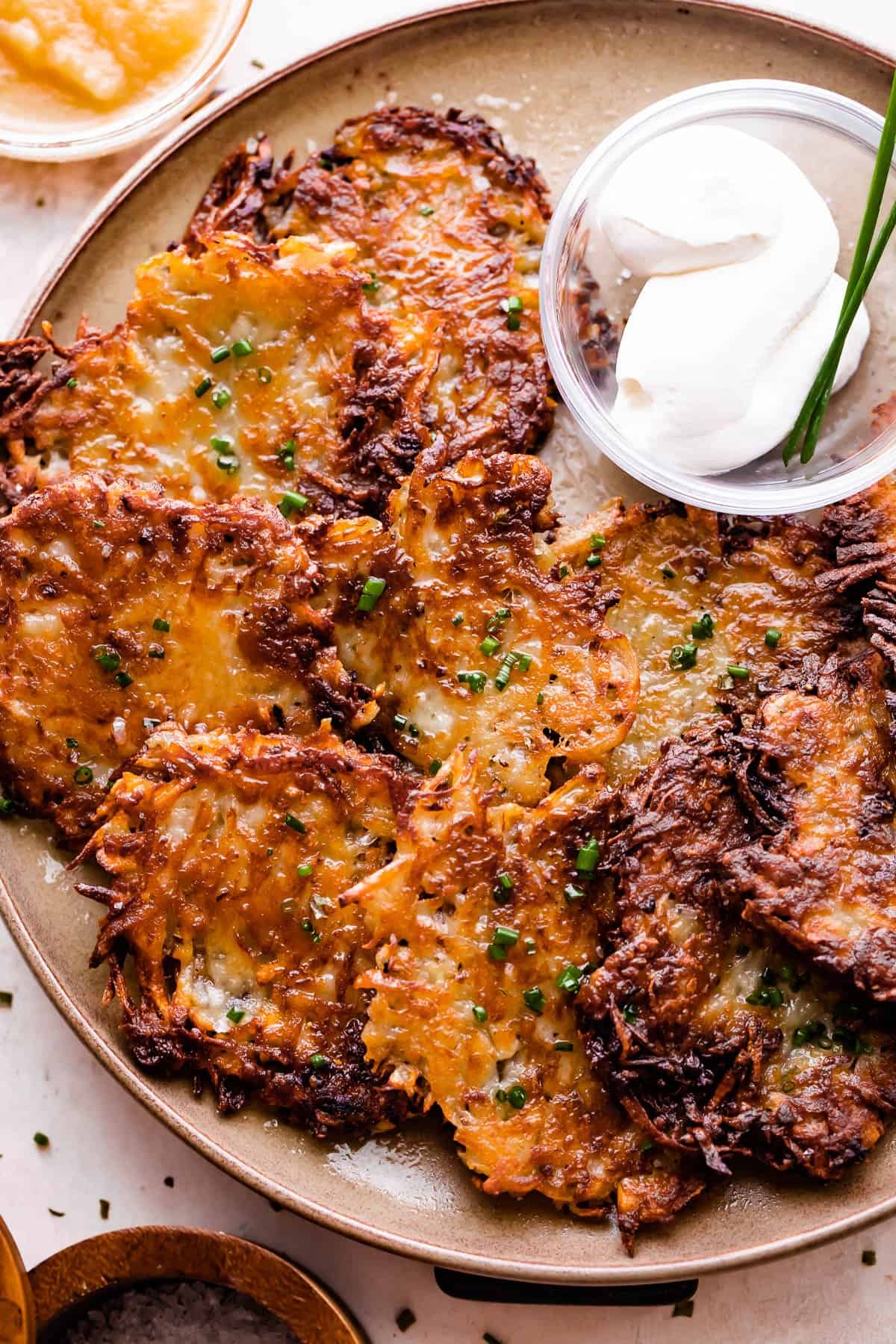 Classic Crispy Latkes in the Air Fryer!
It's latke time, you guys! When the season of Hanukkah rolls around, the festive and beautiful traditions involved are so inspiring. I love the story of how a little bit of oil miraculously lasted 8 days, giving hope even in dire times.
I also love enjoying the traditional treats associated with the celebration – anything fried in oil is up for grabs! ? Doughnuts are a favorite, but latkes have all my love. ?
Whether you observe the holiday or not, these crispy, golden-brown potato fritters are an amazing treat! And when you use an Air Fryer, they're seriously easy to make.
Air Fryers are awesome because, you get the taste and texture of deep-frying, without the mess and with only a tiny bit of oil. That saves time, money, and calories. Definitely a fan!
The secret is in the high-heat convection. Air Fryers use fans to circulate the hot air inside, creating a sizzling environment that really crisps up food, especially if you spritz a little oil on before cooking. That makes air-frying the perfect way to make crispy fries, onion rings, and yes: latkes!
What's the Difference Between Potato Pancakes and Latkes?
Technically, a latke doesn't actually have to be made with potatoes, although that's probably the most famous version. "Latke" is Yiddish for "little oily thing," and a latke is basically a fritter; a small fried patty of some kind. They can be made with all kinds of different ingredients, but somewhere along the way the favorite potato and onion version really took off in popularity.
These days, if you hear the word "latke," you probably think of one of these tasty potato fritters.
The Basic Ingredients
Here's what you'll need to make classic potato latkes at home. The simple list of ingredients is short and to the point. This allows each ingredient to really shine!
Potatoes: Peel several large russet potatoes before grating them.
Onion: Peel a small onion. I usually use yellow onions, but you could also use white, red, or sweet onions.
Eggs: To bind the mixture together, you'll need a couple of large, whole eggs.
Panko: Panko crumbs add texture and also help bind the mixture. You could also use matzo crumbs or meal.
Salt and Pepper
Sour Cream, Apple Sauce, and Chives: For serving. There's nothing like a fresh, hot potato latke dipped in applesauce or sour cream, or sprinkled with fresh chopped chives. ?
What Is the Best Potato to Use for Latkes?
While some cooks swear by the buttery flavor of Yukon Gold, in general, Russet potatoes are the "gold standard" for latkes! These starchy spuds cook up perfectly into a crisp golden-brown on the outside, and a steamy, soft inside. 
How to Make Air Fryer Latkes
Making these potato latkes is super easy! The key to making sure that they turn out crispy and not falling apart is to dry the grated veggies carefully. Take a look at these easy steps!
Prep the Air Fryer and the Veggies. Before you get started, set the air fryer to preheat to 400˚F. Next, grate the potatoes and the onion on the large holes of a box grater. Then place the grated veggies onto a clean kitchen towel, pull up the sides of the towel to make a bundle, and squeeze out as much moisture as possible. 
Make the Potato Latke Mixture. Place the dried potatoes and onions in a large bowl. Add the eggs, panko crumbs, salt, and pepper, and stir well to combine. 
Start Frying the Latkes. Grease the air fryer racks (or basket) with cooking spray, and drop dollops of the potato mixture, flattening each to make a patty. Spray the patties with cooking spray, and cook in the air fryer for 8 minutes.
Flip the Latkes and Finish Cooking. After the first 8 minutes, flip the latkes over and spray again with cooking spray. Finish air-frying for about 5 more minutes, or until the latkes are crispy and golden brown all over. 
Serve. Serve the latkes warm, with sour cream, applesauce, chives, and whatever other toppings you like.
Tips for Amazing Latkes
Everyone has their favorite tips and tricks for making the best latkes—including me! Here are some of my favorite easy tips for creating the best latkes ever. Enjoy!
Make a Lot(ke): If you want to make latkes for a crowd, you can speed up the process (literally!) by using a food processor. The large holes of the grating attachment will produce perfect latke shreds.
Extra Starch: To help your latkes hold together and turn out even more crispy, save the liquid you strain out of them in a small bowl. Allow the liquid to sit for several minutes, so that the potato starch settles to the bottom of the bowl. Pour off the excess liquid from the top of the bowl, and then scrape the starchy juice into your latke batter. This added potato starch is great for crispy latkes!
Breathing Space: Make sure to space the latkes out in the air fryer. If you crowd the racks or basket, the latkes won't cook as well, and can even turn out mushy!
Spice Things Up: This basic recipe can be modified in any way you like! Seasonings like garlic powder, seasoned salt, or even nutmeg and cinnamon can add a punch of flavor to your latkes.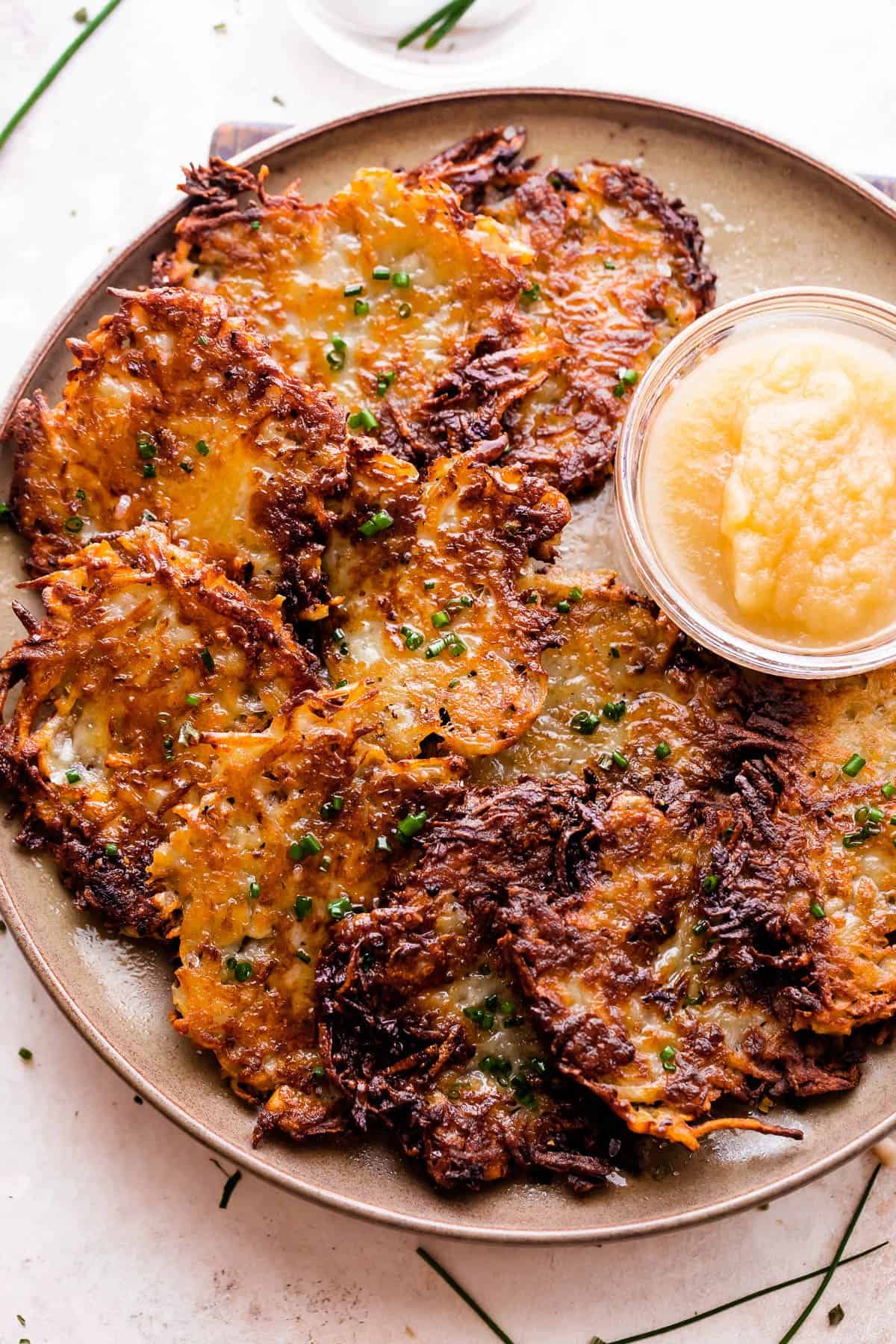 Refrigerating Your Leftover Latkes
To refrigerate leftovers, just cool them on a baking rack or tray, and then pack them into airtight containers.
If you want to store them in layers, make sure to put a piece of parchment or wax paper between each layer to prevent sticking. Stored this way, they'll keep for up to 2 days.
Can I Freeze These?
Yes! To freeze leftover latkes, cool them completely and then place them on a sheet pan or tray.
Freeze them until frozen solid, and then pack them into freezer containers or bags and store in the freezer for up to two weeks.
How to Reheat Latkes
Reheat frozen or refrigerated latkes in the air fryer. Preheat to 350˚F, and air-fry for 7 to 10 minutes per side for frozen, or 3 to 5 minutes per side for refrigerated.
You can also do this in a 350˚F oven, if you prefer.
ENJOY!
Air Fryer Latkes
These easy Air Fryer Latkes are made with a traditional blend of Russet potatoes, onions, and egg, and cook up into golden-brown perfection in your air fryer!
Instructions 
Grate the potatoes and onion on the large holes of a box grater.

Transfer the mixture to a kitchen towel, pull up the sides of the towel, and squeeze out the moisture as much as possible.

Place the potato mixture in a large bowl.

To the potato mixture add the eggs, panko crumbs, salt, and pepper; stir until well combined.

Grease the air fryer racks or basket with cooking spray.

Drop the potato mixture in 2 to 3 tablespoon dollops into the air fryer, flattening the top to make a patty.

DO NOT crowd the air fryer – arrange the latkes in one single layer, and cook them in batches.

Spray the tops with cooking spray.

Cook in the air fryer for 8 minutes.

Flip them over, grease with cooking spray, and continue to cook for 5 more minutes, or until golden brown and crisp.

Garnish with fresh chopped chives and serve with sour cream, apple sauce, etc…
Nutrition Facts
Air Fryer Latkes
Amount Per Serving
Calories 52
Calories from Fat 9
% Daily Value*
Fat 1g2%
Saturated Fat 1g5%
Trans Fat 1g
Polyunsaturated Fat 1g
Monounsaturated Fat 1g
Cholesterol 21mg7%
Sodium 165mg7%
Potassium 184mg5%
Carbohydrates 10g3%
Fiber 1g4%
Sugar 1g1%
Protein 2g4%
Vitamin A 30IU1%
Vitamin C 3mg4%
Calcium 10mg1%
Iron 1mg6%
* Percent Daily Values are based on a 2000 calorie diet.
Keywords: hanukkah food, how to make latkes, potato fritters
Want To Save This Recipe?
More Air Fryer Favorites