A veggie-filled frittata dotted with crispy bacon is the perfect dish for a Mother's Day brunch, or any other brunch-time! Everyone will love this Easy Bacon and Spinach Frittata topped with melted cheese.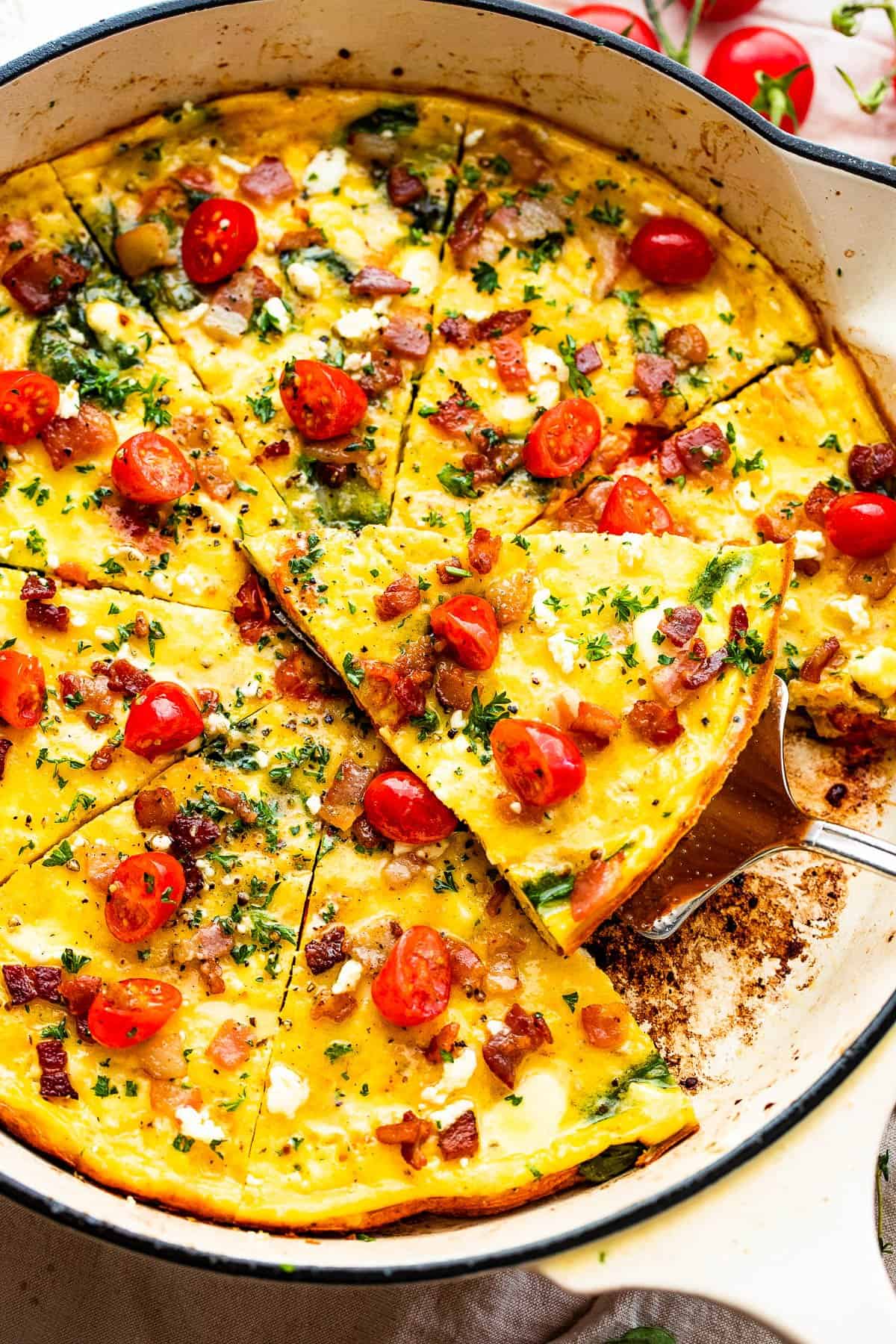 An Easy Brunch Idea for Mother's Day
Some holidays just make you think of certain dishes. There's corned beef for St. Patrick's day, ham for Easter, barbecue for 4th of July… and for Mother's Day, all things brunch!
I don't know why brunch just seems so appropriate on Mother's Day. Maybe because of the semi-traditional "make mom breakfast in bed" thing? Whatever the case, it's just a fun, frilly meal that seems perfect for the ladies we love, you know?
But, even the frilly-est meal needs a hearty main course, right? And for my money, that main course should be frittata. It's a satisfying entree that combines the protein of whole eggs with your choice of savory mix-ins. Attractive, but low-hassle, frittata is easy to pull off, even for beginners. ESPECIALLY for those looking for a gluten free, low carb, keto-friendly, festive breakfast option! ?
Also? This mom would like to put in her order for the constant flow of mimosas and croissants this Sunday mornin', puhlease!
What is a Frittata?
A frittata is sort of a cross between a quiche and an omelette. It's an Italian specialty, made with eggs, cream and any kind of add-ins you like! Similar to a quiche, it's baked in the oven, but like an omelette, it has no crust and starts out on the stovetop.
Frittatas are usually savory, and may or may not have some cheese in the mixture. For this one, I'm using a classic combination of bacon, spinach and cheese, with the added punch of juicy tomatoes.
What You'll Need
This recipe is very flexible. You can mix, match and substitute ingredients to your heart's content. The basic idea stays the same: 8 eggs, 1/4 cup of dairy, seasonings, veggies and cheese.
Eggs: This frittata is made with 8 large eggs and serves six people.
Half & Half: You'll need ¼ cup of half and half, heavy cream, or you can use milk.
Salt & Pepper: To season the frittata, I used half a teaspoon of each.
Nutmeg: Just a pinch of nutmeg adds the perfect hint of sweetness.
Bacon: You'll need 4 slices of thick-cut bacon, diced.
Cherry Tomatoes: Cut 2 cups of cherry tomatoes in half, or substitute whatever tomatoes you prefer.
Garlic: Mince 1 clove of fresh garlic.
Spinach: To add color and healthy greens to the frittata, I used 3 cups of fresh baby spinach.
Feta: One of my favorite cheeses, feta adds a salty, savory richness.
Mozzarella: Half a cup of shredded mozzarella makes a melty topping for the frittata.
How to Make a Spinach Frittata
You'll love how this easy dish comes together all in one pan! All you have to do is cook the veggies, and then layer cheese and a light omelette mixture of eggs and half and half.
Prep Oven & Egg Mixture: Preheat your oven to 350˚F. In a mixing bowl, whisk together the eggs, milk, salt, pepper and nutmeg. This is the base for your frittata.
Fry Bacon: Set a 10-inch ovenproof skillet (cast iron works well, and so does stainless steel if the handle is ovenproof) over medium heat. Let the skillet heat up, and then add the diced bacon and cook for 4 minutes, or until crispy. Remove the bacon from the pan and set it aside. Don't drain the bacon grease! It will add a ton of flavor and prevent your frittata from sticking.
Cook Veggies: Return the skillet to the burner and increase the heat to medium-high. Add the halved cherry tomatoes and cook for 2 minutes. Stir in the minced garlic, followed by the spinach. Sauté for 2 minutes, or until the spinach is wilted.
Layer Frittata: Return half of the bacon to the skillet and reduce the heat to medium. Pour in ⅔ of the egg mixture and top with half of the feta. Pour in the remaining egg mixture, and then finish with the remaining feta, plus the mozzarella cheese.
Bake: Transfer the skillet to the preheated oven. Bake for 8 to 10 minutes, or until the center is set and the cheese is melted.
Let Stand, Garnish & Serve: Remove your finished spinach frittata from the oven and let it stand at room temperature for about 7 minutes. Top with the reserved bacon bits, garnish with parsley, and serve.
Variation Ideas
You can really make a frittata with just about any ingredients that you like! It's traditionally considered a dish somewhat like soup: a healthy and tasty way to use up small amounts of ingredients, including leftovers. Keep my Leftover-Turkey Frittata in mind for your next Thanksgiving weekend. Here are a few easy combinations to inspire you in your frittata-making!
Caprese Salad: Omit the spinach and feta from this recipe, and instead, whisk a cup of fresh basil leaves into the egg mixture. Layer shredded mozzarella in place of the feta. Bacon goes great in this fun take on the classic caprese salad, but it's also good without it!
Potato & Chive: This is a great way to use leftover cooked potatoes! Make the frittata base and add chopped fresh chives. Instead of tomatoes and spinach, give cooked, diced potatoes and onions a quick sauté. Layer in the egg mixture along with your favorite cheese.
Creole Surprise: Follow this recipe, but use Andouille sausage instead of bacon, and replace the spinach with a small amount of the "holy trinity" – fresh green bell pepper, onion, and garlic.
Garden Frittata: Make the frittata base. Sauté half a cup each of diced zucchini, diced ham, diced onion and sliced black olives, until just heated through. Add the egg mixture and finish in the oven.
Tips for Making Spinach Frittata
What else should you know about making a frittata? There are a few tips and tricks that'll help you ensure your dish comes out perfect every time. Here we go!
Control the Moisture: Watery ingredients like tomatoes, zucchini, mushrooms and even fresh mozzarella can make your frittata a little too juicy! That's why I recommend giving watery items a thorough sauté, or simply replacing them with less liquidy ingredients like, part-skim mozzarella.
Cheese Helps: While you don't have to include cheese in a frittata, it is a great ingredient to help bind the frittata together, add flavor, and give the texture a little oomph. Any cheese you like will work, from a tangy goat cheese to the creamy bitterness of Swiss.
Double Up: Are you feeding a crowd or doing meal prep? Your basic frittata recipe can easily be doubled and turned into an egg-bake casserole! Just pour it into a 9×13-inch baking dish and bake until the eggs are set. Cool slightly and cut into squares.
Mini Frittatas: Another great way to serve a frittata is to make mini frittatas in a muffin tin. And while you can pour the frittata mixture directly into your muffin tin, I recommend using muffin tin liners lightly spritzed with oil or baking spray. They make cleanup easier and the presentation pretty!
What Goes with a Spinach Frittata?
To serve your frittata as part of a full-course brunch, try these easy brunch menu ideas! They're sure to make your meal feel special and full of love.
How to Store and Reheat Leftovers
Store leftovers wrapped tightly in the refrigerator for 3 to 4 days.
You can reheat this frittata on 50% power in the microwave, or bake it again at 350˚F until heated through.
ENJOY!
Easy Bacon and Spinach Frittata
A cheesy and veggie-filled frittata dotted with crispy bacon is the perfect dish for a weekend brunch.
Instructions 
Preheat oven to 350°F.

In a mixing bowl whisk together eggs, milk, salt, pepper and nutmeg.

Set an ovenproof skillet over medium heat; heat up the skillet until hot. Add diced bacon and cook for 4 to 5 minutes, or until crispy. Remove bacon from pan and set aside. DO NOT drain bacon drippings.

Return skillet to the burner and increase heat to medium-high. Add the halved cherry tomatoes and cook for 2 minutes.

Stir in garlic; add spinach and cook for 2 minutes, or until spinach is wilted. Stir occasionally.

Return half of the bacon to the skillet and reduce heat to medium.

Pour in 2/3 of the egg mixture. Sprinkle half of the crumbled feta cheese. Pour in remaining egg mixture. Top with remaining feta and mozzarella cheese.

Bake for 8 to 10 minutes, or until center is set and cheese is melted.

Remove from oven; let stand about 5 to 7 minutes.

Top with reserved bacon, garnish with parsley plus several halved cherry tomatoes.

Cut and serve.
Nutrition Facts
Easy Bacon and Spinach Frittata
Amount Per Serving
Calories 305
Calories from Fat 216
% Daily Value*
Fat 24g37%
Saturated Fat 11g55%
Trans Fat 1g
Cholesterol 267mg89%
Sodium 795mg33%
Potassium 361mg10%
Carbohydrates 5g2%
Fiber 1g4%
Sugar 3g3%
Protein 17g34%
Vitamin A 2180IU44%
Vitamin C 16mg19%
Calcium 237mg24%
Iron 2mg11%
* Percent Daily Values are based on a 2000 calorie diet.
Keywords: healthy brunch ideas, mothers day menu, spinach frittata
Want To Save This Recipe?
More Breakfast Ideas to Try
Breakfast is the most important meal of the day, so do it justice with one of these easy and delicious recipes!