Skillet Chicken Parmesan is a great comfort food dish that's easy enough for a weeknight meal, but special enough to serve at a dinner party!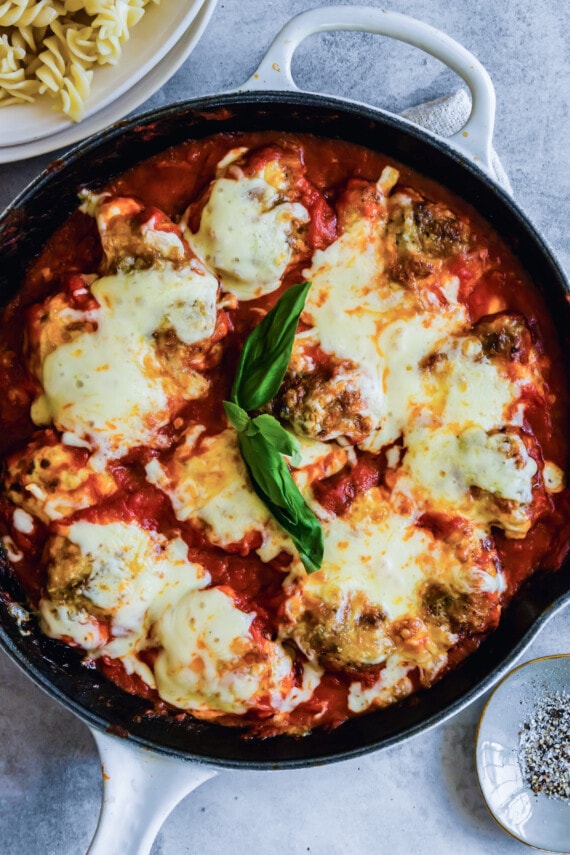 Quick and Easy Skillet Chicken Parmesan
Skillet Chicken Parmesan is a family favorite at my house… I mean, what's not to love? Nobody can turn down a plate of juicy chicken, fried to perfection, and covered in gooey cheese. Especially when it's served with a side of pasta.
The great thing about this dish is you can really prep most of it in advance, making meal time a breeze. So, of course Chicken Parmesan makes a regular appearance on our weeknight dinner rotation. But I really think it's special enough to serve to friends at a dinner party too!
What is the Difference Between Chicken Parmesan and Chicken Parmigiana?
There isn't one! Chicken parmesan is also known as chicken parmigiana, which is a traditional Italian dish of breaded chicken, covered in tomato sauce and bubbly cheese. Recipes may vary from place to place, but they're all essentially the same.
It doesn't really matter what you end up calling this chicken dinner as long as it makes its way into your meal rotation – your family members (and your stomach 😉 ) will thank you!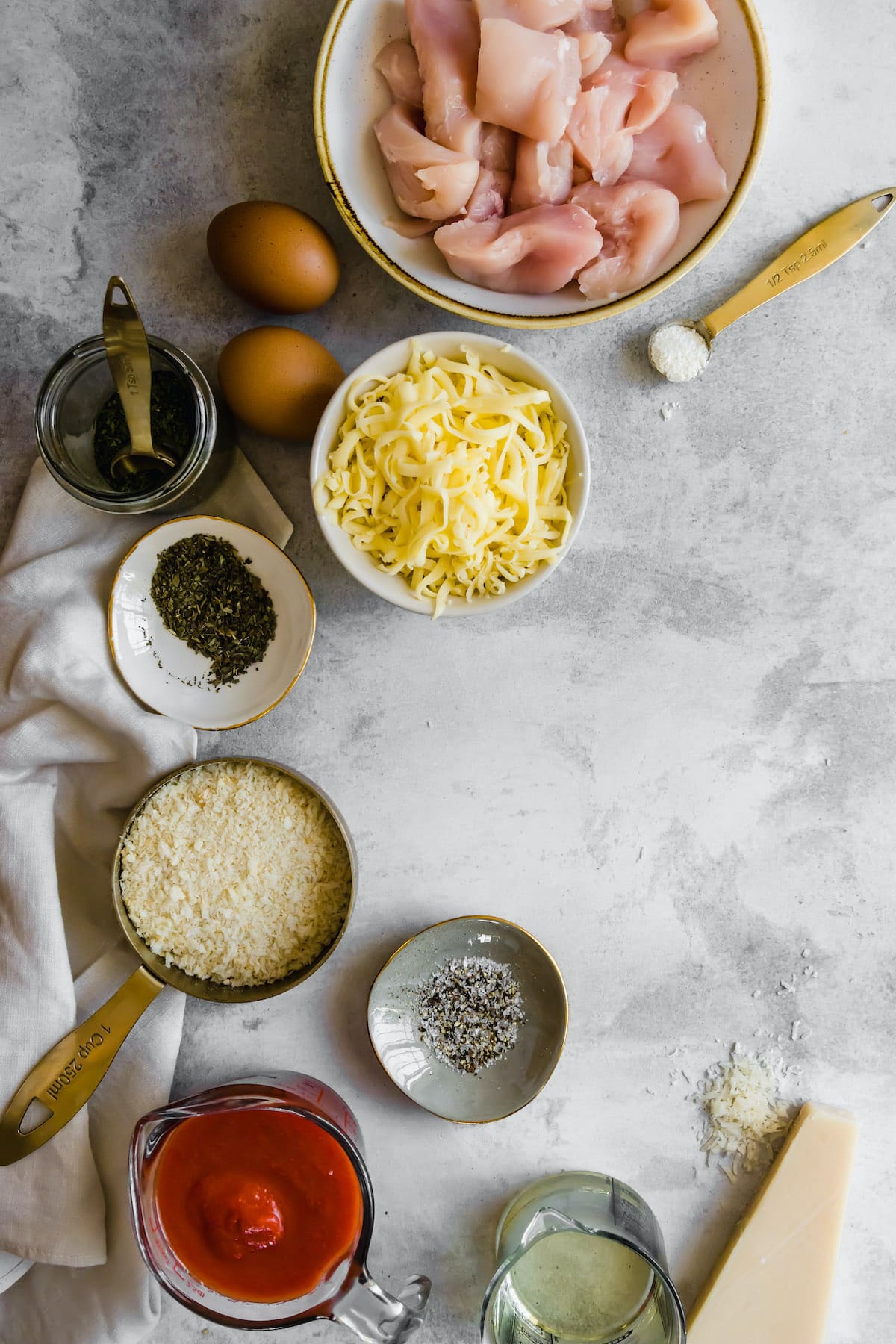 Recipe Ingredients
What are you going to need to construct this pan-fried chicken masterpiece? Gather up the following:
Chicken: I used 1 1/2 pounds chicken breasts, sliced into medium sized cutlets, and sliced or pounded to 1/3- 1/2 inch thick.
Salt and Pepper: To season chicken.
Breadcrumbs: I like to use Panko breadcrumbs, but whatever your favorite brand is will work.
Seasoning: You'll need dried basil, dried parsley, and garlic powder.
Eggs: For breading the chicken cutlets.
Vegetable Oil: For frying the chicken.
Tomato Sauce: 1 (24 ounce) jar Bertolli* sauce.
Cheese: Use both grated mozzarella cheese and grated Parmesan cheese.
Optional: 1 pound pasta cooked according to package directions to serve with the chicken.
Can You Use Chicken Thighs?
Yes! Using chicken breasts is the traditional approach, but chicken thighs make for a deliciously flavorful chicken parm. Make sure to pound them with a meat mallet so that they will be thin enough to fry, but after that, proceed as usual.
How to Make Homemade Chicken Parmesan
Anyhow, let's talk about this Skillet Chicken Parmesan and how to do it for your family or guests…or really whoever! What I love best about this recipe is so much can be done in advance, so if you are hosting you have the maximum time with your guests!
Trim & Season the Chicken: Place your chicken breasts on a large cutting board, trimming any excess fat. Season the chicken liberally with salt and pepper on both sides.
Prep the Frying Stations: In a shallow bowl mix together the breadcrumbs, basil, parsley and garlic powder. In another shallow bowl whisk together the 2 eggs.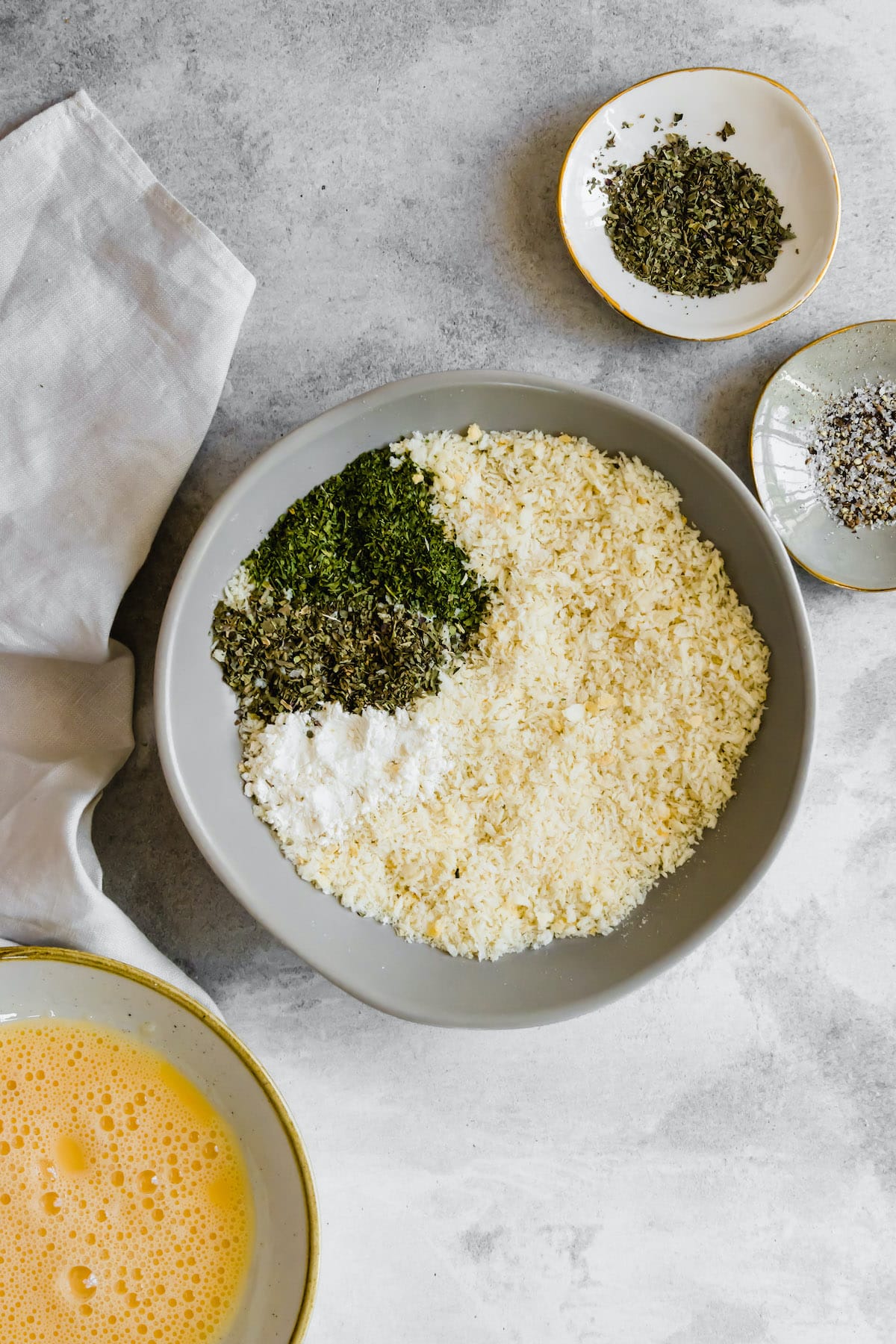 Dip & Coat the Chicken Cutlets: Creating a working station, dip each cutlet into the egg and then into the bread crumb mixture, coating evenly. Repeat this process with all the chicken.