Easy15 minsGluten-Free
This simple Elote Dip recipe is everything you love about classic Mexican street corn…in an easy 15-minute dip!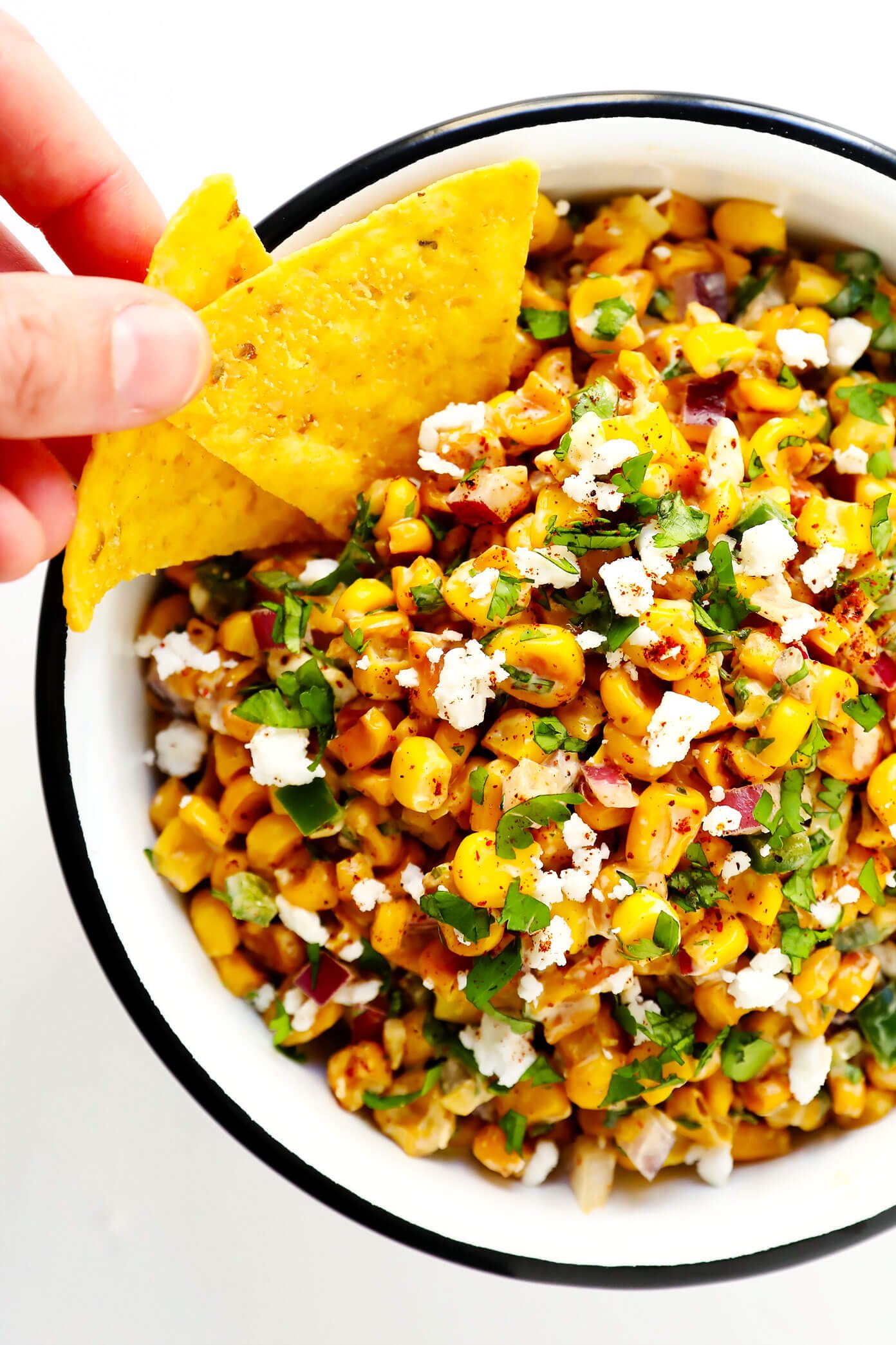 The very first time we invited our European friends over for Mexican food here in Spain, we made our usual round of tacos, rice, beans, and dips…and totally spiced everyone out.  😂😂😂
Ha, to our taste, everything was pretty mild.  But as we watched everyone non-chalantely avoiding the salsa and piling their plates high with rice and kindly trying to down their tacos with tears in their eyes, we realized that there's a reason why you can't find jalapeños in Barcelona.  This country doesn't do "picante" in the least!
Of course, as the host that night, I was totally kicking myself and scrambling to bring out more tortillas and rice and anything else mild that might come to the rescue.  But as it turned out, everyone was perfectly happy to make practically an entire dinner out of this elote dip!  I had made an enormous batch earlier that week with a bunch of leftover corn on the cob, and pulled it out as an afterthought that evening to serve as a taco topping.  But the second I popped it on the table with a side of tortilla chips, everyone dove in…and literally polished off every last bite…and then begged for the recipe.
Ha, elote!  Who knew?!
Ever since then, I've been whipping up batches to bring to parties and serve at our (now zero-spiced) Mexi nights with friends here, and people devour it every time.  Also, the good news?  It only takes about 15 minutes to make, it's naturally gluten-free (and vegetarian), easy to make with frozen or canned corn (or leftover corn on the cob!), and muy delicioso.
Let's make some.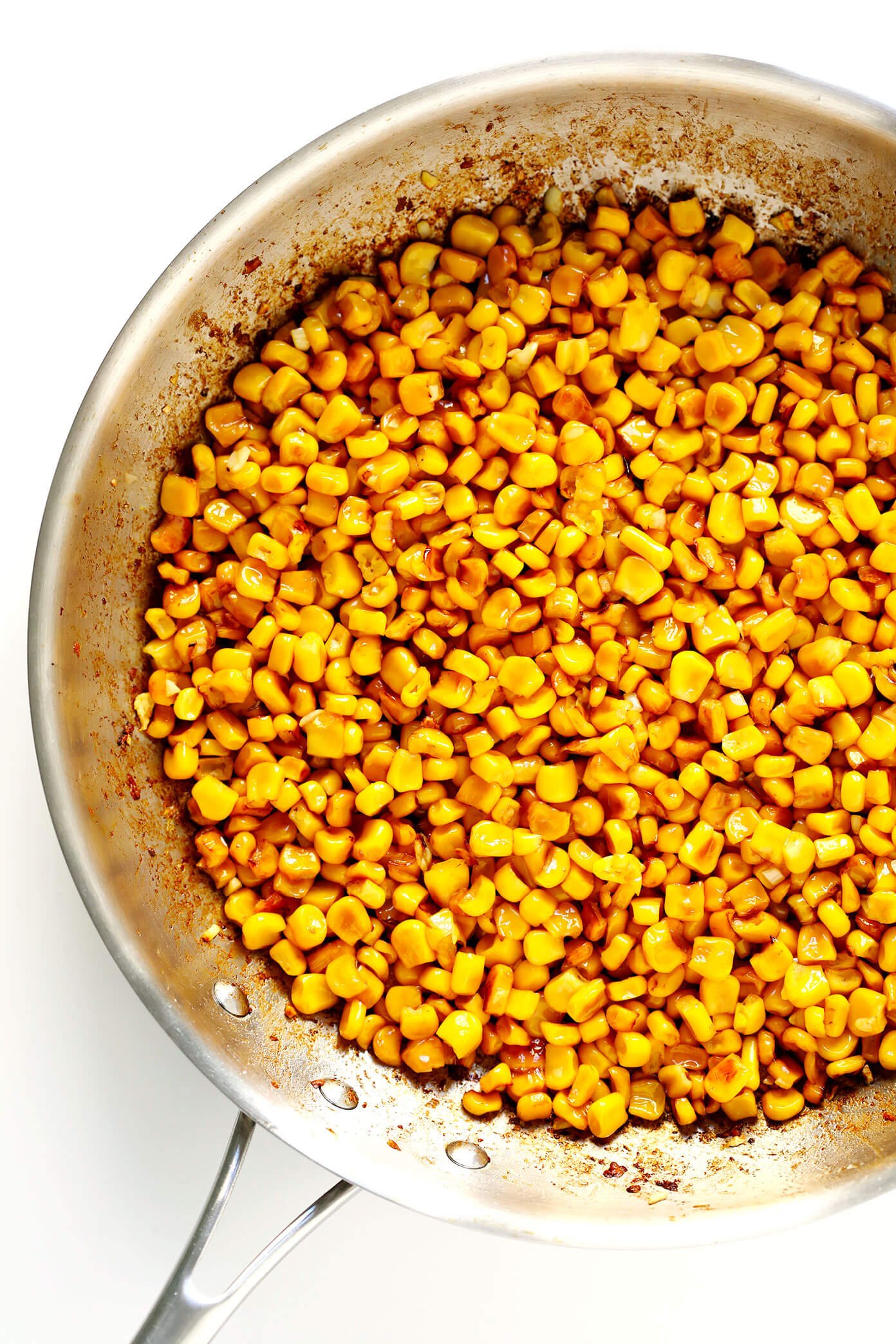 What Is Elote?
Actually, let's back up for a second and talk about what elote is, just in case any of you are wondering. "Elote" literally translates to "corn on the cob" in Spanish.  But most people know it as the famous Mexican street corn, which is traditionally coated in a mixture of mayo, cotija, chili, garlic and cilantro, then grilled to perfection and served with a wedge of lime.  I've been obsessed with it since I was a kid, so much so that Barclay and I even had a DIY-elote stand our wedding!  But I have a bit of a thing about getting food stuck in my teeth.  So I have always preferred to eat my elote with a spoon.  😂
Thus…elote dip for the win!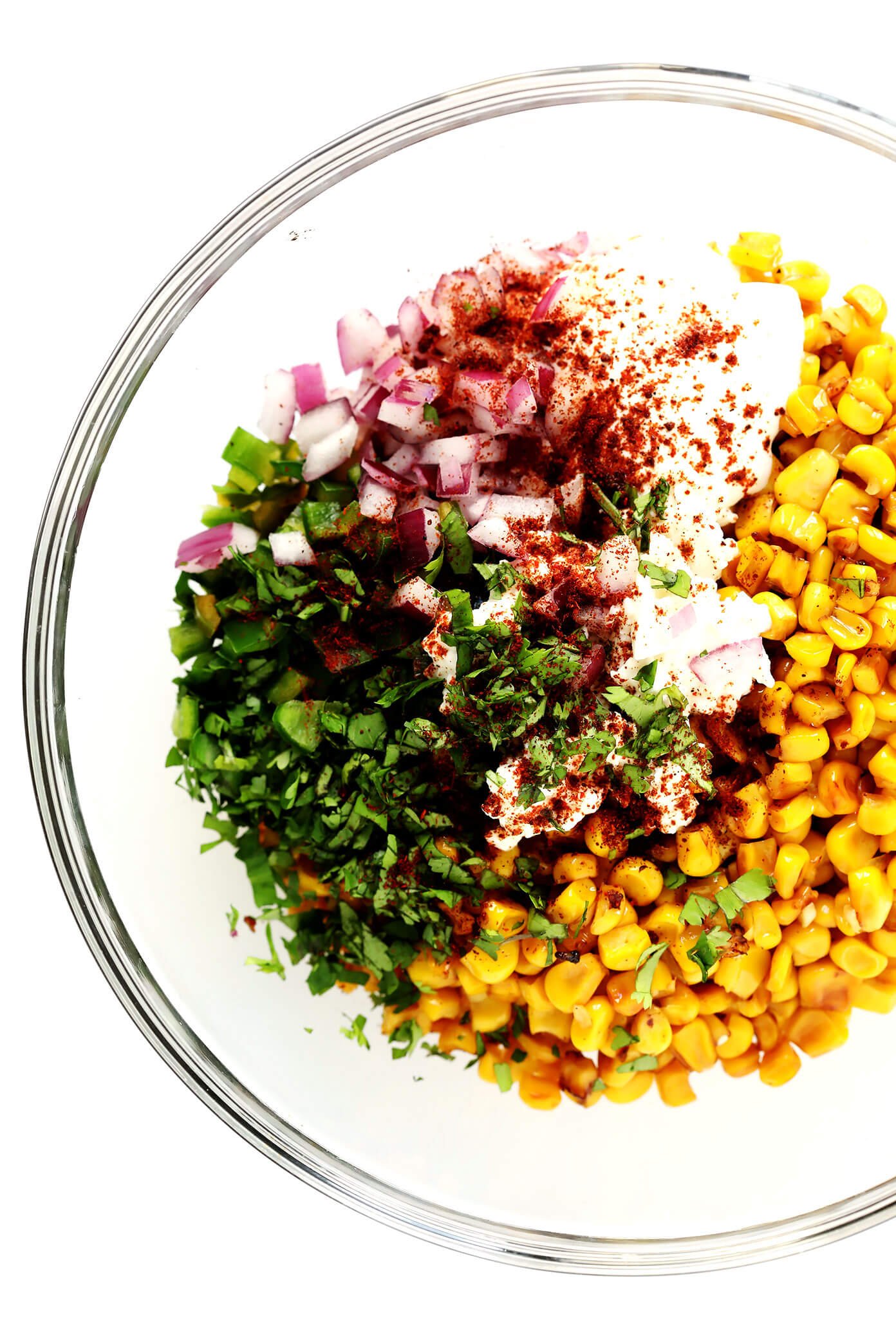 Elote Dip Ingredients:
The classic Mexican street corn ingredients you'll need for this elote recipe include:
whole-kernel corn (I usually use either canned or frozen, or you can cut corn off the cob)
crumbled cotija cheese or queso fresco
red onion (optional, but I love the extra flavor it adds)
jalapeño (also optional, especially if you're cooking in Spain, but highly recommended)
Greek yogurt (or sour cream or mayo)
fresh cilantro
garlic
lime
chili powder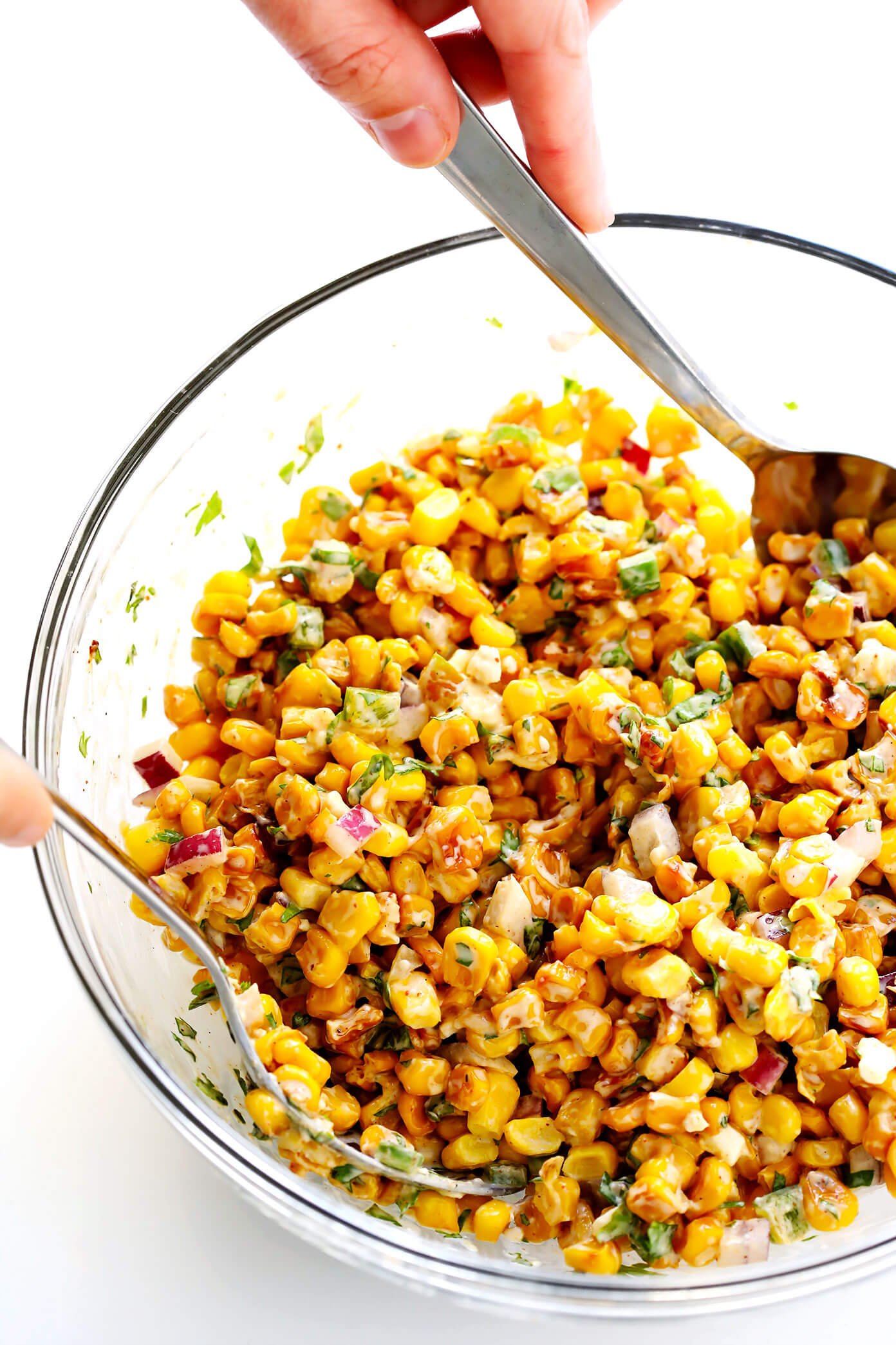 How To Make Elote Dip:
Pan-roast your corn. This step is optional if you're in a hurry, but I think it makes all of the difference if you have time.  Simply melt a little butter (or olive oil) in a sauté pan, add the corn, and let it cook until it gets nice and roasted and caramelized around the edges.  Meanwhile, as the corn is roasting…
Prep the rest of your ingredients. Chop your garlic, cilantro, jalapeño, red onion, and measure out the remaining ingredients.
Add everything together. Then combine the corn and remaining ingredients in a large mixing bowl, and stir until combined.
Taste and adjust seasonings.  I recommend adding a bit of salt and pepper, and then also adding any extra ingredients that you might prefer (such as more lime juice for tang, more Greek yogurt for a creamier dip, more jalapeño for heat, etc).
Serve! Then you're ready to go!
How To Serve Elote:
The magic of Mexican corn is that it can be served all sorts of ways — hot, cold, on the cob, in a cup, as a dip, as a topping, you pick!  I typically make a big batch, and then repurpose it in various ways over the course of a week.  Unfortunately — since I know many will ask — it does not freeze well.  But if you refrigerate in a sealed container, it will keep well for up to five days.
Enjoy, everyone!
Yield: About 4 cups
Easy Elote Dip
This simple Elote Dip recipe is everything you love about classic Mexican street corn…in a quick and easy dip!  Feel free to adjust ingredient amounts to taste.
Ingredients:
1 tablespoon butter or olive oil
1 pound (about 3.5 cups) whole kernel corn*
2 cloves garlic, minced
1 jalapeño, seeded and finely chopped
1/4 cup finely chopped red onion
1/4 cup crumbled cotija cheese or queso fresco
3 tablespoons finely chopped fresh cilantro
3 tablespoons Greek yogurt (or mayo)
1/2 teaspoon chili powder
juice of 1 lime
Kosher salt and freshly-cracked black pepper
Directions:
Melt butter in a large sauté pan over medium-high heat.  Add corn and cook for about 10 minutes, stirring occasionally, until golden and caramelized.  Add in the garlic, and sauté for an additional 2 minutes until fragrant.
Remove from heat and add the corn to a mixing bowl.  Add in the remaining ingredients and stir until combined.  Taste, and adjust seasonings as needed.
Serve immediately, or refrigerate in a sealed container for up to five days.
*Feel free to use frozen or canned corn.  Or fresh corn cut off the cob that has been cooked.
Difficulty: EasyCategory: Gluten-Free


All images and text ©Gimme Some Oven
If you make this recipe, be sure to snap a photo and hashtag it #gimmesomeoven. I'd love to see what you cook!