Is there anything more comforting than homemade chicken noodle soup? Egg noodles, juicy chicken, vegetables, garlic, and herbs all come together quickly in a hearty broth with just a hint of lemon.  Ready in 30 minutes!
If you are all about the easy soups like I am, then you'll also want to check out my recipes for Olive Garden Chicken Gnocchi Soup, Chicken and Rice Soup, and Potato Soup.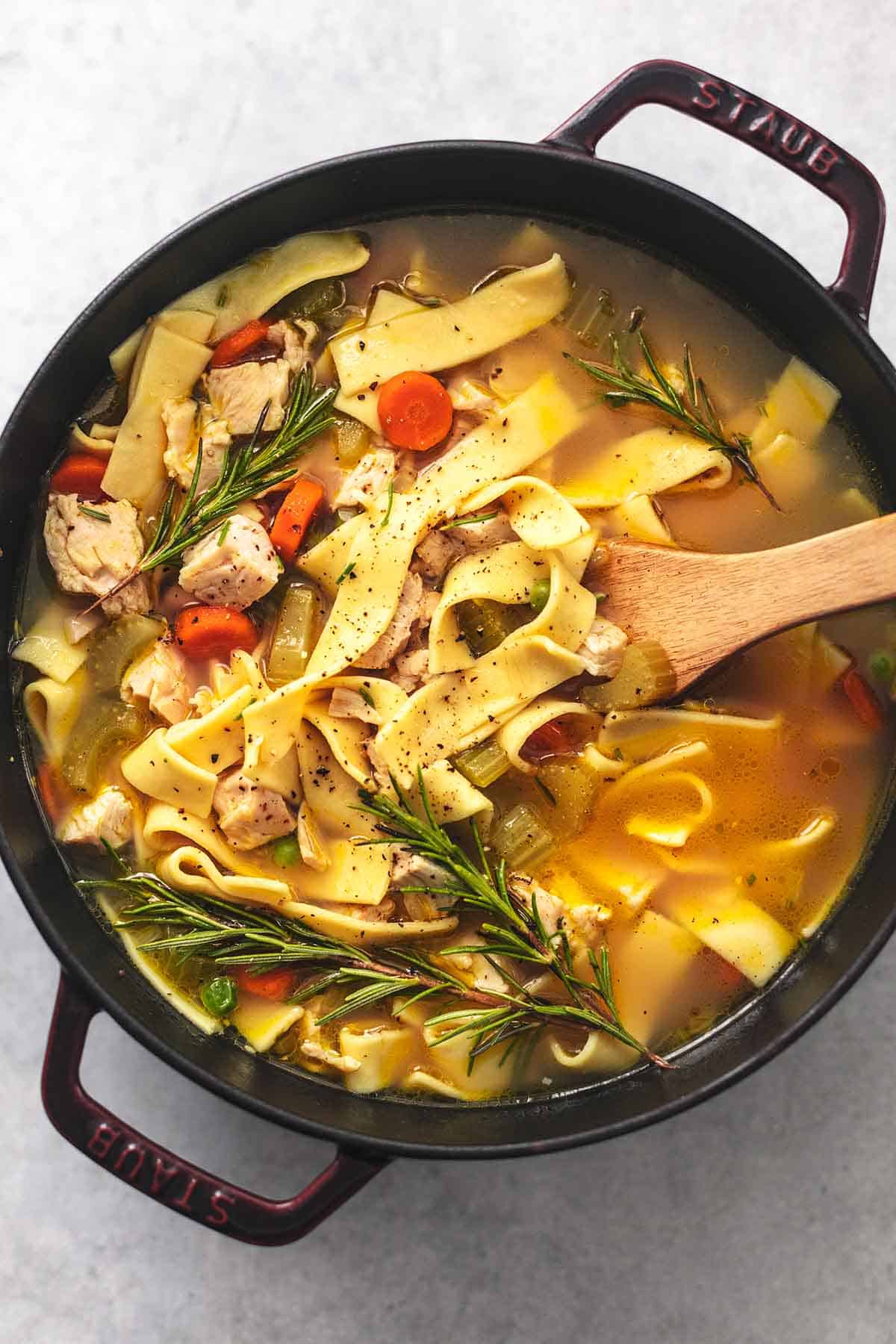 Why This Recipe Works
From store-bought broth to a hint of lemon, this recipe works in so many ways! 
Pantry staples — It doesn't get any simpler than using store-bought broth, herbs, pre-cooked chicken (rotisseries are my favorite!), olive oil, and other easy pantry and fridge ingredients. 
Lemon — My trick to brightening up the flavors in this homemade chicken noodle soup is to use fresh lemon juice. A tiny bit tangy, and oh-so-flavorful, you'll never make chicken noodles soup without lemon again. 
Garlic — Some people are pro garlic in chicken noodle soup, some are not. Easy to add, easy to leave out. But I say go for it! It's worth the hint of garlic in this chicken noodle soup recipe! 
Peas — Here's another veggie that's very polarizing. I think, the more veggies I can add to my diet, the better, and this is one way to add in peas that the kids don't complain about. Plus, it's as easy as tearing open a bag of frozen peas, measuring, and dumping in.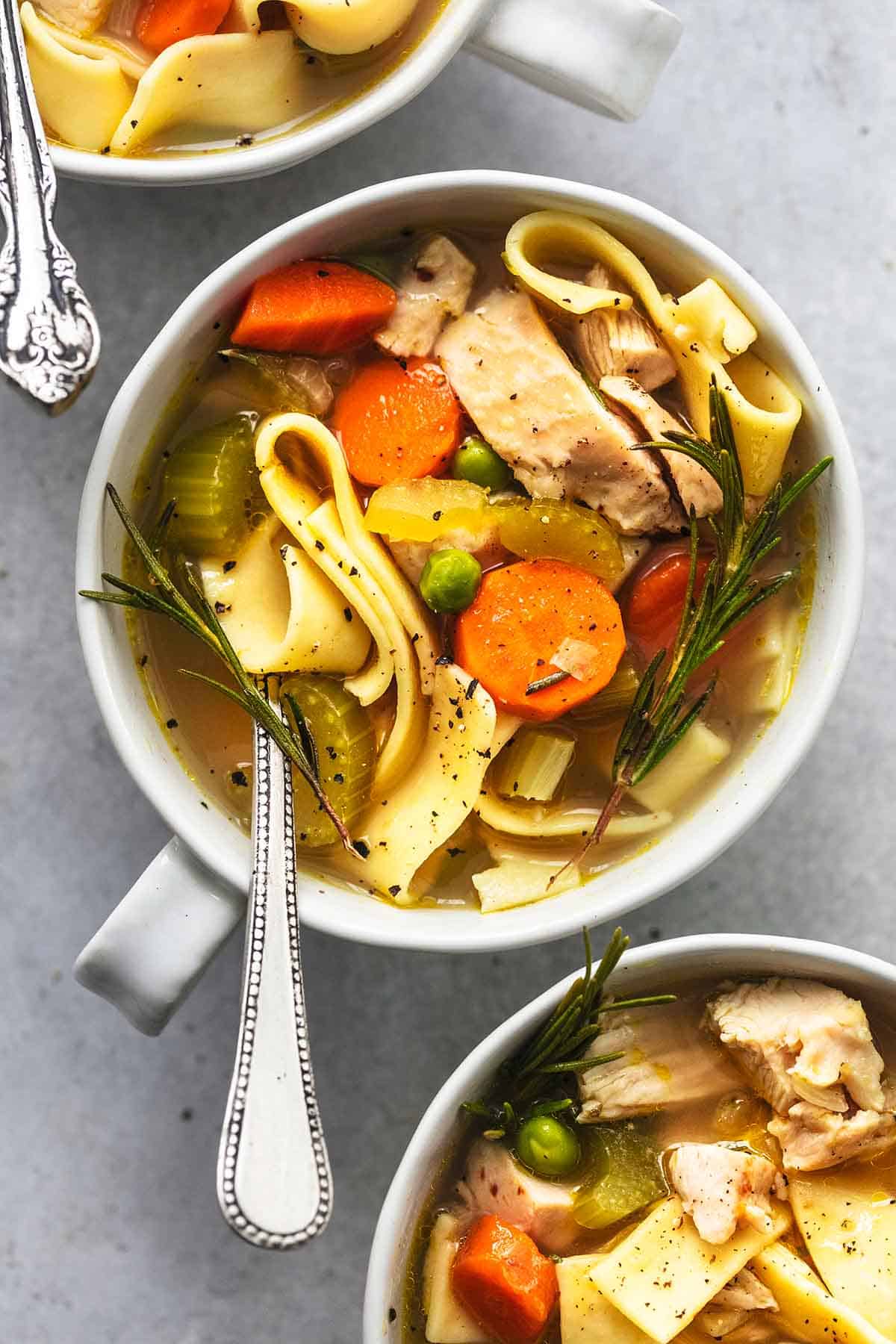 Here's How You Make It 
Don't be nervous to make your own chicken noodle soup at home. It's really quite easy! 
Bring 2 quarts of water to a boil in a large pot. Add to it the noodles, boiling till they are tender. Then, drain them and rinse them with cold water, toss with olive oil to keep them from sticking and put them aside till you're ready to add them to the soup.
In the same pot (or different one if you choose), melt the butter. Then stir into the butter the garlic, onions, celery, and carrots. Saute all of the veggies for 3-4 minutes.
Now add the chicken broth, water, lemon juice, salt, pepper, and rosemary to the pot. Let this boil and then cook for 5-10 minutes. 
Stir in the chicken, peas, and cooked noodles and allow soup to simmer for another 3-5 minutes. 
Taste soup and add salt and pepper as desired. Garnish with those fresh herbs if you like and serve!
What Sides Go With Chicken Noodle Soup?
This soup is so good and filling, you can totally eat it all by itself. But, around my house we're kind of like a Panera you-pick-two as we like to have a little something on the side with the soup. Here are some of our favorite sides to enjoy with this easy chicken noodle soup: 
Salad.

If you're looking for something on the lighter side, then I recommend a bowl of salad with this soup. Some of our favorites include

Broccoli Salad

,

Grilled Corn

, and this

Greek Salad

. 

Sandwich.

I like to eat this soup with a half a club sandwich or a veggie wrap. Tuna and chicken salad go great with this soup too, so long as you don't mind doubling up on your proteins.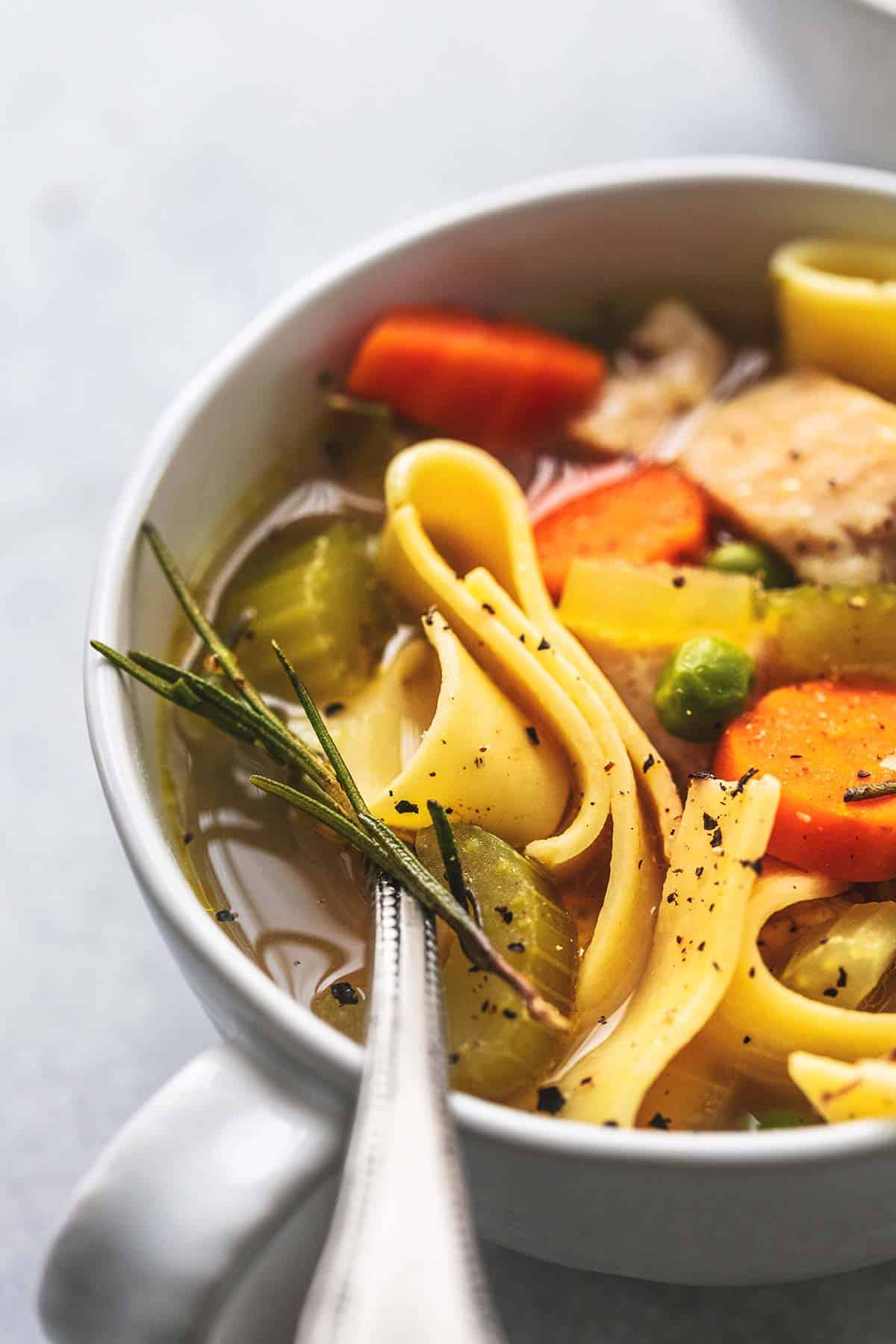 Ideas for Storing Chicken Noodle Soup
Allow soup to cool before storing in the fridge or freezing. To refrigerate, put soup in a dish with a tight-sealing lid, and keep in the fridge for up to 5 days.

To freeze, add soup to freezer-safe containers or Ziplock bags. Freeze bags flat to save space. Freeze up to 3 months. Thaw by putting the bag in a bowl in the fridge. Putting it in a bowl first will keep the water condensation from puddling up in your fridge and can also grab any soup that may leak out. 
Expert Tips 
Make this soup creamy

by adding in 1 cup of heavy cream with the chicken and noodles at the end. Allow cream to cook with the soup for several minutes before serving. 

Skip the peas

if you're not feeling them. You can leave them out entirely or replace them with another veggie (frozen or otherwise) that you enjoy. 

To

add more lemony goodness

, add a teaspoon of lemon juice to your bowl after serving it. Yum! 

Serve with

freshly grated parmesan

cheese for a bit of salty/cheesy goodness.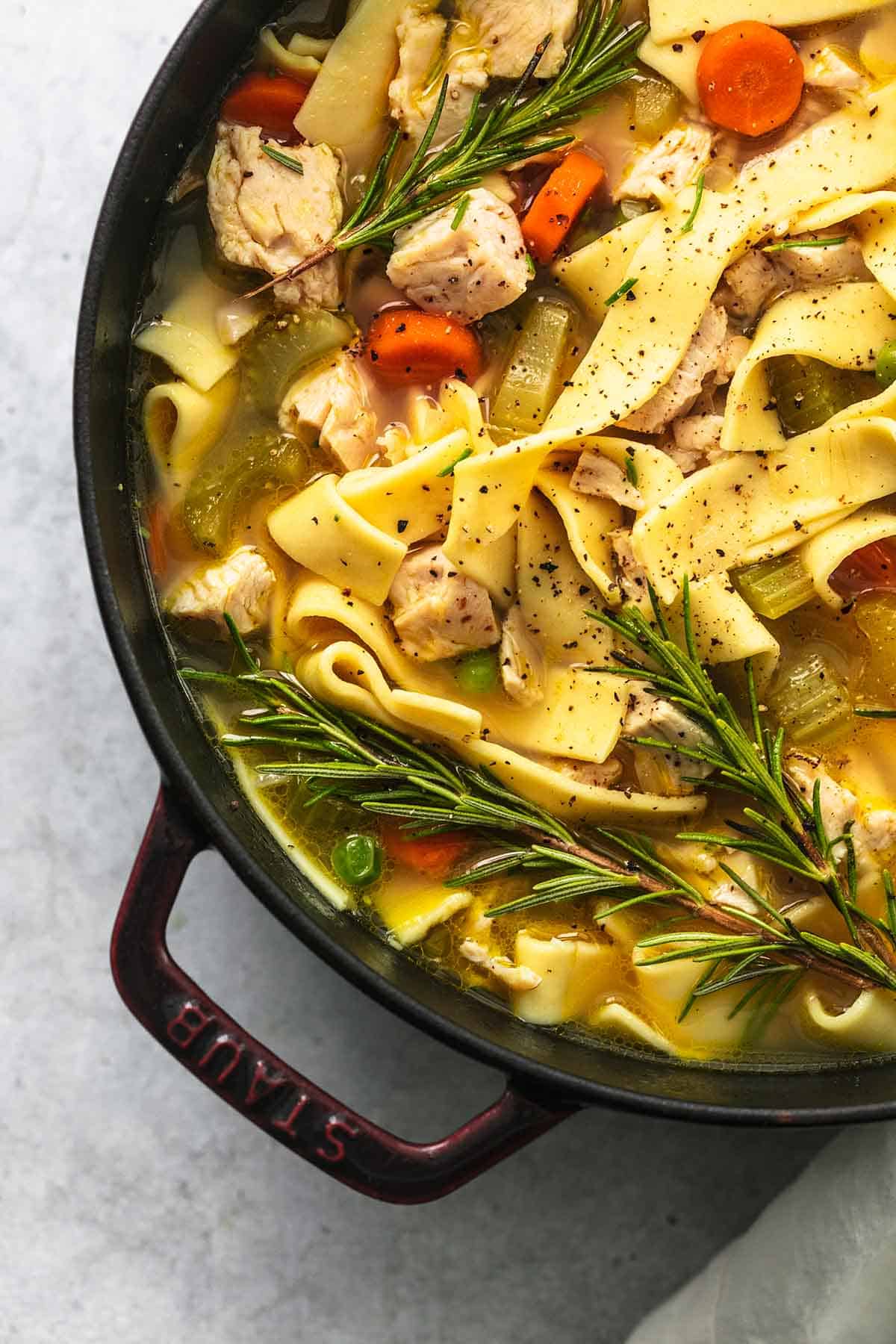 More Tasty Soup Recipes
Did you make this recipe? AWESOME! Please rate this recipe below! 
Bring 2 quarts of water to a boil. Add noodles, boil til tender. Drain and rinse with cold water, toss with olive oil, and set aside.

In a large stock pot, melt butter. Stir in garlic, onions, celery, and carrots. Saute for 3-4 minutes.

Add chicken broth, water, lemon juice, salt, pepper, and rosemary. Bring to a boil and cook for 5-10 minutes.

Stir in chicken, peas, and noodles and cook 3-5 minutes longer.

Taste, add salt and pepper to taste if needed. Garnish with fresh herbs if desired and serve.
Make it creamy: make this soup rich and creamy by stirring 1 cup heavy cream in with the chicken and noodles. 
Calories: 502kcal | Carbohydrates: 75g | Protein: 24g | Fat: 12g | Saturated Fat: 3g | Cholesterol: 103mg | Sodium: 1539mg | Potassium: 767mg | Fiber: 6g | Sugar: 7g | Vitamin A: 8043IU | Vitamin C: 37mg | Calcium: 95mg | Iron: 3mg