Zucchini Noodles with Asparagus, Peas, and Basil Vinaigrette is the perfect spring meal. It is light, refreshing, and super simple to make.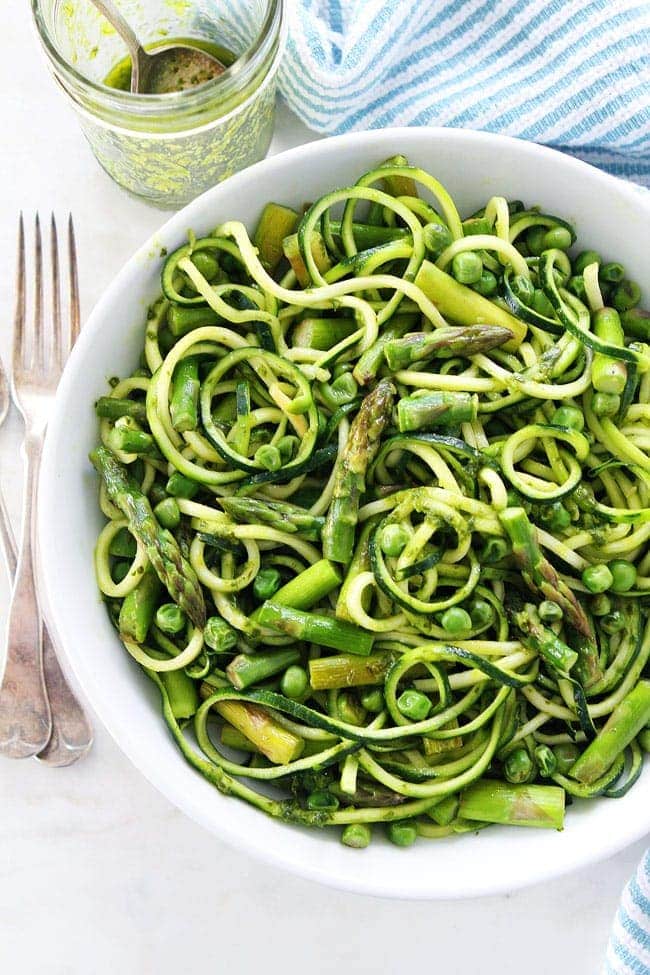 I was in Austin earlier this week and I ate all the tacos, chips, salsa, and guacamole I could get my hands on. Gosh, I love that city. It was such a fun and delicious trip. I hope you followed along on Instagram.
I love splurging when I travel, but it is always nice to get back home and back to healthy eating. To reset, I made Zucchini Noodles with Asparagus, Peas, and Basil Vinaigrette. This is currently my favorite spring meal.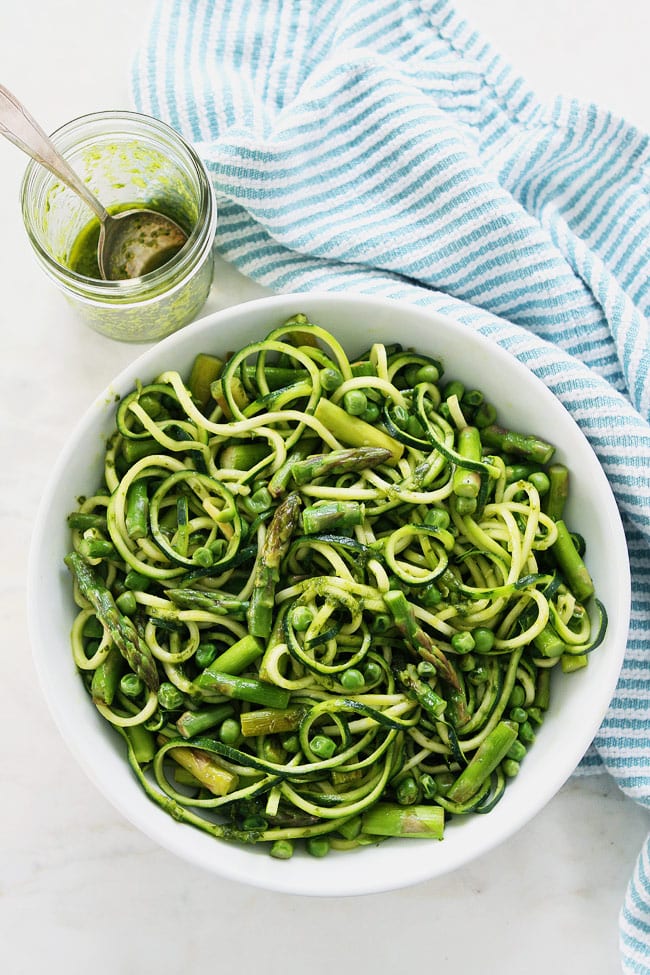 I love everything about this simple spring recipe.
First, the zucchini noodles. If you haven't tried zucchini noodles, you need to. Zucchini noodles are a great way to get more veggies into your diet. Our boys love them too! They are fun to make and fun to eat. We use our Inspiralizer to make zoodles and we LOVE it! It is a great kitchen gadget to have. If you don't have an Inspiralizer, you can still make zucchini noodles with a peeler, but it will take you more time.
I also love the all of the green going on in this zucchini noodle dish. The asparagus and peas are the perfect addition to this spring dish.
And now let's talk about the best part, the basil vinaigrette. This basil vinaigrette is my absolute favorite and really makes this dish! It adds a TON of flavor and really brightens the dish. All of the ingredients combined scream spring and GREEN!
I wasn't sure if my boys would eat this one, but Caleb even had seconds. Josh and I did a major fist bump:) We love it when they eat their greens with no complaining..ha!
If you are craving a light, healthy, and AMAZING spring dish, make Zucchini Noodles with Asparagus, Peas, and Basil Vinaigrette. It takes less than 30 minutes to make and is sure to be a spring staple. It is at our house…especially after an indulgent week in Austin:)
If you like this zucchini noodle recipe, you might also like: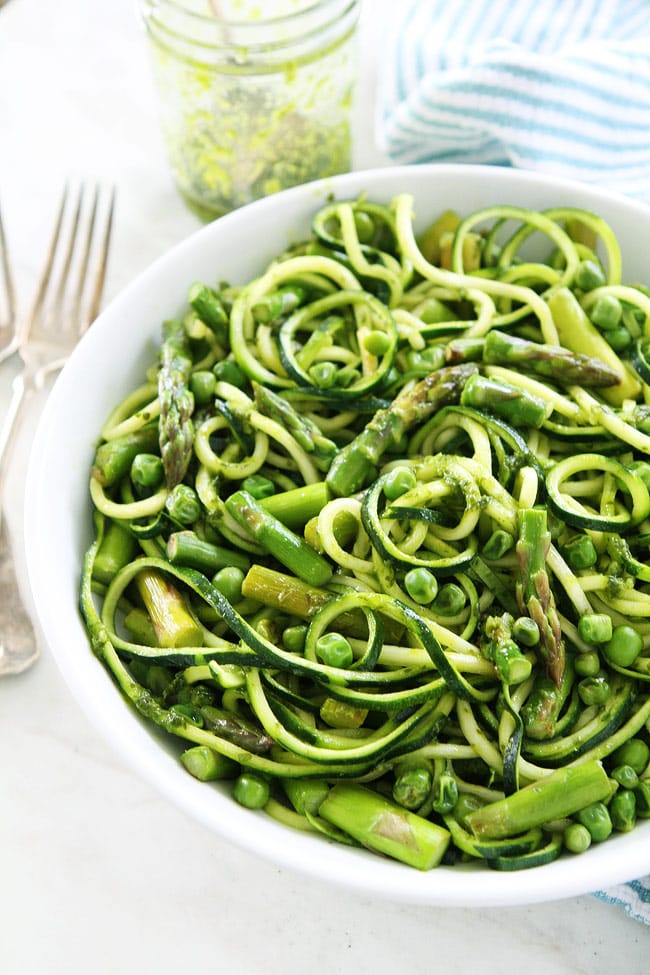 Zucchini Noodles with Asparagus, Peas, and Basil Vinaigrette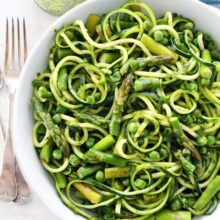 This gluten-free and vegan zucchini noodle dish is perfect for spring. It is light, fresh, and super simple to make.
Yield: Serves 4
Prep Time:15 minutes
Cook Time:10 minutes
Total Time:25 minutes
Ingredients:
3 small zucchini
1 tablespoon olive oil
1 small bunch of asparagus, cut into 1-inch pieces, woody ends discarded
3/4 cup frozen peas
1/2 cup basil vinaigrette
Salt and pepper, to taste
Directions:
Spiralize the zucchini, according to manufacturer's instructions, and set aside.
In a large skillet, heat the olive oil over medium-high heat. Add the asparagus and cook until tender, about 5 minutes. Stir in the peas and cook for 2 minutes. Add the zucchini noodles and cook for 1 minute, just so the noodles are warmed. You don't want to really cook them or they will get soggy. Remove from heat and pour the basil vinaigrette over the zucchini noodles. Toss with tongs until the noodles and vegetables are evenly coated. Season with salt and freshly ground black pepper, to taste. Serve immediately.


All images and text ©Two Peas & Their Pod.
Follow twopeasandpod on Instagram and show us what recipes you are making from our blog! Use the hashtag #twopeasandtheirpod! We want to see what you are making in your kitchen!