This easy homemade pizza sauce is made with pantry staples and tastes SO much better than store bought. Plus, it freezes well so you can always have pizza sauce ready for pizza night!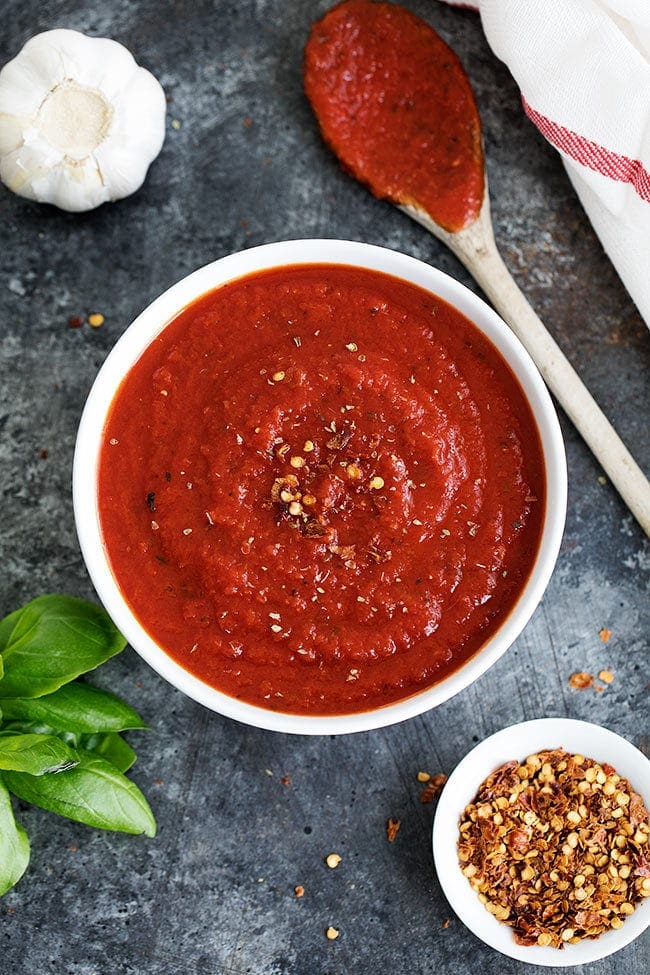 Homemade Pizza Sauce
We love making homemade pizza. Sure, it takes a little effort to make pizza dough from scratch, but it is well worth it. And if you are going to take the time to make homemade pizza dough, PLEASE make homemade pizza sauce. To make a really good pizza you need to start with good pizza crust AND pizza sauce.
Don't worry, making pizza sauce is easy and tastes SO much better than store bought pizza sauce. Jarred pizza sauce basically tastes like straight tomatoes. It is bland and always tastes off to me. Go the extra effort and make homemade pizza sauce to make the BEST pizza!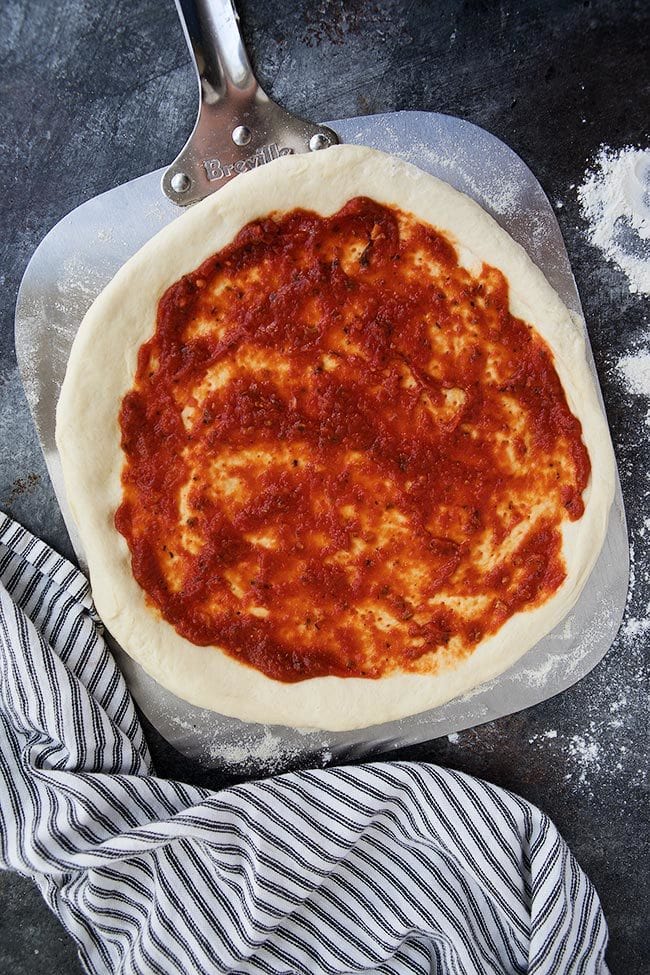 Pizza Sauce Ingredients
This easy pizza sauce is made with pantry staples, which is so nice because you can make it anytime without going to the grocery store. You will need:
Olive oil-Olive oil is a must for pizza sauce.
Garlic-Use fresh, minced garlic for the best flavor. I know a lot of recipes use garlic powder, but fresh garlic really is best.
Fennel Seed-My dad always uses fennel seed in his pizza sauce and he claims it is the secret to making the best pizza sauce. I add a pinch and I have to agree with my dad, it adds a little something special to the sauce. A little goes a long way, so just add a little. You can find fennel seed in the spice aisle of the grocery store.
Crushed Tomatoes-I use San Marzano crushed tomatoes for pizza sauce because they are the best. Make sure you use GOOD tomatoes for the best tasting pizza sauce.
Tomato Paste-Tomato paste consists of tomatoes that have been cooked for several hours and reduced to a thick, red concentrate before being strained. Use tomato paste in pizza sauce to thicken, color, and enrich the flavor of the sauce. You want the sauce to have a thick consistency so it doesn't make the pizza soggy.
Basil and Oregano-Basil and oregano give the pizza sauce the Italian flavor that compliments pizza so nicely. I use dried basil and oregano because I always have them in my pantry. Sometimes, I will stir in a little freshly chopped basil because you can't beat the taste of fresh basil.
Salt-Salt is necessary for flavor. I prefer kosher salt.
Crushed Red Pepper-Give the pizza sauce a little kick by adding crushed red pepper flakes.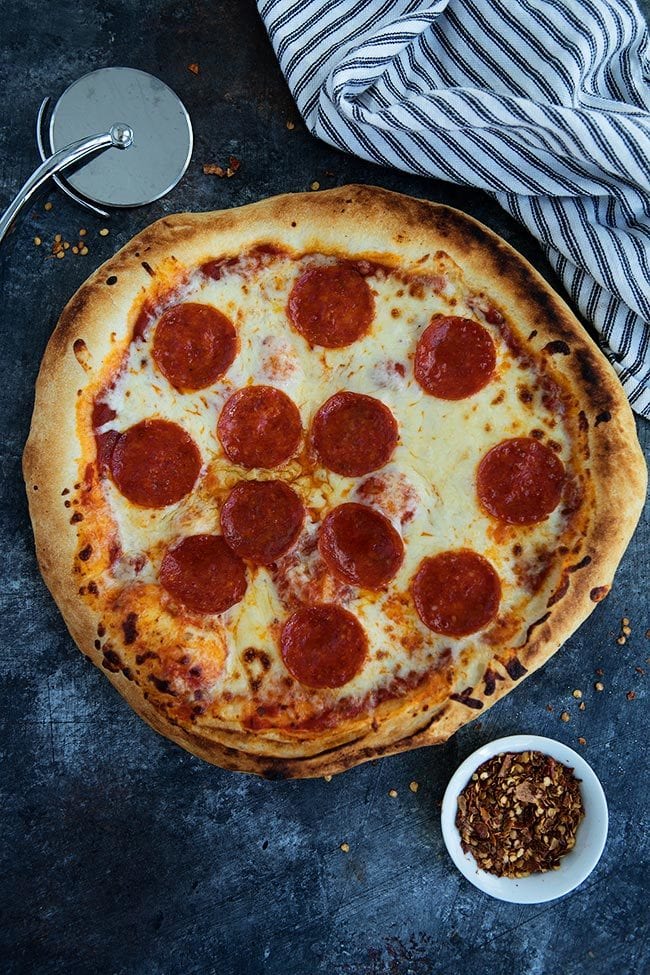 How to Make Pizza Sauce
Once you have all of your ingredients ready, you can make homemade pizza sauce in no time! The biggest question when making pizza sauce, do you need to cook pizza sauce? The short answer is no, you don't have to, you can mix all of the ingredients together in a bowl or blender and call it good. The sauce will be good!
Can you cook pizza sauce? The answer is YES and I like to! I don't cook the pizza sauce for long, but I like to sauté the garlic in olive oil to cook off the rawness. This only takes about a minute. I also like the tomatoes and herbs to hangout for a bit so the flavors can develop. I let the sauce simmer for about 10 minutes on the stove and that does the trick! The pizza sauce has a lot better flavor if it is cooked for a bit. It doesn't take long and is worth the extra step, in my opinion. I always let my pizza sauce simmer while I get the pizza dough ready. You can let the sauce simmer for up to 30 minutes.
Pizza Time
When you are ready to make pizza, stretch out your pizza dough. You can also use this whole wheat pizza dough. Brush the dough with a little olive oil. The olive oil will prevent the crust from soaking up too much moisture from the pizza sauce and pizza toppings. Spread the pizza sauce generously and evenly over the pizza dough, making sure you stop spreading the sauce when it reaches a 1/2-inch from the edge of the crust. Top with cheese and your favorite pizza toppings! Bake the pizza in a HOT oven, for about 15 minutes.
You can also use pizza sauce for dipping! We love serving warm pizza sauce with garlic knots and pepperoni pizza rolls!
Freezer Instructions
Store the pizza sauce in a jar or airtight container in the refrigerator for up to 1 week or cool completely and freeze for up to 3 months. Pizza sauce freezes beautifully and we always love having some tucked away for easy pizza nights! Defrost on the counter or in the microwave before using.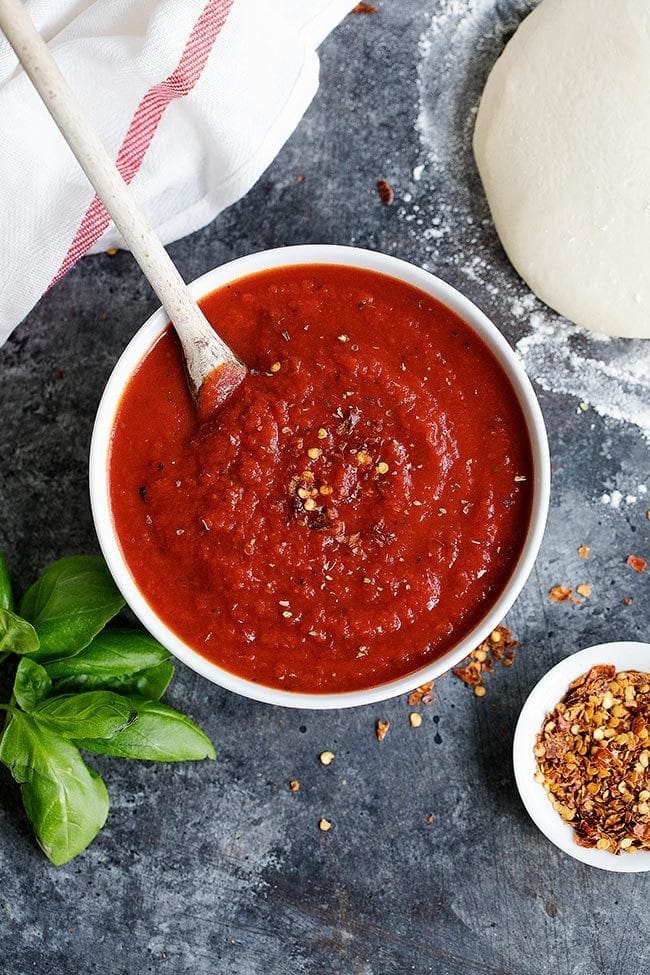 1




tablespoon




olive oil

2




cloves




garlic




minced

Pinch




fennel seed

28




ounces




crushed tomatoes

6




ounces




tomato paste

1




teaspoon




dried basil

1




teaspoon




dried oregano

1




teaspoon




salt

¼




teaspoon




crushed red pepper
Keywords
easy, homemade, pizza