This Easy Roasted Tomato Soup is MUCH better than the can and couldn't be simpler — perfect for fresh garden tomatoes and herbs! A healthy gluten-free and vegetarian meal with dairy free and vegan options.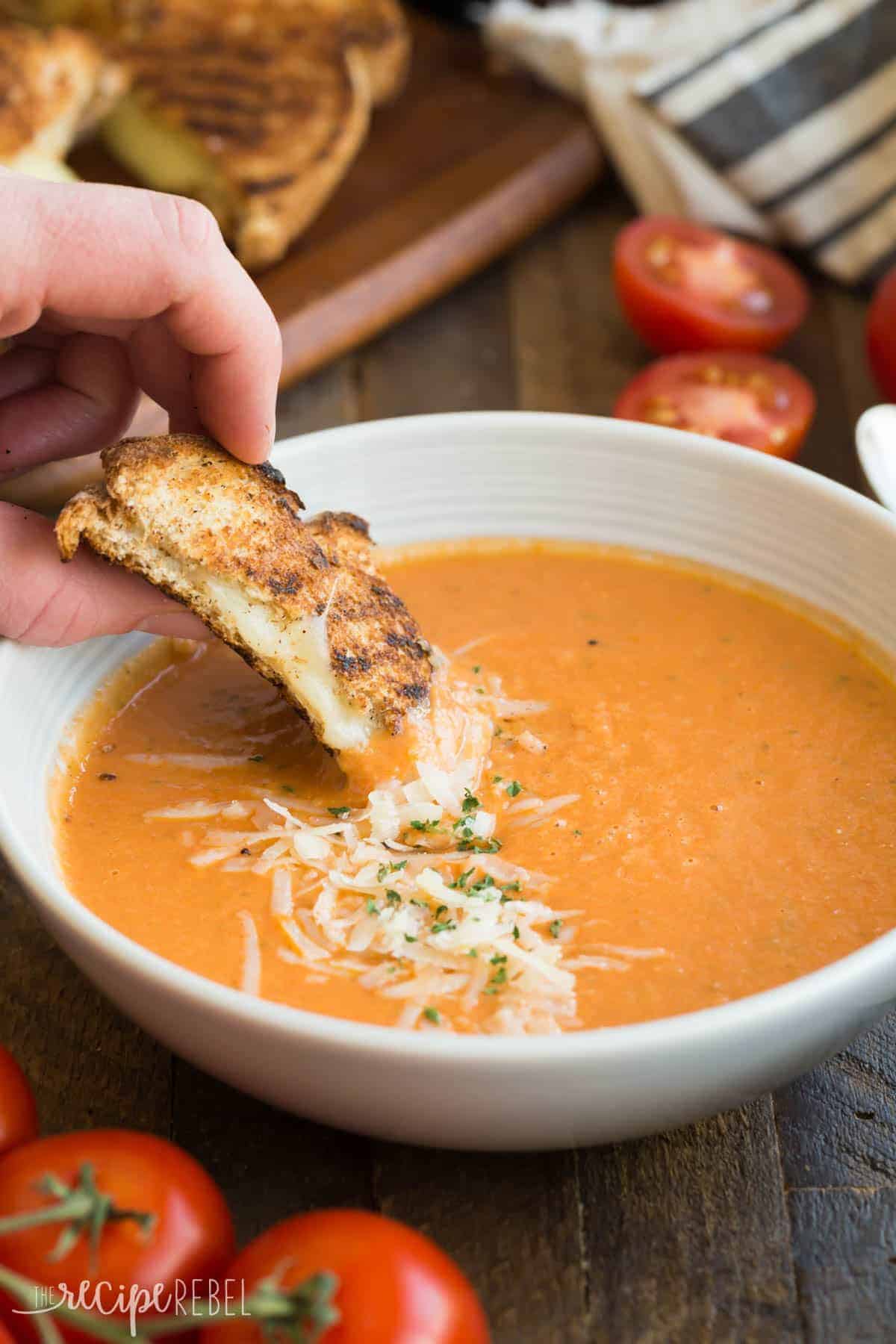 So I thought I was going to garden for the first time last summer.
I bought a bunch of plants — random things that I'd never really had any desire to grow before — and I got some dirt (when you live in the sandy land like we do, this a thing you have to do), and I put them in it. I watered like crazy.
And would you believe that not much happened?
My peppers didn't really grow any peppers. My melons only grew to be a few inches in diameter before the frost set in. I didn't get any rhubarb from my rhubarb plant. I only got a couple of zucchini and a handful of peas from my plants.
What I did get? A whole whack of tomatoes. Black cherry tomatoes and Roma tomatoes and tomatoes and tomatoes and tomatoes.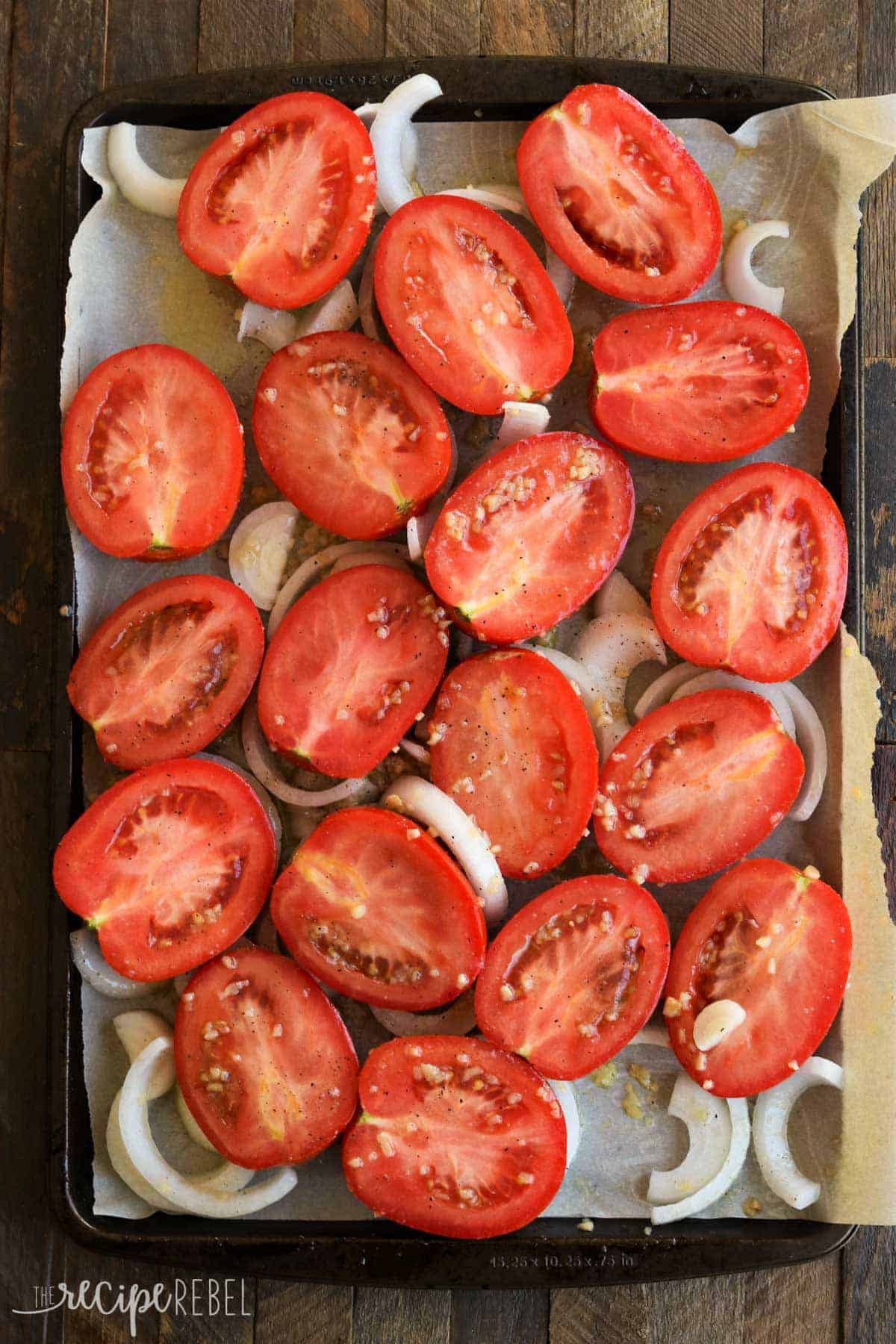 My kids were totally cool with this, as they love tomatoes. I was a little bummed that the rest of my garden didn't work out as planned, but hey, at least I got something! So this year, I've tried to be a little smarter about where and how to plant everything, and I've got my fingers crossed. The one thing I'm counting on? Some beautiful, juicy tomatoes.
I've had the chance to try out this KenmorePro blender from Sears Canada this week and I know I should probably be making smoothies and milkshakes and ice cream and slushies buuuuuut…. all I could think of was roasted tomato soup.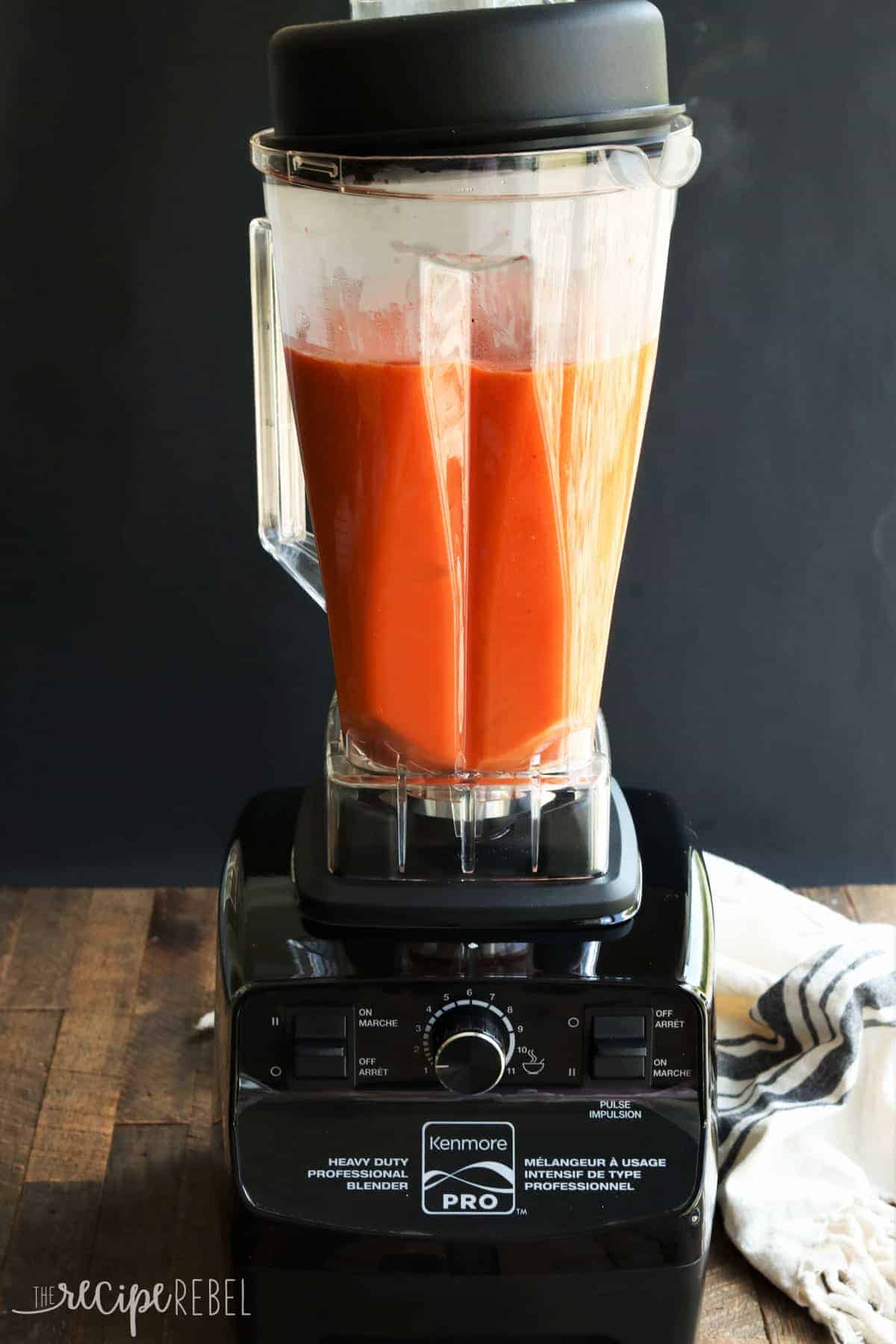 I've been itching to develop an easy homemade tomato soup recipe that I can use (and maybe even save and freeze for the dead of winter!) once my tomatoes get going, and I love the flavor they get from roasted in the oven, especially with garlic and onions. With a little — or a lot of — Parmesan cheese?!? So, so good.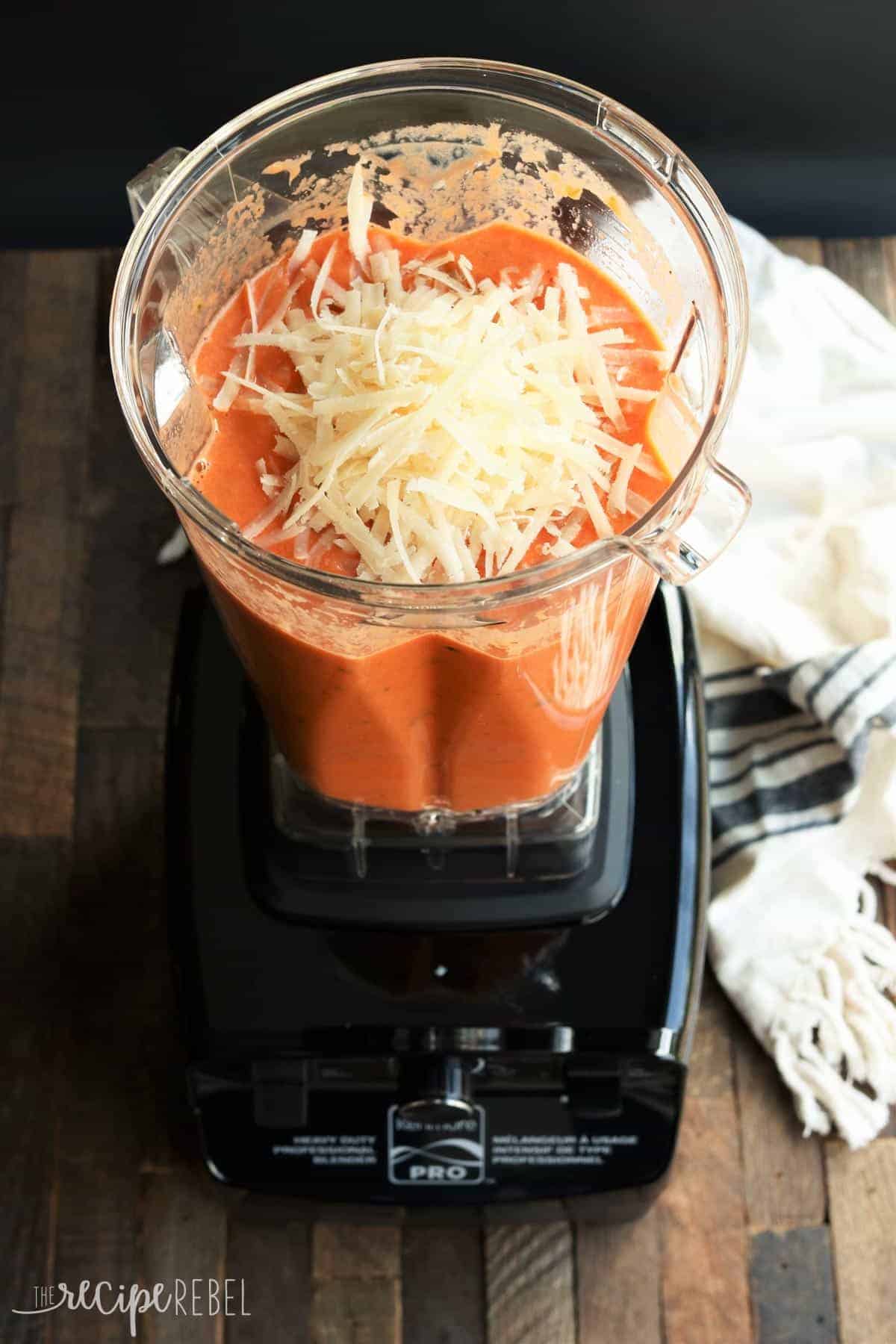 It is seriously one of the easiest summer meals you could make — just throw some tomatoes on a pan and roast them up, then purée in the KenmorePro, add some evaporated milk or cream (totally optional!), herbs, tomato paste and season to taste — so silky smooth, and if it gets a little cool you can heat it right back up in the blender itself. Pure magic!
Don't worry, though — those smoothies and milkshakes definitely happened ? But this was the recipe I wanted to share with you, because it's not something to miss out on. The blender is a steal at $149.97 CAD and makes quick work of all your frosty summer beverages and treats — and it's big enough to treat the whole family with a 2L jug!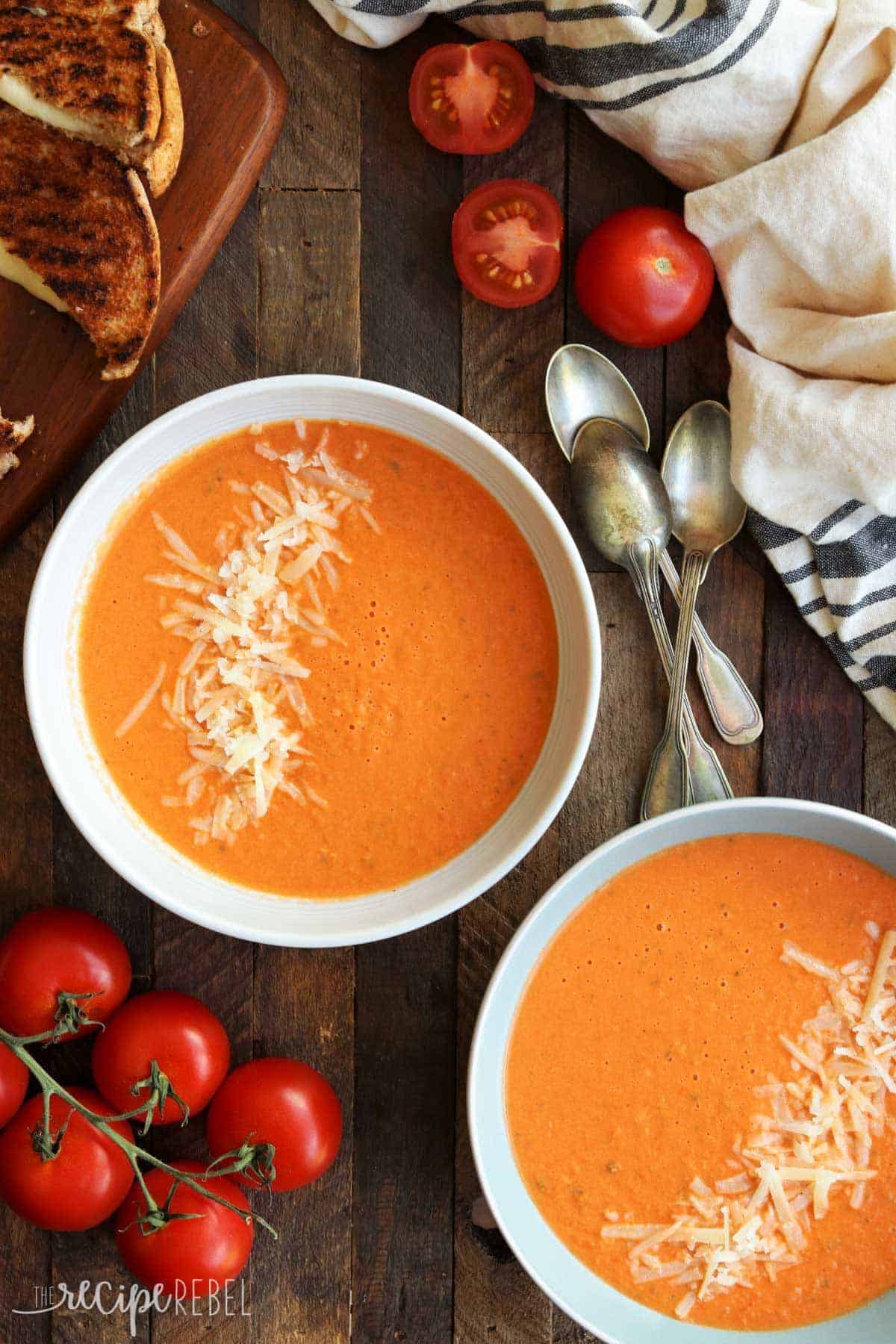 Tips and Tricks for Making this Roasted Tomato Soup:
Grab the ripest tomatoes you can find — they are going to have the best flavour!
Feel free to go a little easy on the onion if you're not generally a fan — I love how it rounds out the flavour and gives the soup more depth, but it's your soup so you do you ?
Use whichever herbs you have handy that you love with tomatoes! Almost anything goes here.
This soup is naturally gluten-free and vegetarian. You can easily skip out on the milk and cheese to make this a dairy-free, vegan recipe.
*This post is generously sponsored by Sears Canada and I was compensated for my time in developing this recipe. Thank you for supporting the brands that make this possible!
Ingredients

3lb

(1360g) Roma tomatoes (about 9 large)

1/2

small onion (or less, if you prefer), sliced

1/4

cup olive oil

2

tablespoons minced garlic

1

teaspoon salt

1/4

teaspoon pepper

1

can (370ml or 1 2/3 cup) evaporated milk, or cream, optional

1/2

cup freshly grated Parmesan cheese, optional (not really)

3

tablespoons fresh basil

2

tablespoons tomato paste

1

teaspoon sugar



salt and pepper to taste
Instructions
Preheat oven to 400 degrees F.
Halve tomatoes and place cut side up with the onion on a rimmed baking sheet. Drizzle with oil and add garlic, salt and pepper. Stir to coat well.
Roast for 40-50 minutes, just until starting to brown.
Place in the blender and puree until smooth (you'll want to leave the lid cracked slightly so the steam can escape).
Add milk, cheese, basil, tomato paste, and sugar and puree until smooth. Taste and adjust seasoning to your preference.
Serve immediately with grilled cheese for dunking (obviously!).
Recipe Notes
Nutrition information is estimated and will vary depending on exact serving size, types and brands of products used.
This recipe also has 58% of your Vitamin A, 110% of your Vitamin C, and 35% of your Calcium needs.
Giveaway!
Sears Canada is giving away a KenmorePro blender to one lucky Instagram follower! Click here to go to Instagram to find the giveaway and enter
It's totally FREE, and you can unsubscribe anytime.