Make perfectly crave-worthy Spicy Sesame Noodles at home, in less than 20 minutes! You'll love these tender noodles coated in a rich, Asian-inspired sesame peanut sauce. Topped with crunchy peanuts, garlic, and a squeeze of lime!
Want more take-out inspired recipes? Try my (Not so Boozy) Bourbon Chicken , Easy Pork Ramen or my incredible Orange Chicken recipe!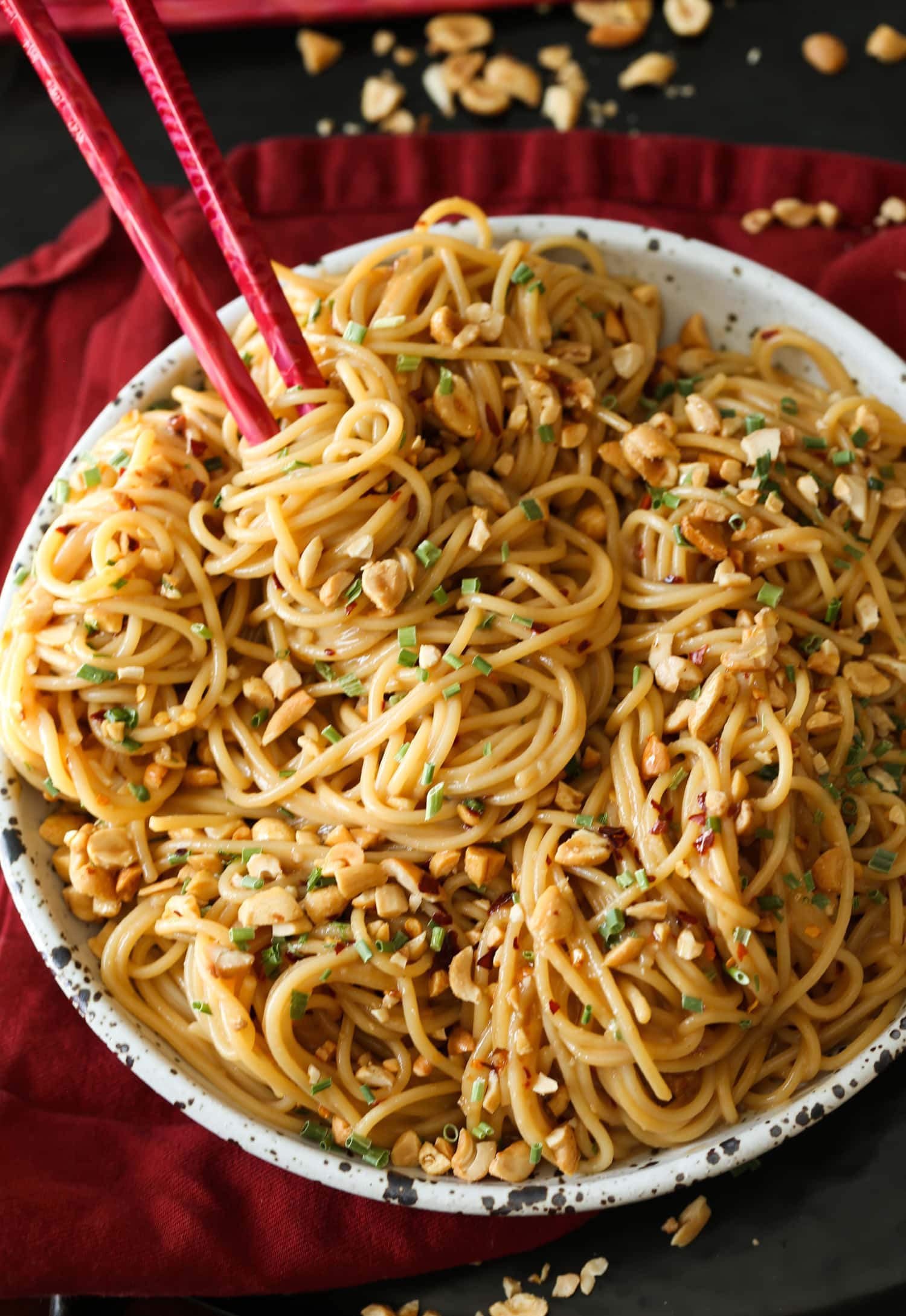 Hot and Spicy Peanut Sesame Noodles
This easy recipe for spicy sesame noodles is the best for busy weeknights! These noodles are seriously speedy to prepare, and seriously delicious with all their rich, sweet and savory Asian flavors. 
I make these simple spicy sesame noodles with regular linguine, coated in a saucy mixture of peanut butter and sesame oil, plus garlic, honey, lime, and ginger!  It's a flavor bomb that's ready to go in less than 20 minutes. 
You can make this hot and spicy recipe using any of your favorite noodles. It's a versatile, easy dinner that can be served warm or cold, with all your favorite meat and veggie add-ins!
What Are Sesame Noodles?
The definition of "sesame noodles" might be broad, but in essence, they're noodles prepared with some form of sesame ingredient, from sesame oil to sesame seeds, to a sesame paste like tahini. I make my version with a delicious sesame peanut sauce, since I can't get enough of Asian-inspired spicy peanut sauces.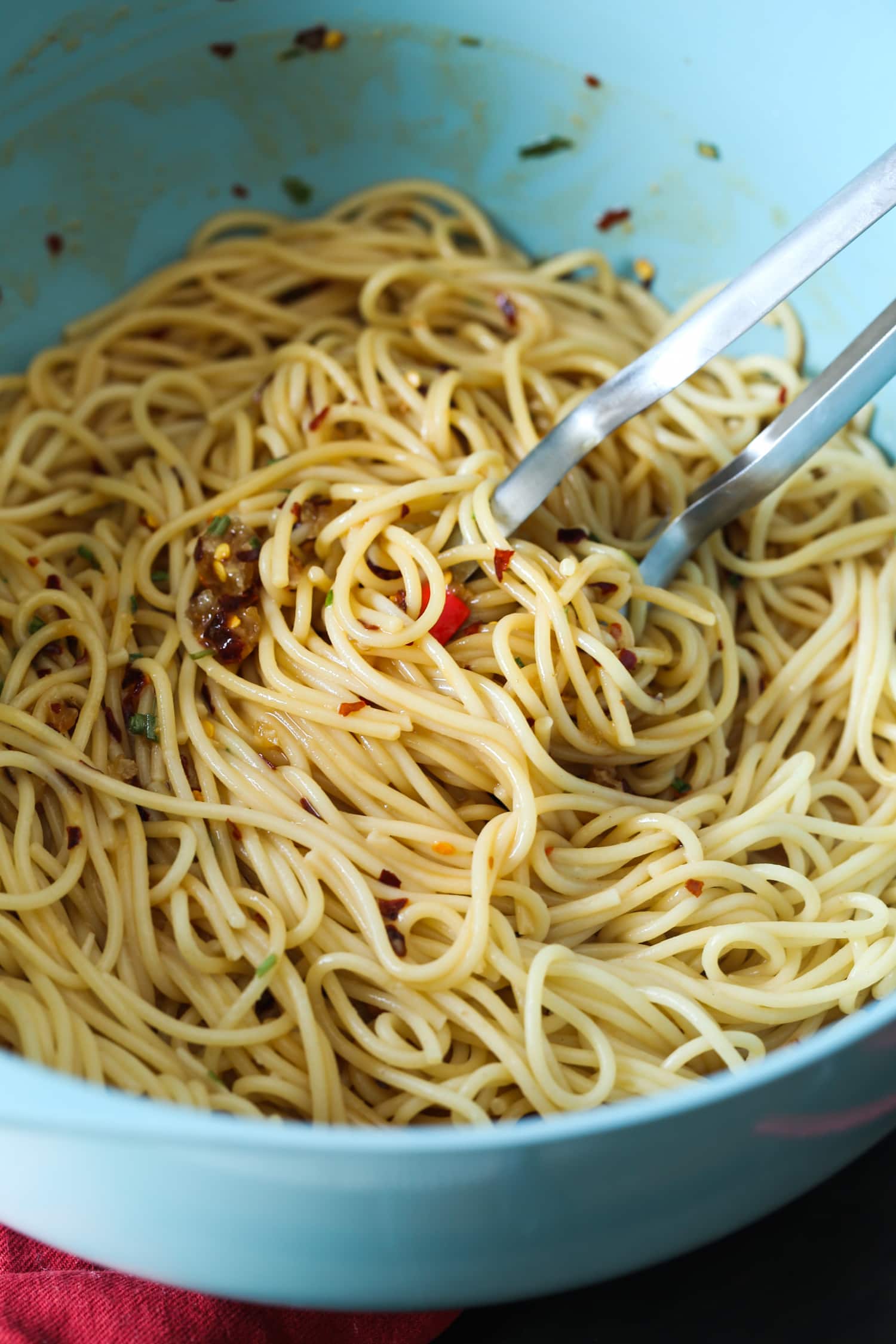 Recipe Ingredients
Noodles: I use spaghetti or regular linguine that's been cooked al dente, as these are easy-to-find options and perfect for this recipe. For a more authentic spin, you can also use Asian-style noodles like soba or ramen (see my suggestions below!).
Sesame Oil: The "sesame" in sesame noodles! Feel free to adjust the amount you use, but this ingredient really is a must.
Canola Oil: Alternatively, peanut oil, vegetable oil, or olive oil will also work. 
Soy Sauce: I use low sodium soy sauce, but you can also use tamari. Keep in mind that regular soy sauce will add a more salty flavor.
Rice Vinegar: You can also use white vinegar or apple cider vinegar. 
Peanut Butter: Creamy peanut butter (either regular or natural). Crunchy peanut butter can also be used, but make sure to use a little extra.
Peanuts: Chopped peanuts for a nice crunch. I use salted, but unsalted is fine, too. You can also use cashews!
Garlic & Ginger: Preferably fresh minced garlic and ginger, for the best flavor.
Honey: A bit of natural sweetness to balance the salt and heat. Brown sugar or maple syrup will also work. 
Lime Juice: Nothing beats freshly squeezed lime juice in terms of flavor.
Red Pepper Flakes
Chopped Cilantro: For garnish.
Can I Use Another Kind of Pasta? 
If you'd like to use another kind of noodle for this recipe, there are options! Most of the below noodle varieties can be found in the Asian section of most major grocery stores and won't require a trip to an Asian supermarket. If you are using a different type of noodle, be sure to cook them according to the package directions.
Soba Noodles: A type of buckwheat noodle that looks a bit like flat spaghetti. Soba noodles have a nutty flavor that also goes great with this sesame noodle recipe!
Udon Noodles: These are thick Japanese wheat noodles that will also hold up well with peanut sauce. 
Rice Noodles: Rice noodles are made from rice flour and often found in South East Asian dishes like Pad Thai. They can also be used for spicy sesame noodles!
Ramen Noodles: You can find authentic ramen noodles (plain, without any seasoning packets!) in the Asian or International foods aisle of most grocery stores. These are thin, curly noodles made from wheat. I'd suggest only using ramen in a pinch, as the thin noodles aren't exactly suited to thick peanut butter sauces like the one in this recipe!