This easy Stromboli recipe is a 30 minute meal that the family will go crazy for! Just a few simple ingredients, prep ahead and freezer friendly!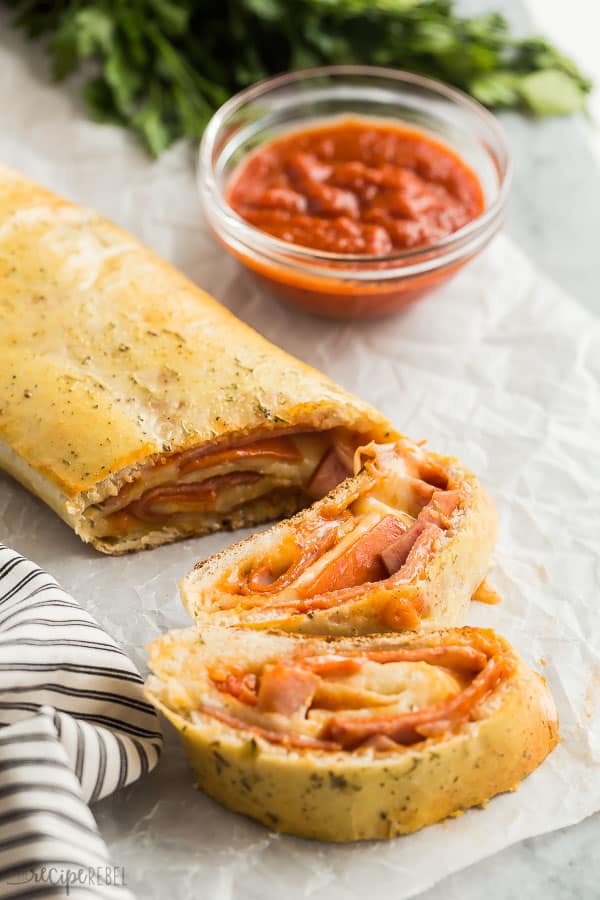 I shared this recipe first on Spend With Pennies.
It's been a while since The Recipe Rebel has seen a 30 minute meal that is as easy and loveable as this Stromboli!
Anything that is pizza-flavored, in any form, is a hit here with the whole family.
What can I say? We are just bread, meat and cheese kind of people 😉
But this stromboli, with its golden crust and hot, melty, gooey filling that is incredible fresh from the oven but also pretty awesome cooled to room temperature and packed in school lunches or a picnic basket?
Tops a lot of other dinner options around here.
What is stromboli?
Stromboli is essentially one big pizza roll.
You will start with refrigerated pizza dough (we have to give ourselves a break every now and then, but if you want to make your pizza dough from scratch, check out my Quick and Easy Pizza Dough recipe here), fill it with our favorite pizza toppings, roll it up and bake!
It is really impossible to do wrong, as long as you don't go too crazy with the fillings so they are bursting all over the place.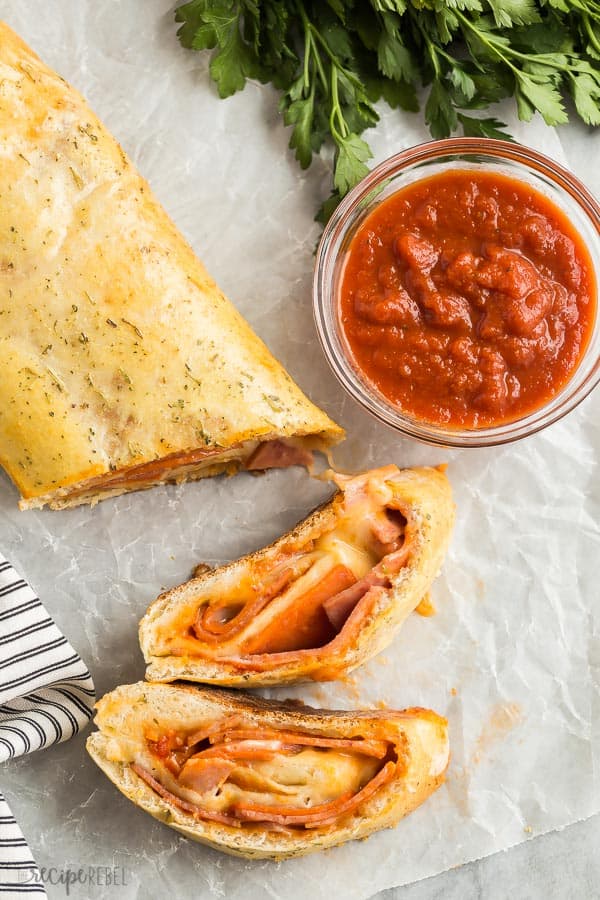 How to make Stromboli:
Get your pizza dough — whether you're using store bought or homemade — and roll it into a large rectangle.
Fill it up — but not too full, and leave a space around the edge so we can pinch it together to keep all that goodness inside!
Brush with an egg wash to seal everything in and create that gorgeous golden crust that can almost convince your friends you made it all from scratch 😉
Let it cool for a few minutes (otherwise your sauce and cheese will all run out!), then slice and serve and watch it magically disappear.
Variations on this Stromboli recipe:
Swap out the meat: try ham with pineapple, or barbecue chicken!
Swap out the cheese: try some Monterey Jack with Jalapeno or Garlic Herb variety!
Add veggies: Finely chopped peppers, broccoli, mushrooms, onions — anything you would put on pizza goes!
Make your own homemade pizza dough.
You know I'm not a stickler for rules — if you want to add more ham and no salami, or skip the pepperoni, or use a different kind of cheese (or extra cheese!), or different seasonings in your egg wash — I'm not going to judge.
This is an easy recipe to get a little experimental with, so feel free! Just stick to the few rules I've laid out above regarding how to make stromboli and you'll be set 🙂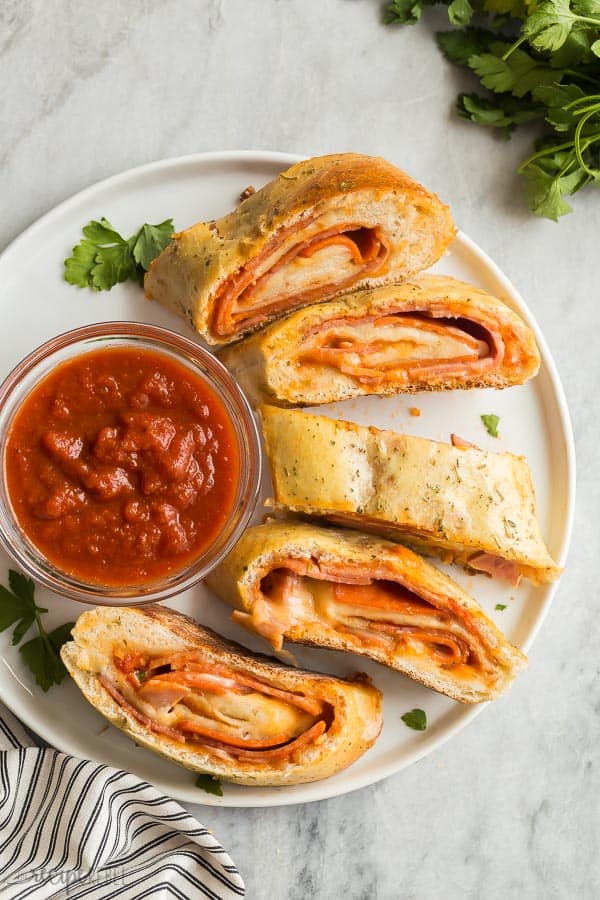 How to freeze Stromboli:
Stromboli is perfect for making ahead!
You can prepare fully, then cover with plastic wrap on the baking sheet and refrigerate up to 12 hours before baking.
Or you can prepare, bake, cool, wrap tightly and freeze. To serve, thaw for 5-6 hours at room temperature, then heat at 350 degrees for 10-20 minutes until heated through.