Tomatillo Avocado Salsa doesn't just look bright and vibrant, it tastes that way, too! Green ingredients like tomatillos, jalapeños, cilantro, avocado, and lime juice combine to create a fresh and flavorful salsa.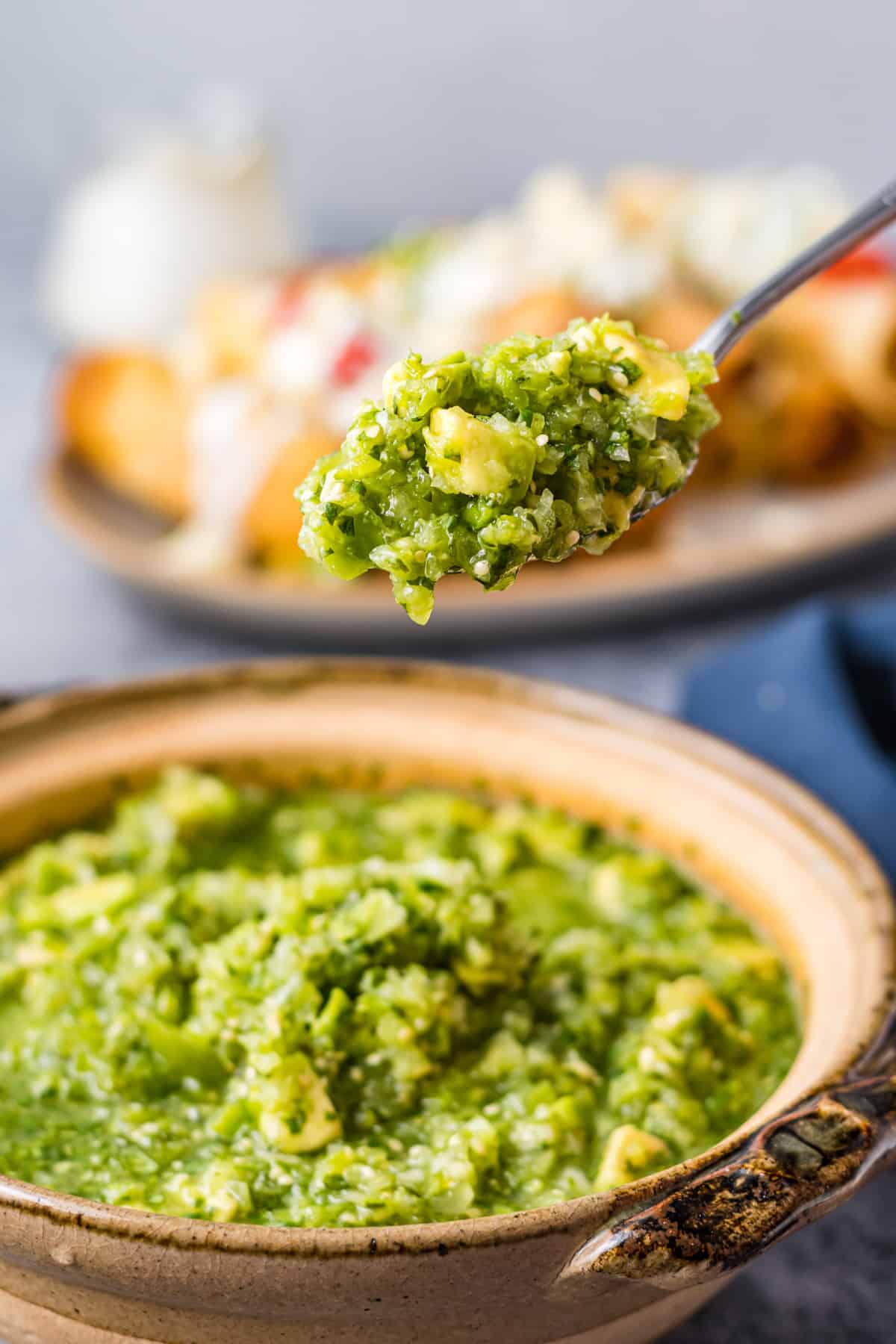 Salsa Verde with Avocado
Grab the tortilla chips because we're making salsa! Not just any salsa, but fresh, green, and flavorful salsa verde with avocado. With a similar flavor profile to salsa verde, this is a unique twist on a Mexican classic.
Totally crave-worthy, this fresh green salsa is delicious on chips, tacos, quesadillas, and more. Skip the jarred salsa and whip up a batch of homemade salsa in minutes!
Why You'll Love this Tomatillo Salsa Recipe:
VIBRANT: Bold in color and flavor, this salsa is a flavorful addition to any fiesta.
FRESH: This salsa is made with only fresh ingredients for maximum flavor.
QUICK: Ready in 10 minutes, you'll appreciate how easily tomatillo salsa comes together.
Zippy with a little kick, tomatillo avocado salsa adds a punch of flavor to any meal!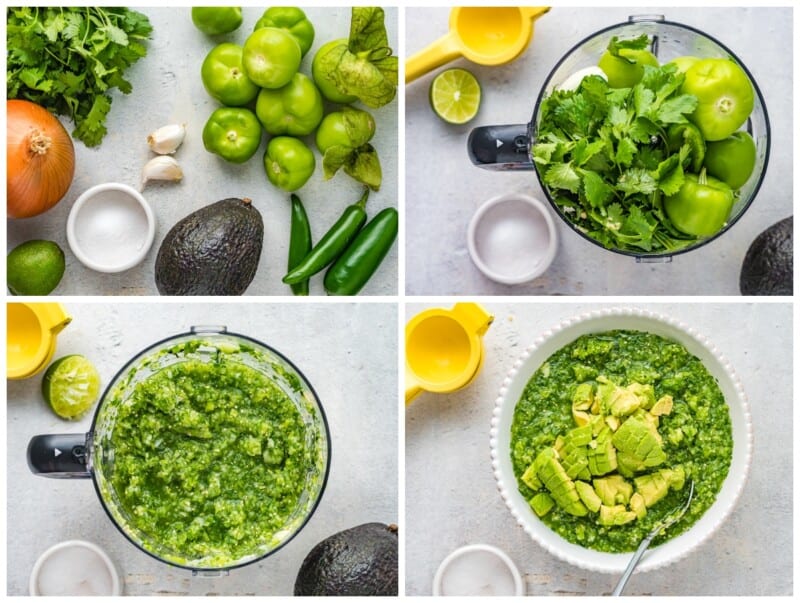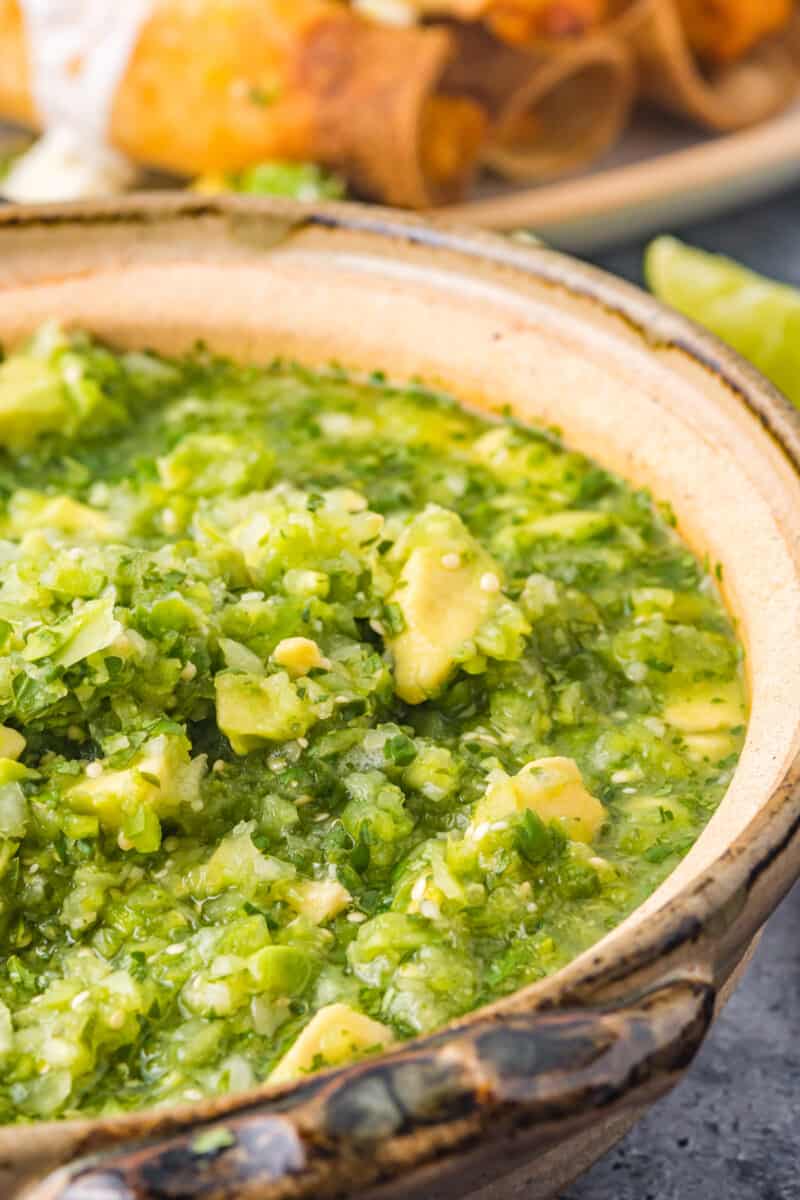 How to Make Tomatillo Salsa Verde
Be sure to see the recipe card below for full ingredients & instructions!
Combine the tomatillos, jalapeños, cilantro, garlic, and onion in a food processor.
Pulse for about 5 seconds.
Stir in the diced avocado, lime juice, and salt.
Enjoy!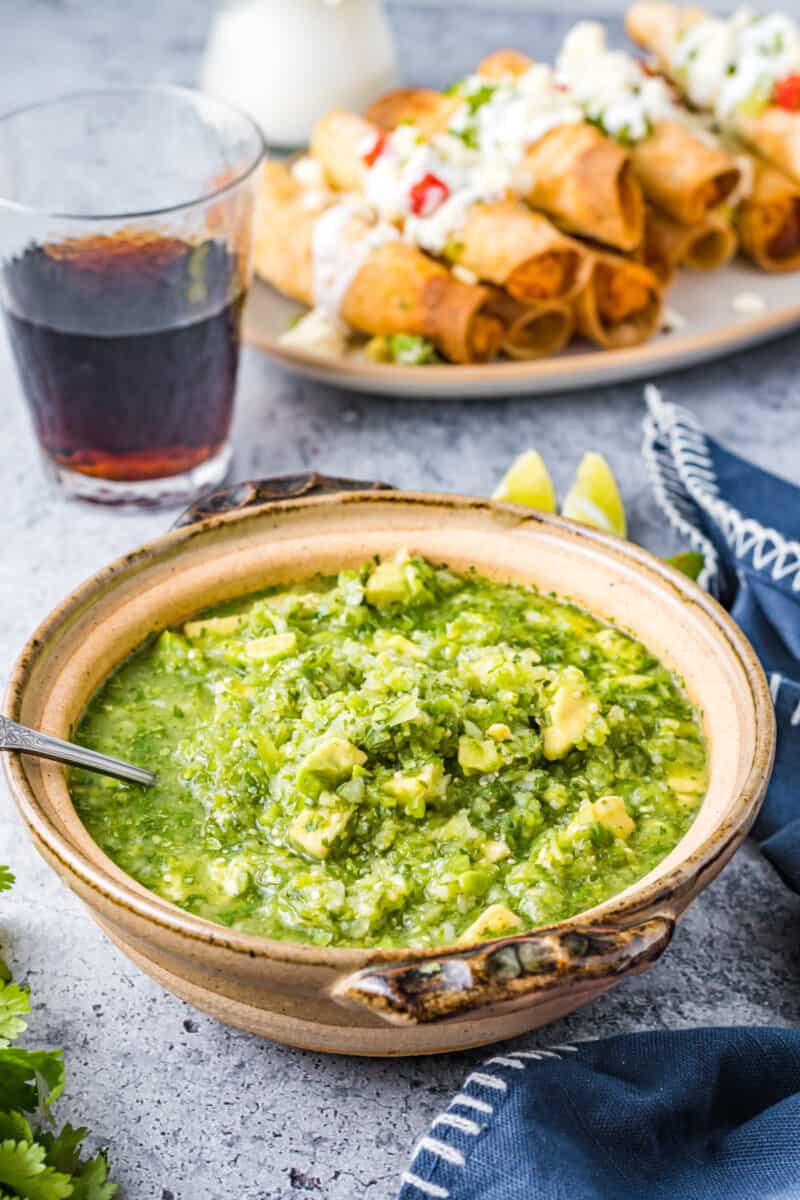 How do I prepare tomatillos for this salsa?
Remove the tomatillo husks, wash them well, and cut into quarters.
How can I adjust the spiciness of this salsa?
For a less spicy salsa, remove the seeds and membranes of the peppers before adding to the food processor. For a spicier salsa, add 1-2 serrano peppers in step 1.
Do I have to use a food processor?
You will need to use something to pulse all of the ingredients together. If you don't have a food processor, use a blender.
Is this salsa similar to salsa verde?
Yes! This salsa is just like salsa verde with the addition of avocados.
What goes well with tomatillo avocado salsa?
I love serving this salsa with chips, quesadillas, tacos, taquitos (like these air fryer chicken taquitos), on salads, and more.
Serving Suggestions
It's a fiesta! Enjoy this salsa with:
While avocados aren't typically found in tomatillo salsa, I'm not sure why. They're such a delicious addition!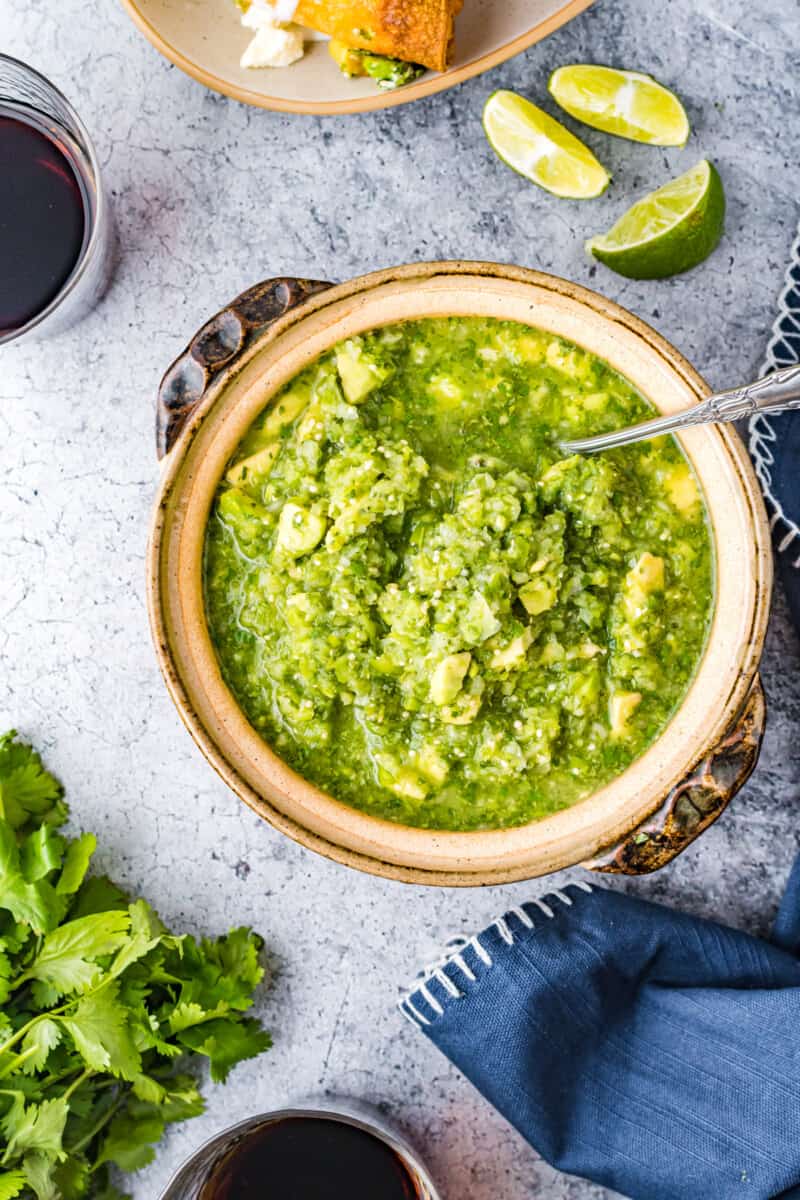 Tips!
Use fresh, not canned tomatillos! The fresh flavor is what makes this salsa so incredible.
Stir in the diced avocado after the salsa has been properly blended.
Make a double batch because this always disappears quickly!
Once you realize how easy it is to make salsa verde with avocado at home, you'll never buy salsa from the store again.
Can I use bottled lime juice?
Fresh lime juice is best – you can really taste the difference!
Should I roast the tomatillos first?
There's no need to roast the tomatillos before using them in this recipe. If you'd like to make salsa with roasted tomatillos, try my homemade salsa verde recipe!
How long does homemade salsa last?
Homemade salsa is a great make ahead recipe! It's even better on day 2 after the flavors have had time to mingle. Store salsa in an airtight container in the refrigerator for up to 5 days.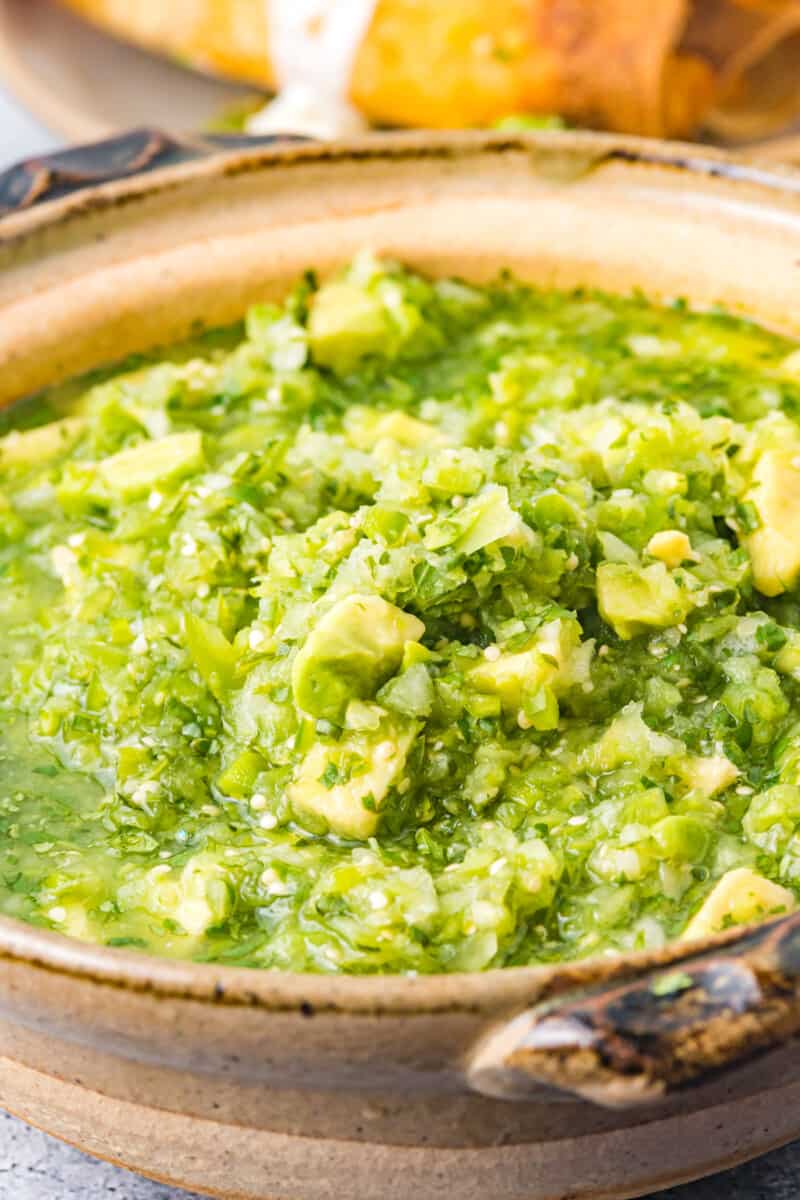 Salsa verde is always delicious, but the addition of avocado takes it to an entirely new level!
If you make this recipe be sure to upload a photo in the comment section below or leave a rating. Enjoy!