This recipe has been sponsored by NABISCO. As always, all opinions are 100% my own. Thanks so much for supporting the brands that help support The Cookie Rookie!
These Easy Tiramisu Cups are made with a secret ingredient, NILLA Wafers! These desserts made with NILLA Wafers dipped in coffee, then layered with mascarpone mousse and topped with cocoa powder, make for the cutest mini treats, just begging to make an appearance at your next BBQ!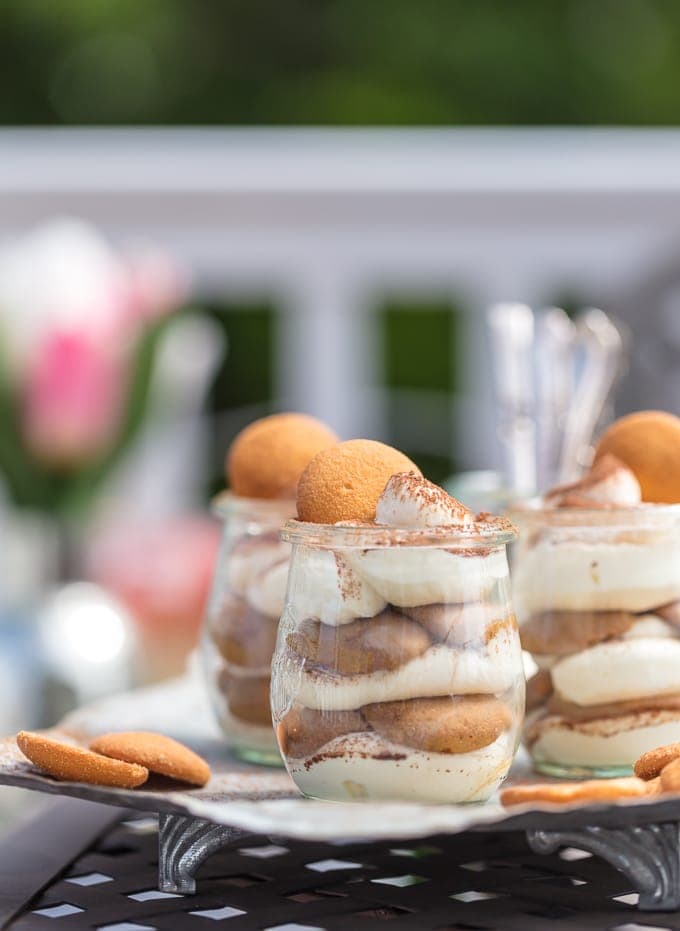 I literally cannot believe Summer is already here. This year has FLOWN by…mostly because I was mega pregnant for the first part and now am preoccupied with my too cute baby at all moments (hop over to IG if you need your baby fix!), so it feels like time is just slipping away. It seems like Christmas was just here, and now we are ready to break out the grills and have Summer BBQs! The weather in STL has been just perfect for the start of BBQ season, and today I'm sharing one of my new favorite EASY recipes…just begging to be made for all your outdoor festivities. These EASY TIRAMISU CUPS don't call for any whipping of eggs or soaking of lady fingers. It's a super simple and remixed twist on a classic, using NILLA Wafers to add even more flavor to one of the most delicious desserts of all time!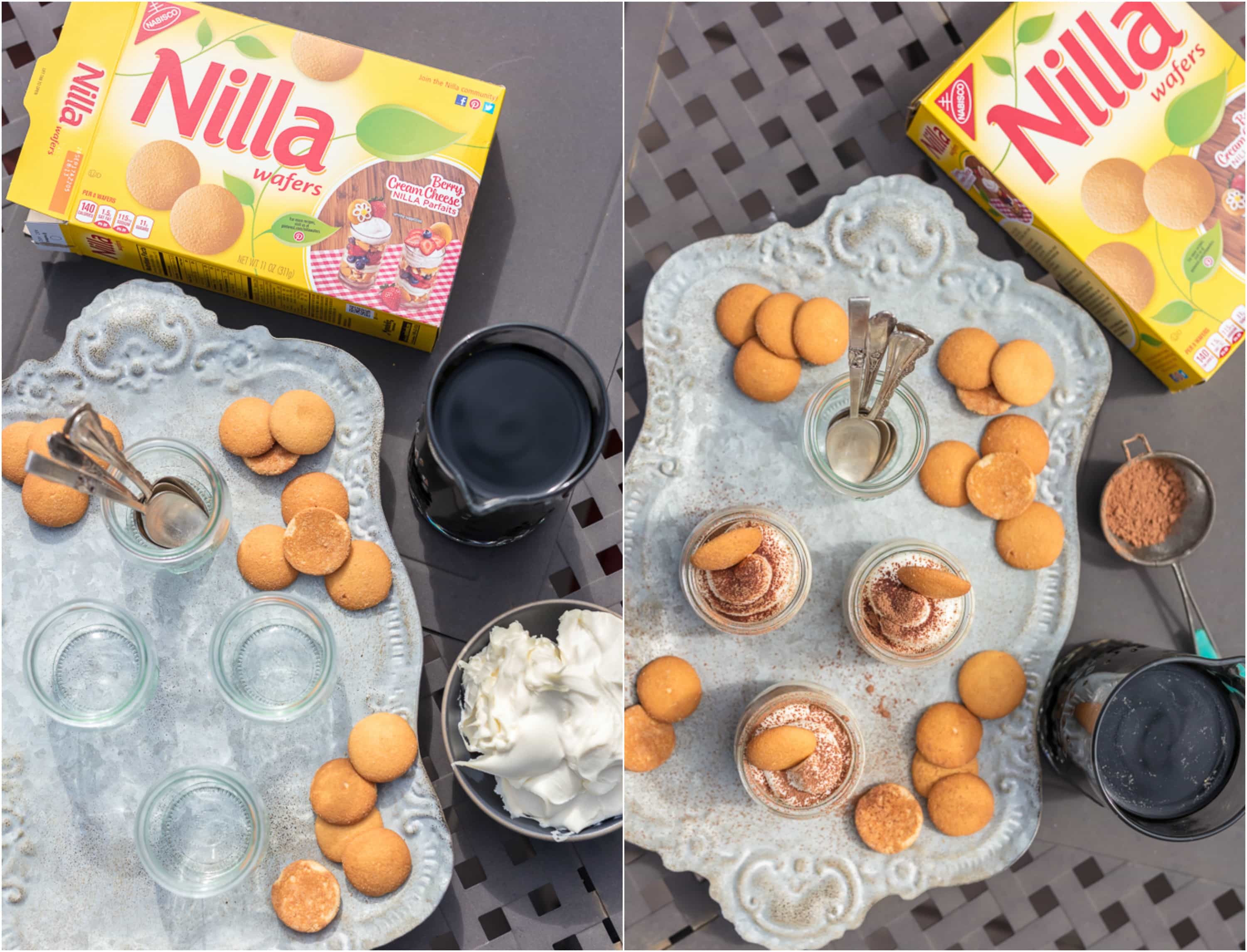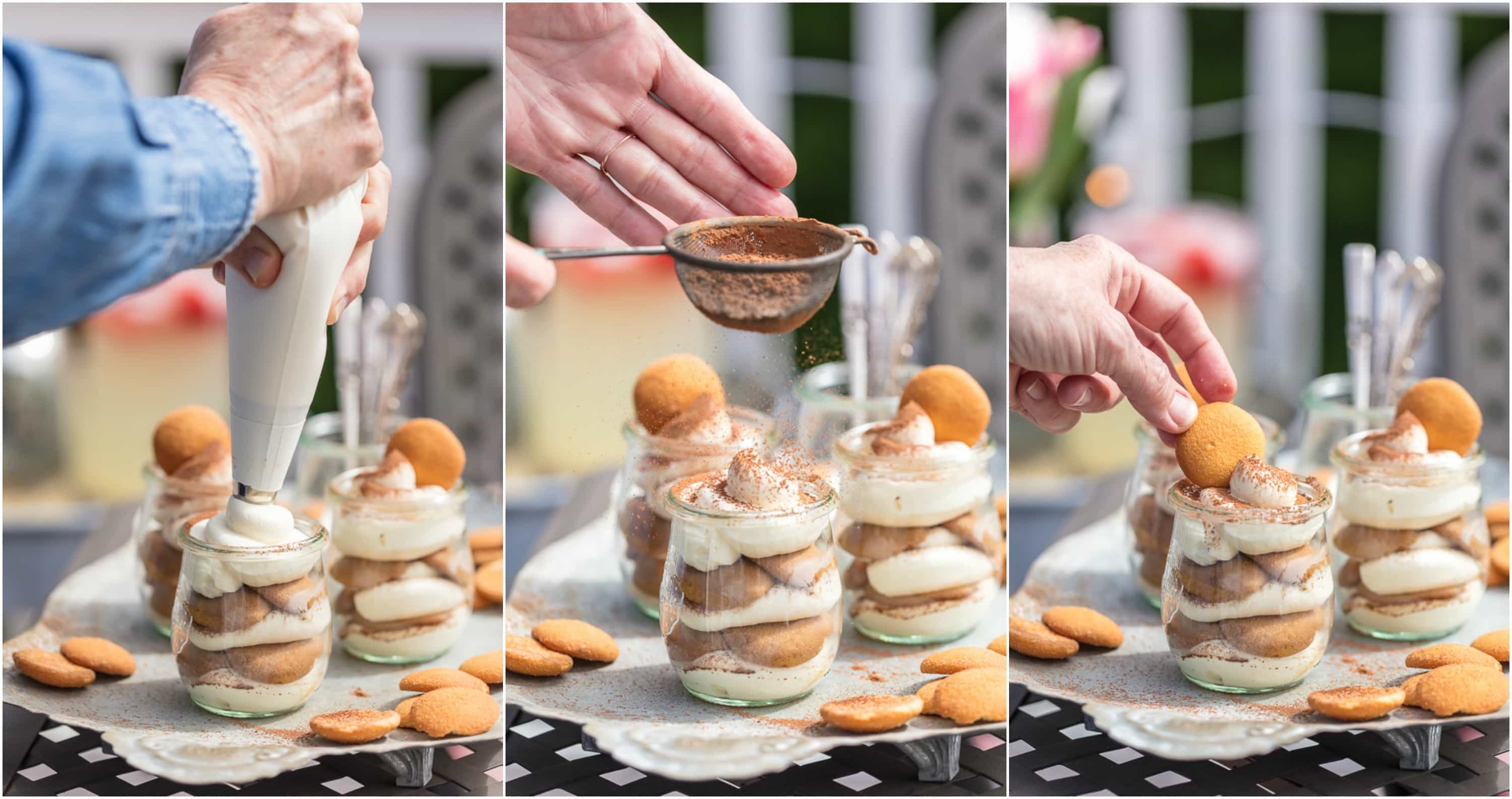 I love that these Easy Tiramisu Cups are single serving. You can hold it in one hand and play yard games with the other. We love to have bags tournaments every Summer…although Pat gets way too competitive. I'll just sit and eat my tiramisu if you don't mind. 🙂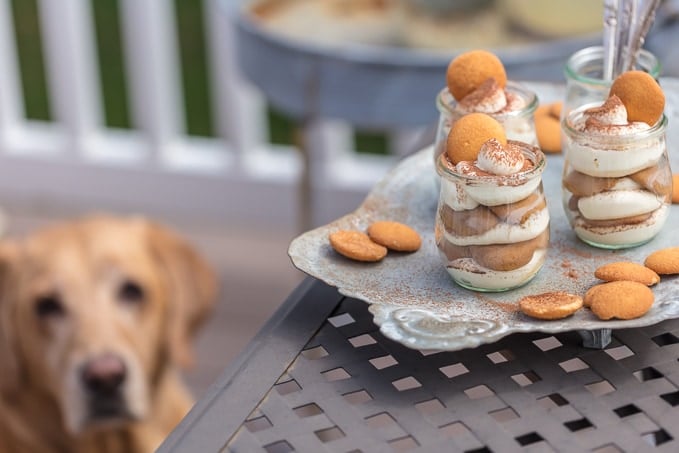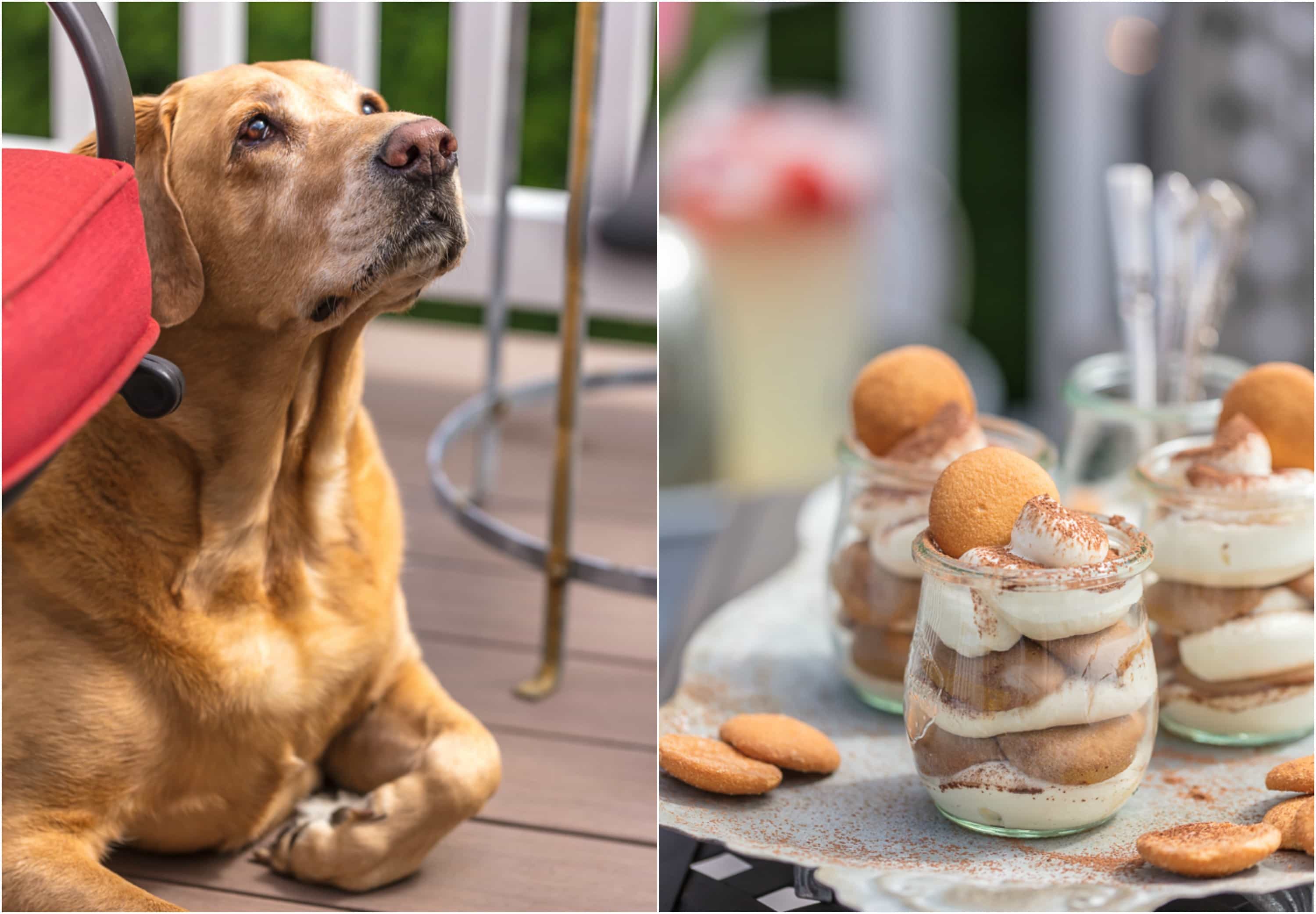 If we are having an outdoor BBQ, you can bet Scout is on hand to make sure we don't drop anything on the new deck. Don't worry Scout…these are all mine.
NABISCO has made it super fun and easy to remix classic BBQ recipes with their delicious line of treats. I found NILLA Wafers to be the perfect substitute for lady fingers in these Tiramisu Cups. I always have such a hard time finding lady fingers at the store…by using NILLA Wafers you get that extra vanilla flavor and you don't have to wonder where to find them! They soak up the coffee quickly so no need to wait and soak. They're just perfect and SO delicious in these mini cups. OBSESSED!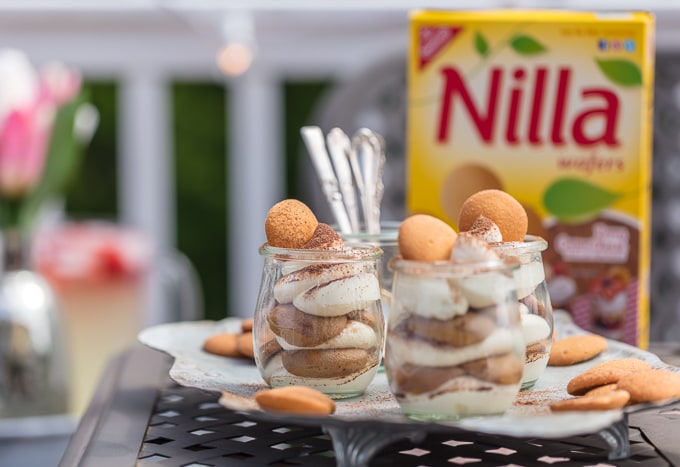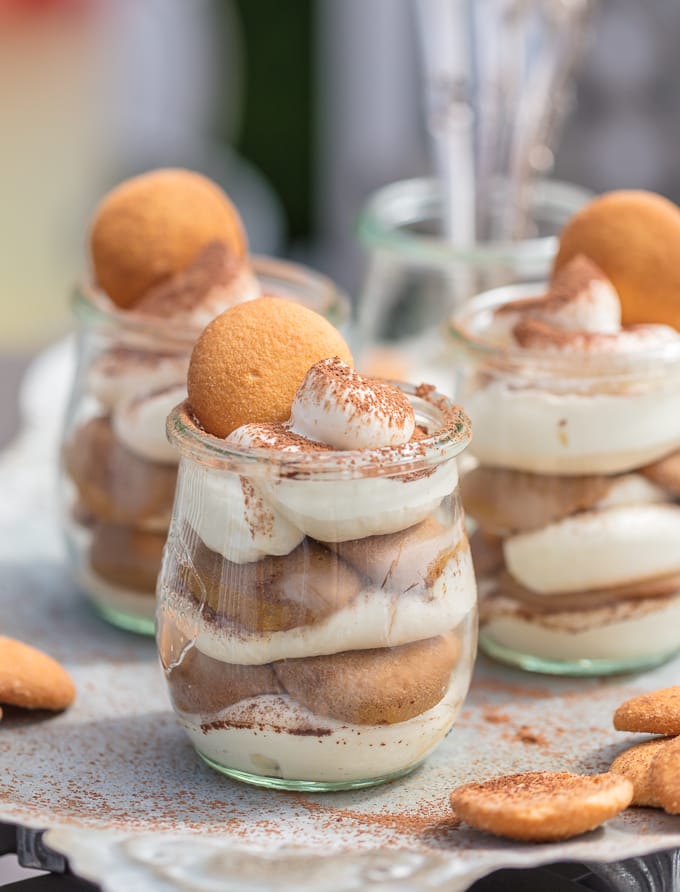 How would you remix classic recipes? NABISCO wants to see! Upload your creative remix recipes using hashtags #NABISCO #BBQRemix. I can't wait to see what you come up with.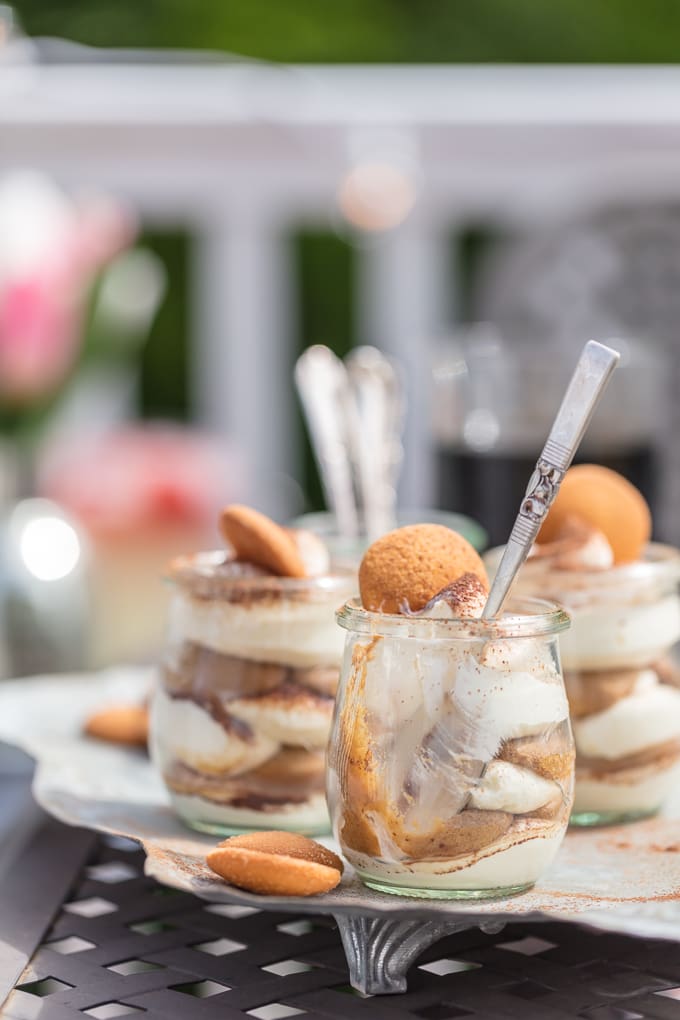 For more information on NABISCO's "Remix Your BBQ" campaign, including remixed recipes, and a chance to win tickets to a Lady Antebellum show, head to NabiscoBBQ.com.
Enjoy!
Ingredients
16 ounces mascarpone cheese
1/3 cup sugar
1/4 cup 2% milk
36 Nabisco Nilla Wafers
1/2 cup strongly brewed coffee
cocoa powder
Instructions
In an electric stand mixer, blend together the mascarpone, sugar, and milk until fluffy. If necessary, add more milk to make the consistency your desired level of creaminess. Set aside.
Start by piping the bottom layer of the mascarpone mixture into the bottom of 4 small glass cups.
Sprinkle with a dash of cocoa powder.
Dip the Nilla Wafers in the coffee, and layer three at a time into each cup.
Top with more of the cream layer, then more chocolate. Repeat one more time (three layers of each per cup)
Top with more cocoa powder and a Nilla Wafer on top.
Enjoy!
7.6.3
2404

JOIN OUR MAILING LIST
TO GET COOKING!
Subscibe to recieve all the latest, greatest, and EASIEST recipes sent straight to your email inbox. If we post something yummy, you'll be the first to know.