Eggplant Rollatini – Eggplant rollups stuffed with a cheesy ricotta blend, and baked in a delicious marinara sauce.
If you are looking for a darn good vegetarian dish that's bursting with flavah-flave, here it is! Eggplant Rollatini is making all my meatless wishes come true. It's like lasagna, but not quite. It's like, rolled bundles of eggplant filled with ricotta cheese, reminiscent of the lasagna that everyone always craves. Kapeesh? Cool!
There hasn't been a time I can remember when I WASN'T completely in love with all things lasagna, or dips and rollups that look and/or taste like lasagna.
Evidence:
Told ya! If I were you, I'd give all of the above a try as soon as this week. Starting with the Lasagna Dip for that football night party thingamajig. You'll LOVE it!
Cannot even tell you how many times I have made this recipe in the last month or two. Luckily I have this little family of mine that worships lasagna so it's not like they cared.
First thing you're going to want to do is slice up some eggplants and bake them for 15-ish minutes.
In the meantime, you will want to prepare the filling: a tub of ricotta cheese, a bit of feta cheese, some parmesan and mozzarella, is what you will need. Seasonings and garlic, too!
Once the eggplants are done baking, please let them cool down a bit before adding the cheese mixture to each slice and rolling it up.
Lastly, you will arrange the eggplant bundles over some marinara sauce, spoon whatever cheese mixture you have leftover around the bundles, add more marinara sauce and cheese, and bam. Bake and then eat!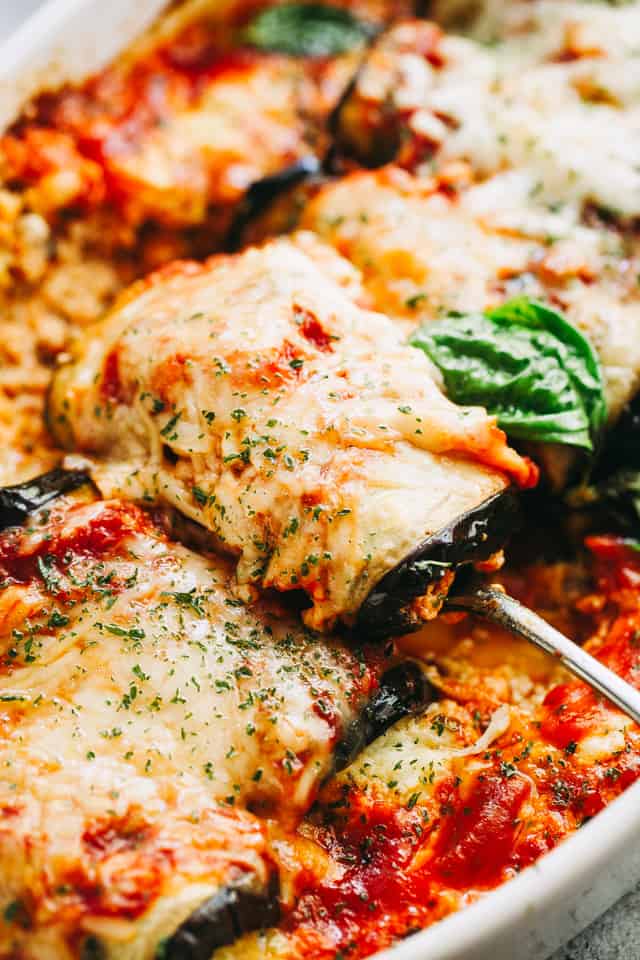 I'd like to dive into that and drown in it… yummmm!
ENJOY!

CRAVING MORE? SIGN UP FOR THE DIETHOOD NEWSLETTER FOR FRESH NEW RECIPES DELIVERED TO YOUR INBOX!
FOLLOW DIETHOOD ON FACEBOOK, TWITTER, PINTEREST AND INSTAGRAM FOR ALL OF THE LATEST CONTENT, RECIPES AND UPDATES.
TOOLS USED IN THIS RECIPE
Eggplant Rollatini Recipe
Eggplant Rollatini – Eggplant rollups stuffed with a cheesy ricotta blend, and baked in a delicious marinara sauce.
Total Time
1
hour
10
minutes
Ingredients
4

medium-sized

eggplants

salt

olive oil,

for brushing

3

cups

part skim ricotta cheese

1

cup

crumbled feta cheese

1-1/2

cups

shredded part-skim mozzarella,

divided

1/2

cup

grated parmesan,

divided

4

cloves

garlic,

minced

2

eggs,

beaten

1

teaspoon

salt

1/2

teaspoon

fresh ground pepper

1 jar

(24-ounces)

marinara sauce
Instructions
Lightly grease a 9×13 baking dish with cooking spray and set aside.
Prepare the eggplants.
Cut eggplants lengthwise into 1/4-inch-thick slices; you should get about 16 slices total. 

Lay slices on a baking sheet; sprinkle with salt on both sides and let stand for about 10 minutes.

Using paper towel, pat slices dry.

Brush both sides of eggplant slices with olive oil and transfer back to the baking sheets in a single layer.

Roast the eggplant slices for about 8 minutes; flip over and continue to roast for about 5 more minutes, or until tender.

Remove from oven and let cool.
In the meantime, prepare the cheese filling.
In a large mixing bowl combine ricotta, feta, 1/2 cup mozzarella, 1/3 cup parmesan, garlic, eggs, salt and pepper; mix until well incorporated.

Spread 1/2 cup of marinara sauce onto the bottom of the previously prepared baking dish.

Divide ricotta mixture among eggplant slices, and spread it down the center of each slice.

Roll up prepared eggplant slices and place them seam-side down in baking dish, over the marinara sauce.

Use any leftover cheese mixture to spoon around the eggplant rollups.

Top eggplant rollups with remaining marinara sauce and sprinkle with remaining mozzarella and Parmesan.

Cover with aluminum foil and bake for 30 minutes.

Remove foil and continue to bake for 15 minutes, or until lightly browned and bubbly.

Remove from oven and let stand for about 10 minutes.
Recipe Notes
WW SMART POINTS: 12
Nutrition Facts
Eggplant Rollatini Recipe
Amount Per Serving
Calories 443 Calories from Fat 207
% Daily Value*
Total Fat 23g 35%
Saturated Fat 13g 65%
Cholesterol 128mg 43%
Sodium 1627mg 68%
Potassium 1290mg 37%
Total Carbohydrates 32g 11%
Dietary Fiber 10g 40%
Sugars 17g
Protein 29g 58%
Vitamin A 26.7%
Vitamin C 18.5%
Calcium 67.8%
Iron 16.3%
* Percent Daily Values are based on a 2000 calorie diet.