Reuben Casserole Recipe
Reuben Casserole is a must make every St. Patrick's Day! Such an easy comfort food recipe, loaded with corned beef, rye bread, sauerkraut, Swiss cheese, and so much more. I love the flavor combination and love how simple it is to throw together in a pinch. ALL THAT CHEESE ON TOP! Gimme.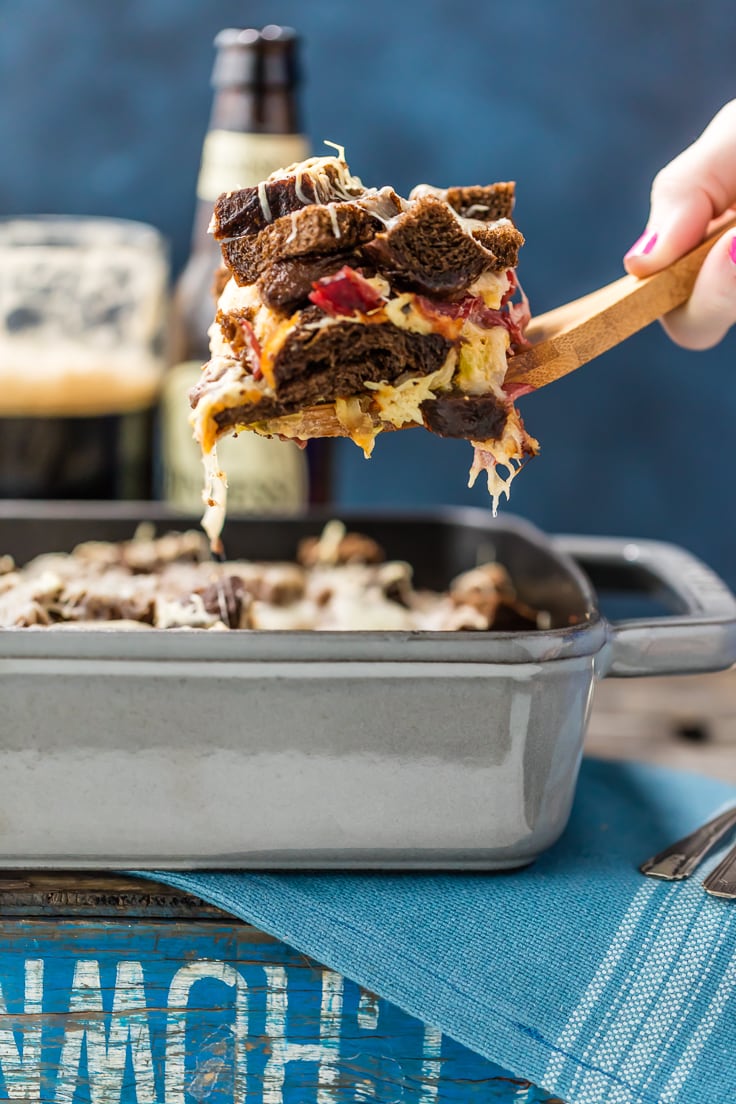 Reuben Casserole is something I never even thought about making. I was missing out! St. Patrick's Day is one of my favorite holidays and this is such a fun and unique recipe to enjoy with family.
It's almost ST. PATRICK'S DAY!! The green beer is about to be flowing, corned beef and cabbage about to be cooking, and shamrock shakes about to be sipping. Figuring out the best St. Patrick's Day menu items for this fun holiday is a breeze with LOADED REUBEN CASSEROLE!
All the flavors and ingredients for making the PERFECT reuben tossed together in an easy breezy casserole just begging to be taken to your St. Patrick's Day festivities. Don't you just want to face plant right into that casserole dish?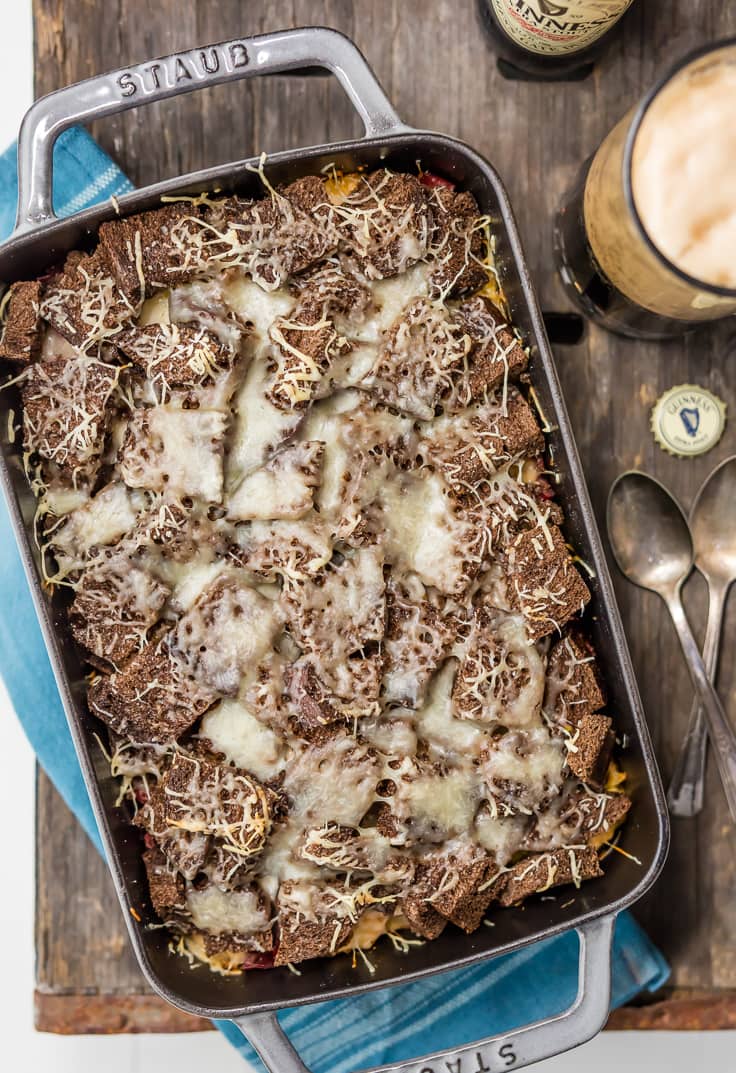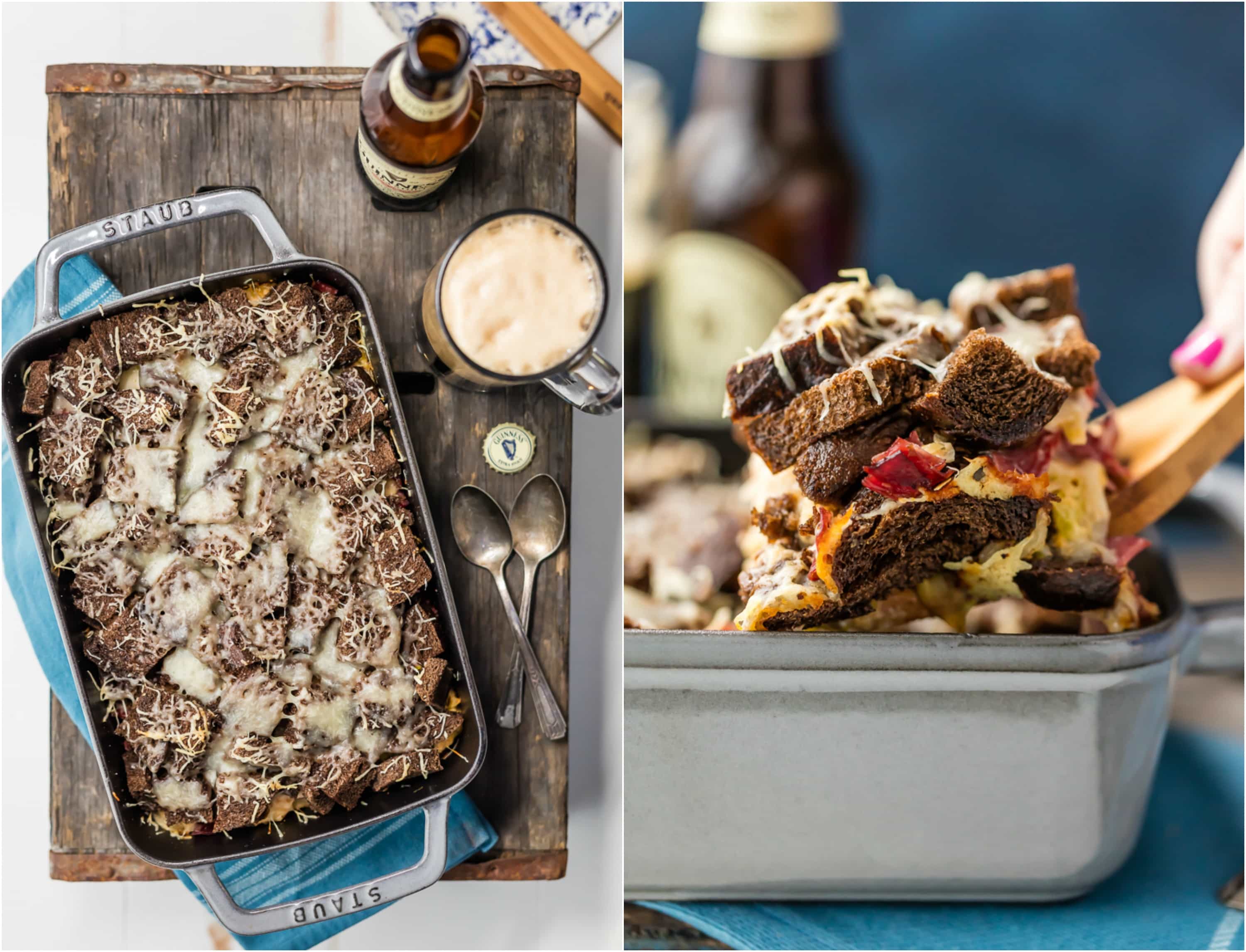 So what's in this easy reuben casserole recipe for St. Patrick's Day??
Lots of rye, corned beef, sauerkraut, pickles, Russian dressing, and SWISS CHEESE! Lots and lots of sweet cheese. Everything blends together just like a juicy deli reuben except in an even more comforting (and easy) way. We already know the flavors are perfection, why not cook them all together? Serve with some Green Punch and you're in business!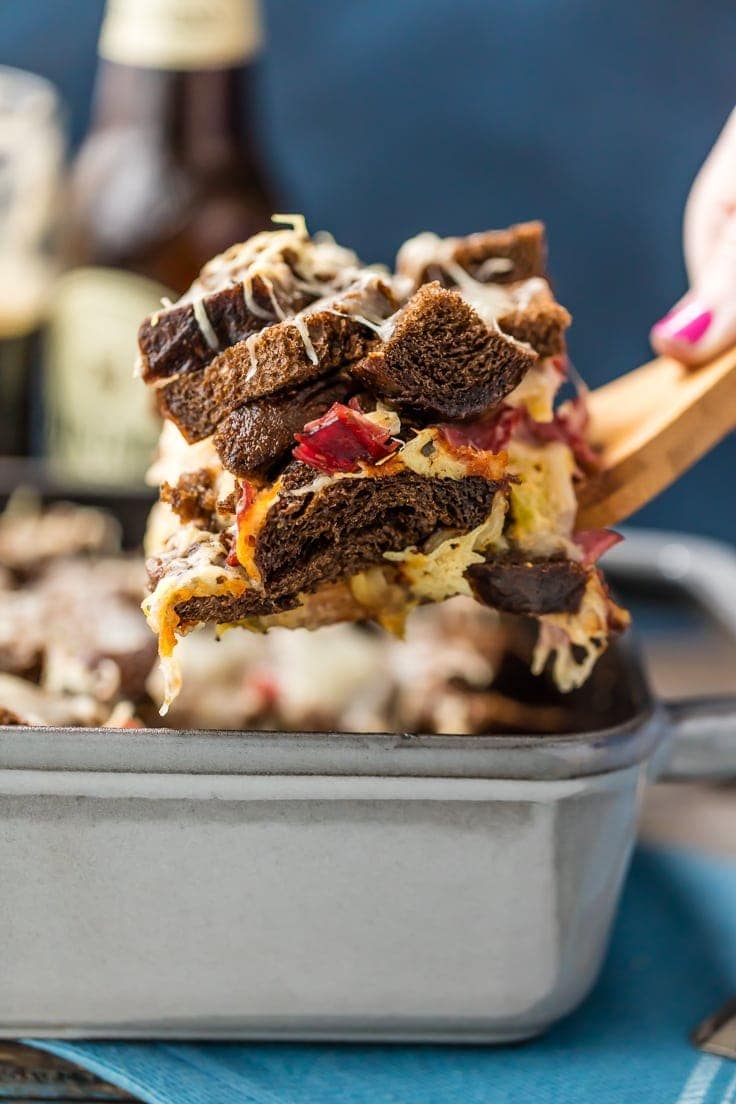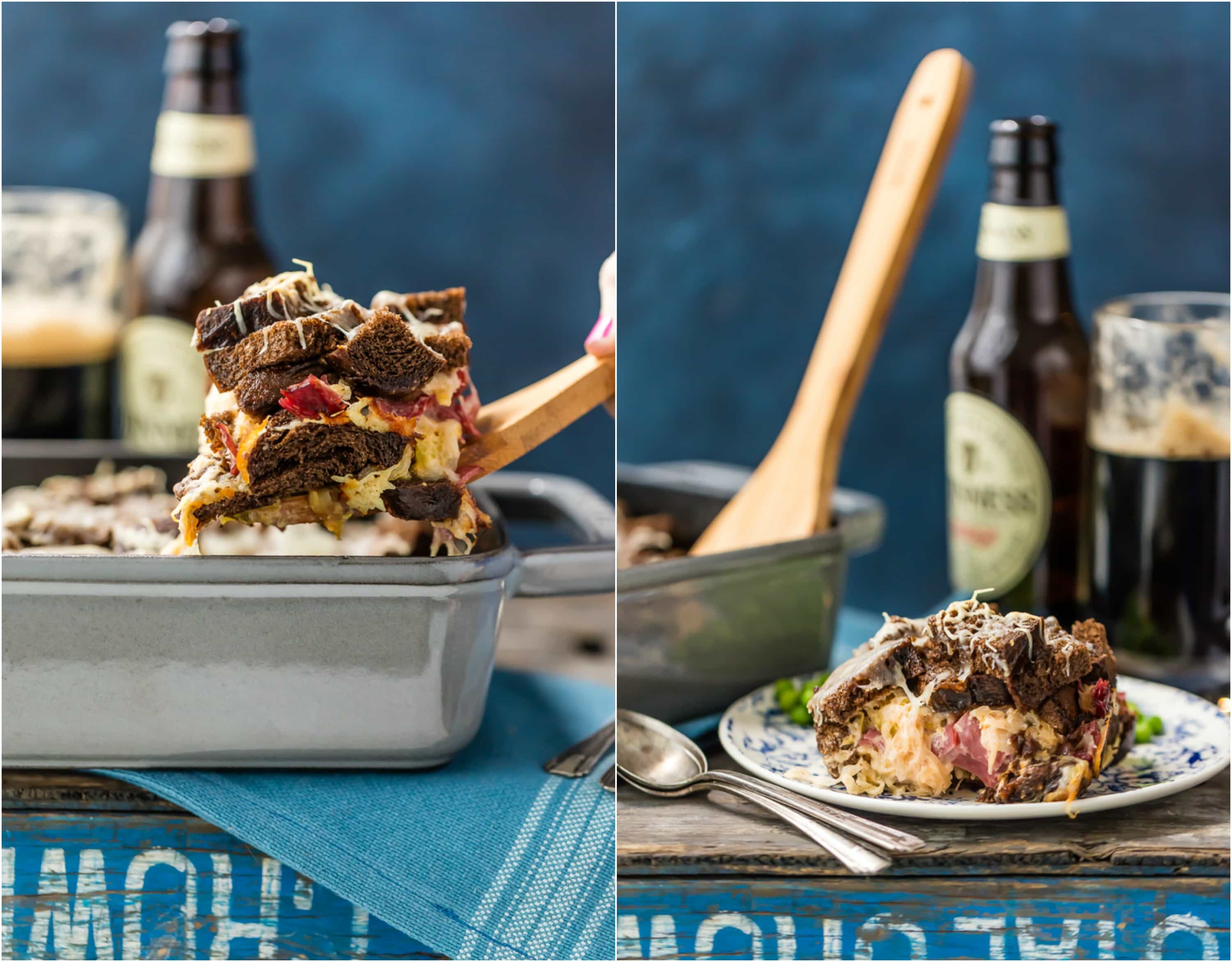 Just looking at this Reuben Casserole has me excited for celebrating. Give me some Homemade Irish Cream, some Crockpot Corned Beef and Cabbage, and this goodness and I'm ready to roll for the day. And a Guinness. I always need a Guinness.
It's not refined, black tie, and it's not supposed to be. It's supposed to be easy, comforting, festive, and fun. Everything that I love about my favorite Irish holiday. There is a LOT of flavor goodness in that casserole dish!
It's so good, this Loaded Reuben Casserole may just be happening at my house year round!!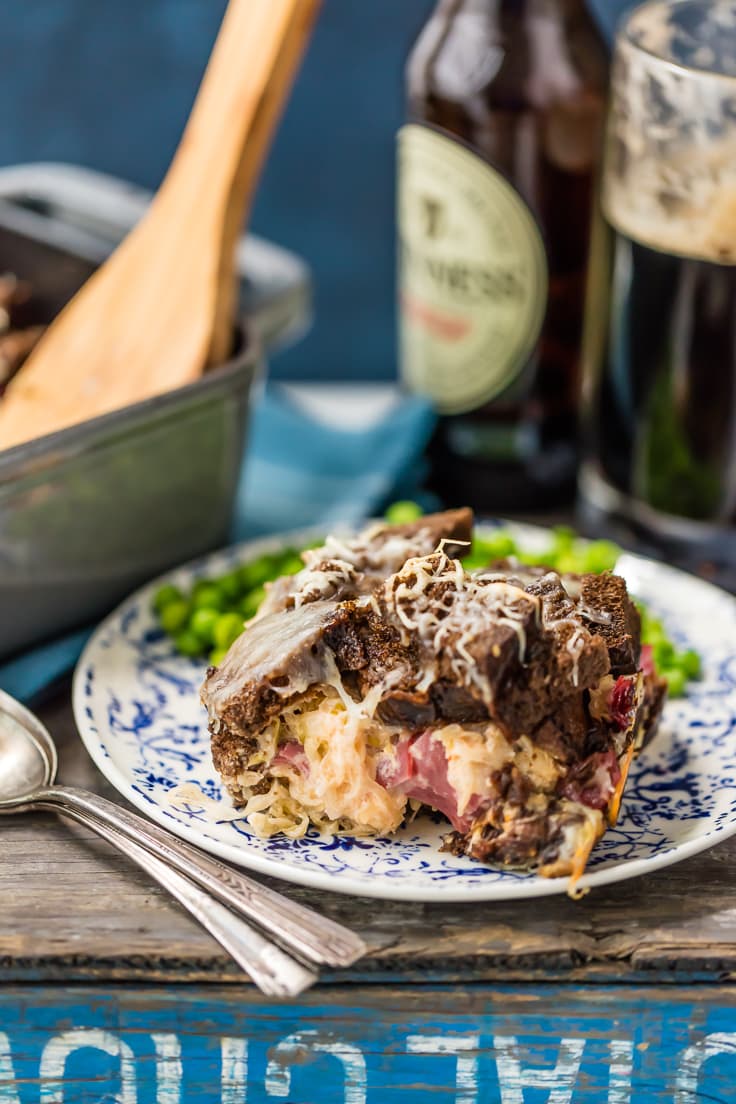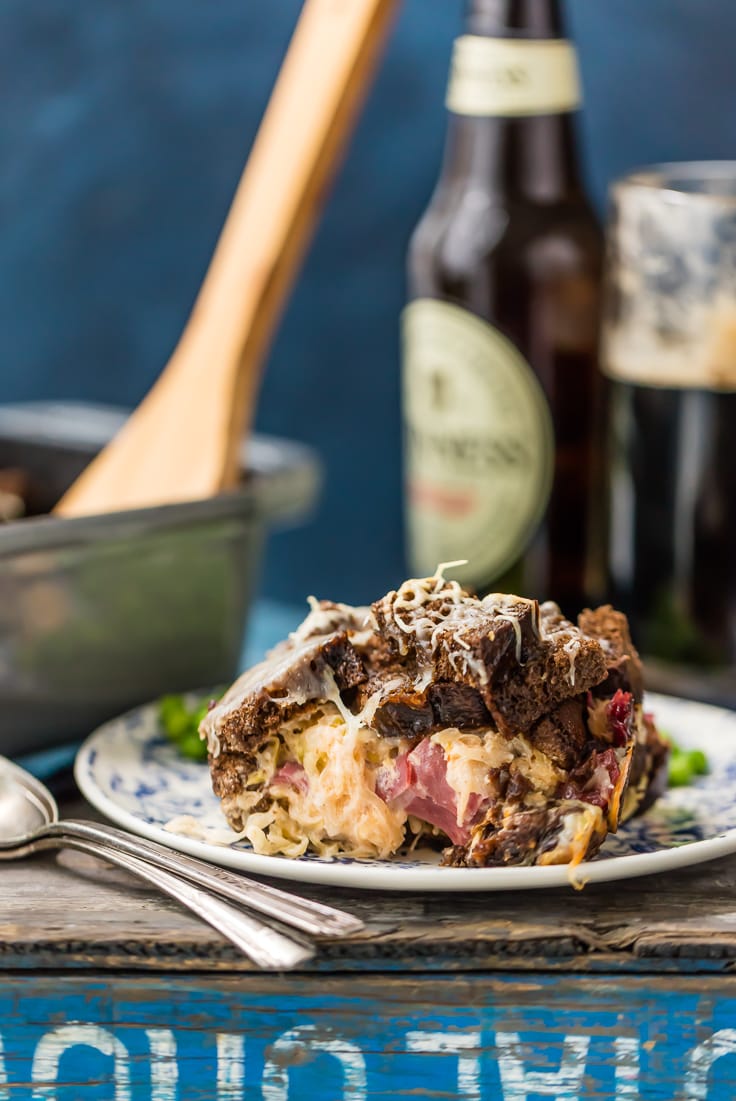 You could make a regular Reuben for the big day, but that's so much more involved. This is as simple as chopping up your ingredients and letting them cook. Reuben Casserole for the win!
Enjoy your St. Patrick's Day meal!!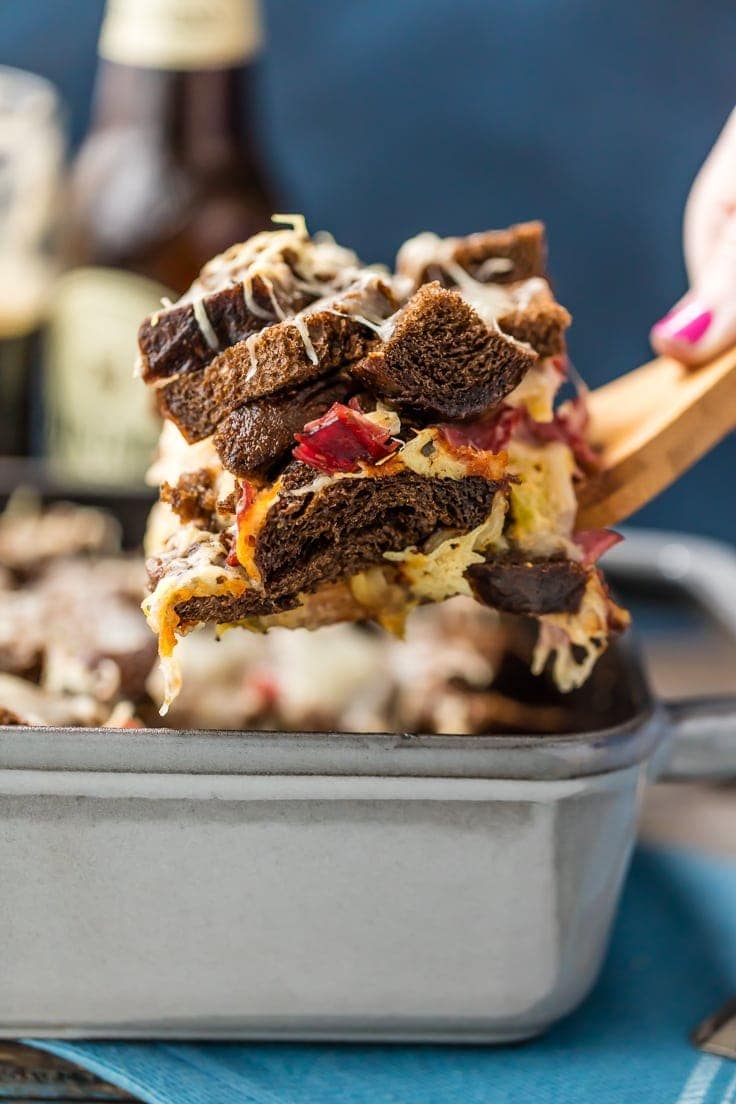 Ingredients
1 large loaf rye bread, cubed. (about 8 cups)
1 (16 ounce) can sauerkraut
2 cups swiss cheese, shredded
1 cup sour cream
1/2 cup Russian dressing
4 Kosher Dill pickles (sandwich slices), finely chopped
2 cups thinly sliced corned beef, chopped
1/2 cup butter, melted
Instructions
Preheat oven to 350F. Spray a 9×13 baking dish with nonstick spray.
Put half of the rye bread cubes into the casserole dish.
In a large bowl, combine sauerkraut, sour cream, Russian dressing, and chopped pickles. Stir to combine.
Pour half of the sauerkraut mixture over the bread, then top with corned beef.
Top with 1 cup swiss cheese.
Top with the rest of the sauerkraut mixture.
Top with the rest of the bread, pushing down to make sure it adheres to the sauce mixture. Top with the remaining cup of cheese
Drizzle all with the melted butter.
Bake, covered, for 30 minutes. Remove cover and cook a final 10 more minutes.
Serve hot and enjoy!
7.6.7
2233
My loaded reuben casserole is delicious, but my blogging friends know how to make amazing reuben recipes for St. Patrick's Day, too! SO fun!
Healthy Reuben Salad, from It's Yummi.
Reuben Roll Ups, from Spend with Pennies.
Reuben Waffle Fries, from Melanie Makes.
Easy Reuben Soup, from Barefeet in the Kitchen.
Did you make this recipe?