Easy15 minsQuick
My everyday salad recipe — perfect for serving as a side salad or main dish.  And since it also happens to be vegan and gluten-free, this simple salad is also perfect for serving to a crowd!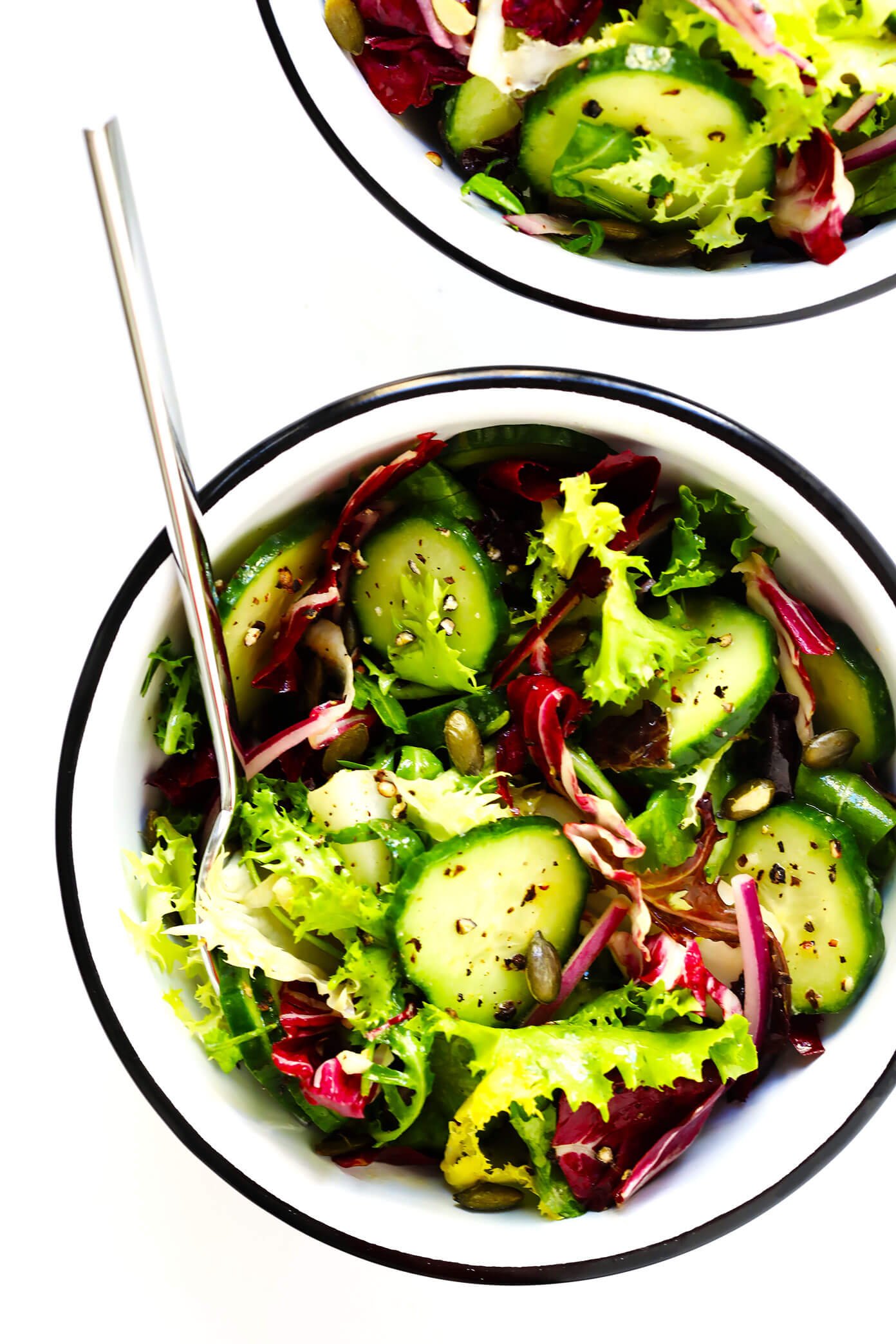 Guys!  Do you have a favorite go-to everyday salad recipe that you love?
This beauty right here is mine. ♡
It's the real-life, no-frills, easy-breezy, nice-and-healthy, fresh-and-flavorful, always-a-winner green salad recipe that we make at home at least 2-3 times a week…and love.  Truly.  I think I've now made a version of this salad at least a hundred times, and we still somehow never grow tired of it.  It's one of those go-to standards we can always count on.  It's made with simple, healthy ingredients that are easy to always keep on hand.  And it somehow magically goes with just about everything.
So if you're looking for a quick and easy new salad recipe for your rotation, bookmark this puppy right now.  I can vouch that it's a keeper!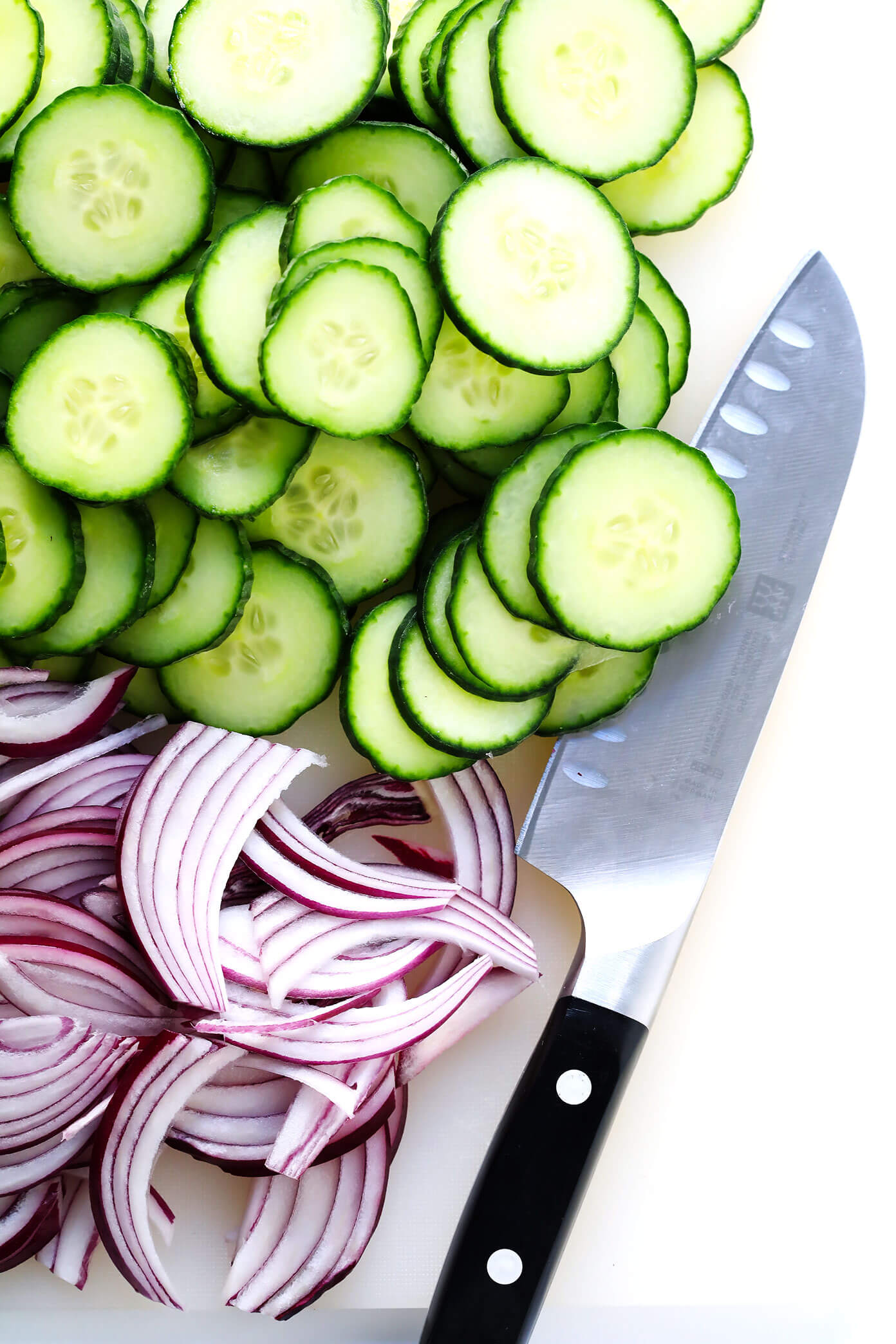 Everyday Side Salad Ingredients:
Like I said, part of the reason this salad is on such regular rotation in our house is because the ingredients are genuinely easy to keep stocked in your kitchen.  When you go grocery shopping for the week, just be sure to pick up a new bag of greens, and English cucumber, red onion and lemon.  Then the rest of the ingredients can be easily stored in your pantry/fridge for weeks or months at a time.  Here's what you'll need:
Fresh greens: I tend to usually go with a spring mix or bag of baby arugula for this salad, but any greens you have on hand will do.
English cucumber: I prefer these because they are less bitter and have minimal seeds, but any kind of cucumber will do.
Red onion: I love lots and lots of red onion in my salads, but feel free to use less or leave these out entirely if you prefer.  (Some sliced green onions would also be an alternative.)
Nuts: Pepitas (roasted and salted) are our go-to lately with this salad, which I love because they are perfectly crunchy, flavorful and inexpensive.  But when we feel like a splurge, toasted pine nuts are always a fave too.
Dressing: See below!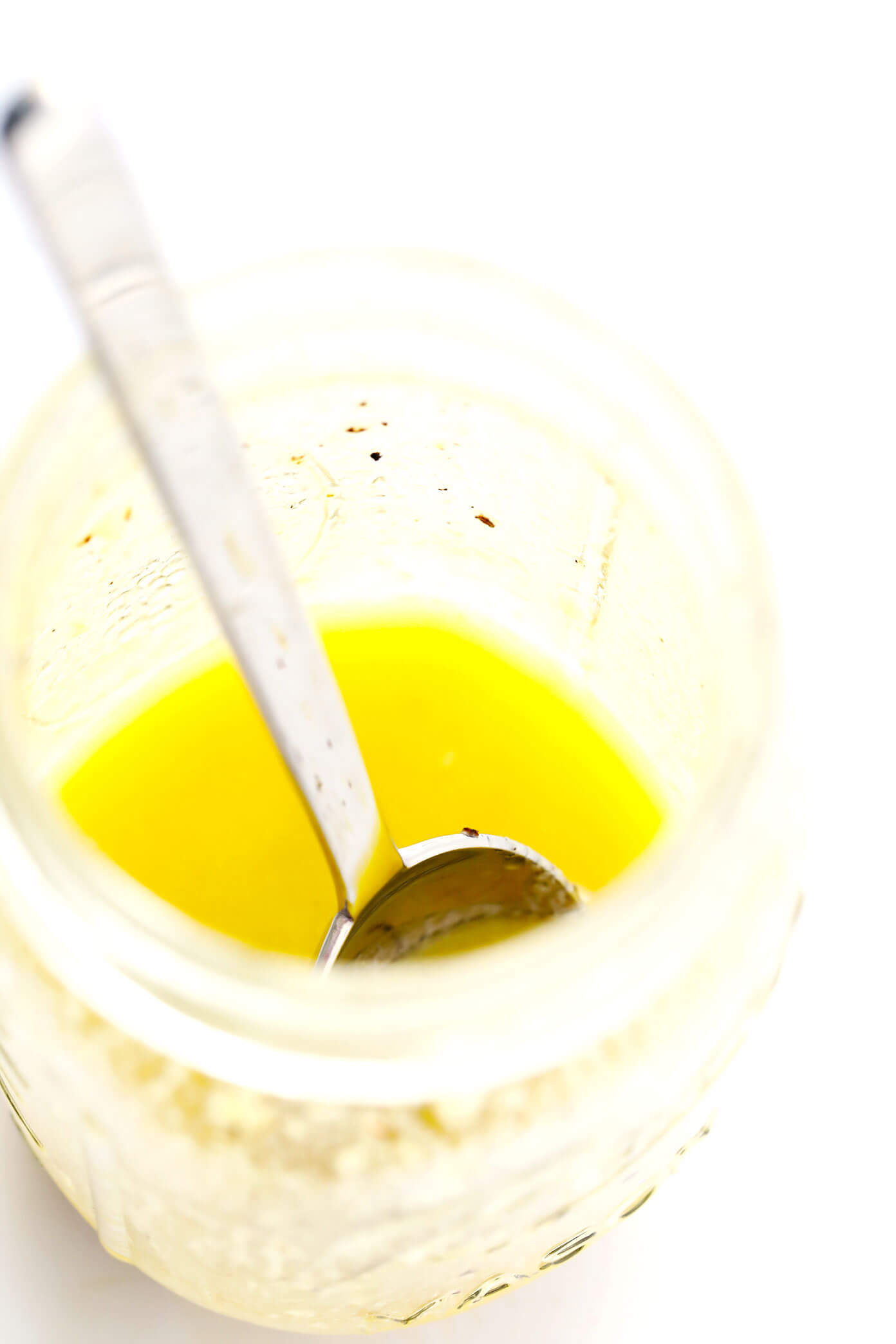 Everyday Healthy Salad Dressing Recipe:
Lately, we've been on a lemon kick with this simple salad dressing.  But if you don't happen to have fresh lemon juice on hand, you can turn it into a vinaigrette by subbing in your favorite kind of vinegar.  Also, you might note that this recipe yields a pretty small amount of dressing.  I tend to prefer more lightly-dressed salads, both for the taste and for a healthier meal.  But feel free to double the recipe if you would like the option of adding more dressing.
Olive oil: Extra virgin for the win!
Lemon juice: Freshly-squeezed makes all the difference.  (You know me — I always say avoid the bottled stuff.)
Dijon mustard: Even if you're iffy about mustard, trust me — it's not overpowering here and instead really just rounds the flavors out.
Garlic: I prefer to use fresh garlic, but you can also sub in garlic powder in a pinch.
Sea salt: Definitely give the dressing a taste and add more if you'd like.
Freshly-cracked black pepper: I'm a pepper nut, and like plenty in my dressing and also lots cracked on top.  🙂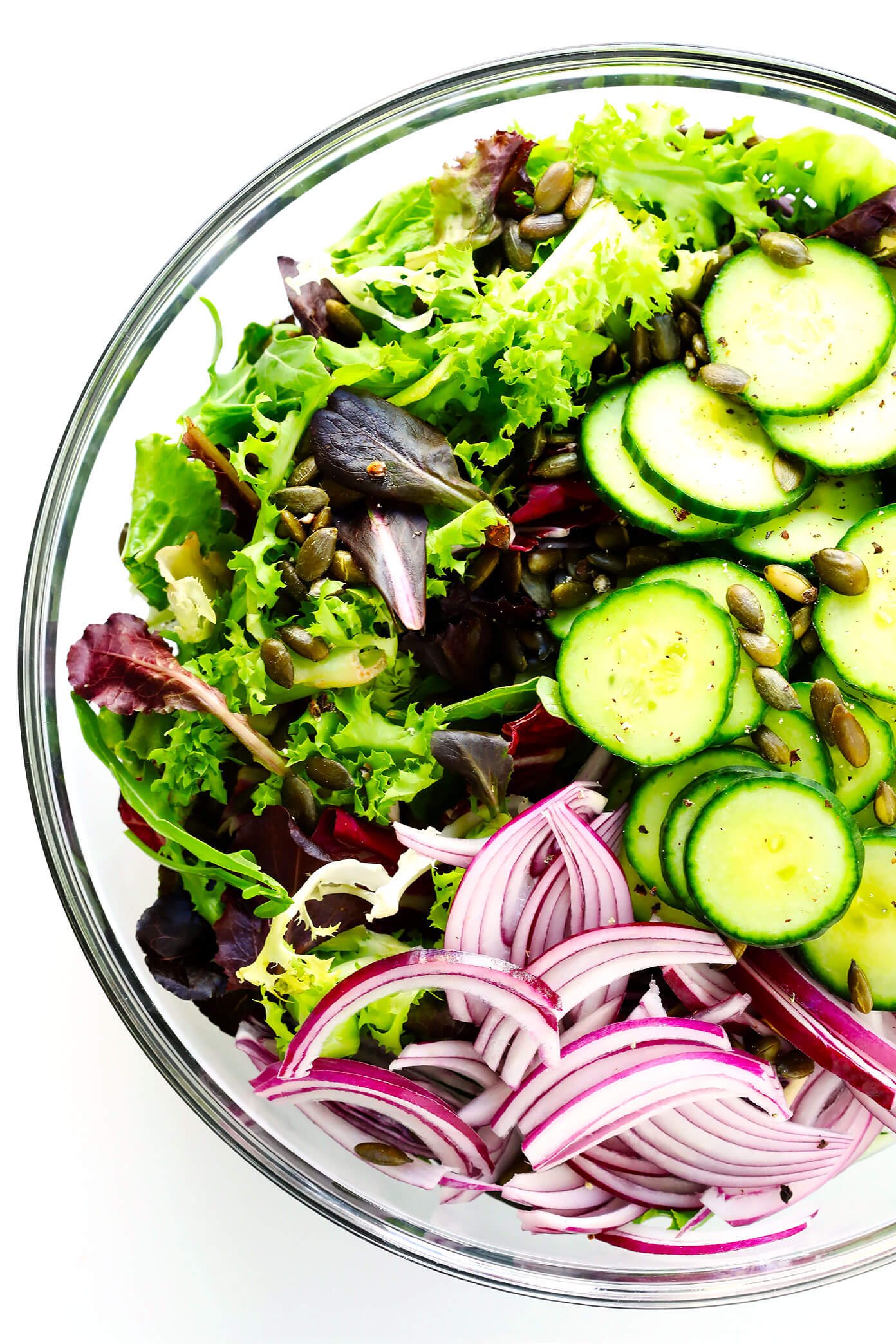 How To Make This Salad Recipe:
To make this salad, simply:
Prepare the salad dressing: To make the salad dressing recipe, just whisk all of the ingredients together in a bowl (or shake them up in a mason jar) until combined.
Toss all of your salad ingredients together: Combine them in a large bowl, drizzle evenly with the dressing, then toss lightly until combined.
And…serve!  And enjoy!  🙂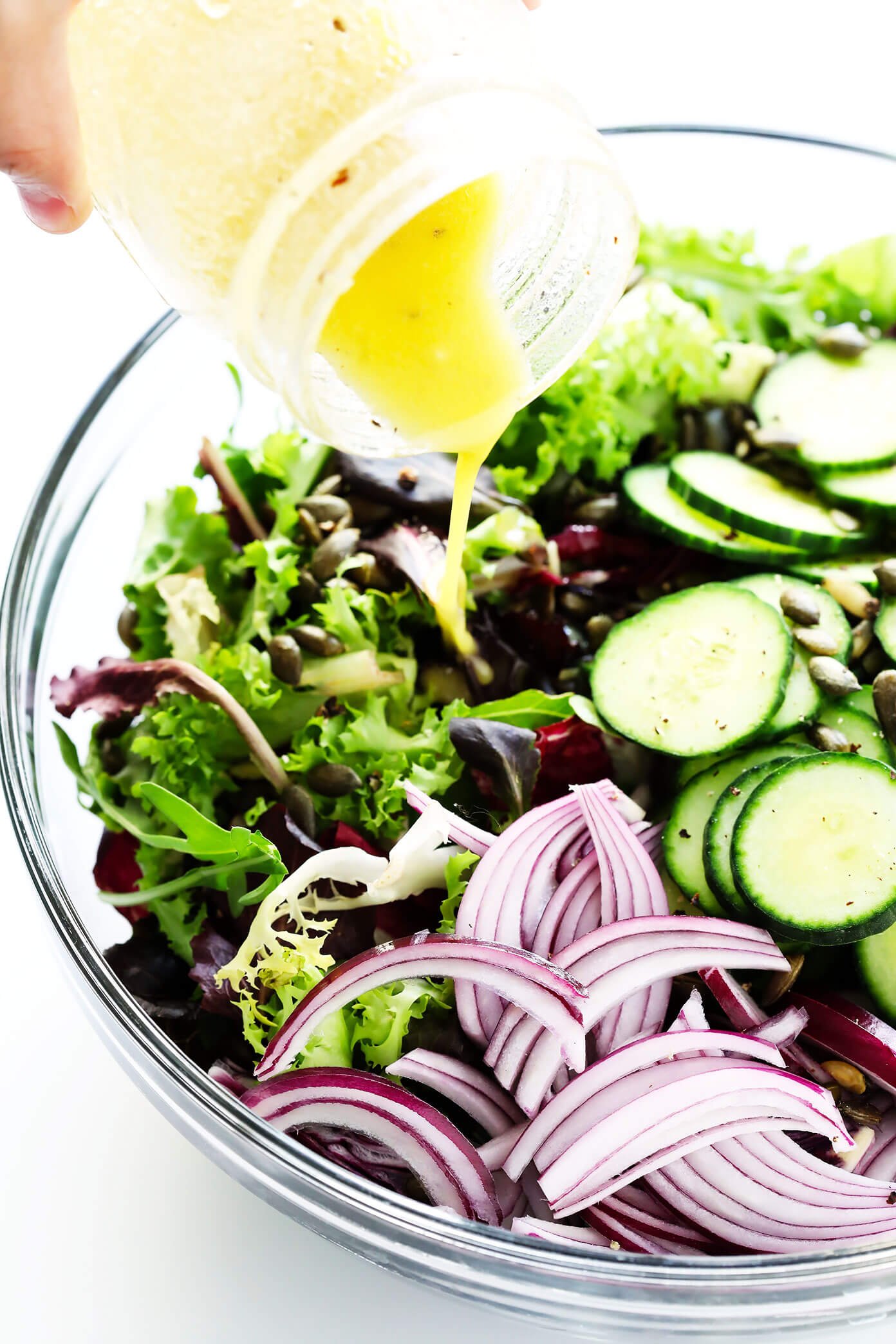 Optional Add-Ins:
Some other ingredients we like to toss in from time to time include:
Cheese: either some freshly-grated Parmesan or soft feta or goat cheese
Tomatoes: fresh or sun-dried
Fresh veggies: chopped bell peppers, radishes, and/or avocado all work great
Jarred veggies or olives: roasted red peppers, marinated artichokes and/or olives are also delicious, and perfect for grabbing from the pantry.
Beans: chickpeas or white beans are a great way to amp up the protein
Proteins: cooked chicken, steak, shrimp, or tofu are great for adding on top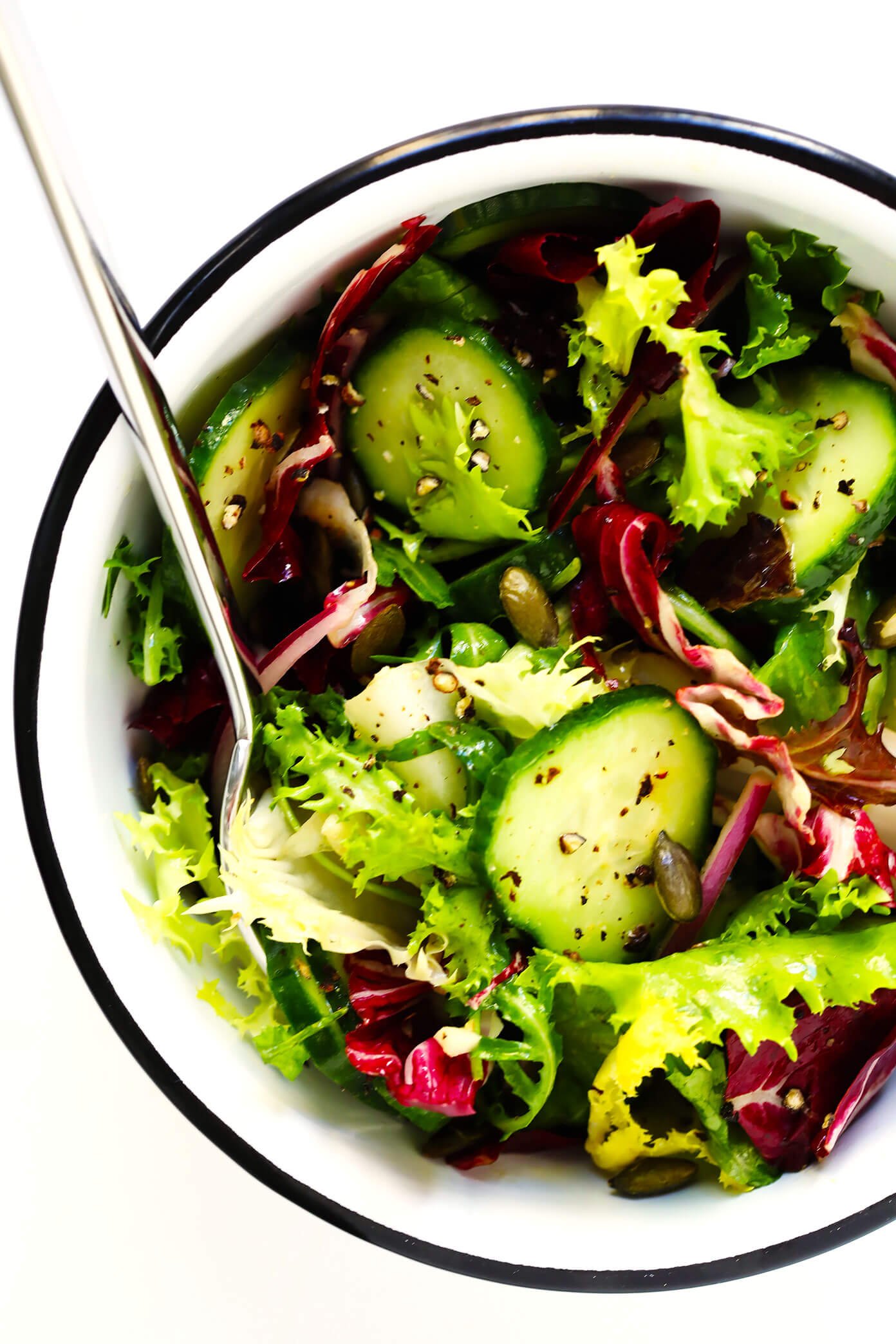 Hope that you all enjoy this one as much as we have!  Cheers!
Yield: 4 servings
Everyday Salad
Our real-life, no-frills, easy-breezy, nice-and-healthy, fresh-and-flavorful, always-a-winner everyday green salad recipe.
Ingredients:
Salad Ingredients:
5 ounces spring greens mix (or whatever greens you have on hand)
1 English cucumber, very thinly sliced
half of a medium red onion, peeled and very thinly sliced
1/2 cup pepitas or toasted pine nuts (or whatever nuts you have on hand)
1 batch Everyday Salad Dressing
Everyday Salad Dressing Ingredients:
3 tablespoons olive oil
1 tablespoon freshly-squeezed lemon juice (or white wine vinegar)
1 teaspoon Dijon mustard
1 small clove garlic, pressed or finely-minced (or 1/2 teaspoon garlic powder)
1/2 teaspoon fine sea salt
1/4 teaspoon freshly-cracked black pepper
Directions:
To Make The Dressing: Whisk all ingredients together in a bowl (or shake together in a mason jar) until combined.  Use immediately or refrigerate in a sealed container for up to 3 days.
To Make The Salad: Combine all ingredients in a large salad bowl and toss until evenly combined.  Serve immediately and enjoy!
Difficulty: EasyCategory: Quick


All images and text ©Gimme Some Oven
If you make this recipe, be sure to snap a photo and hashtag it #gimmesomeoven. I'd love to see what you cook!