No flour or even butter needed to bake these tasty monster cookie bars that are loaded with oats, peanut butter, mini chocolate chips and mini M&Ms. Easy, fun and oh so yum!!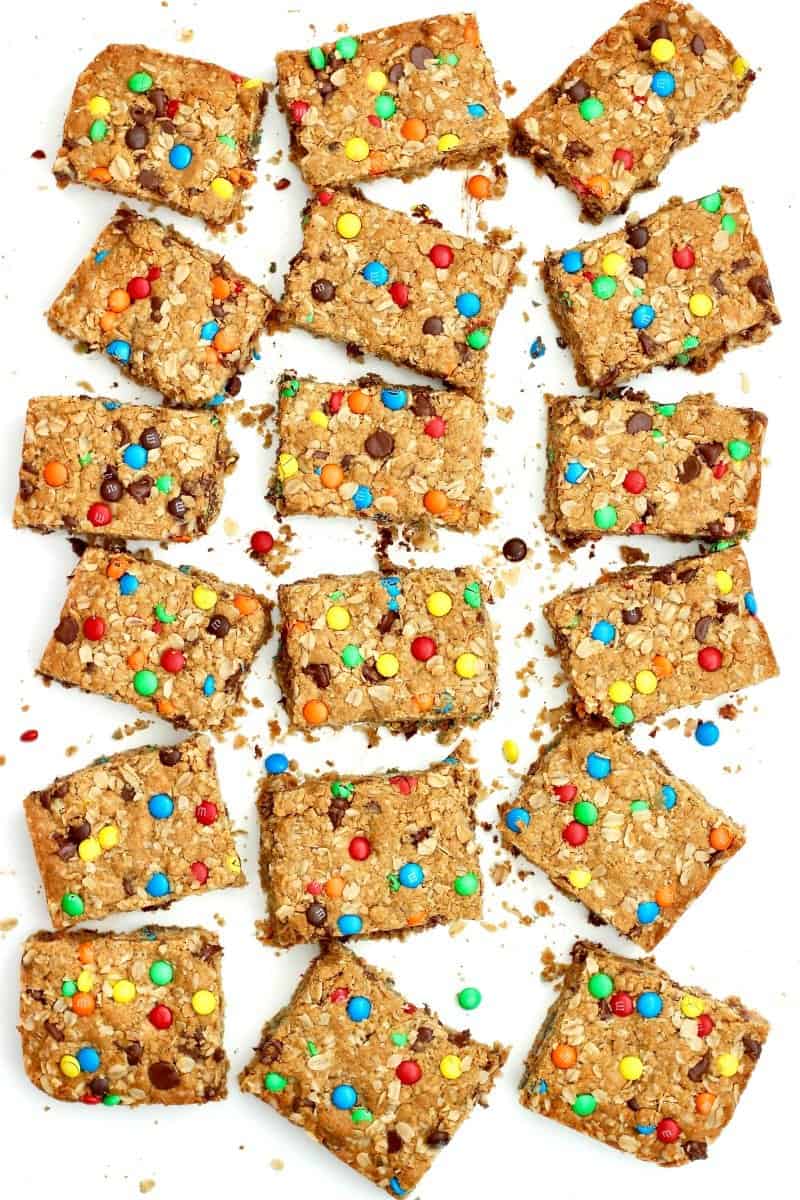 I have a slight obsession with monster cookies & mini M&Ms & peanut butter & oats & pretty much everything that is these monster cookie bars! If you love monster cookies, you've gotta bake these ASAP. You're going to love them!
They're basically an easier version of monster cookies because they're baked in bar form. No rolling, spacing or baking in batches until all the dough has been used. Just press and bake!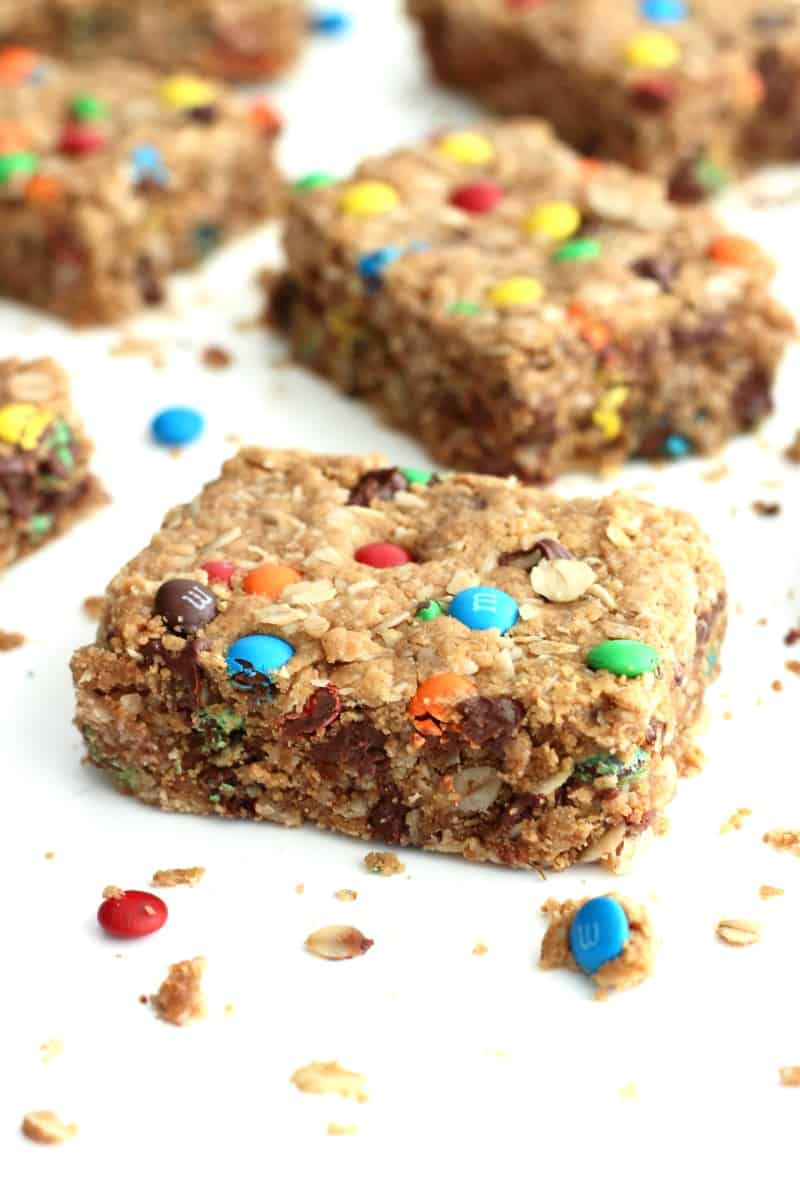 Thick, chewy bars of peanut butter oatmeal chocolate candy loaded goodness. What's not to love?!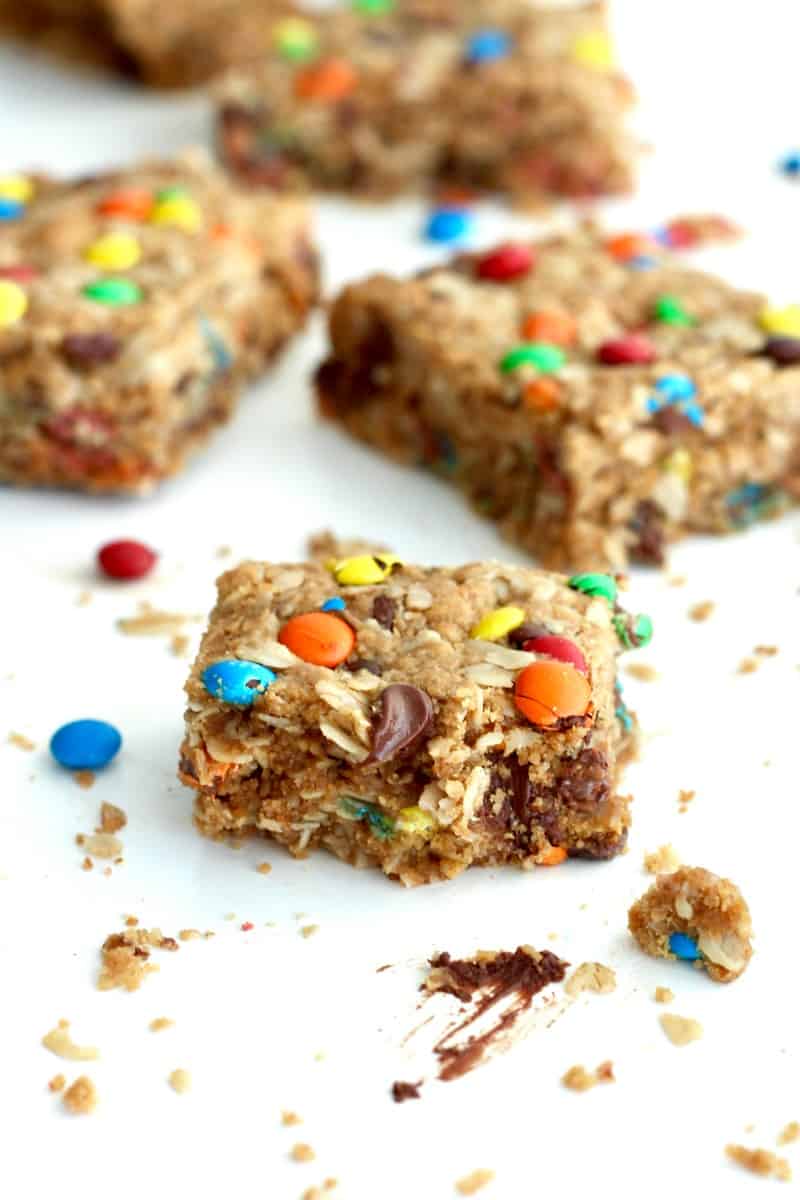 The dough comes together in no time and unlike most cookie bar recipes, the oatmeal and peanut butter are doing most of the work. No flour or butter getting in their way!
The dough will appear crumbly, but trust me, trust me!, it presses perfectly into the pan…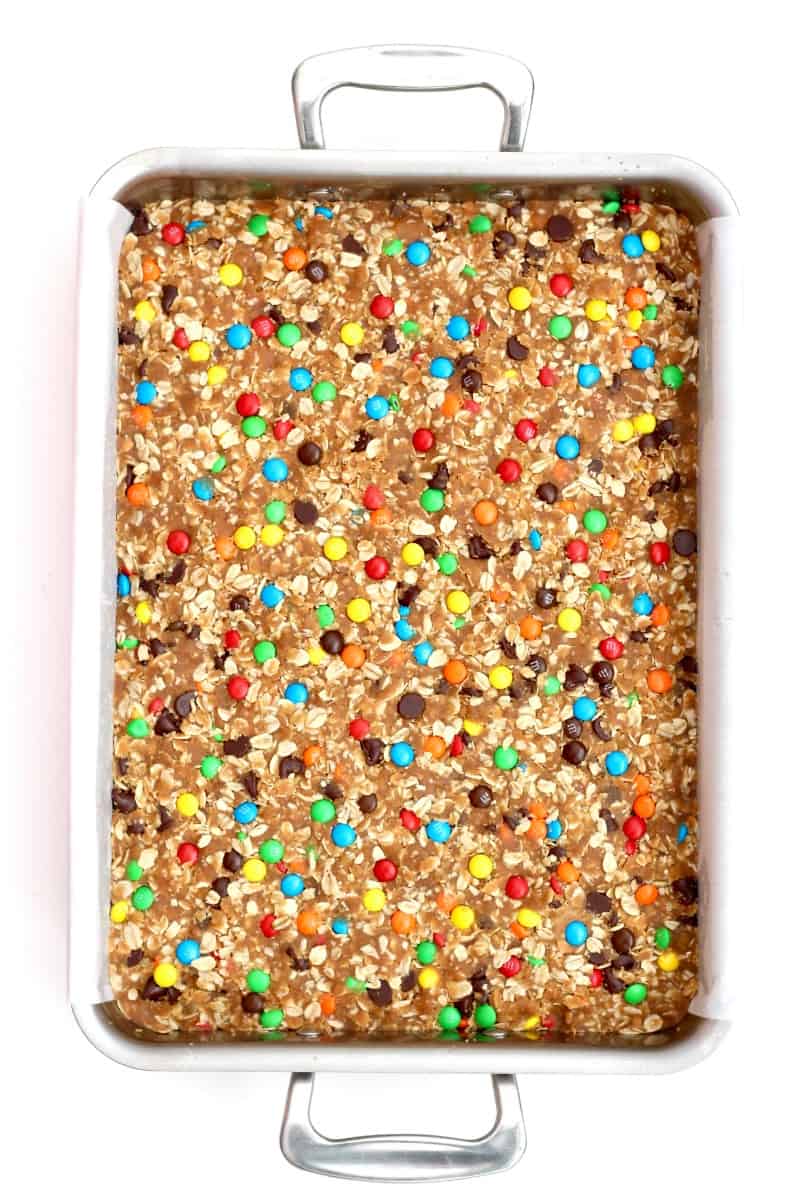 Then just 30 minutes in the oven for all the yumminess to come together…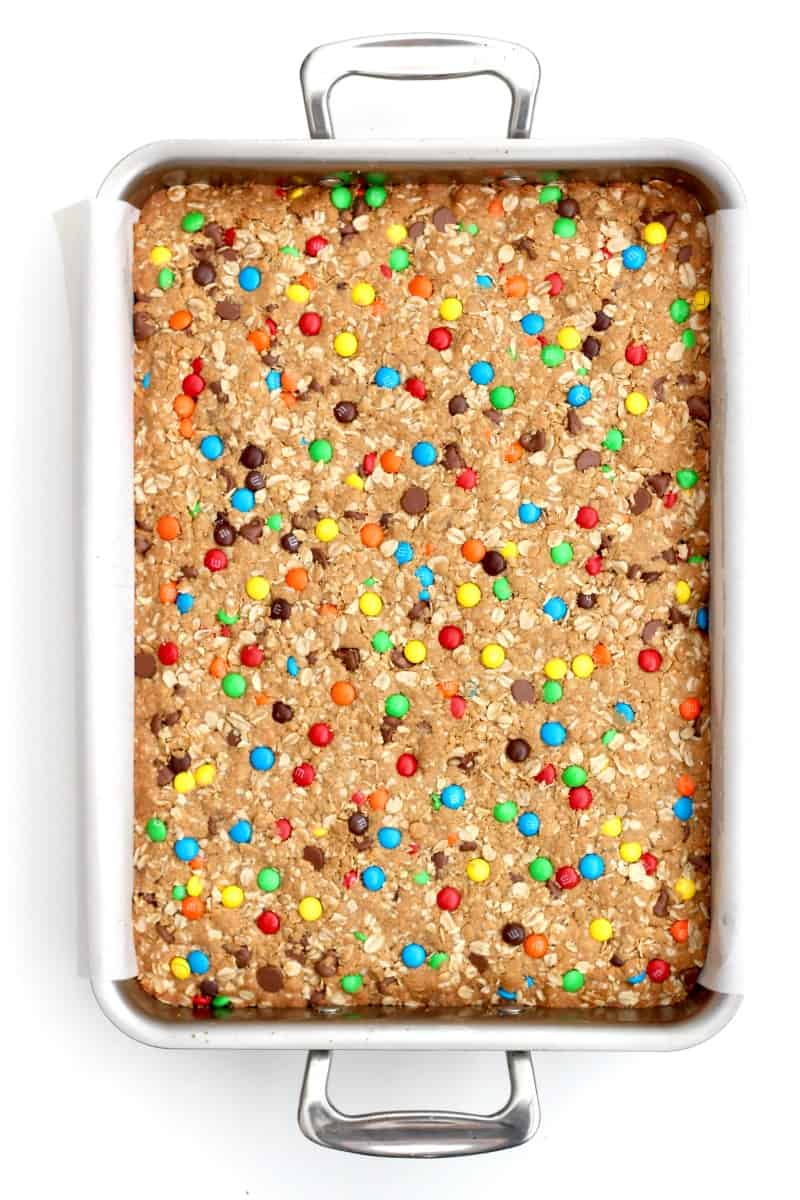 The kind of bars that will bring all the kids to the kitchen (and adults too!). Every time I bake these (which has been quite often here lately!), we can hardly wait to slice into them…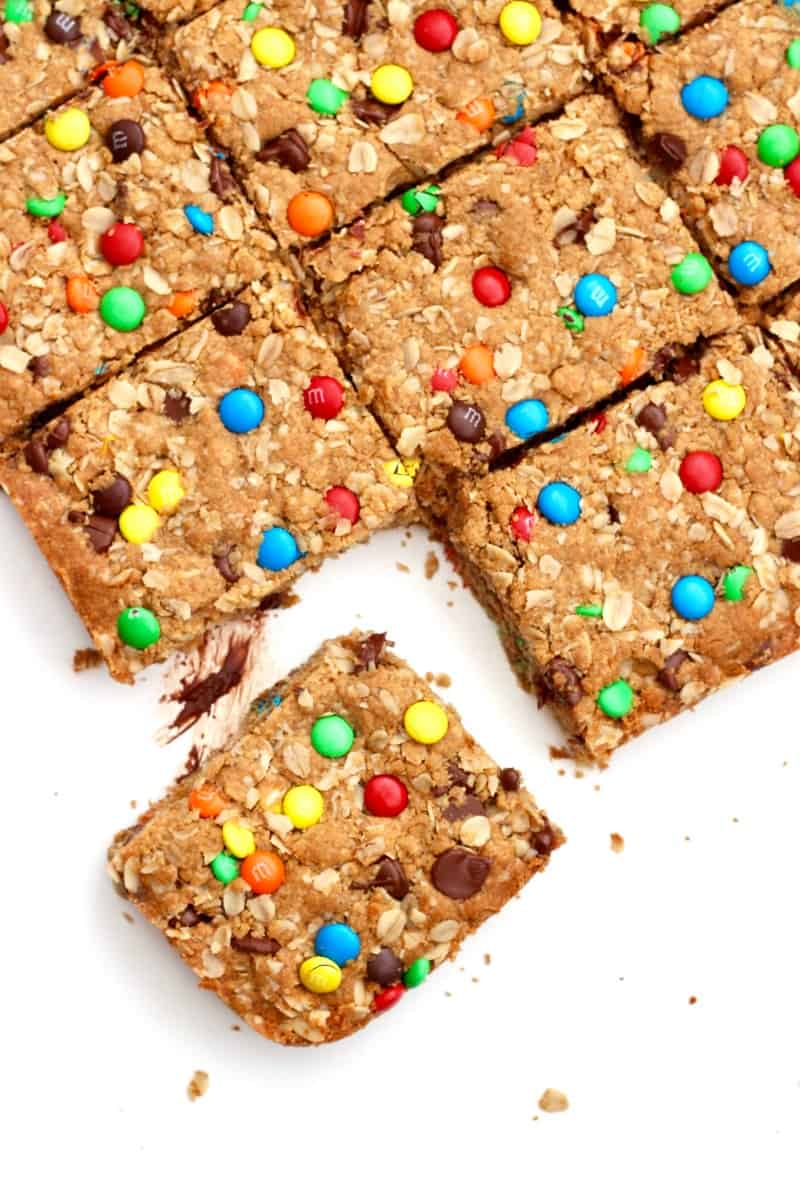 The oats are toasty yet hold their chew and compliment the flavor of the peanut butter, brown sugar and chocolates so well.
These monster cookie bars are great to bake for parties, after-school snack and of course, nightly dessert! Enjoy!
xoxo,
Maegan
Flourless Monster Cookie Bars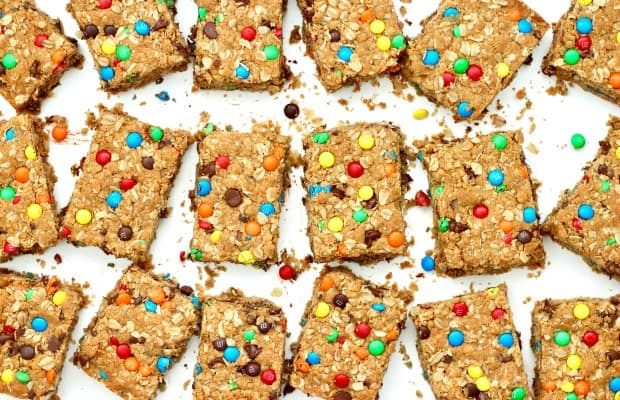 Author: Maegan – The BakerMama
Recipe type: Dessert
2 cups creamy or crunchy peanut butter
1 cup brown sugar
2 teaspoons vanilla
2 large eggs
2-1/2 cups old-fashioned rolled oats
1 teaspoon baking soda
1 teaspoon kosher salt
1 cup mini chocolate chips
1 cup mini M&M candies
Preheat oven to 350°F. Line a 9 x 13-inch baking dish with parchment paper and spray with non-stick cooking spray. Set aside.
In the bowl of an electric mixer fitted with the paddle attachment, beat the peanut butter and brown sugar until smooth. Add the vanilla and then the eggs, one at a time, beating until well incorporated.
Add the oats, baking soda and salt and mix on low speed until just combined. Stir in the chocolate chips and M&Ms.
Press mixture evenly into prepared baking dish. The dough will be crumbly at this point, but it should press perfectly into the pan.
Bake for 30 minutes or until the top of the bars starts to turn golden brown.
Remove from oven and lest rest for at least 15 minutes before slicing into.
3.5.3226