Fluffiest Buttermilk Pancakes will get your morning off to the best start ever! Fluffy, thick, and buttery, top with syrup, jam, or even whipped cream and dive right in!
For more pancake ideas, check out these popular recipes: Extra Super Fluffy Blueberry Pancakes, Easy Oatmeal Pancakes, and Banana Bread Pancakes.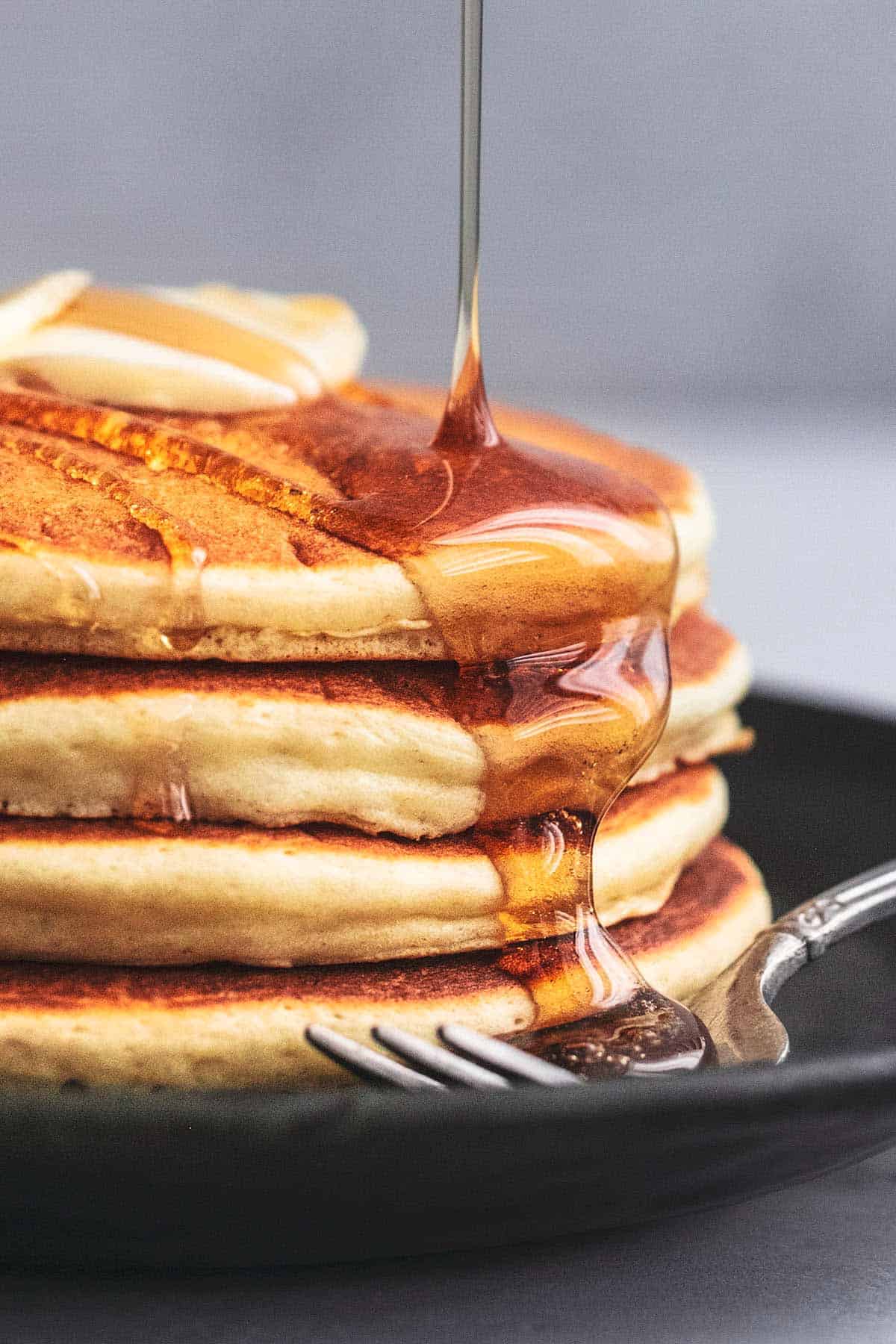 Breakfast might just be my favorite meal of the day. If I'm lucky I can get about 30 minutes to myself in the mornings to make breakfast and enjoy the silence. Then, when the kids get up, I'm all ready with the first round of pancakes to fill their hungry bellies. Those kids always wake up ravenous! I'm not sure if we don't feed them enough the night before or they have metabolisms of a racehorse but my goodness you'd think they haven't eaten in days. 
That being said, if I have that 30 minutes (or even 20), these pancakes are my go-to for a quick-and-easy breakfast I can make from scratch, get on a plate immediately, and clean up fairly easily as well. It's not so much the plates that are hard to clean (ahem, thank you dishwasher), but inevitably the table, floor, hands, clothing, and even sometimes hair of the kids will be the things that are covered in some sticky substance. One likes syrup, one likes jam, today this one wants whipped cream…you catch my drift. 
Me? I typically end up eating my stack over the kitchen island, while I stand over the griddle to cook the rest of the pancakes. I love to drizzle mine with maple syrup and add something crunchy to the top like nuts or chocolate chips. 
But I digress! These pancakes truly are the easiest, fluffiest ones you'll ever make and once you make them, you'll want to get up just a leeeetle bit early every morning to throw them on the griddle, listen to them sizzle, and enjoy just those few moments of peace before the daily chaos begins.
WHAT DOES BUTTERMILK DO TO PANCAKES?
Yes, there is a reason I like to add buttermilk to my pancake recipes and it's not just to annoy you with the fact that probably almost no one keeps buttermilk in their fridge. But fear not! There is an easy workaround to this lack of buttermilk debacle. See my note below, but it's basically to sour your own milk with vinegar. Problem. Solved. 
Anyway, the reason I like to use buttermilk in this homemade pancakes recipe is because it 1) adds just a little bit of a tangy flavor 2) it makes the baking soda and baking powder activate more easily (hello fluffy pancakes!) and 3) it "tenderizes" the pancakes because the acid in the buttermilk breaks down the gluten in the flour, so that the pancakes are softer, and easier to cut, chew, and eat. Plus, did I mention fluffy pancakes are the best pancakes? 
Buttermilk pancakes taste better that's all there is to it! Trust me, once you make them this way, you'll never go back to plain old milk. 
WHAT CAN I PUT IN MY PANCAKES? 
These Fluffiest Buttermilk Pancakes are perfect just the way they are. BUT if you want to add a little something, something extra well, then these are also a perfect base recipe for adding in all kinds of fun ingredients, like: 
Add in some berries for extra flavor, texture, color, and nutrition. My favorites are blueberries and blackberries. 

Bananas

are simply a natural fit for pancakes. Blend them up into your batter, or add small pieces to the batter, or simply add them on top (or in between) your stack. 

Nuts make for delicious mix-ins to this buttermilk pancakes recipe. I like to add chopped walnuts, slivered almonds, or pecans, but any nut you love will work. 

Sometimes I'll add in a half a cup of peanut butter to the batter to make it nice and nutty. Almond butter or another nut butter will work too. If your batter gets too thick, add a tablespoon or two of buttermilk to thin to desired consistency. 

Jams are my jam but also make a great addition to pancakes. I like to take a thinner jam or jelly and swirl it into the pancake right after I pour one onto the griddle. Jams and fruit syrups also make great pancakes toppings! 

Try adding canned pumpkin or pumpkin pie spice (or both) to your pancakes recipe. If you're not sure how, try

this recipe

. 

Add a tablespoon of cinnamon or nutmeg to the mix to make the pancakes a little more savory. 

Chocolate chips, of course, are the perfect addition to any homemade pancakes recipe. And, if you ask my husband, chocolate chip pancakes are the ONLY way to go! 
Fluffiest Buttermilk Pancakes
Fluffiest Buttermilk Pancakes will get your morning off to the best start ever! Fluffy, thick, and buttery, top with syrup, jam, or even whipped cream and dive right in!
1

cup

buttermilk

see note for substitute

1

large egg

1

tablespoons

oil, or butter melted

1/2

teaspoon

vanilla extract

1

cup

flour

1

teaspoon

baking powder

1/2

teaspoon

baking soda

1/2

teaspoon

salt

2

tablespoons

sugar
In a large bowl whisk together buttermilk, egg, vanilla, and oil.

In a medium bowl whisk together flour, baking soda, baking powder, salt, and sugar.

Stir dry ingredients into wet ingredients until just combined – do not overmix, there may be a few lumps.

Use 1/3 cup measuring cup to scoop and pour batter onto a greased griddle or large skillet over medium-low heat.

Cook for 3-4 minutes until edges begin to look dry and bubbles form in the batter. Flip and cook another 2-3 minutes, undisturbed, until golden brown.

Repeat with remaining batter and serve with butter, syrup, or fruit.
To make your own buttermilk, stir 1 tablespoon of white vinegar into 1 cup regular milk. Let sit for 5 minutes. 
Makes about 8-10 pancakes depending on how much batter your pour for each one. For more, smaller pancakes, use a 1/4 cup measuring cup or use an ice scream scoop for silver dollar pancakes. 
Add 1 cup of blueberries, or one diced apple and 1/2 teaspoon of ground cinnamon, or one teaspoon of fresh lemon zest and one teaspoon of poppy seeds for some of my favorite variations.