These FRIED BUFFALO CHICKEN DIP BITES are amazing! Balls of cheesy buffalo chicken dip rolled twice in breading and deep fried to pop-able perfection. This is one of our favorite game day recipes for tailgating. Bring on the Super Bowl!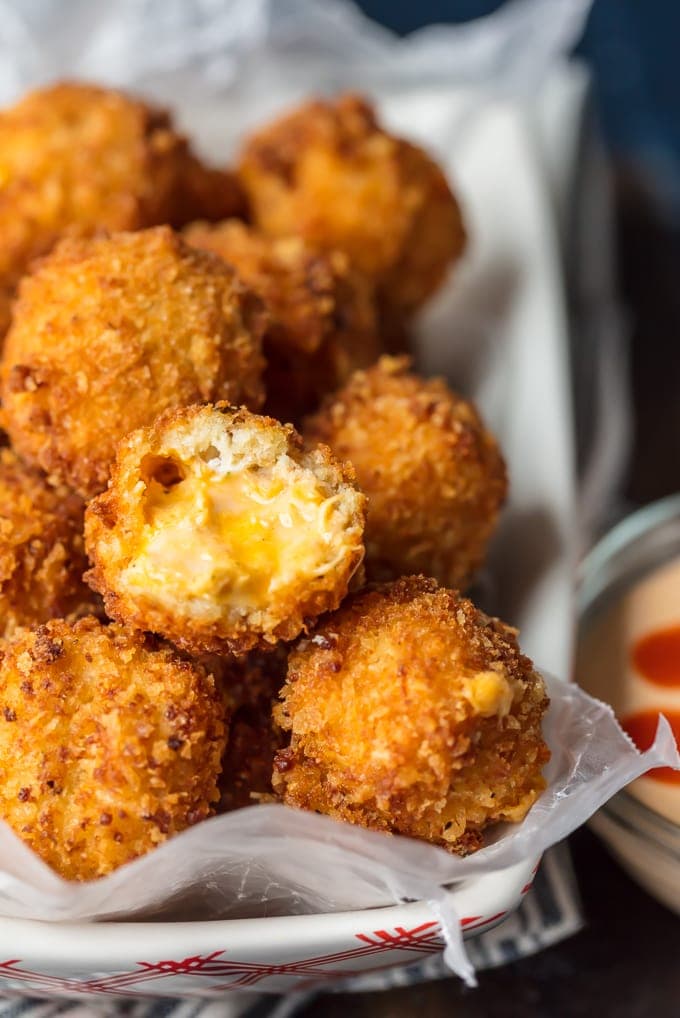 I have such a love affair with buffalo sauce. One of the first times I wanted to cook was when I wanted to learn how to make buffalo chicken dip for a Super Bowl party. I remember it so vividly…because I was SO helpless in the kitchen. I had to ask my friend Kathryn about 50 times to text me the recipe again. And I was legit scared to even try. And that wasn't that long ago…I think it was 2010 or 2011. You guys…so sad HA! Annnyway, I have always loved buffalo sauce and these Fried Buffalo Chicken Dip Bites are such a fun twist on a game day favorite.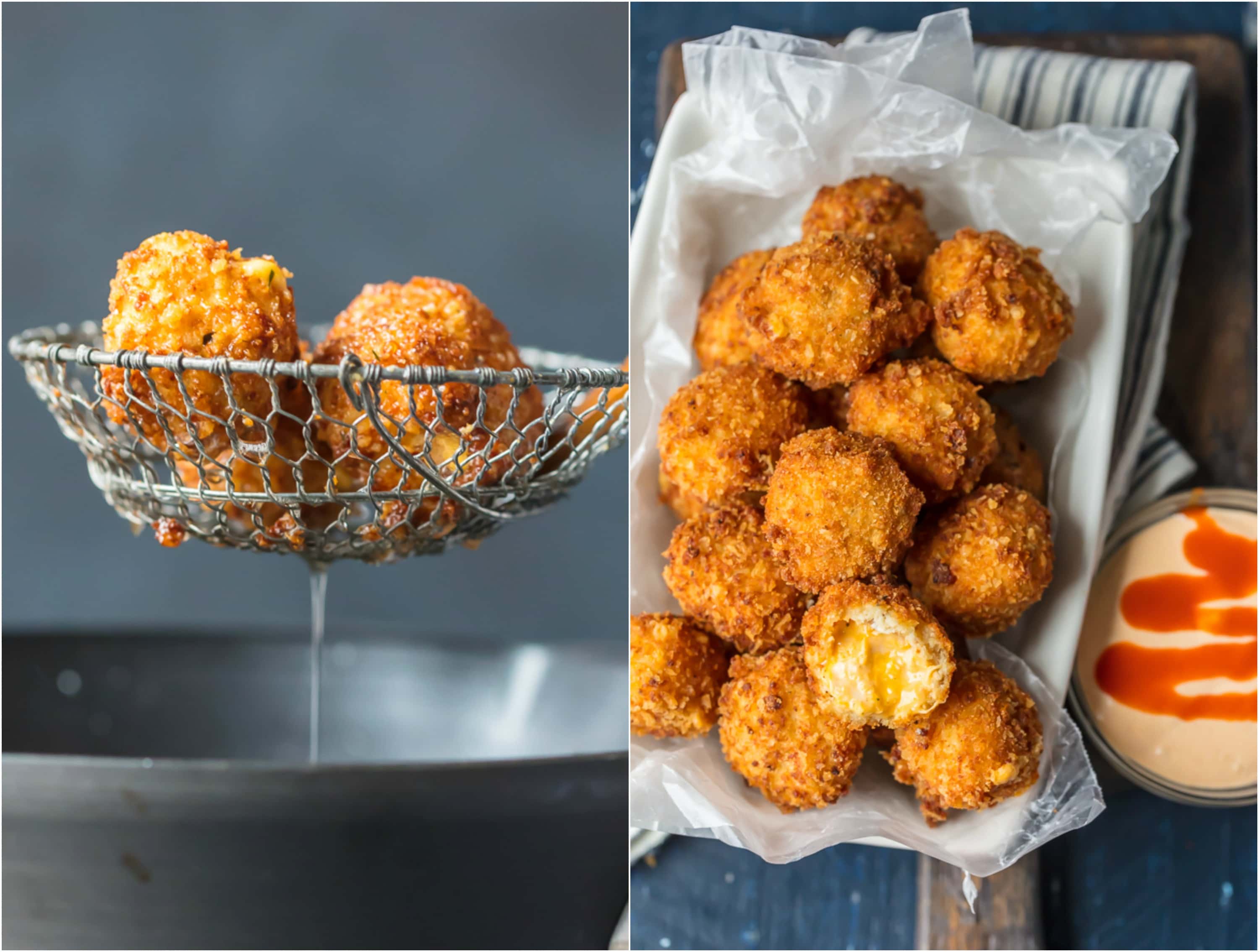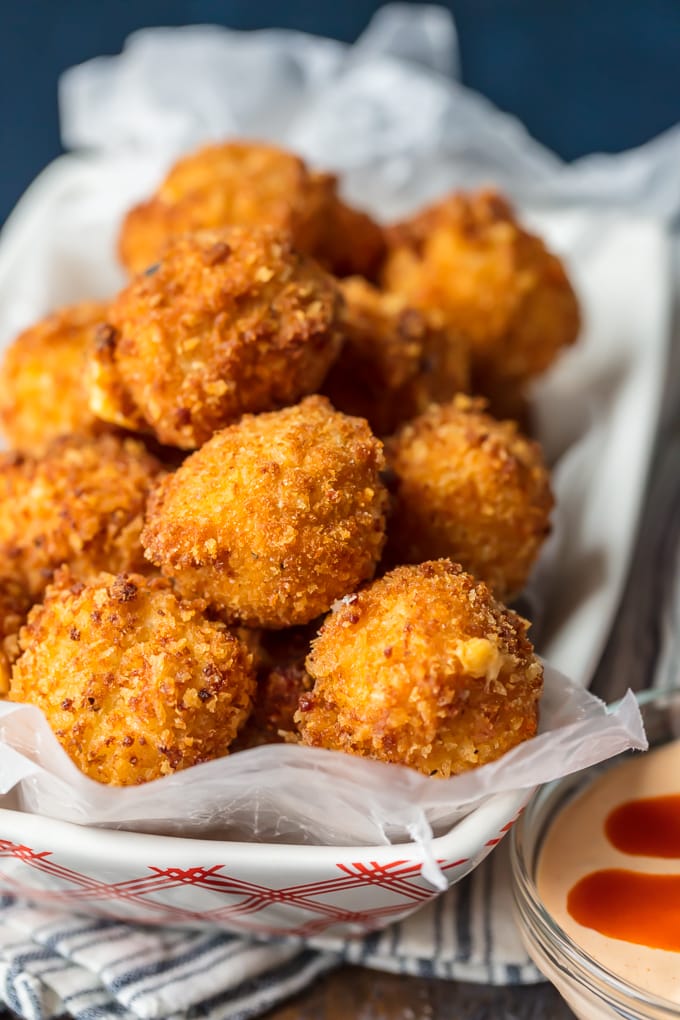 I saw Buffalo Chicken Mozzarella Sticks on a FB Tasty video and knew I had to try my hand. I just had to. Mom and I got together and tested out the recipe and these delicious bites were born. We found the sticks to be too big and even after frying still had a frozen center. AMAZING idea but it didn't quite translate into perfection. Making them smaller and adding a double batter made them one of the most epic tailgating recipes we have made to date! Crispy outside, molten cheesy inside, buffalo chicken dip and mozzarella stick IN ONE! Obsessed.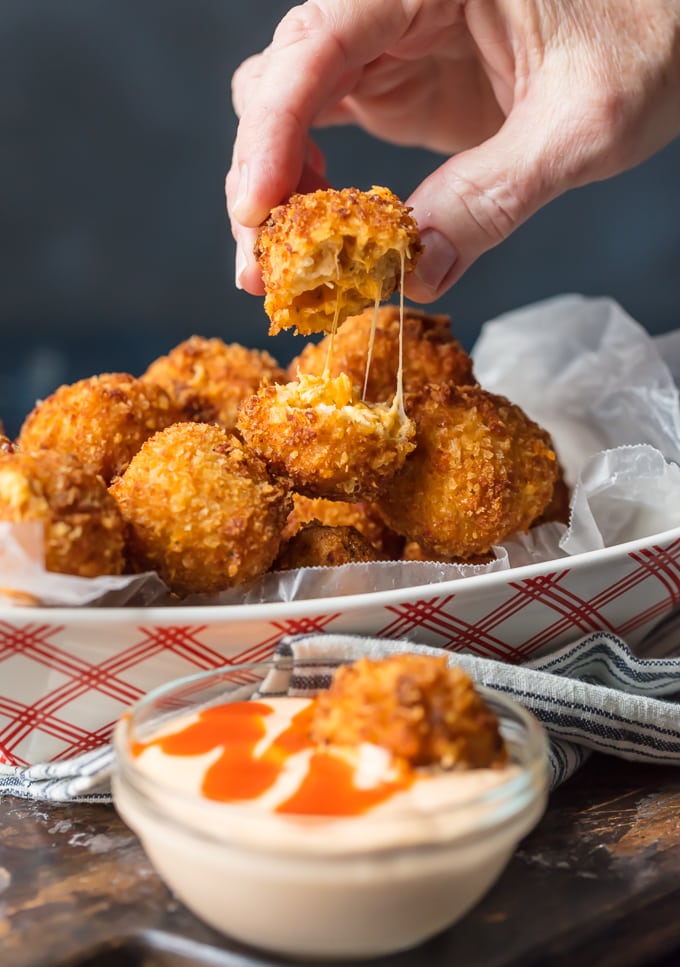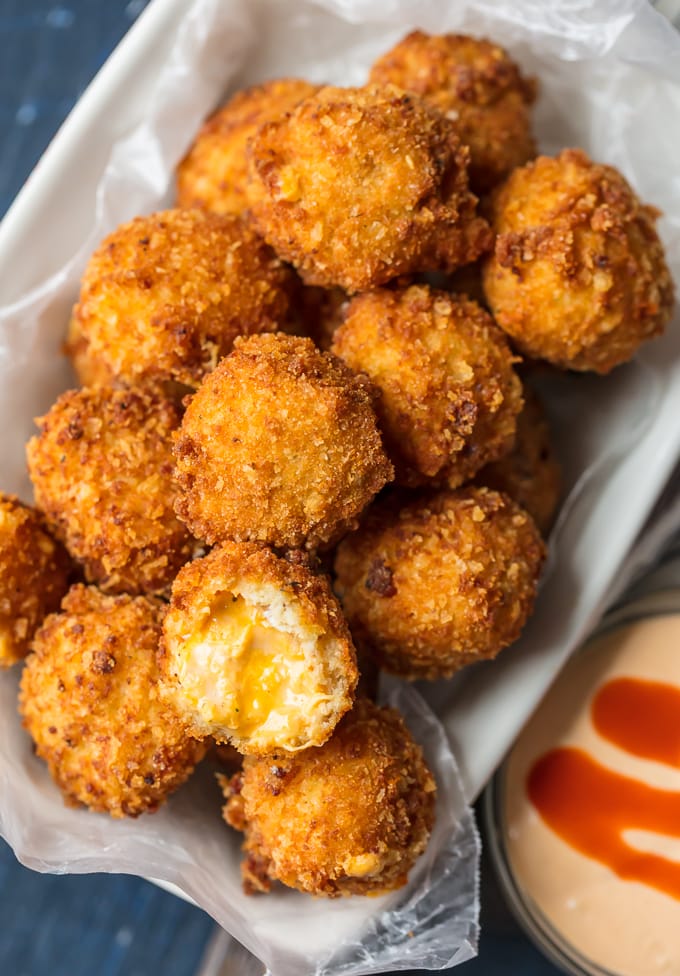 Each and every good tailgate party needs these Fried Buffalo Chicken Dip Bites. They're just the right size, perfect when dipped in creamy ranch, and right up my alley. Which I hope means you will love them as much as I do. We tested and tried them until we think we got them just right, and I hope you agree!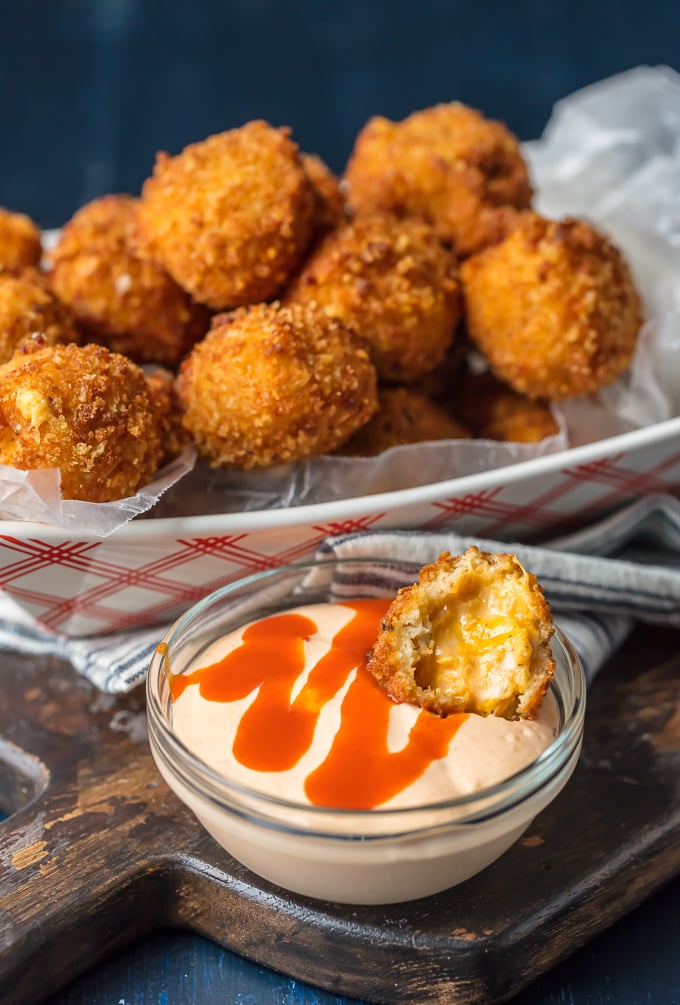 Enjoy!
Fried Buffalo Chicken Dip Bites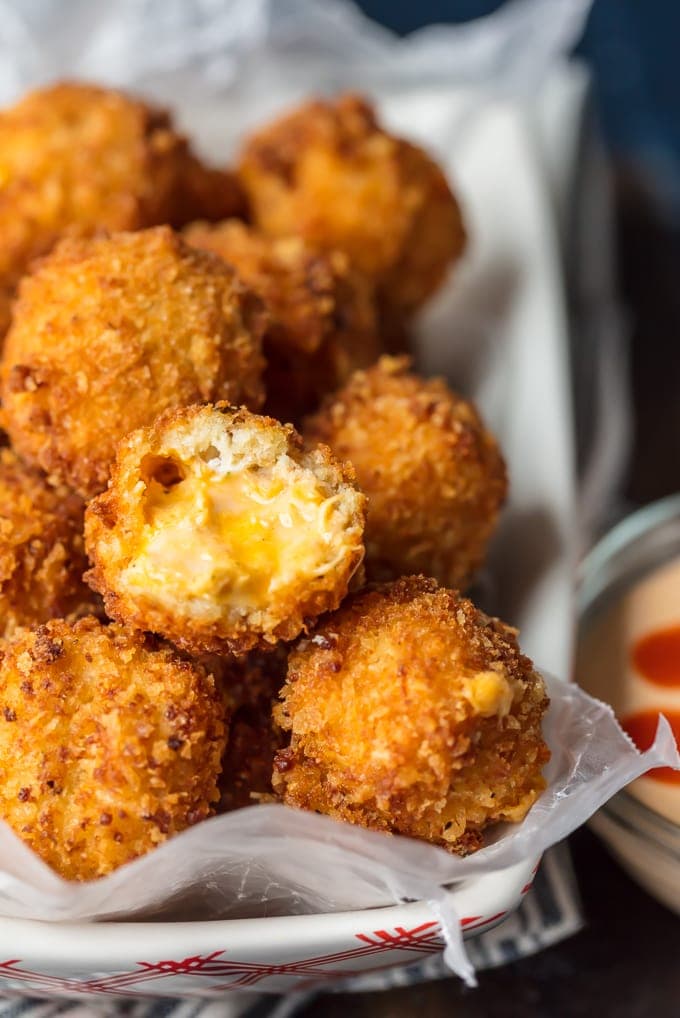 Ingredients
4 ounces cream cheese, softened
1 cup shredded chicken
¼ cup buffalo hot sauce
1 cup shredded mozzarella cheese
½ cup shredded cheddar cheese
¼ (¼ ounce) packet dry Ranch dressing mix
1 cup all-purpose flour
4 eggs, beaten
¼ cup milk
2-4 cups seasoned panko breadcrumbs
Canola oil, for frying
Instructions
Line a 6×6 inch dish with parchment paper. Cut the parchment paper 2 inches longer and wider than the dish, so the parchment paper hangs over the edges.
In a large bowl, combine all ingredients until smooth and evenly mixed.
Press the mixture into the prepared 6×6 inch dish, and smooth the mixture flat with an offset spatula or a rubber spatula.
Cover and freeze until solid or at least 1 hour.
Remove the mixture from the freezer and cut into 1×1-inch squares.
Set up three shallow dishes; one dish for the flour, one for eggs/milk (beaten), and one for the breadcrumbs.
Dip each mozzarella bite in the flour (shaking off excess), in the egg/milk mixture, in the breadcrumbs, back in the egg/milk mixture and back in the breadcrumbs. Add more breadcrumbs or egg mixture as needed.
Set the prepared mozzarella bite on a small tray until all are ready.
While preparing the Mozzarella bites, pour 3 inches of oil in a medium-sized, deep saucepan and bring the temperature to 350°F.
When oil is ready, carefully place 4 mozzarella bites in the oil and stir to keep separated. The bites are ready when crispy and dark golden brown, approximately 1 minute. Transfer to a clean tray.
Repeat until all mozzarella bites are fried.
Serve hot with desired dipping sauces or dips such as Ranch dip, Buffalo Ranch dip, Honey Mustard, BBQ sauce.
Enjoy!
7.6.7
2526
https://www.thecookierookie.com/fried-buffalo-chicken-dip-bites/
Did you make this recipe?
Becky woke up on her 30th birthday and realized she didn't know how to cook, ANYTHING! She started The Cookie Rookie as a way to document her journey to learn how to cook, one recipe at a time! The Cookie Rookie is a place to find easy recipes that anyone can make, and everyone will love!