Sheet pan dinners for the win! This teriyaki chicken sheet pan dinner (loaded with veggies!) is not only fast and easy, it is super delicious!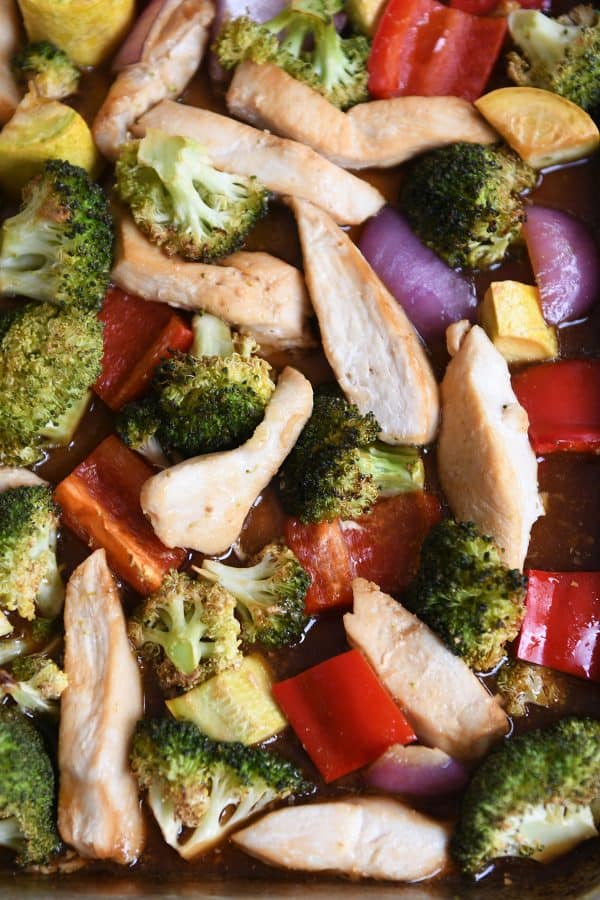 When I post a recipe and enough of you make it in a given amount of time (read: it becomes very quickly popular), I know that it won't be long before another equally delicious variation pops up in my brain…
…or yours.
Take this balsamic chicken and veggie sheet pan recipe I posted earlier this year, for instance. Lots of you have made this one and loved it very much.
Fast forward a few months, and a longtime MKC reader, Helen, emailed me saying that while her family loved the balsamic chicken sheet pan dinner, one night she wasn't feeling the balsamic flavor and decided to teriyaki it up.
And boy, am I ever glad she did! Because now you and I will both have this teriyaki chicken sheet pan dinner in our lives…and it's goooood.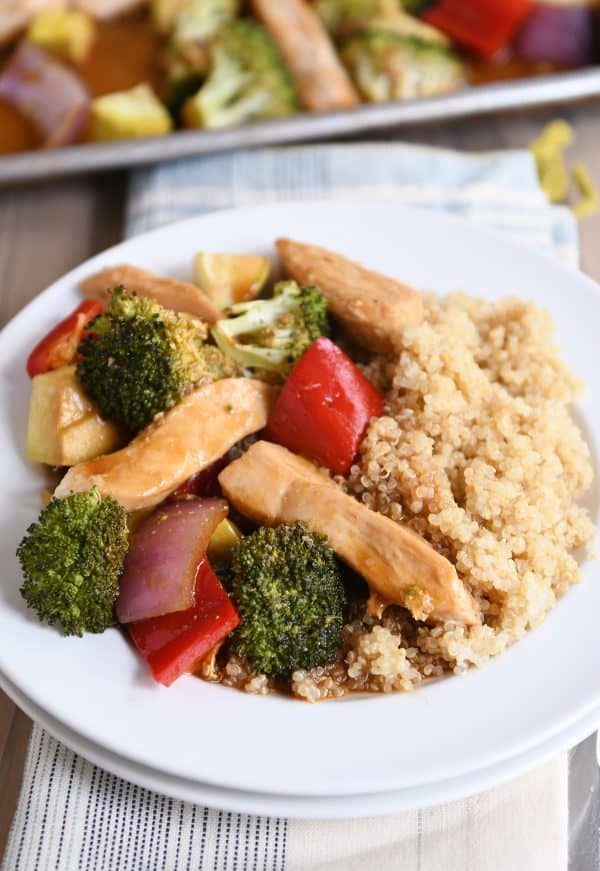 There are not a lot of fancy ingredients and secret cooking methods here.
Meaning, if the words "throw everything on a sheet pan" work for you, you're going to love this sheet pan recipe.
Instead of a perky balsamic flavor vibe, this version has all the deliciousness of a great sweet and savory teriyaki sauce.
Even better, that teriyaki sauce is homemade with many every day ingredients (it's already a favorite teriyaki sauce recipe I've used for years – stolen from this stir fry recipe), and it only takes a few minutes to whisk together.
Easy, easy, easy.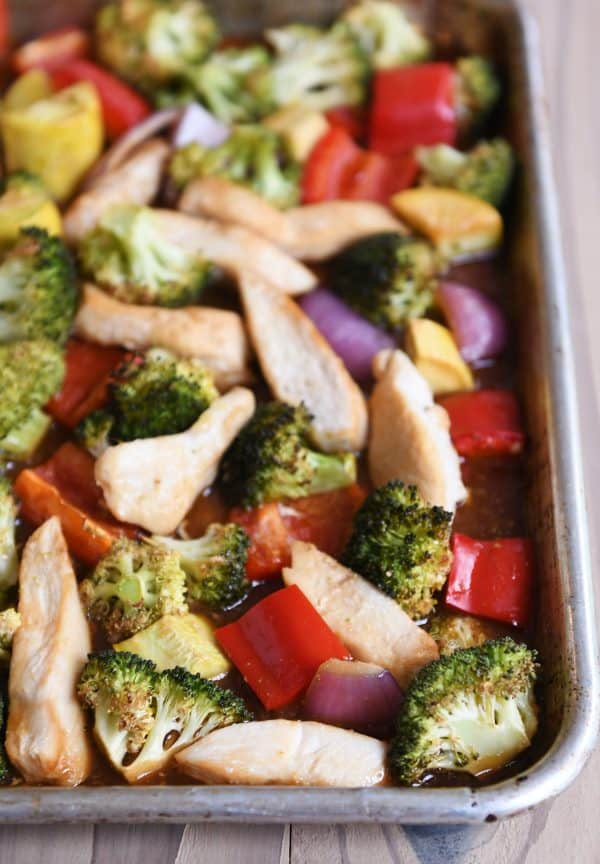 We serve the teriyaki chicken and veggies mixture over rice (white or brown), quinoa, or sometimes just on it's own
And of course by "on it's own," I mean not really on it's own, because you can always count on me to throw some bread or other delicious carbs on the table, too.
Because bread is life in my book…and…it also appeases even the pickiest of eaters. Don't like the broccoli? Here, have some bread with that as you choke it down.
A couple weeks ago it was this teriyaki chicken and veggie concoction and best-ever cornbread on the side (actually, I'm lying, I think I made this zucchini cornbread, but either way, cornbread), and wow, dinner was super tasty that night.
Here's to another easy and delicious sheet pan dinner recipe (thanks for the inspiration, Helen!).


Hot cooked rice (Instant Pot brown rice pilaf here) or quinoa
Fresh seasonal sliced fruit
Yield: 6 servings
Teriyaki Chicken + Veggies Sheet Pan Dinner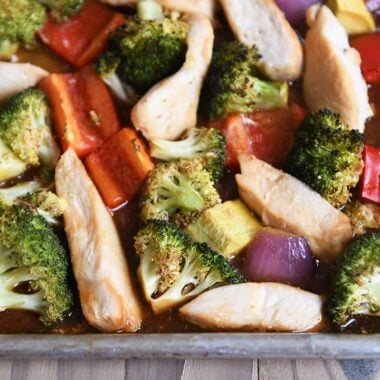 Ingredients:
2 small-medium yellow or zucchini squash, about 12 ounces, ends trimmed and cut into 1-inch pieces
1 red, orange or yellow bell pepper, cored, seeded, and cut into 1-inch pieces
1/2 to 1 medium red onion, cut into 1-inch pieces
1 medium head of broccoli, about 12 ounces, stem trimmed, and florets cut into 1-inch pieces or so
1 to 1 1/2 pounds boneless, skinless chicken breasts, cut into about 1/2-inch strips
1 tablespoon olive oil
1/2 cup pineapple juice
1/3 cup soy sauce (I use low-sodium)
1 tablespoon molasses
1 tablespoon brown sugar
1 tablespoon rice vinegar (can sub white vinegar)
1 to 2 cloves garlic, finely minced or pressed through a garlic press
1 to 2 teaspoons finely minced fresh ginger or 1/4 teaspoon dried ginger
Directions:
Preheat the oven to 400 degrees F.
Place the chopped veggies and chicken strips evenly across the bottom of a large sheet pan (about 11X18-inches or so).
In a small bowl or liquid measuring cup, whisk together the olive oil, pineapple juice, soy sauce, molasses, brown sugar, vinegar, garlic and ginger (see note about doubling the sauce). Pour the mixture over the chicken and veggies.
Toss everything together until the chicken and vegetables are coated with the sauce. Arrange the ingredients in an even layer again making sure the chicken pieces aren't overlapping each other.
Bake for 12-15 minutes until the vegetables are sizzling and crisp-tender and the chicken is cooked through, increase time as needed. Season to taste with salt and pepper, if needed!
Serve immediately over hot, cooked rice or quinoa (or on it's own!).
Notes:
If you want a saucier end result, you might consider doubling the sauce. If it were me, I'd only pour half of the sauce over the sheet pan ingredients and cook per the recipe, and then take the other half of the sauce, stir in 2-3 teaspoons cornstarch and bring to a simmer on the stove to thicken and use the extra sauce for serving.
Feel free to sub out the vegetables in the recipe for other favorite choices like asparagus, cauliflower, other types of squash, etc. – you could easily add cherry tomatoes, too.
If you want to roast the vegetables longer (for more tender veggies), you can either keep the chicken breasts whole instead of cutting into strips and increase the cooking time to 20 minutes for everything (or longer, depending on how thick the chicken is) OR you can start the veggies cooking first and add the chicken strips after 5-7 minutes of cooking. 
All images and text ©Mel's Kitchen Cafe.
Recipe Source: from Mel's Kitchen Cafe (teriyaki sauce from this chicken stir fry recipe)