Easy25 minsQuick
This baked ginger chicken recipe is perfectly cooked and full of great flavor, then topped with the most delicious, juicy, fresh peach salsa.  It's the perfect sweet and savory recipe for summer.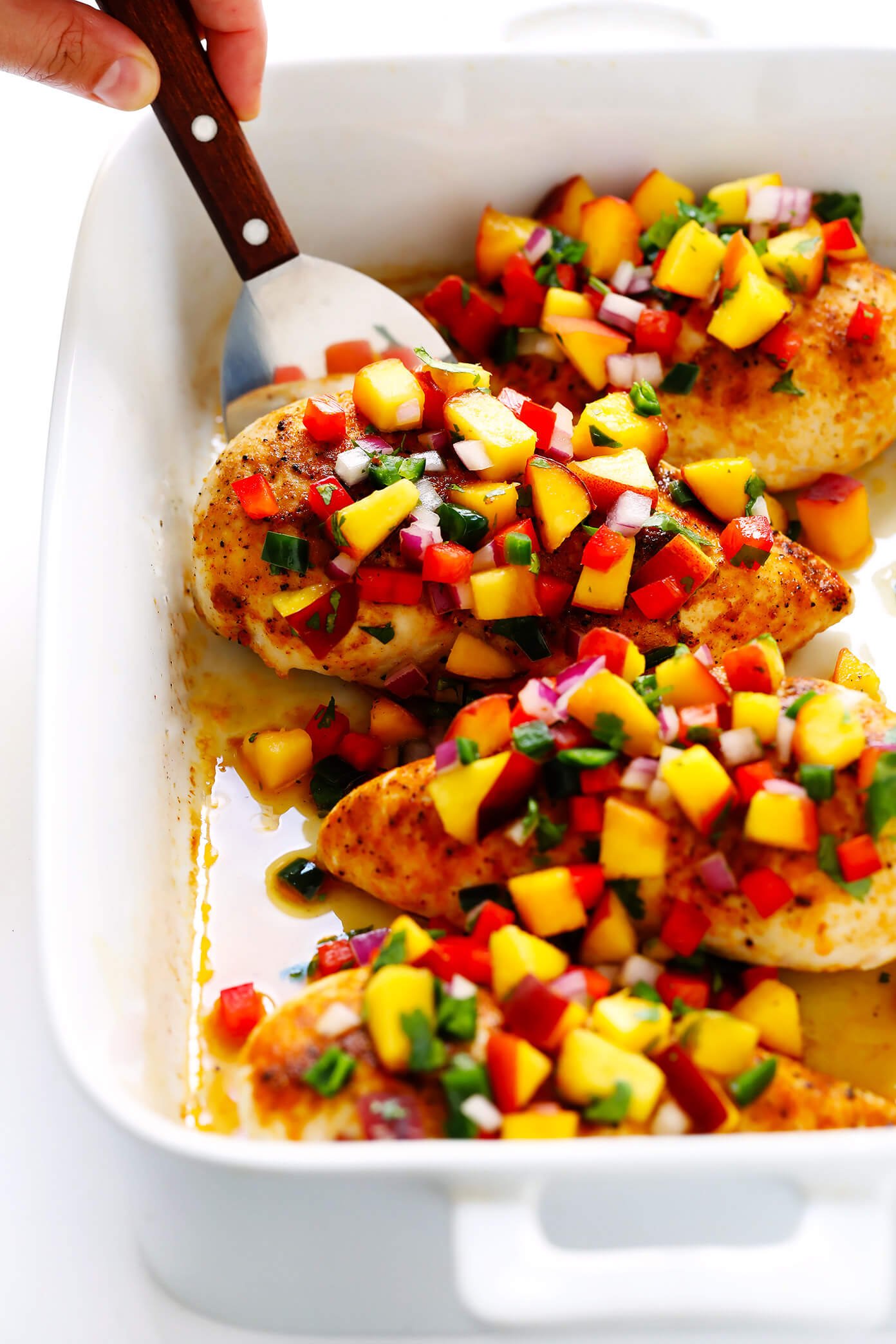 Fun fact that we've learned living in Barcelona — peach season here lasts forever!
Well, at least twice as long as the peach season we were used to back in Kansas City, that is.  Which pretty much feels like forever.  Which is pretty much a dream come true for this peach lover.  ♡
We've been bringing home peaches by the dozen (especially Spain's favorite paraguayos, often referred to as "donut" or "Saturn peaches in English) since the beginning of May.  And word on the street has it that they typically stay in season here until October, which means that my peach salsa kick of 2018 gets to continue for at least a few more months.  I've been a bit obsessed this year, happily chopping or blending our leftover peaches into a fresh salsa all summer long.  Most of the time, the salsa disappears in a single happy hour with a bag of chips and a few margaritas.  But I also love sprinkling it on top of roasted or grilled proteins for a quick weeknight dinner, like with this delicious ginger chicken situation.  The fresh and juicy peach salsa is the perfect sweet compliment to the savory baked chicken.  And when prepared with my foolproof method for making perfectly-baked, tender, moist chicken, this recipe is a total summertime win-win!
That said, if you happen to pass by this recipe on Pinterest during a time of year when peaches aren't in season, you could totally sub in canned peaches instead.  And if chicken isn't your thing, this ginger seasoning would also taste great on pork, steak, fish, shrimp or tofu.  You know, you've got options.  Let's get to it!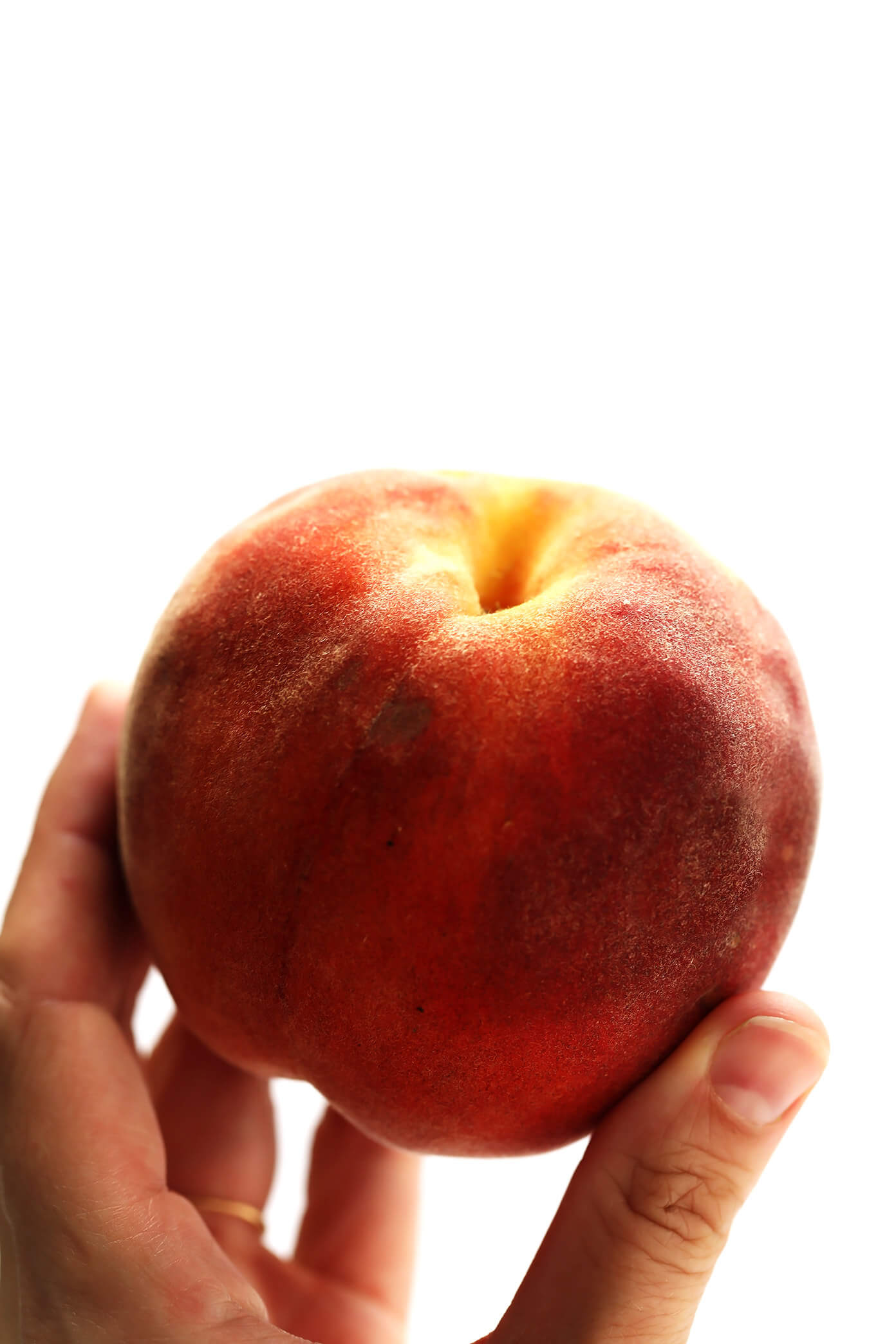 Step 1: Prepare The Chicken
Alright, first things first — the chicken.  You can either bake or grill your chicken for this recipe.  But since we don't have a grill here in Spain, I turned to my 5-step method for Perfectly Baked Chicken Breasts, which never lets me down!
The first step with this method is the one that makes all the difference — taking an extra 15 minutes to brine your chicken at the very start, which simply means soaking the chicken breasts in saltwater.  The step helps prevent the chicken from drying out, and ensures that it will be extra tender and juicy after being cooked.  (And don't worry, it won't make the chicken too salty.)  Once the chicken has brined, give it a good rinse with water under the sink.  Pat it dry.  Then transfer the chicken breasts to your baking dish.
Next, brush the chicken breasts on all sides with melted butter (my preference) or olive oil.  Then whisk together the simple ginger seasoning blend, sprinkle it evenly onto the chicken breasts, and rub it in with your fingers.
And voila!  Your chicken is ready to bake!
Just pop it into a screaming hot oven (450°F) and roast for 15-18 minutes, or until the chicken reaches an internal temperature of 160°F-170°F.  (The FDA recommends 165°F.) I use this instant-read thermometer (affiliate link) that I bought on Amazon to accurately measure the internal chicken temperature in seconds.
Meanwhile, while the chicken is baking…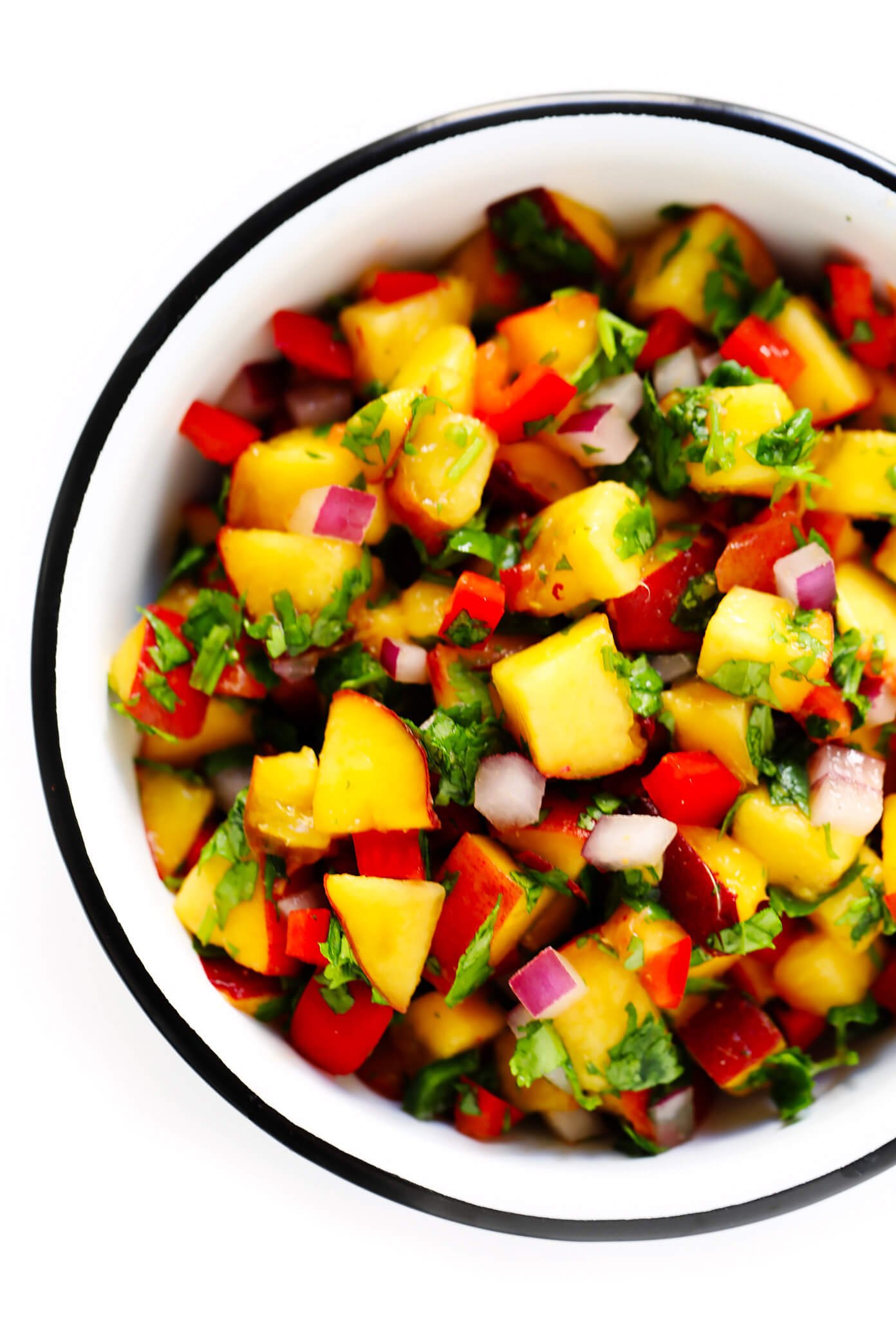 Step 2: Prepare The Peach Salsa
Let's make some peach salsa!
Simply combine some diced fresh peaches, red bell pepper, red onion, jalapeño, cilantro and a generous pinch of ginger and salt in a mixing bowl.  Then toss until completely combined.  Give it a taste, and season with extra salt if needed.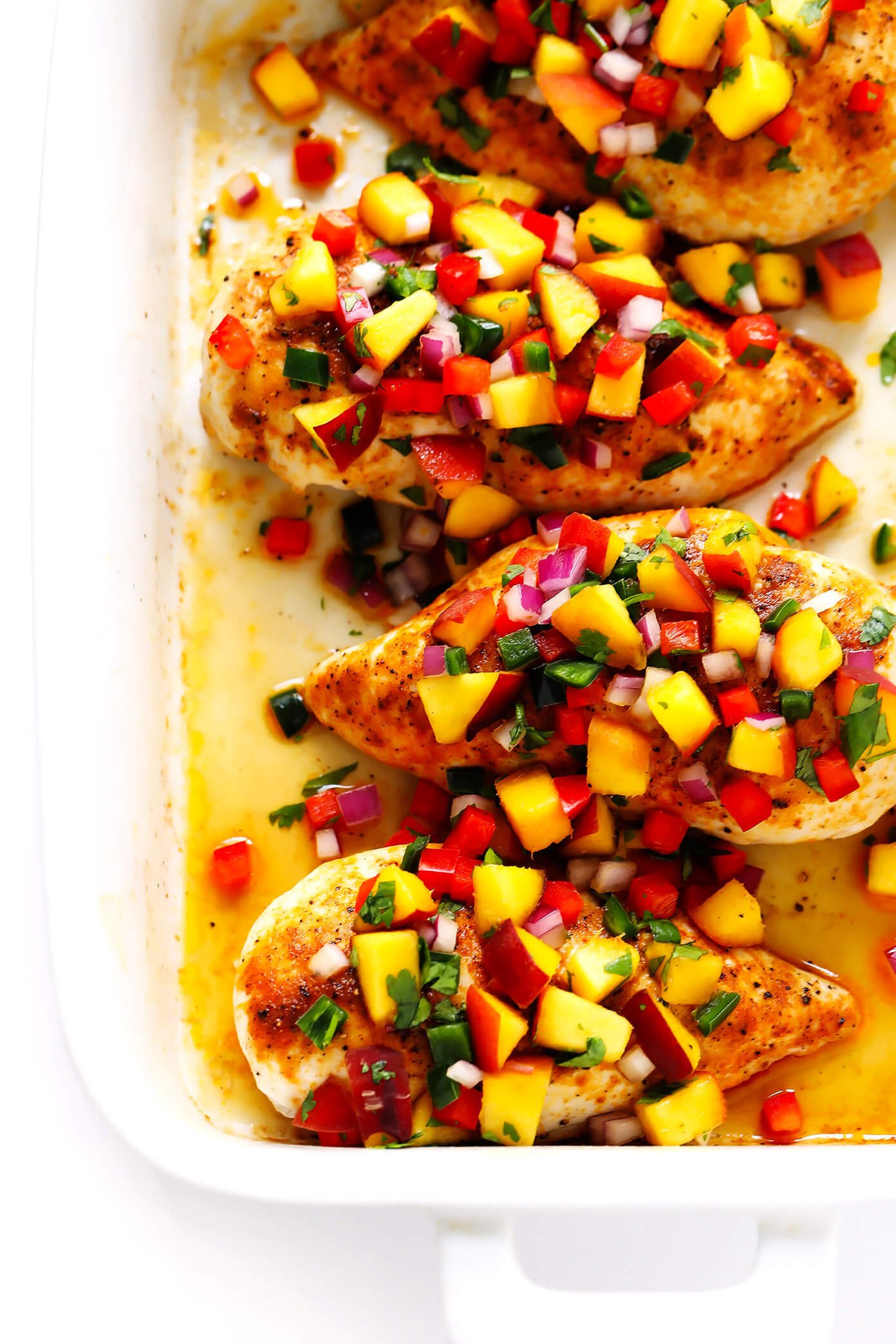 Step 3: Serve!
Once the chicken is cooked, remove it from the oven and loosely tent the pan with aluminum foil.  Then let the chicken rest for at least 5-10 minutes, to lock in all of those juices.  Once it is all ready to go, spoon the peach salsa on top of each baked chicken breast, serve, and enjoy!!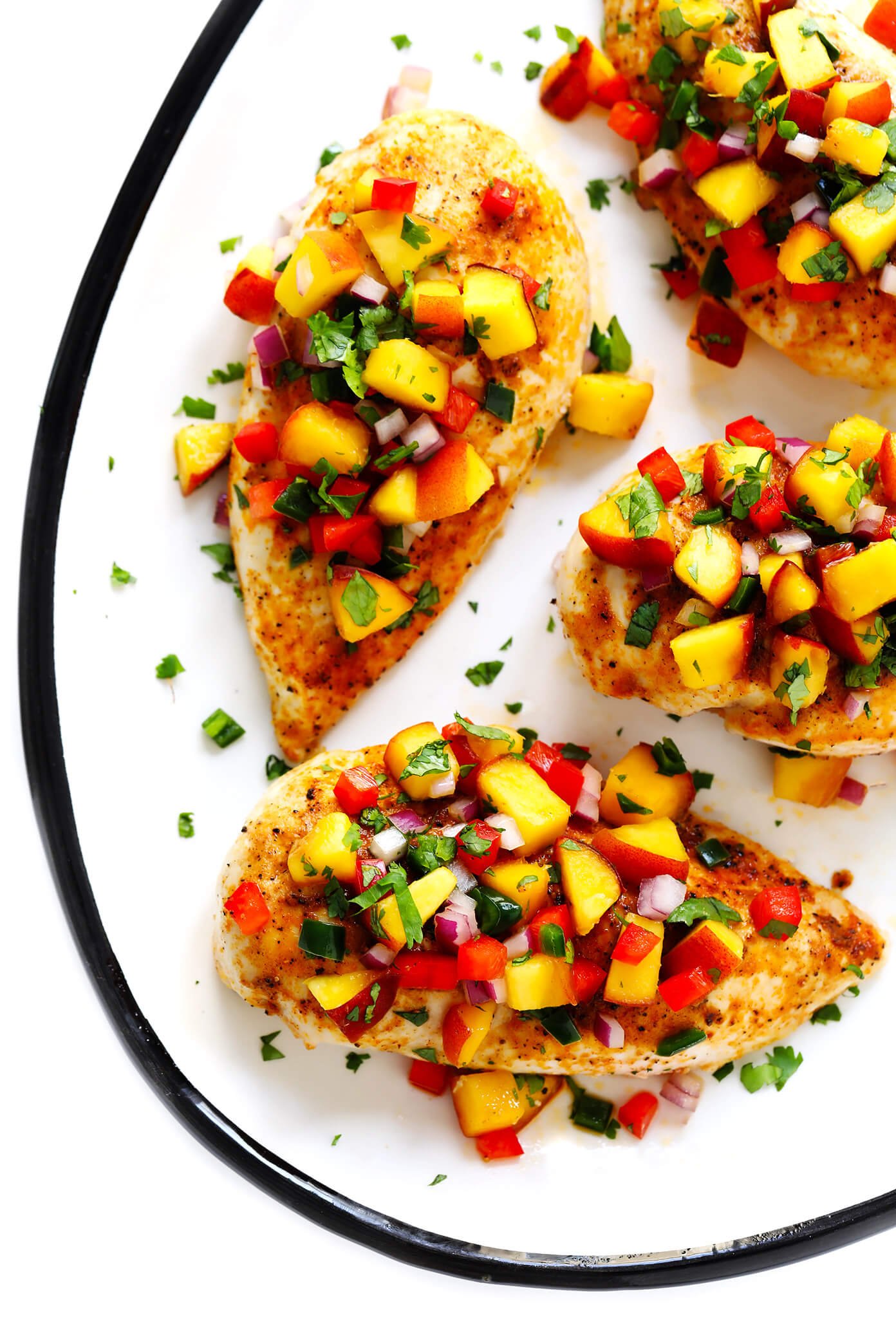 Side Dish Ideas:
If you're looking for some side dishes to go with this baked ginger chicken, I'd recommend:
Cheers to peach season!  Enjoy, everyone.  ♡
Yield: 4 servings
Ginger Chicken with Confetti Peach Salsa
This ginger chicken recipe is perfectly cooked and full of great flavor, then topped with the most delicious, juicy, fresh peach salsa.  It's the perfect sweet and savory recipe for summer.
Ingredients:
Baked Ginger Chicken Ingredients:
4 boneless skinless chicken breasts, pounded to even thickness and brined in saltwater (*see easy instructions below)
1 tablespoon melted butter or olive oil
2 teaspoons ground ginger
1 teaspoon kosher salt
1/2 teaspoon freshly-cracked black pepper
1/2 teaspoon garlic powder
1/2 teaspoon paprika (I prefer smoked paprika)
Fresh Peach Salsa Ingredients:
2 medium peaches, pitted and diced
1 jalapeño, cored and finely-chopped
1/2 cup finely-chopped fresh cilantro
1/3 cup finely-chopped red bell pepper
1/3 cup finely-chopped red onion
juice and zest of 1 lime
big pinch of ground ginger and Kosher salt
Directions:
To Make The Baked Ginger Chicken:
*To brine your chicken breasts, simply fill a large bowl with 1 quart of warm water and 1/4 cup kosher salt.  Stir to combine until most of the salt is absorbed.  Add the chicken breasts and let them sit in the mixture to brine for 15 minutes.  Or you can also also cover the bowl and refrigerate for up to 6 hours.  Remove the chicken breasts from the brine, rinse them with cold water, then pat them dry with some paper towels.  (Again, though, if your chicken breasts are sold pre-brined in a sodium solution, skip this step.)
Preheat oven to 450°F.
Place the chicken breasts in a single layer in a large baking dish.  Brush on both sides (turning once) evenly with the melted butter or olive oil.
In a separate small bowl, whisk the ginger, salt, pepper, garlic powder and paprika until combined.  Then sprinkle the mixture evenly over the chicken on both sides.
Bake for 15-18** minutes, or until the chicken is cooked through and no longer pink.  If you use a cooking thermometer to measure the temperature thickest part of the breast, it should be between 160-170°F.  (The FDA recommends 165°F.)
While the chicken cooks, prepare your peach salsa (see below).
Once the chicken is cooked, remove the pan from the oven and loosely cover the pan with aluminum foil.  Let the chicken rest for at least 5-10 minutes.  Then serve immediately, topped with the peach salsa.  (Or, refrigerate in a sealed container for up to 3 days, or freeze for up to 3 months.)
To Make The Fresh Peach Salsa:
Stir all ingredients together in a small bowl until combined.  Taste and season with extra ginger and salt if needed.  Serve immediately.
**Or, if you want the chicken to be a little bit browned and crispier on top, you can turn the broiler on high for the final 3-5 minutes and broil the chicken until it is cooked through and extra browned on top.  Keep a close eye on the chicken so that it does not overcook and/or burn.
Difficulty: EasyCategory: Quick


All images and text ©Gimme Some Oven
If you make this recipe, be sure to snap a photo and hashtag it #gimmesomeoven. I'd love to see what you cook!