This easy Grasshopper Pie recipe is a simple, no bake dessert for Christmas or any time! It's made with a few simple ingredients, make ahead and freezer friendly!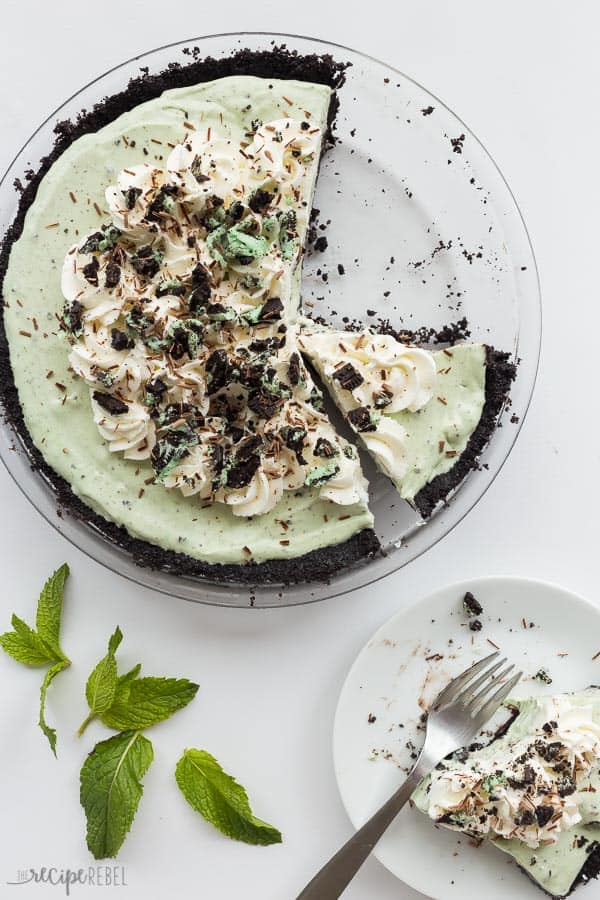 Mint and chocolate, you guys. Is there a better combo this time of year?
I'm not a fan of overly rich desserts, and I love the way the coolness of the mint cuts through the intensity of the chocolate. It's a match made in heaven if you ask me!
Because Canadian Thanksgiving is early in October, we have been in full on Christmas mode for some time now. Our tree is up, the lights are twinkling, and the fire is in the fire place. Bring on all the holiday treats!
But I mean — who needs to use Christmas as an excuse to enjoy a no bake mint chocolate delight like this Grasshopper Pie?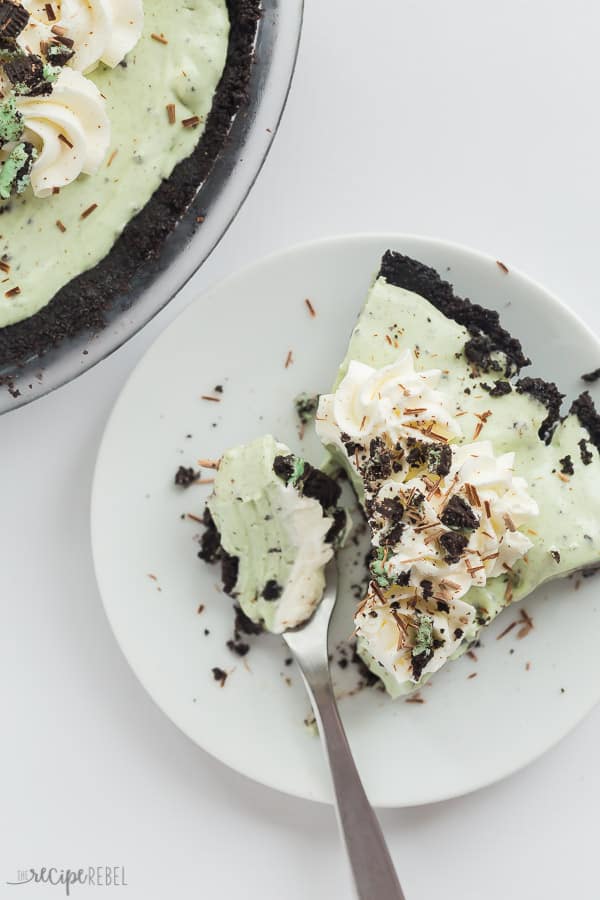 What on Earth is Grasshopper Pie?
I'm honestly not sure how Grasshopper Pie got its name. You've got to wonder, right?
I happen to think grasshoppers are pretty disgusting, but thankfully no grasshoppers made it anywhere this Grasshopper Pie 😉
Grasshopper pie is traditionally a minty marshmallowy pie made with Creme de Menthe and served frozen. My version, I guess, isn't all that traditional, but it is minty and slightly marshmallowy (I love the texture the marshmallow gives!), and though you can definitely serve it frozen, I prefer it well chilled.
How to make Grasshopper Pie:
This no bake pie is easy to make! Simply whip up your cream cheese (make sure it's room temperature!), then add your whipping cream and beat until fluffy.
Beat in your melted marshmallows and all of your flavors and colors, pour into your crust and chill or freeze before serving.
Here are some extra tips and tidbits:
I use light cream cheese, but full fat will work just as well!
Make sure that your cream is heavy or whipping cream — it should be 30-35% fat content and chilled for best results!
You really need an electric mixer to beat the filling until fluffy, otherwise it won't set properly. Remember to whip it until thick and fluffy!
You can definitely substitute Creme de Menthe for the mint extract, it's just not something I usually have on hand.
I opted to use melted marshmallows in this recipe instead of marshmallow creme. You can absolutely substitute marshmallow creme if you have it on hand and skip the melting. Note that the melted marshmallows and marshmallow creme are sticky. If possible, use greased bowls and spatulas for best results.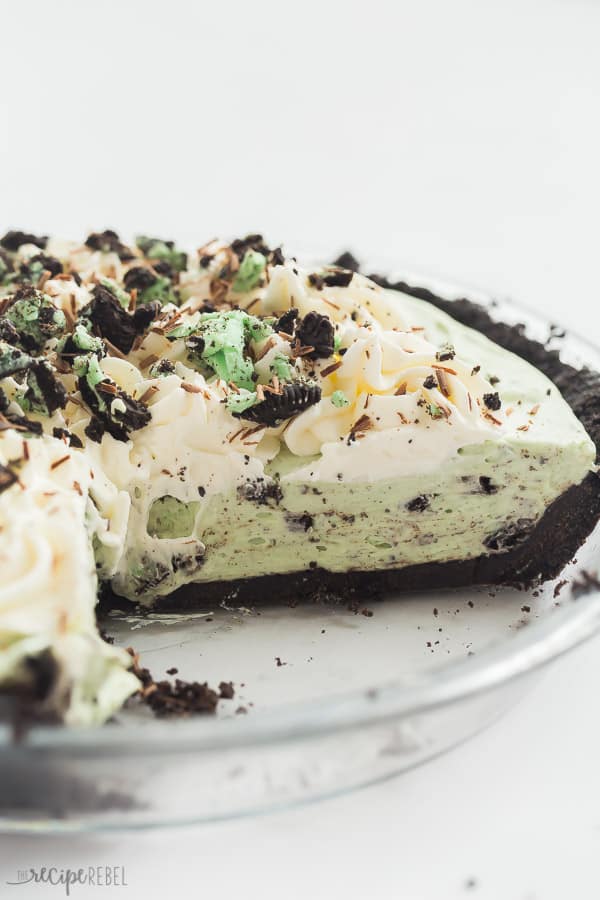 How to store Grasshopper Pie:
Fridge: You can store this pie in the fridge up to 1 week (provided your cream was as fresh as possible when you got it).
Freezer: You can store this pie in the freezer up to 3 months. Then, you can serve frozen or thaw briefly on the counter or in the fridge overnight. It's perfect half frozen as well!
More no bake Christmas treats: