Easy5 minsQuick
This Green "Julius" Smoothie recipe is inspired by the classic creamy orange smoothie, but lightened up with fresh and healthy ingredients and a big handful of greens.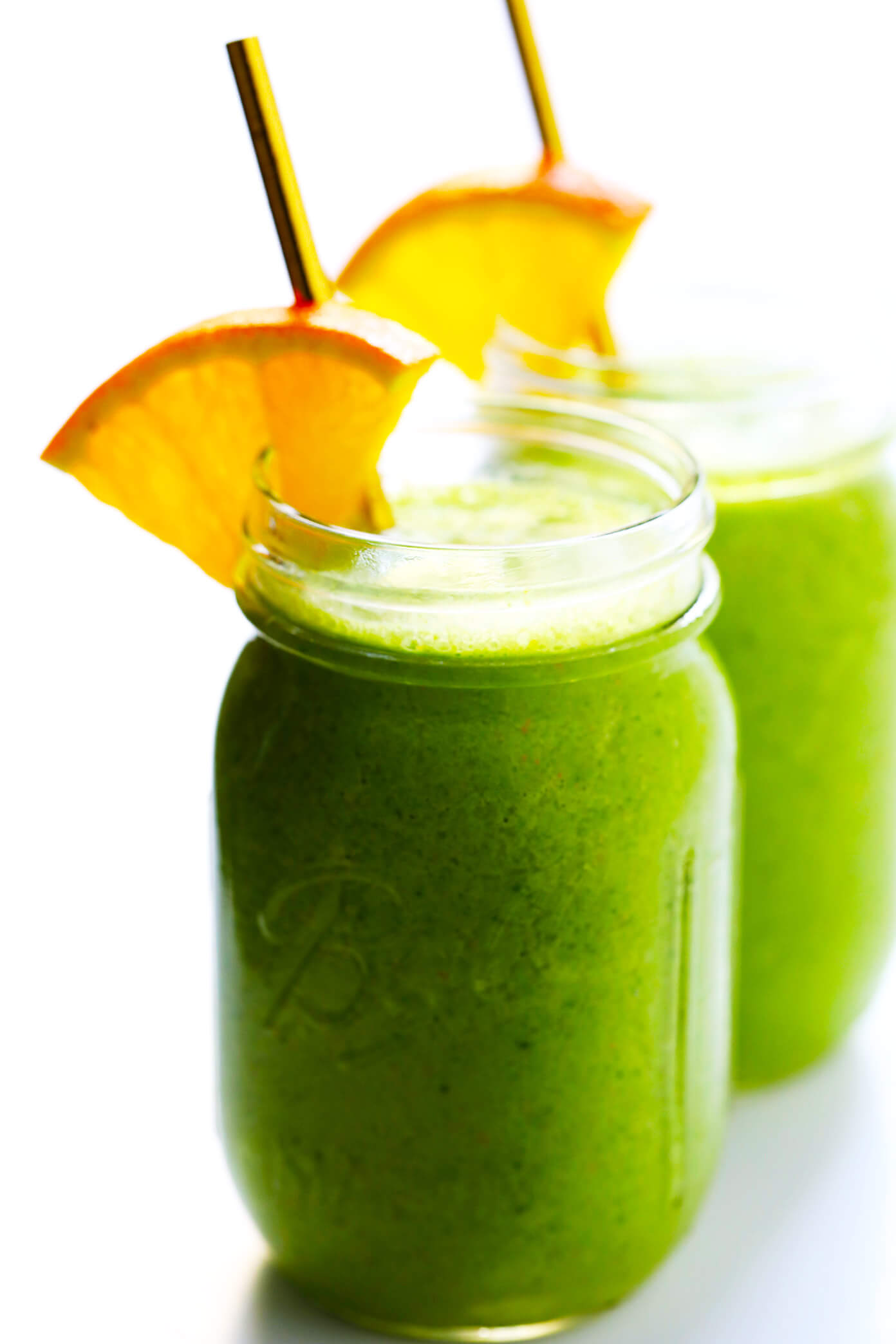 Raise your hand if a trip to the mall back in the 90's absolutely had to include an Orange Julius.
Meeee too. ♡

MY
LATEST VIDEOS
Back in the day, you'd better believe that I regularly saved up my precious teenage allowance dollars to splurge on this favorite drink.  You know, to go with that slice of Sbarro pizza and bowl of Dipp'n Dots.  And casually keep in hand while browsing the racks of dELiA*s, Sam Goody, Contempo Casuals, bDalton, and Spencers.  It was the smoothie we all loved before we even knew the word "smoothie" — the famous Orange Julius.
Decades later, I'm still obsessed with this creamy vanilla orange smoothie.  But nowadays, I opt for my homemade version instead.  It's made with fresh, healthy, simple ingredients.  It only takes a few minutes to make.  It's naturally gluten-free and can easily be made vegan, if you'd like.  And, as you can see, I've also green-ified it with a few handfuls of baby spinach.  (Because when making a smoothie, why not?!)
So for those of you who share this 90's mall nostalgia, or to anyone looking for some extra Vitamin C this season, grab a bunch of oranges and spinach and let's have a green smoothie date together!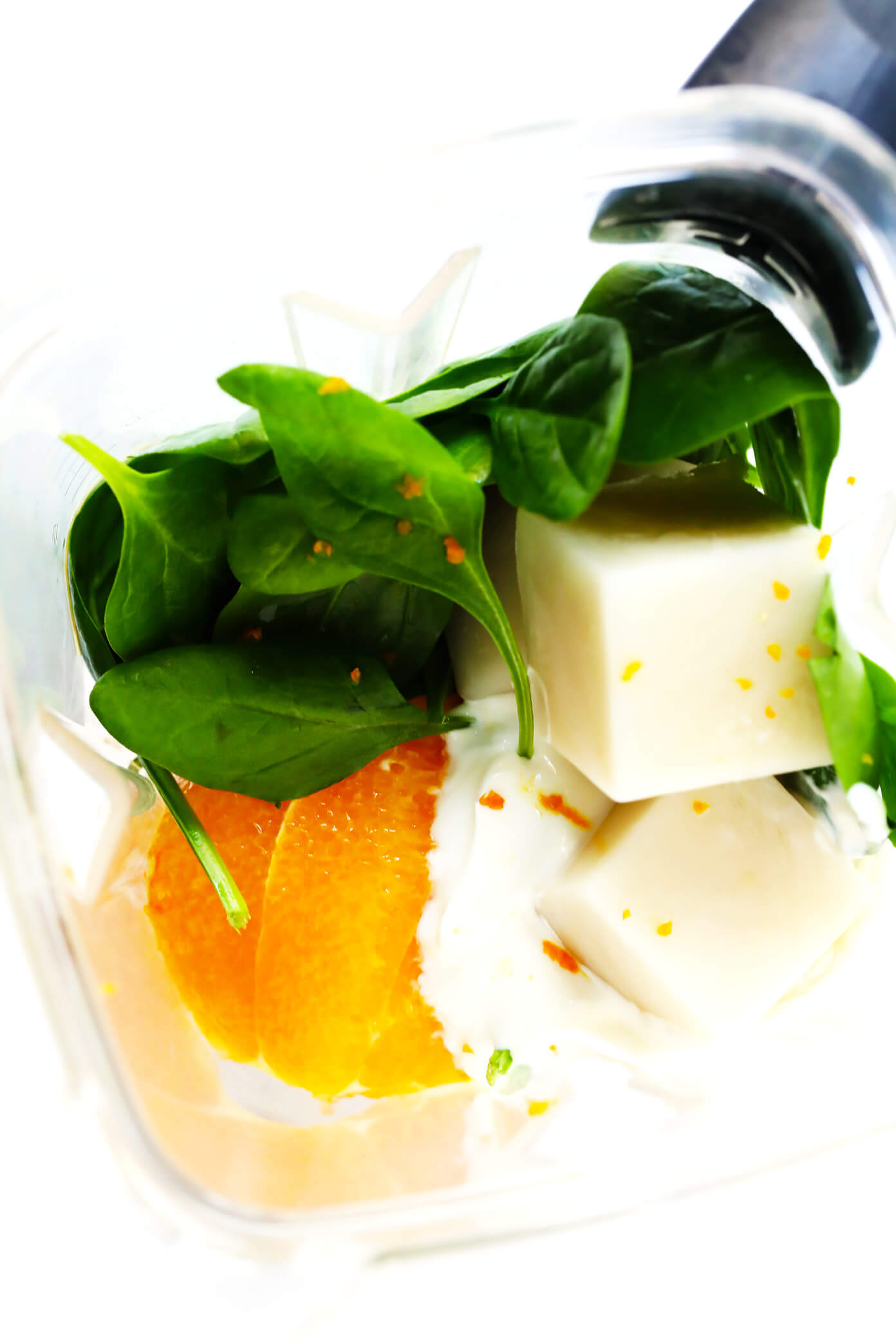 Green "Julius" Smoothie Ingredients:
To make this green smoothie recipe, you will need:
Fresh oranges: Old-school julius recipes used to use orange concentrate, which can be packed with extra sugars and preservatives.  So we're going to keep things clean and just use fresh oranges — both their juice and zest.
Almond milk: Which we are going to freeze into ice cubes ahead of time to thicken the smoothie.  If you're making this smoothie on the fly and don't have time to freeze the milk, you can just add in some water ice cubes instead, plus a splash of almond milk.  (<– It will just taste a bit more diluted.)
Vanilla extract: They key to making this smoothie have that classic flavor.
Greek yogurt: To add in some extra creaminess and protein.  (Feel free to omit if making this smoothie vegan.)
Fresh baby spinach: I vote that you add in as much as you can, since spinach is practically flavorless in smoothies.
Sweetener: I recommend honey or maple syrup, but feel free to use your desired type and amount of sweetener.
Of course, feel free to toss in any of your favorite smoothie add-ins as well too!  Some of my current faves include collagen powder, chia seeds, a touch of spirulina and/or hemp hearts.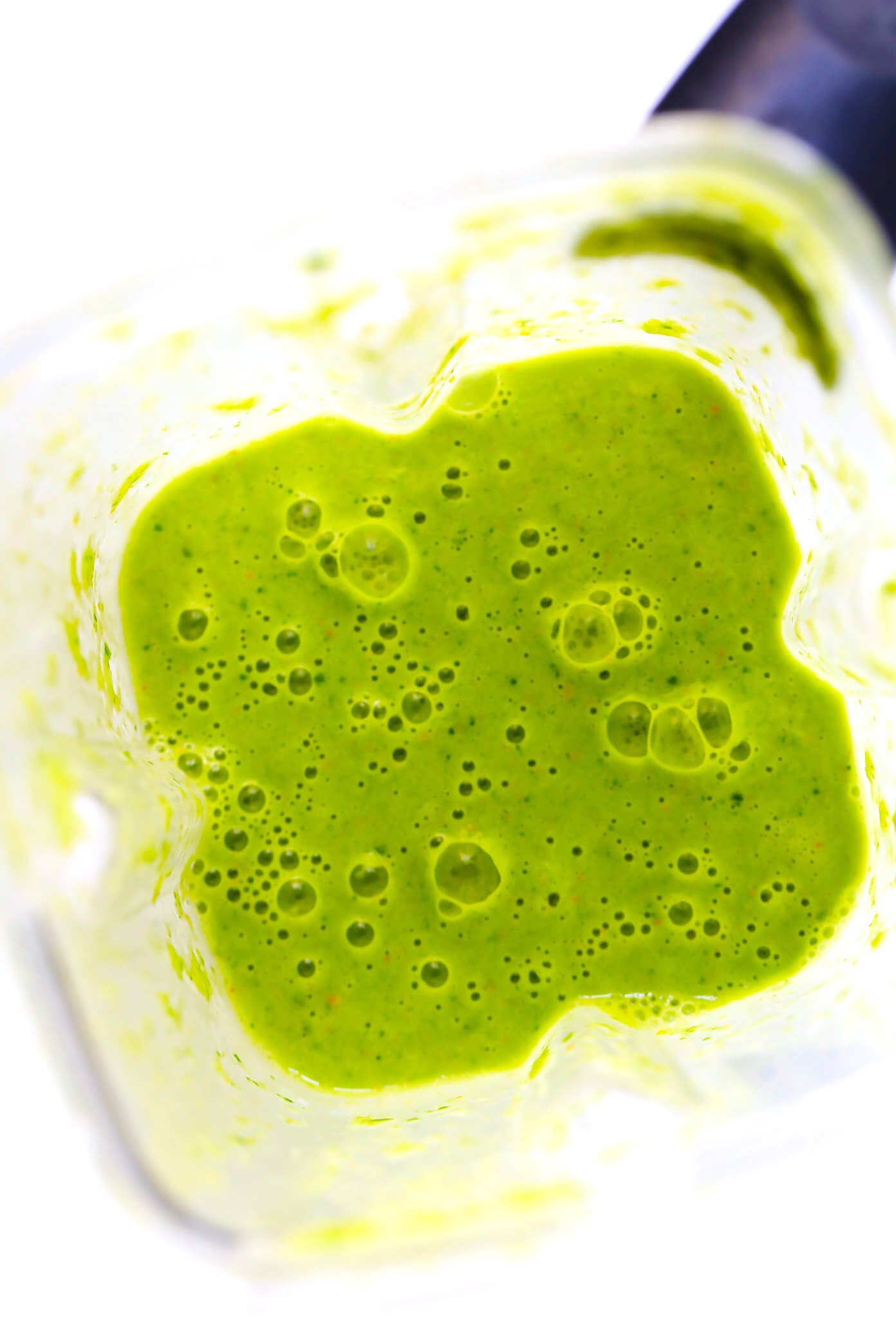 How To Make A Green Smoothie:
To make this green "julius" smoothie, simply:
Add all ingredients to a blender.  I recommend placing the oranges on the bottom, to make for easier blending.
Purée.  Blend everything together until it is completely smooth.  (If it is too thick, just add in a little extra almond milk.)
Taste.  Give it a taste and add any extra sweetener, if needed.
Serve.  Then serve it up right away while it's still cold…and enjoy!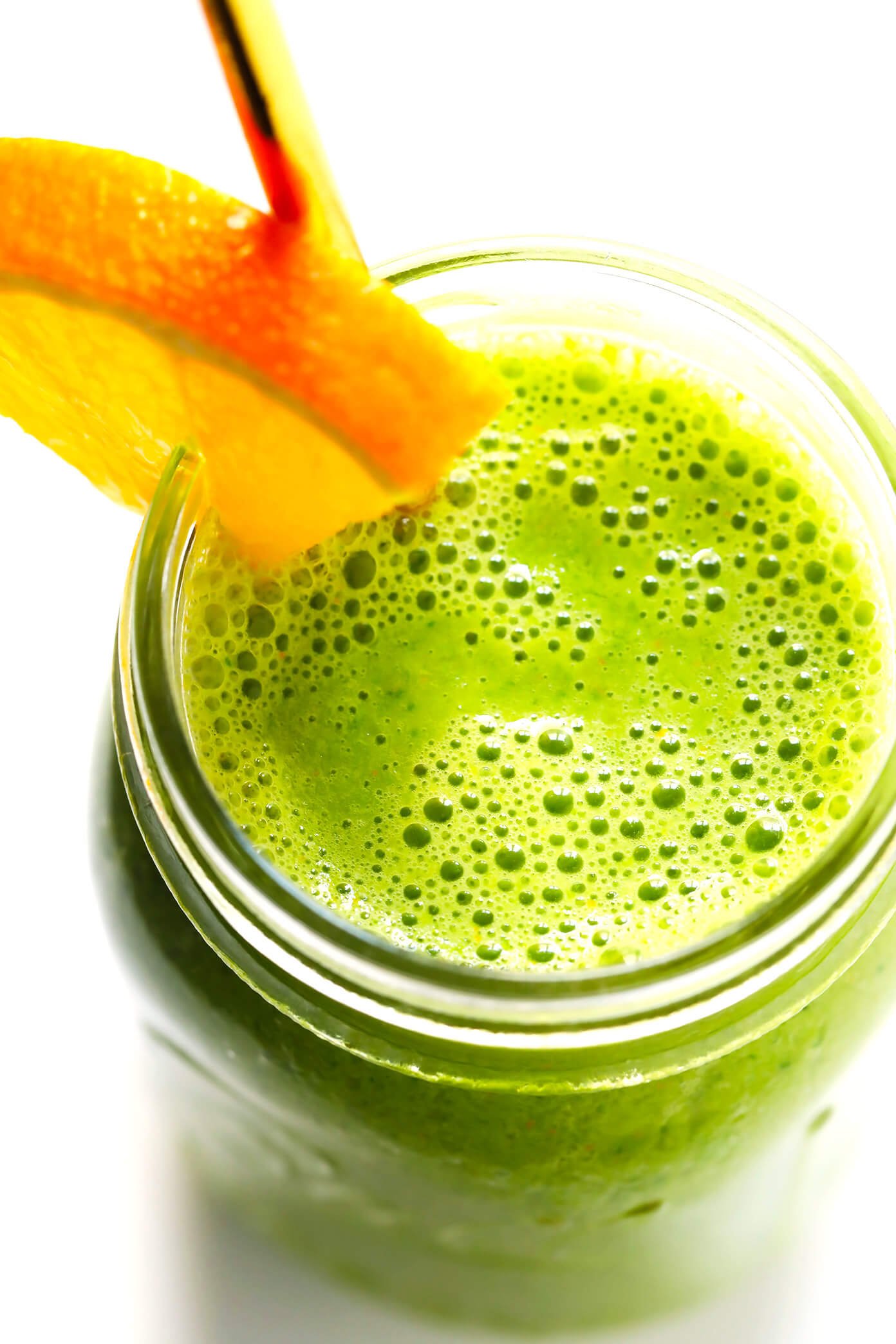 Possible Variations:
Want to mix things up with your green julius?  Feel free to:
Add ginger. Let's be real — I'm obsessed with adding ginger to pretty much all of my smoothies.  And I can vouch that it's delicious in this one too.
Use different greens.  Any other favorite smoothie greens would work here too.  I just opted for spinach because of it's mild flavor and good nutrients.
Use different milk.  Any kind of milk will work well in this smoothie.  And as I mentioned above, if you don't have time to freeze it, you're welcome to just use some water ice cubes and add in a splash of milk.
Make it vegan.  Just nix the Greek yogurt entirely.  Or feel free to sub in another kind of vegan yogurt (such as coconut or soy yogurt).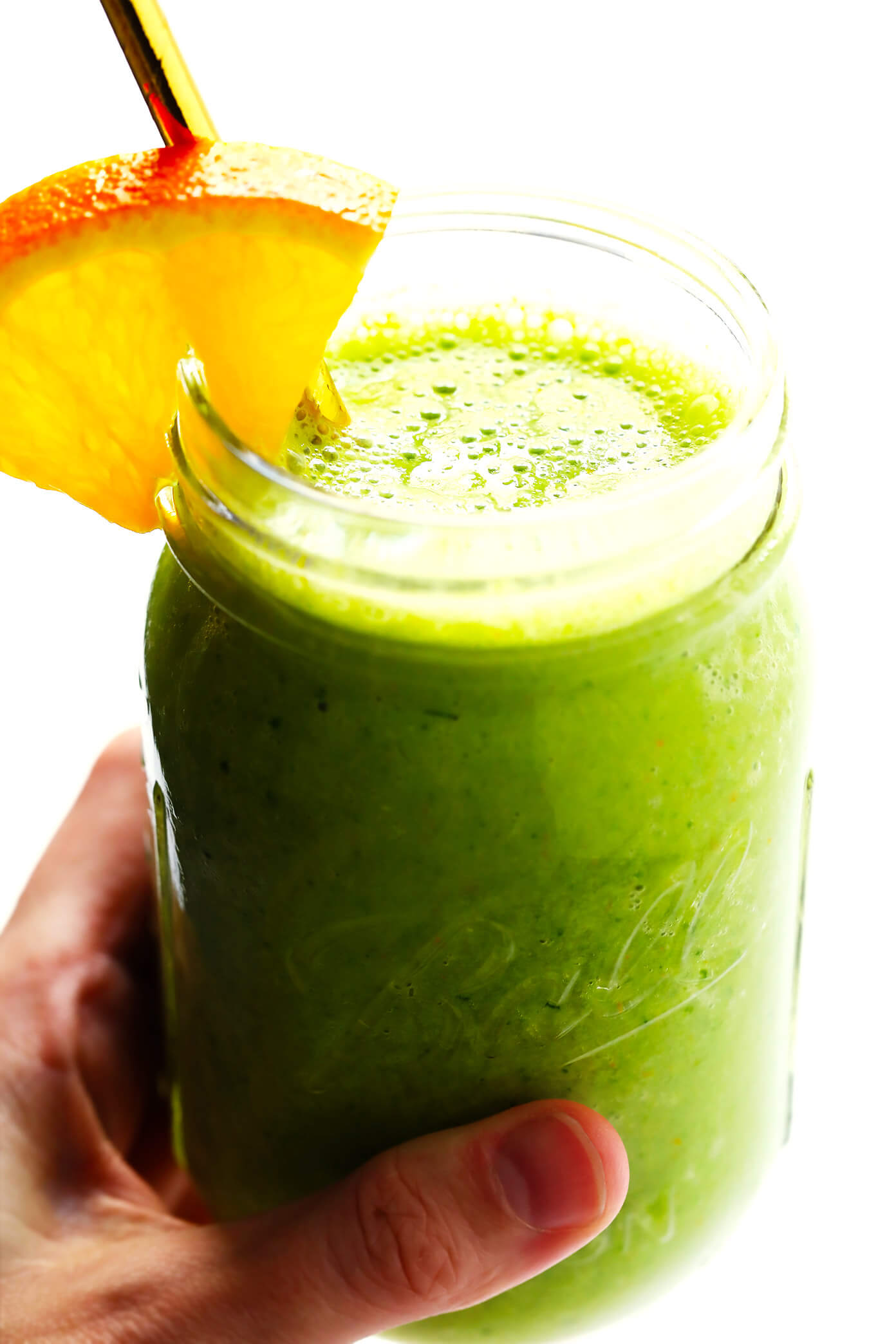 Cheers, everyone!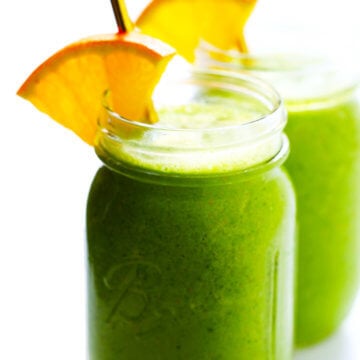 Yield: 2-3 servings
Green "Julius" Smoothie
This Green "Julius" Smoothie recipe is inspired by the classic creamy orange smoothie, but lightened up with fresh and healthy ingredients.
Ingredients:
2 large naval oranges, zested* and peeled
1 cup almond milk, frozen into ice cubes
1 large handful fresh baby spinach
1/3 cup plain or vanilla Greek yogurt
1 teaspoon vanilla extract
1 tablespoon honey or maple syrup (or your desired sweetener)
Directions:
Add all ingredients to a blender.  Purée until smooth.
Taste, and add extra sweetener if desired.
Serve immediately and enjoy!
*ORANGE ZEST: Just to be clear, I recommend zesting the oranges (and adding the zest to your blender) for extra flavor.  Then peel your oranges, discard the peels, and add the remaining whole oranges to the blender.
**BLENDER: If you do not have a high-speed blender, I recommend pureeing the oranges first so that you can have a liquid in the base of the blender.  Then add the remaining ingredients and puree until smooth.
STRAWS: For anyone interested, I used these gold paper straws in the photos above.
Difficulty: EasyCategory: Quick


All images and text ©Gimme Some Oven
If you make this recipe, be sure to snap a photo and hashtag it #gimmesomeoven. I'd love to see what you cook!
This post contains affiliate links.