Welcome to grilling week! This week, each of the 3 recipes I'm going to post will all involve the grill. The sun is finally shining and we're getting ready for Memorial Day weekend, so what better time to cook outside? Of course if you don't have an outdoor grill, you can always use a cast iron grill pan on the stove top.
We're starting this series with one of my favorite things to grill – asparagus! The key to great grilled asparagus is finding really fresh thin spears of asparagus. I like fat spears for ribboning, but thin spears are best for grilling because they're more tender, crisp, and delicious with a quick char.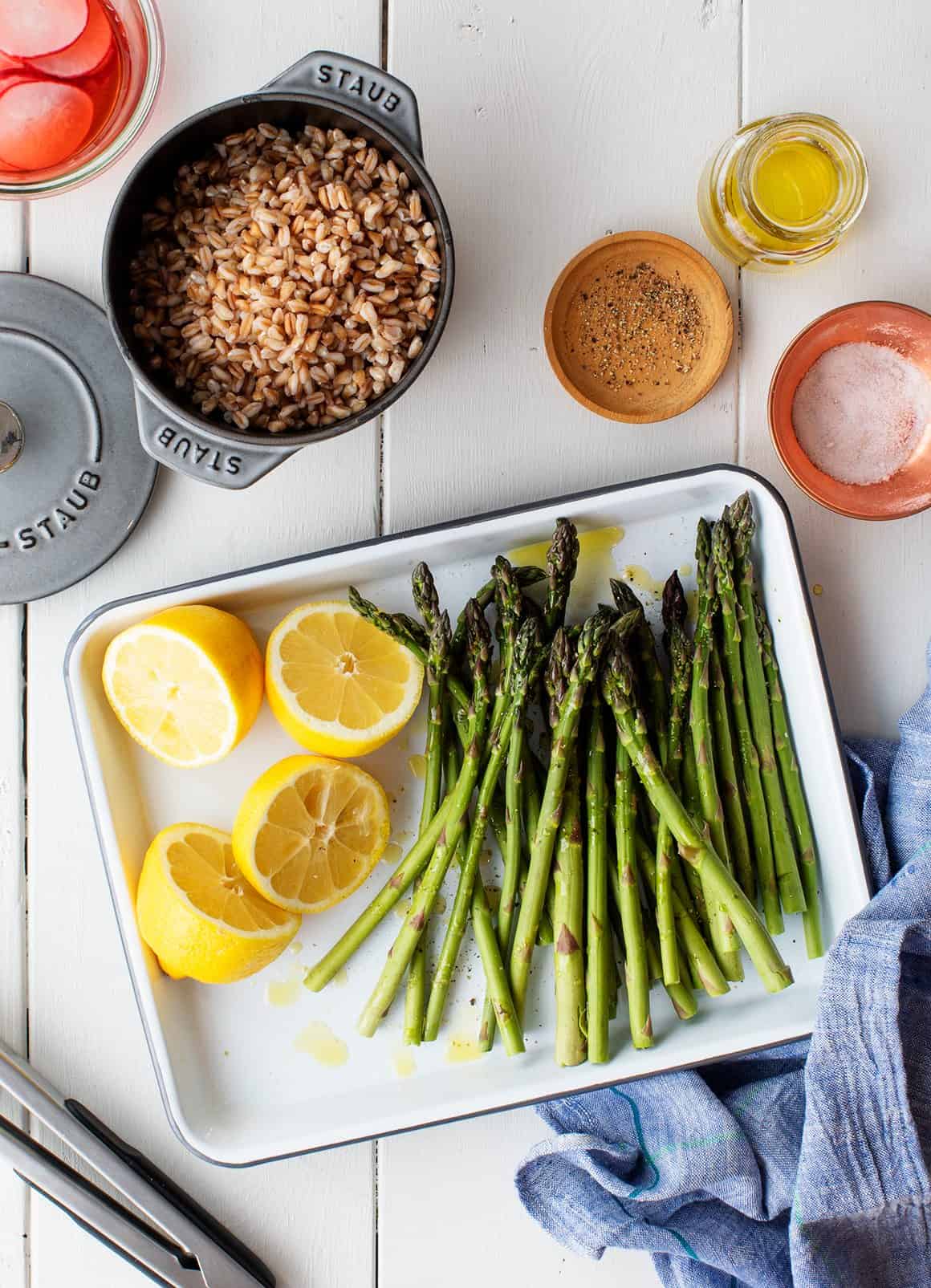 This recipe is easy if you prep everything before you start grilling: cook the farro, make the tangy thyme dressing, chop the pistachios, crumble the cheese… When you're ready to serve the salad, grill the asparagus, grill the lemons, and assemble!


I love this colorful salad for spring! ?
It has a nutty flavor from the farro and pistachios and a tangy bite from the quick pickled radishes. These form the perfect base for the grilled asparagus. Top it all off with a squeeze of the juicy grilled lemon.
I should mention that I got these delicate pea shoots from the farmers market this weekend. Pea shoots have a short season – if you can't find them, top your salad with a few micro greens. Soft herbs like basil, mint, and/or tarragon would be also delicious.

Grilled Asparagus Lemon-Thyme Farro Salad
1 cup uncooked farro (about 2 cups cooked)
Extra-virgin olive oil, for drizzling
1 bunch asparagus, tender parts
1 lemon, halved
½ cup frozen edamame, thawed
2 tablespoons crumbled ricotta salata or feta, optional
2 teaspoons capers
2 radishes, sliced raw or quick pickled*
handful of pea shoots or micro greens, chopped
¼ cup chopped pistachios
2 tablespoons Extra-virgin olive oil
1 tablespoon white wine vinegar
1 teaspoon Dijon mustard
1 teaspoon fresh thyme leaves
¼ teaspoon pure maple syrup
¼ teaspoon sea salt
freshly ground black pepper
2 tablespoons water
Bring a medium pot of water to a boil and cook the farro and until tender but not mushy, 15 to 25 minutes, depending on the farro. (They vary, so check the packaging for a more specific time range). Drain and spread on a plate to dry and drizzle with a tiny bit of olive oil to keep it from sticking. Chill until ready to use. The farro can be made ahead.
Make the dressing: In a small bowl, whisk together the olive oil, white wine vinegar, mustard, thyme leaves, maple syrup, salt, several grinds of pepper, and the water. Set aside.
Prep all salad ingredients before grilling the asparagus. Toss the farro with half of the dressing and a pinch of salt and set aside.
Preheat the grill to medium. Drizzle the asparagus and lemon halves lightly with olive oil, salt, and pepper. Grill for 6 to 8 minutes, or until charred but still bright green, flipping or rolling once. Grill the lemons cut-side down without flipping.
Remove the asparagus and lemons from the grill. Assemble the salad with the dressed farro, the asparagus, edamame, cheese, capers, radishes, pea shoots, and pistachios. Drizzle with more dressing, as desired, and squeeze the grilled lemon over the salad. Season with more salt and pepper, as desired.
*to quick pickle the radishes, place them in a jar and cover them with a combination of rice vinegar, white wine vinegar, a splash of water, a pinch of salt and a pinch of sugar. Shake and chill until ready to use.
3.4.3177
Grilling tray pictured in photo #2 is the Falcon Enamelware Serving Tray in Pigeon Grey.