This ham and potato casserole is cheesy, creamy, and super delicious! Make this easy, cheesy ham and potato casserole recipe any time for the family. It makes a great post-holiday dinner, and it works as a hearty breakfast too!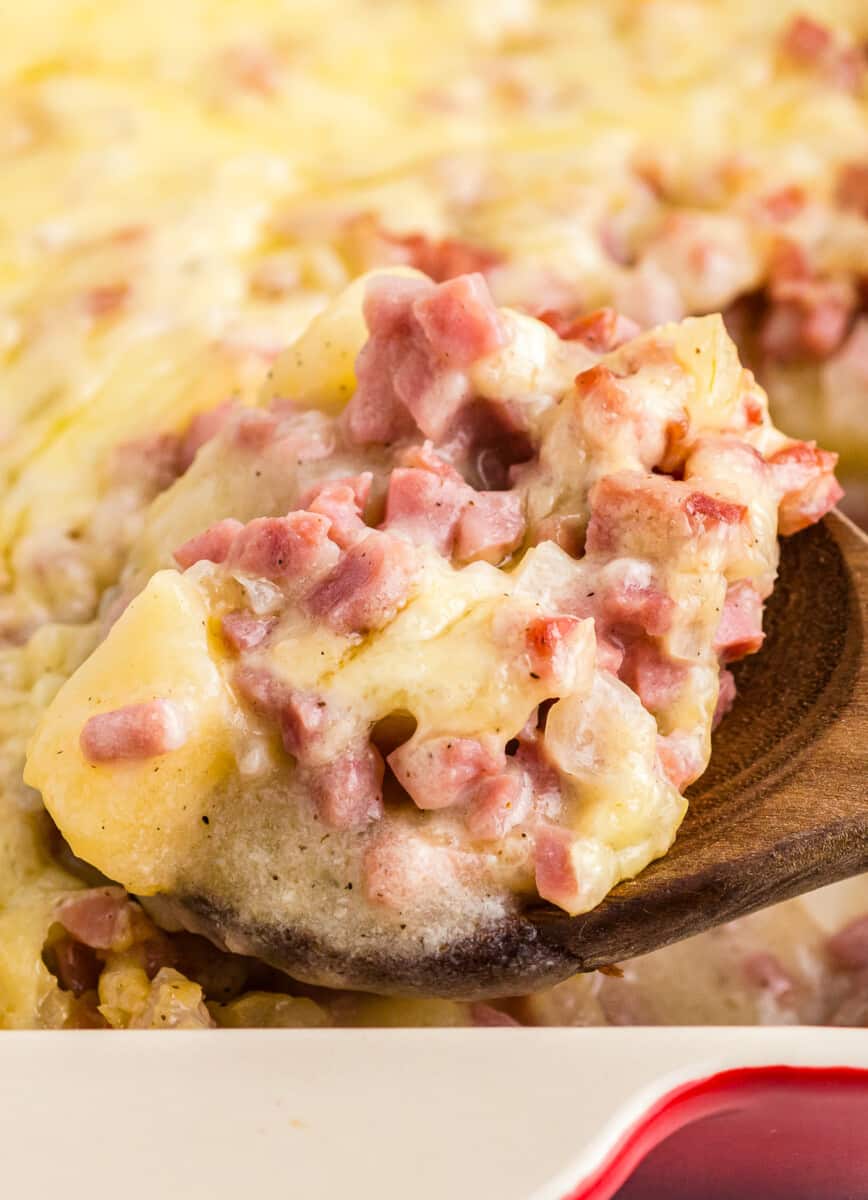 Cheesy Ham and Potato Casserole
Casseroles are one of my favorite types of recipes, because they're SO easy to make, and they're always delicious. This ham and potato casserole is so cheesy, and the whole family is sure to love it.
Something I love about this ham and cheese potato casserole recipe is that you can make and serve it any time. There's never a bad time of day, or a bad time of year. And it's perfect for a large family or any time you have guests to feed.
Why You'll Love this Ham Casserole Recipe:
CHEESY: This ham and potato casserole is topped off with a layer of cheese and baked to perfection. It's so cheesy and creamy!
EASY: Just like most casseroles, this recipe is super easy to make. Throw everything in a baking dish, cook, and serve!
This cheesy casserole is a great leftover ham recipe if you have extra you need to use up after the holidays! If you're looking for more breakfast casseroles, try this Sausage Breakfast Casserole or this Biscuits and Gravy Casserole.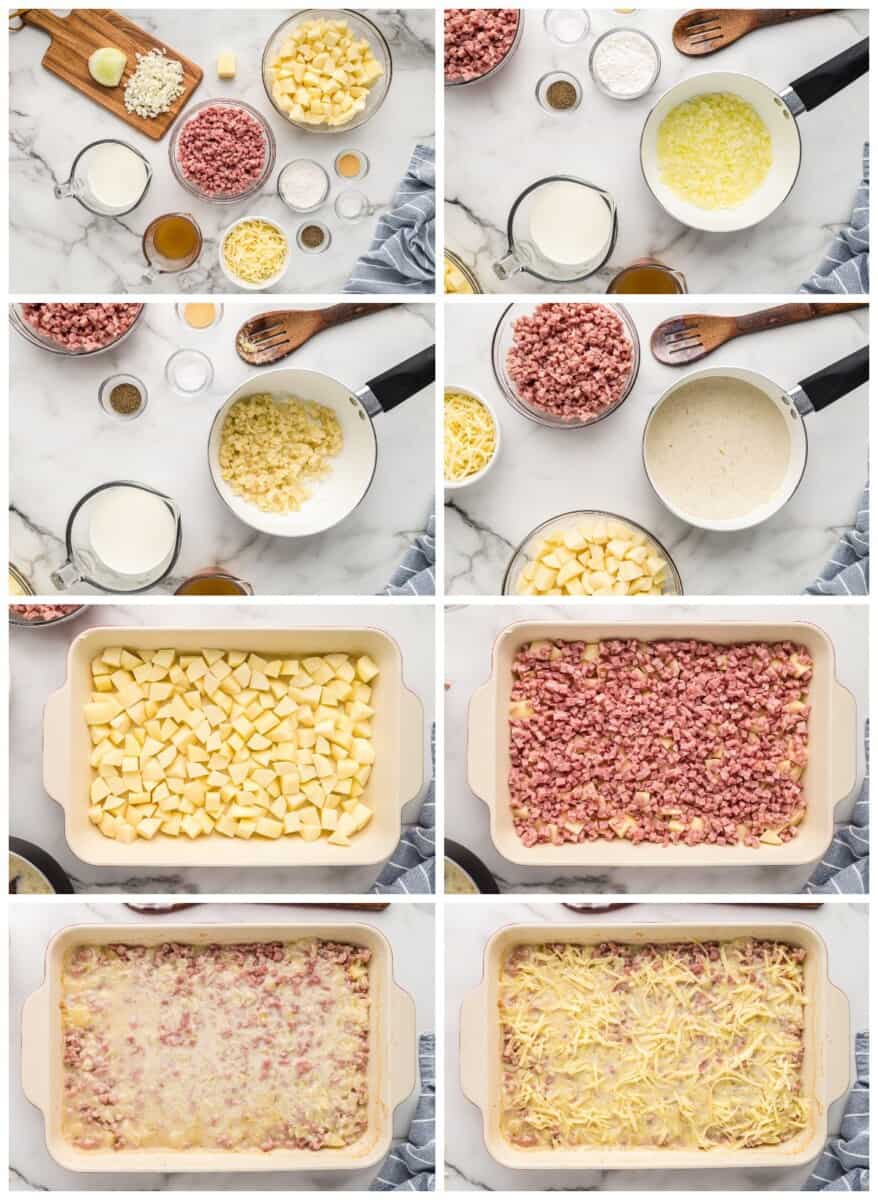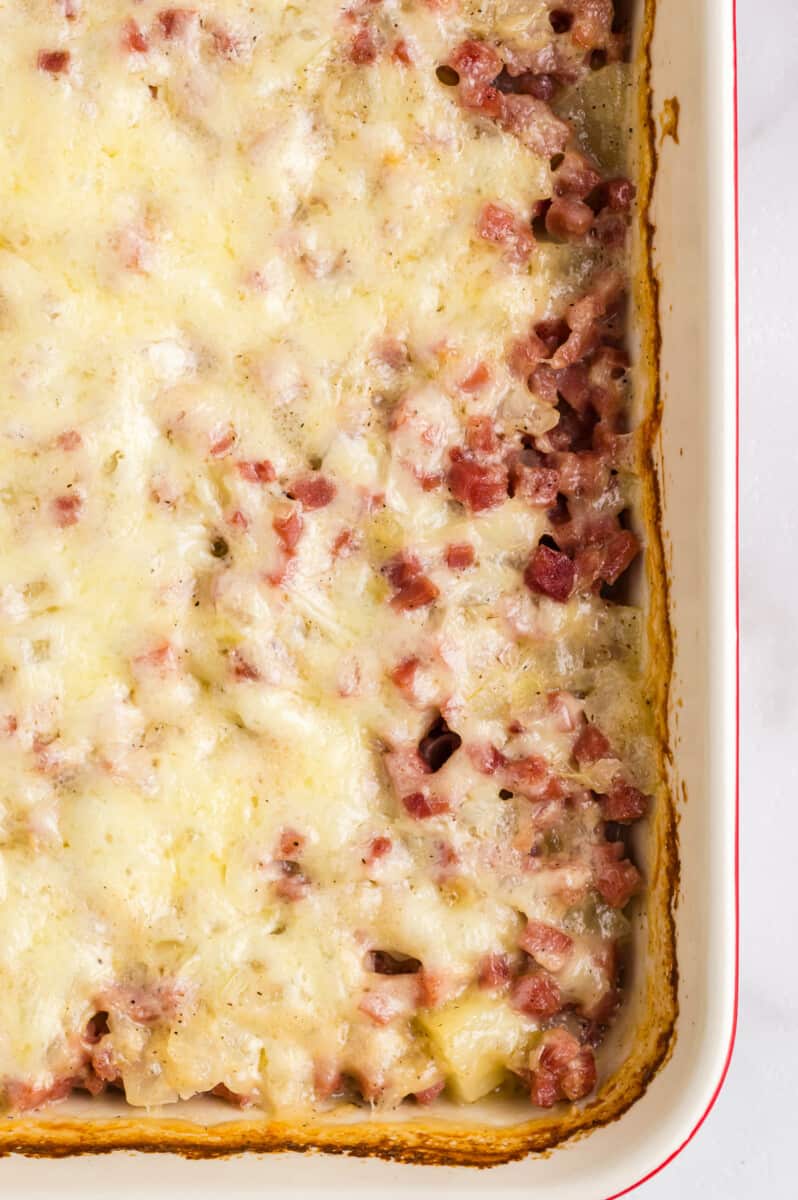 How to Make Ham and Potato Casserole
Be sure to see the recipe card below for full ingredients & instructions!
Preheat oven and grease baking dish.
Combine and cook ingredients on the stovetop to make the milk mixture.
Spread the chopped potatoes on the bottom of the baking dish, then layer the diced ham on top.
Pour the milk mixture evenly over the ham and potatoes.
Cover the casserole and bake 40-45 minutes.
Top it off with shredded cheese, and bake uncovered another 10-15 minutes.
Serve warm and enjoy!
Ingredient Notes
Milk: You can substitute whole milk with an equal amount of half and half.
Potatoes: This recipe calls for russet potatoes, but you can substitute a different type if you like. The same amount of red potatoes or yukon gold potatoes work great too.
Ham: Use a pre-cooked, pre-diced ham, or cut up any leftover ham you have.
Cheese: Any kind of cheddar cheese is delicious in this casserole recipe! I recommend shredding your own cheese for best results. Pre-shredded cheese contains additives that can prevent it from melting completely.
Check the recipe card to see the full ingredients list for this cheesy ham and potato casserole.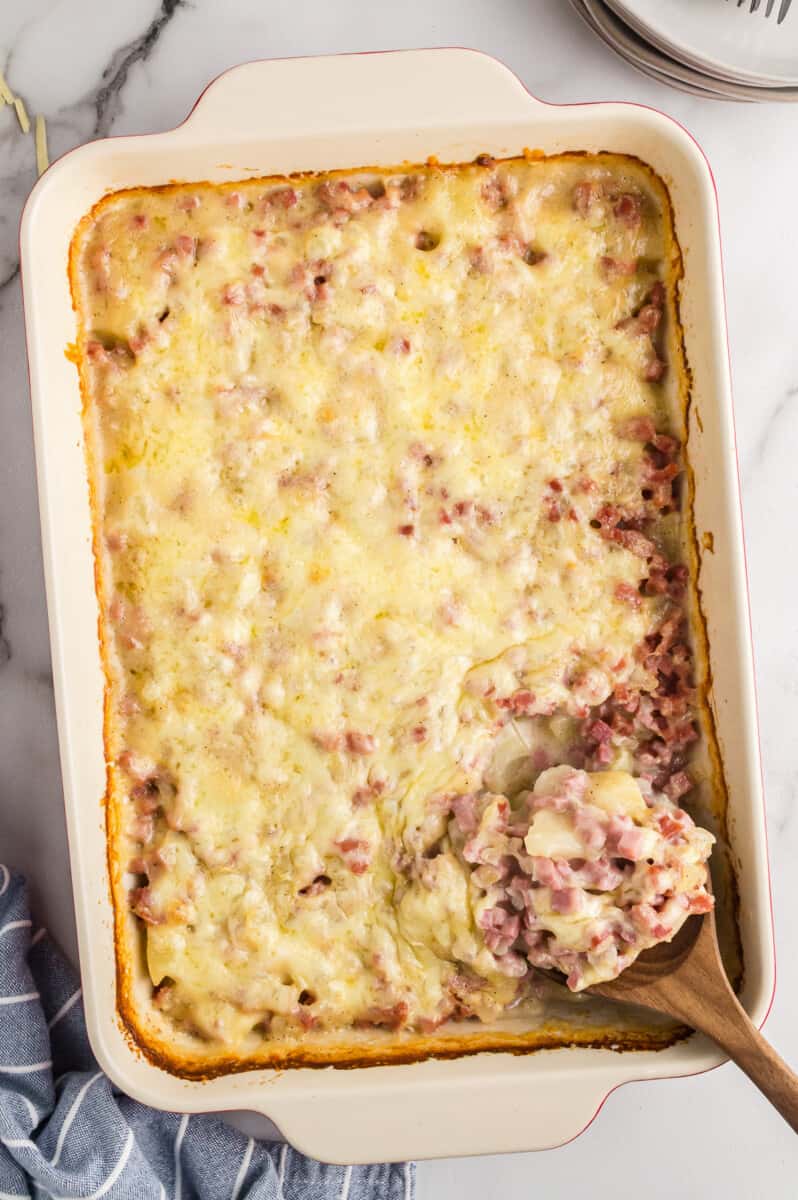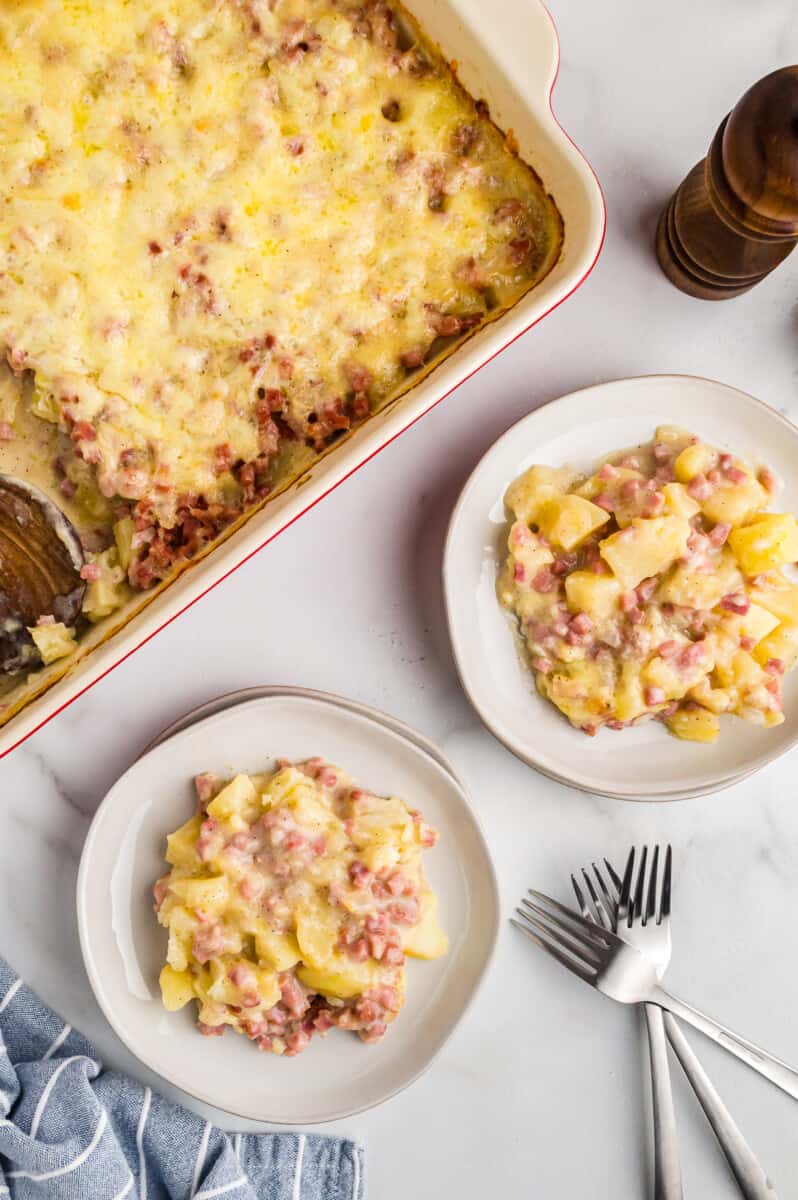 What ham is best for this casserole?
Make sure you are using cooked ham in this recipe. Use leftover ham, pre-cooked ham, or cook your own ham for this casserole. You can easily find cooked hams at the grocery store or deli.
How do I reheat ham and potato casserole?
To reheat any leftovers, place an individual portion in a microwave-safe dish. Heat on 50% power for 1-2 minutes at a time until heated through. Stir well at least once during heating. To reheat a larger portion, warm the casserole in the oven at 350°F for about 20 minutes or until warmed through. 
Can I halve this casserole recipe?
This recipe serves about 8 people. You can halve the recipe if needed. I recommend also using a smaller baking dish if you do. Note: if this recipe is more than you need, you can eat half and freeze half for another meal.
Can I use turkey or chicken in this casserole instead?
You can substitute turkey or chicken in this recipe if you prefer. Just be sure whatever meat you use is fully cooked, and dice it up.
Serving Suggestions
This cheesy ham and potato casserole works for breakfast or dinner, as a main dish or a side dish. So there are lots of different ways to serve it, and plenty of other dishes that go along with it.
If this is your main dish, here are some great dinner sides.
If serving it for breakfast, I recommend just adding some eggs, toast, or fruit on the side.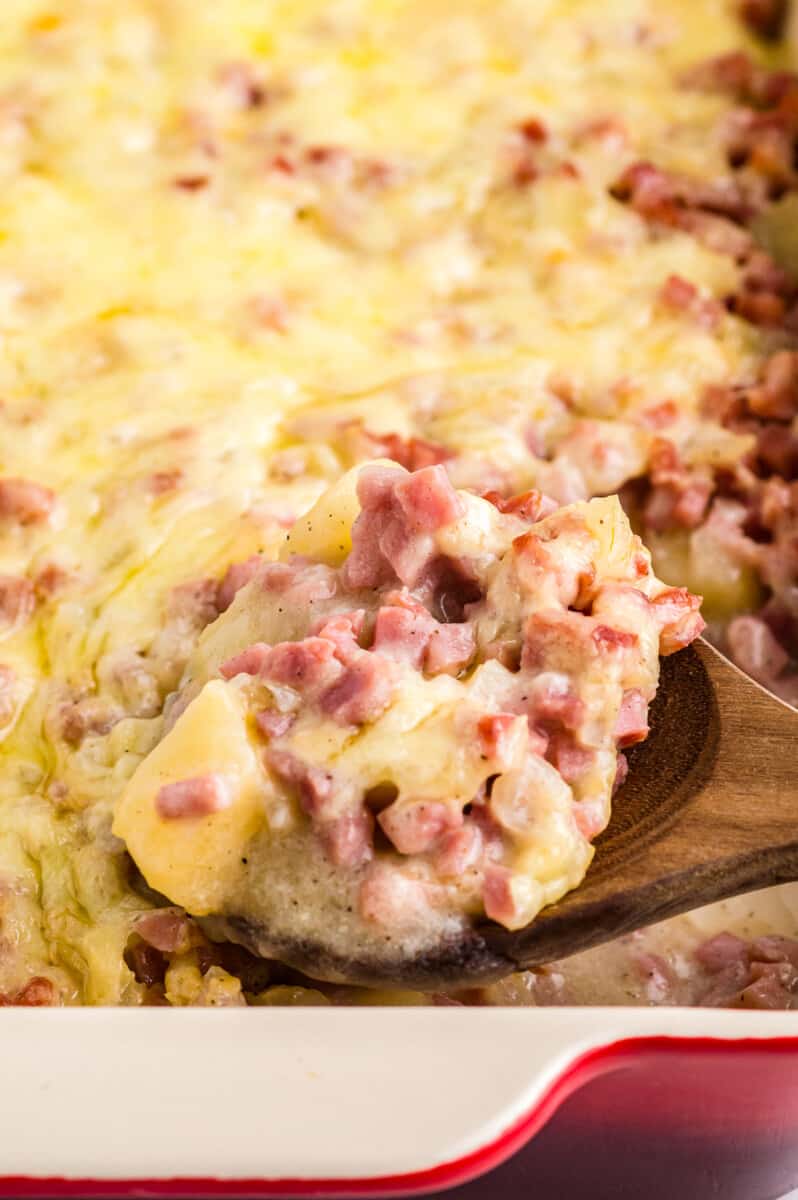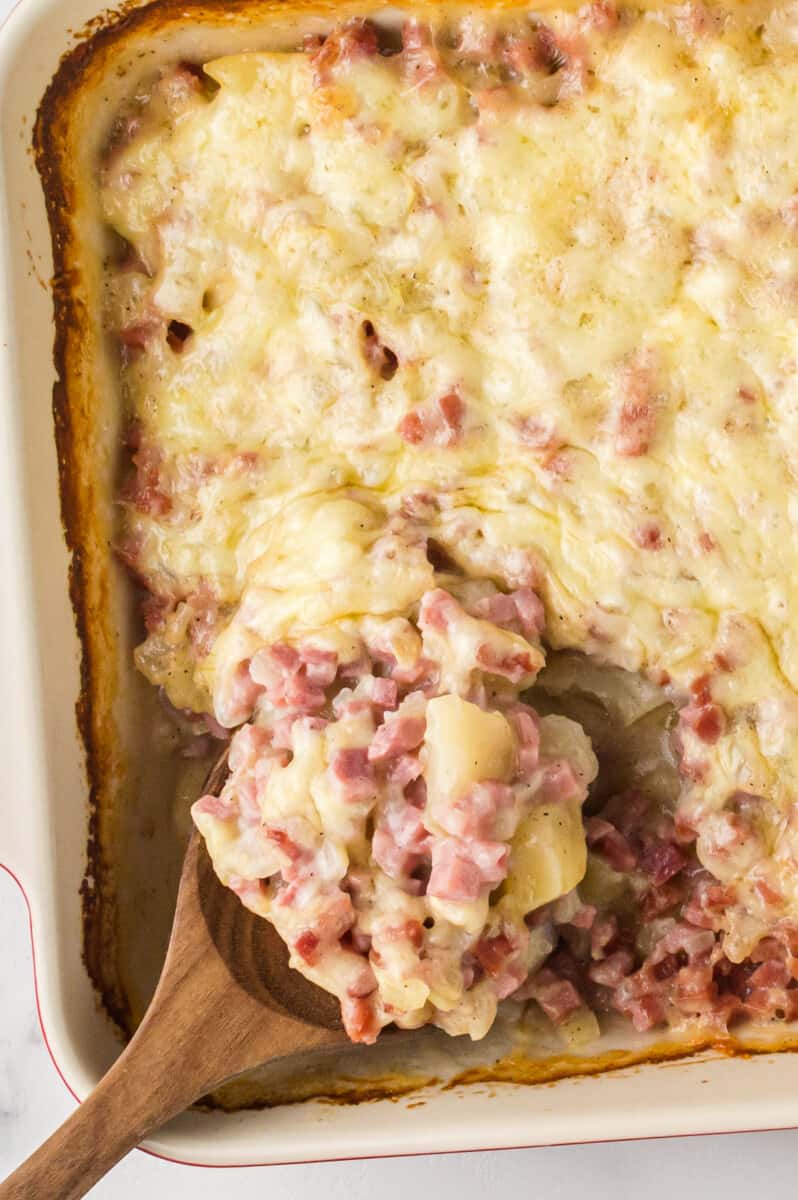 Tips!
The ham should be cooked prior to adding it into the casserole. Do not use uncooked ham in this recipe.
This recipe is a great way to use leftover ham after the holidays. Dice up any leftovers and make this casserole the next day for breakfast or dinner!
You can dice, chop, or slice potatoes any way you choose. As long as they're all cut to a uniform size and shape, they will cook consistently. Just check potatoes to make sure they are tender and fully-cooked before serving.
Cover the casserole through most of the baking time. Towards the end, you'll add cheese, and then put it back in the oven uncovered.
The casserole is done when cheese is fully melted and the potatoes are tender.
Store leftover ham and potato casserole in an airtight container, in the refrigerator, up to 4 days.
Can I make this ham and potato casserole ahead of time?
Yes! You can easily prep this ham and potato casserole ahead of time, then just bake and serve.
To make this casserole ahead of time:
Follow the recipe through step 4.
Cover and refrigerate overnight.
When you are ready to bake, remove the casserole from the fridge, and let it warm up at room temperature while the oven preheats.
Proceed with the recipe as written, from step 5.
Note: You may need to add a few extra minutes of baking time if your casserole is still cold when it goes in the oven.
Is this a breakfast or dinner casserole recipe?
This dish is filled with ham, potatoes, and cheese, which makes it simple and versatile. You can absolutely serve this as a breakfast casserole or a dinner casserole. I think it makes just as much sense first thing in the morning as it does on a weeknight evening.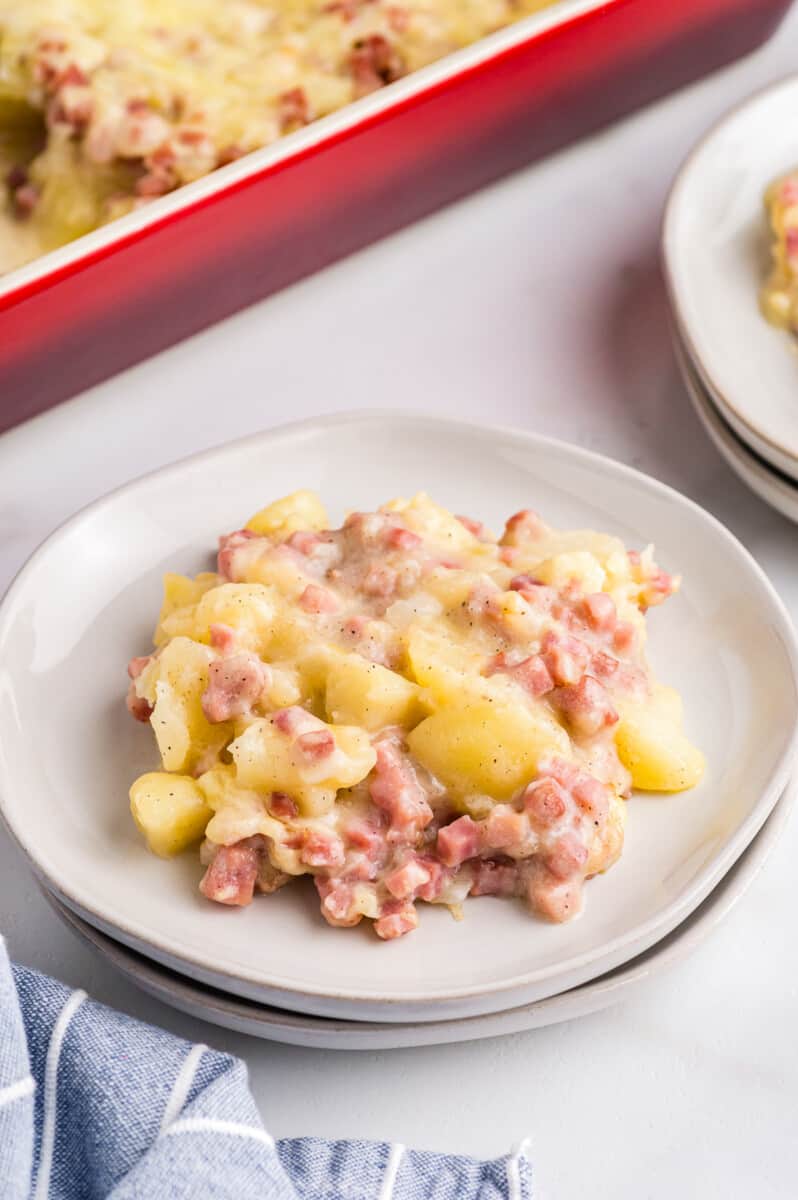 This easy, cheesy ham and potato casserole recipe is a family favorite. It's delicious and so easy to make any time.
If you make this recipe be sure to upload a photo in the comment section below or leave a rating. Enjoy!