Updated April 22, 2020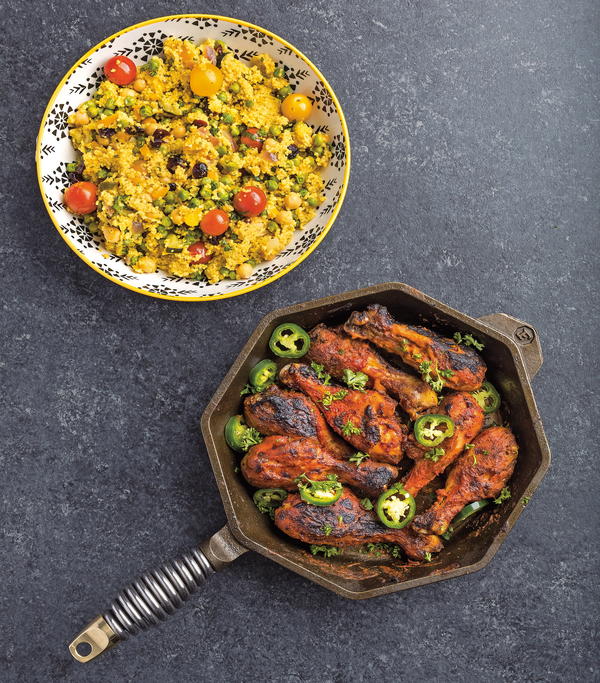 Harissa Grilled Chicken
This image courtesy of Jakob Layman
The  first  time  I  tasted  harissa,  I  was  blown  away  by  the  smoky  depth  of  flavor.  I  knew  I  wanted  to  keep  it  in  my  refrigerator,  so  I  started  buying  the  store-bought  version  to  season  pretty  much  everything  I  was  eating.  The  only  problem  was  that  a  jar  of  harissa  didn't  last  very  long  in  my  kitchen;  so,  I  turned  to  making  my  own  version  at  home.  I  added  a  can  of  fire-roasted  tomatoes  to  my  recipe  to  add  some  bulk  to  the  sauce.  
The  smokiness  of  the  harissa  sauce  really  adds  a  lot  of  flavor  to  chicken  that  is  being  prepared  
on  the  grill.  I  love  to  grill  harissa  chicken  in  the  summer.  I'm  instantly  transported  to  memories  of  holidays  like  Memorial  Day  and  Independence  Day  and  large  cookouts  with  family  and  friends.
Ingredients
Harissa Sauce
2 large jarred or fresh roasted red bell peppers
5 cloves garlic
1 (15-oz [420-g]) can fire-roasted tomatoes, drained
2 tablespoons (16 g) smoked paprika
2 medium jalapeño chiles
1 small habanero chile
6 tablespoons (90 ml) olive oil
Ground cumin, to taste
Ground coriander, to taste
Crushed red pepper flakes, to taste
 
Chicken
1 tablespoon (8 g) garlic powder
1 tablespoon (8 g) paprika

1

/

2


tablespoon (4 g) ground cumin
1 teaspoon ground cinnamon
1

1

/

2


teaspoon (8 g) salt
1 teaspoon black pepper
5 pounds (2.3 kg) chicken drumsticks
10 ounces (300 ml) Harissa Sauce
Instructions
To make the sauce, combine the bell peppers, garlic, tomatoes, smoked paprika, jalapeños, habanero, oil, cumin, coriander and crushed red pepper flakes in a food processor. Process until the mixture is uniform. Transfer the sauce to jars and store in the fridge for up to 2 weeks.

To make the chicken, preheat the grill to 400°F (204°C).

In a small bowl, combine the garlic powder, paprika, cumin, cinnamon, salt and black pepper.

Place the drumsticks and spice mixture in a large resealable bag. Shake the bag, ensuring that each piece of chicken is coated with 
the spices. 

Place the drumsticks directly on the grill and flip them every 5 to 7 minutes.

Once the drumsticks start to brown, move them to the side of the grill, away from the direct heat. When the internal temperature of the 
drumsticks reaches 190°F (88°C), baste the chicken with the harissa sauce and cook for 2 to 5 minutes.

Remove the drumsticks from the grill and let them rest for 5 minutes before serving.
Reprinted with permission from Flavors of Africa by Evi Aki, Page Street Publishing Co. 2017. Photo credit: Jakob Layman
YOUR RECENTLY VIEWED RECIPES
Free recipes, giveaways, exclusive partner offers, and more straight to your inbox!
Thank you for signing up!
We were unable to sign you up – please try again.
We are adding your Comments.

Thank you! Your comment has been added.
We are sorry. There was an error tyring to post your rating and review.
Your comment will appear after our editors have had a chance to review it.