This Kalua Crock Pot Pulled Pork is a Hawaiian favorite! It's super easy to make in your slow cooker and you only need 3 ingredients! Enjoy it on a Hawaiian roll with your favorite slaw!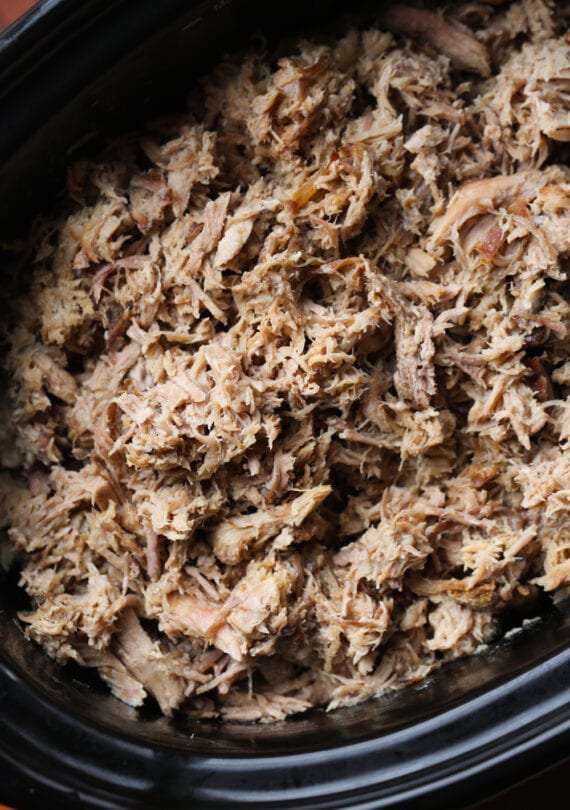 Kalua Pork Is the Easiest Way to Make Pulled Pork in the Crock Pot
Okay, I know there's a million ways to make pulled pork in a crock pot. But, this Hawaiian style is the most tender, flavorful, and easiest I've tried, yet! Seriously, there are only 3 ingredients. It doesn't get any easier than that! 
You may have seen this by some other names, like Kalua pig or luau pork. The name might be different but the tender, smoky flavor is the same!
Pulled pork is a fav of mine to have around because you can use it so many ways. This pulled pork is extra special because the simple ingredients with big Hawaiian flavor make it THE BEST pulled pork to add to just about anything!
You Only Need 3 Ingredients for this Kalua Pork Recipe!
Yes! You read that correctly – just 3 ingredients for the most mouth watering, flavor packed pulled pork you've ever tried!
Here's what you'll need:
boneless pork butt roast 
Hawaiian sea salt
liquid smoke
What is Hawaiian Salt?
Hawaiian salt is actually Alaea Salt. And now you might say, well, what is Alaea Salt? It's a res salt that in unrefined sea salt that's been mixed with volcanic clay that is rich in iron oxide. The red clay is what gives Hawaiian salt it's red coloring.
They say that this type of salt really helps seal in the moisture when cooking meats. It has a mild, ,mellow salt flavor that can also be used in basically all of your other dishes you would use salt. And is especially a nice touch for a finishing salt.
I bought mine on amazon.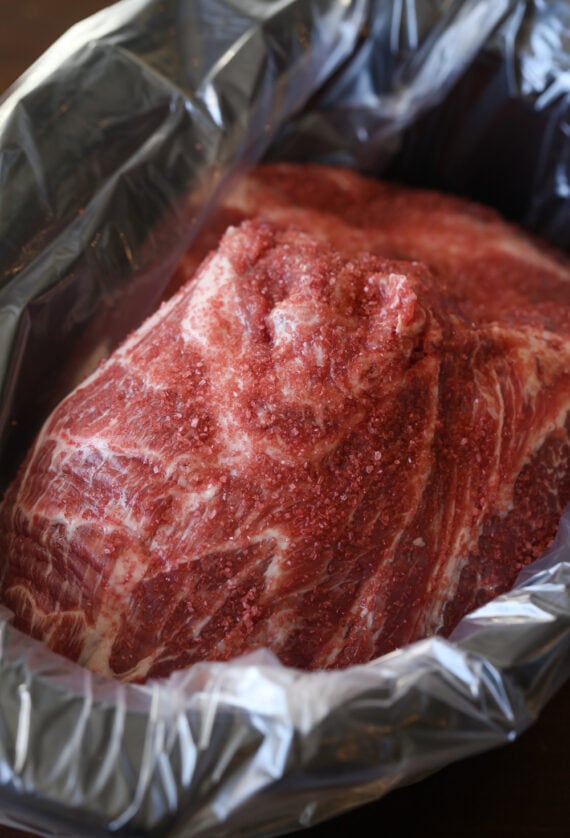 How to Make Kalua Crock Pot Pulled Pork
Assemble: Place the pork butt in your slow cooker. Sprinkle it with salt and add in the liquid smoke.
Cook: Turn the slow cooker on low and cook the pork butt for 18 hours. Turn the meat over once during the cooking.
Remove: When the meat is tender and easily shreddable, remove it from the slow cooker into a large bowl.
Sauce: Transfer the liquid into a medium sauce pot. Boil the liquid until it's reduced by half. This will take approximately 20 minutes.
Shred: While the liquid is boiling, shred the meat and return it to the slow cooker. Turn the slow cooker to the warm setting.
Combine: Once the liquid is reduced add a little at a time back to the meat until the desired moistness and flavor is added.
Tips for the Best Pulled Pork
I'm telling you, this is the best, most flavorful, and easiest crock pot pulled pork recipe you will find! Follow these tips to make sure it turns out perfect every time:
If you use a smaller roast, be sure to use less salt and smoke, too. You don't want to end up with too salty pork. 
You will also want to adjust your cooking time for a smaller roast. Keep an eye on it and remove the roast when it is just about to fall apart when poked with a fork. 
If you can't find the Hawaiian sea salt, you can sub it out for Pink Himalayan sea salt.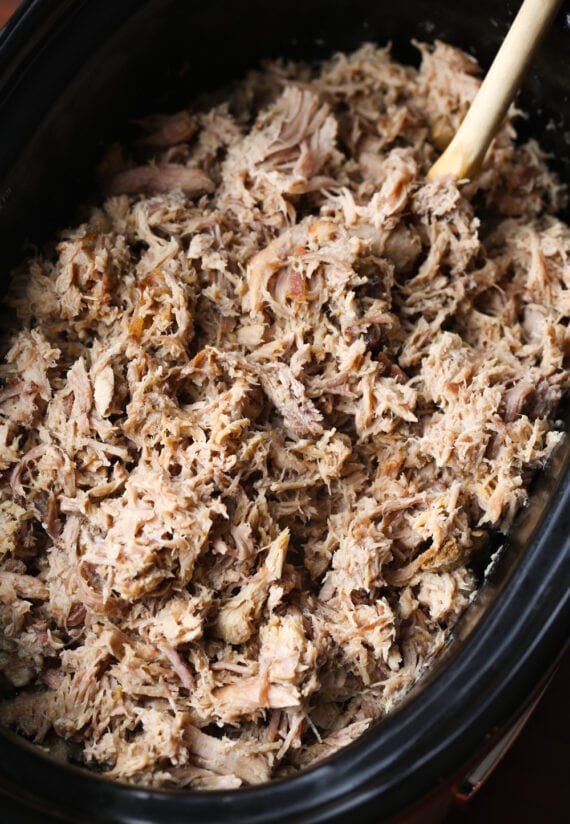 Ways to Use Pulled Pork 
I serve this smoky Kalua pulled pork on Hawaiian rolls topped with my favorite coleslaw. You can make your sandwich on a snowflake roll or dinner roll and add a slice of provolone or Swiss cheese. My Parker House rolls are amazing on the side too!
Try it on top of a flatbread pizza along with your favorite cheese, some sliced green onions and pineapple. 
I also serve this pulled pork in quesadillas, burritos, and tacos. Or on top of a heaping helping of beans and rice, a big Mexican or southwestern salad, or on top of a huge plate of cheesy nachos! 
If you're looking for something lighter, you can serve Kalua pulled pork as lettuce wraps. 
You can even eat it plain with a serving of sticky rice and some fried plantains. 
How to Store and Reheat Leftovers
You can store your leftover pulled pork in an airtight container in your refrigerator. Just let it come to room temperature before you add it to the container. It will stay in your fridge for about 5 days. To reheat it, simply add it to a pan over low heat until it is warm and then use it however you'd like (I vote for on nachos!)
I also love to freeze this pulled pork to use at a later time. It will stay in your freezer for about 5-6 months. You can allow it to defrost and then use it however you prefer. 
Looking For More Pulled Pork? Try These Other Versions…