This Healthier Slow Cooker Spaghetti and Meat Sauce is loaded with veggies and protein but tastes just like your old favorite! It cooks completely in the slow cooker — even the pasta! Includes step by step recipe video.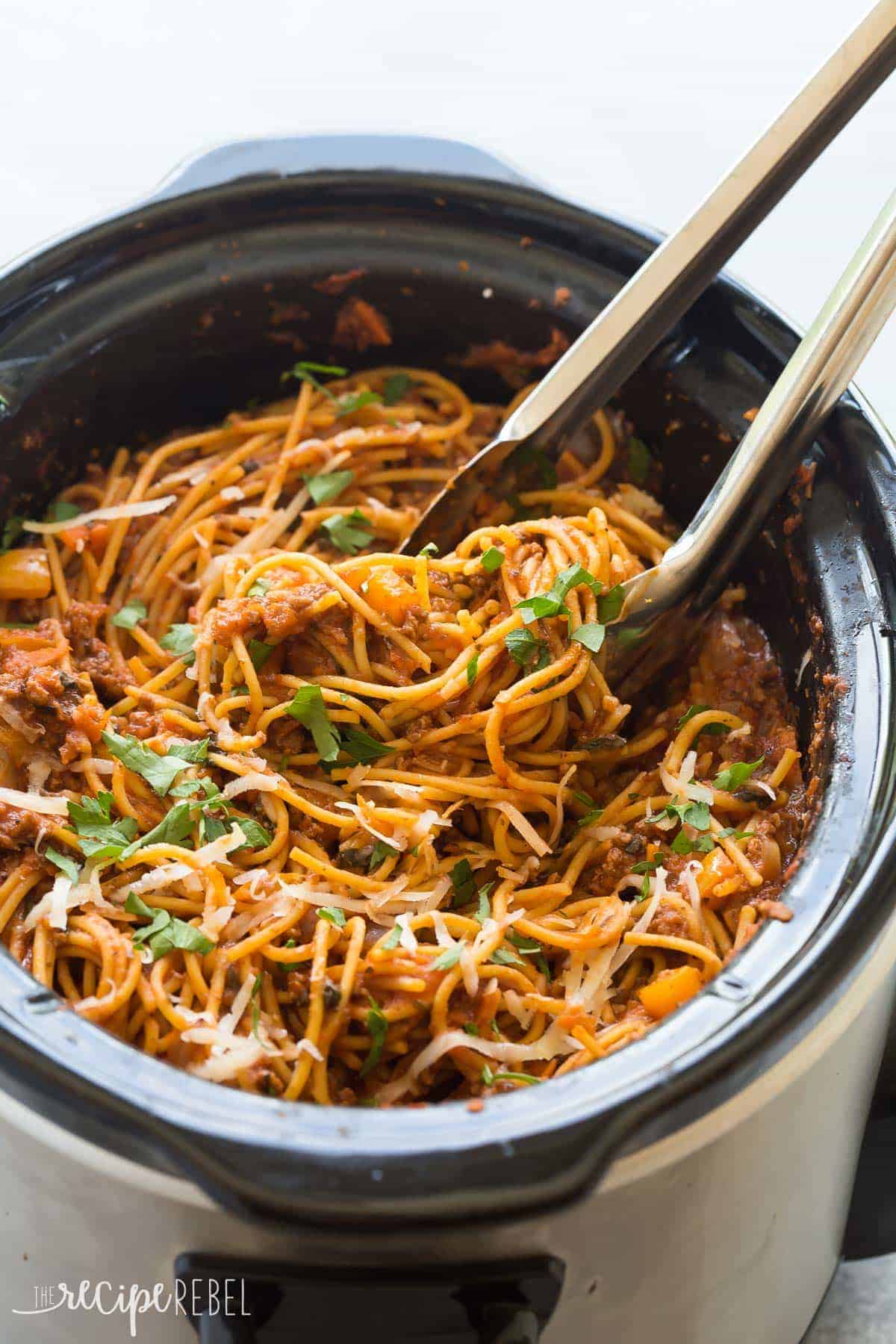 You GUYS.
I am seriously so excited about today's recipe. It just doesn't get any better than an entire, healthy meal with real ingredients made completely in the slow cooker. That bowl you use to microwave your ground beef? Yeah it doesn't count on our tally.
You heard me — read me?? — correctly. We are skipping the extra pan and microwaving our ground beef for this spaghetti sauce, and no one will ever know the difference, I promise.
This is also a great shortcut for those days, say, you forget to thaw the meat and you just zap it for a few extra minutes. Not that I ever have any days like that, but, you know — if I did ?
With our oldest in kindergarten this year it's become even more important that I can manage to get healthy, hearty meals on the table on a regular basis. She is one of those rare, beautiful species of 5-year-olds that still naps regularly, so she needs a little extra something to keep her energy high on school days when she doesn't get to bed!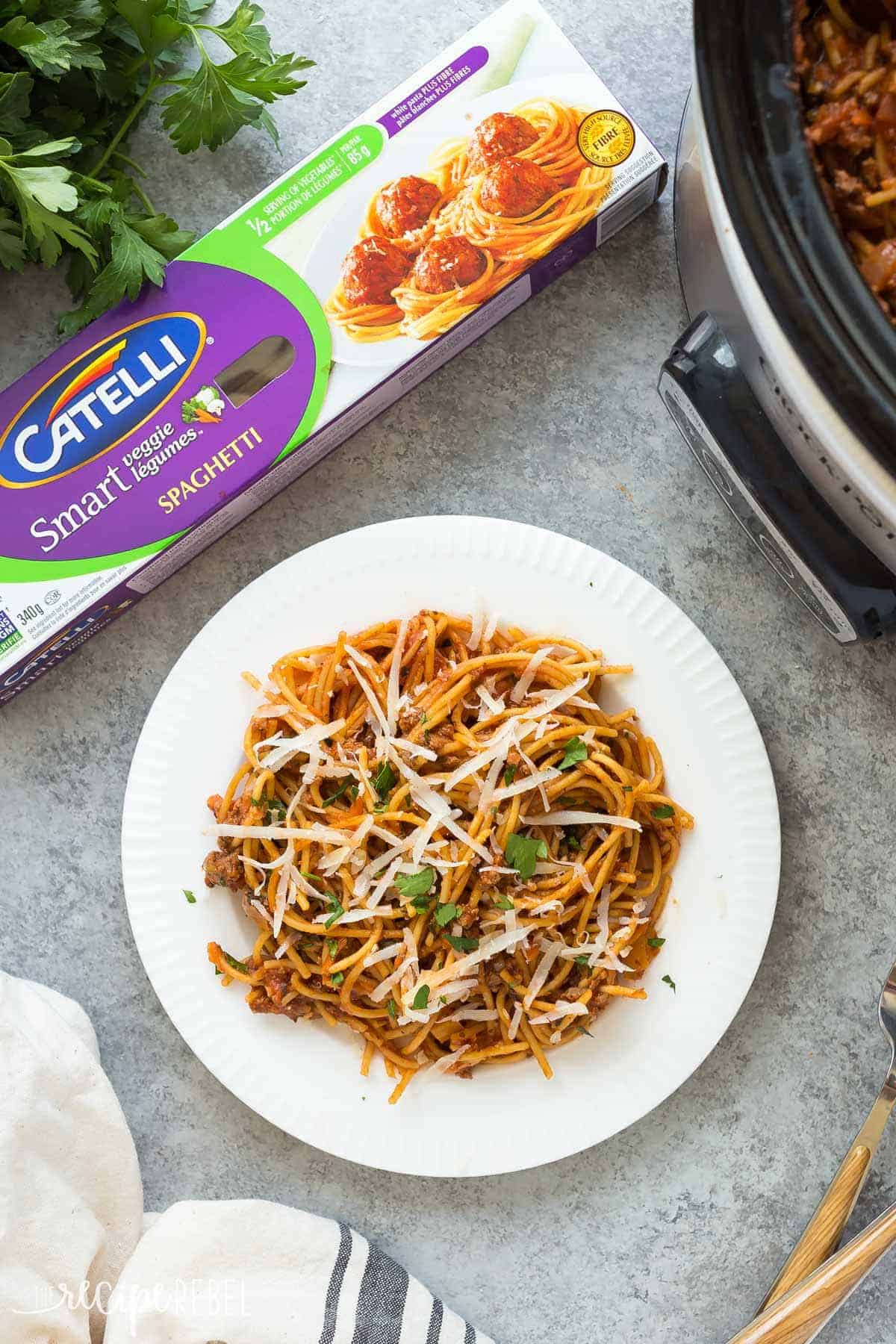 Maybe you have heard by now that I struggle to get my veggies in most days. Usually, I'm sneaking them in something delicious like this spaghetti sauce — they cook down and all the flavors work together so that you don't feel like you're just eating carrots or peppers or spinach (or whatever else you throw in it!).
It's also perfect for using up whatever you have left in your garden — almost anything goes here, including the last of those herbs! Mushrooms, zucchini, fresh tomatoes — those are all great additions as well.
And because more is more when it comes to our veggie intake, I used Catelli Smart Veggie Spaghetti (and since Catelli has been bringing us quality our family loves for 150 years this year, it's definitely a year to celebrate!). The Smart Veggie pasta packs in an extra half serving of vegetables right in your pasta, and is high in fiber and protein, making this just about the most perfect and well-rounded meal in your repertoire — just don't forget a sprinkling of freshly grated Parmesan to round things out ?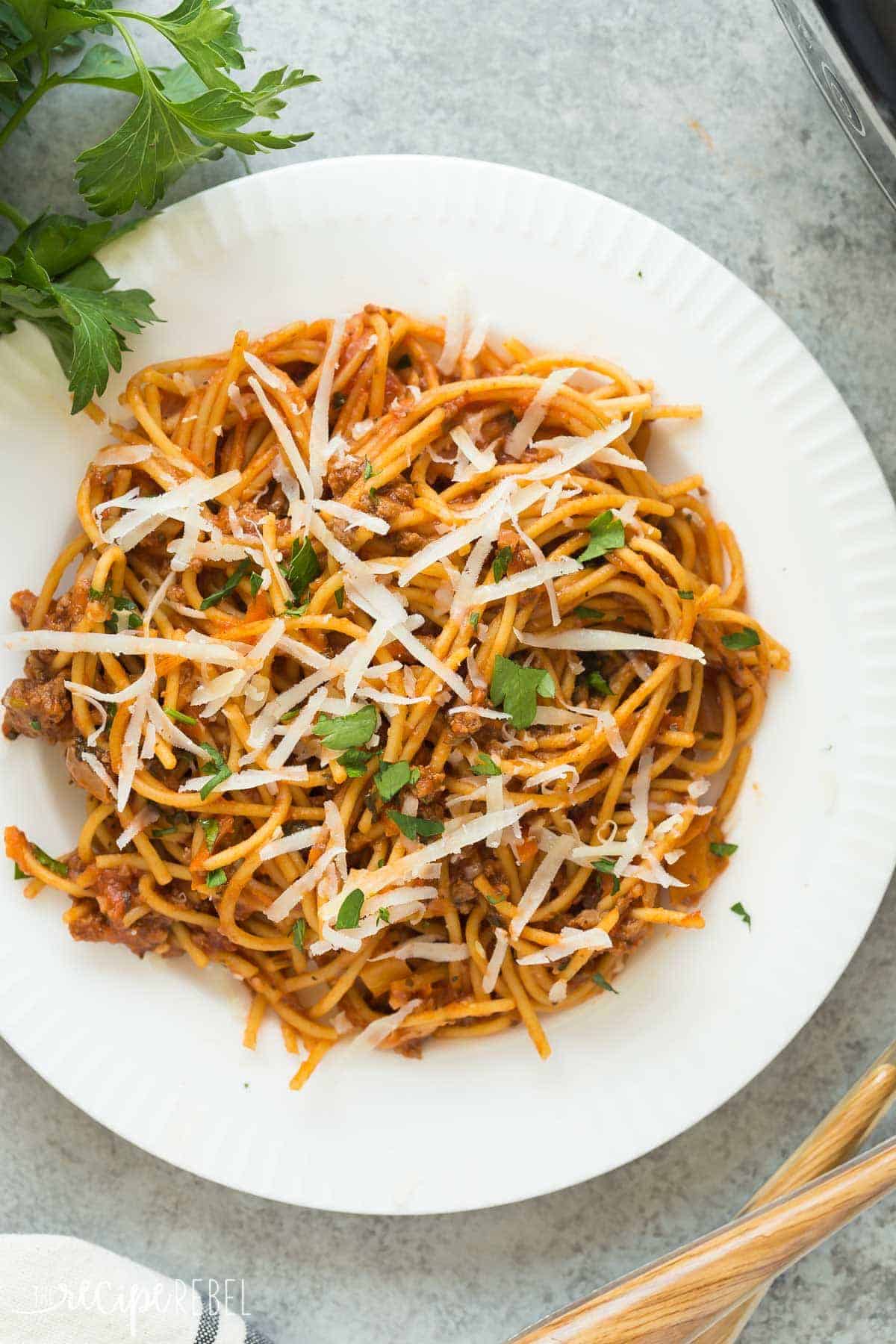 *This post is generously sponsored by Catelli — thank you for supporting the brands that make The Recipe Rebel possible!
Back in March (along with this Baked Mac and Cheese Cups recipe!), Catelli announced that they were giving away 3 $10,000 family reunion packages to families across Canada to celebrate 150 years of providing quality pasta popping up on kitchen tables across the country. The winners were chosen, and families gathered and celebrated together. Click here to see how everything came together in the end!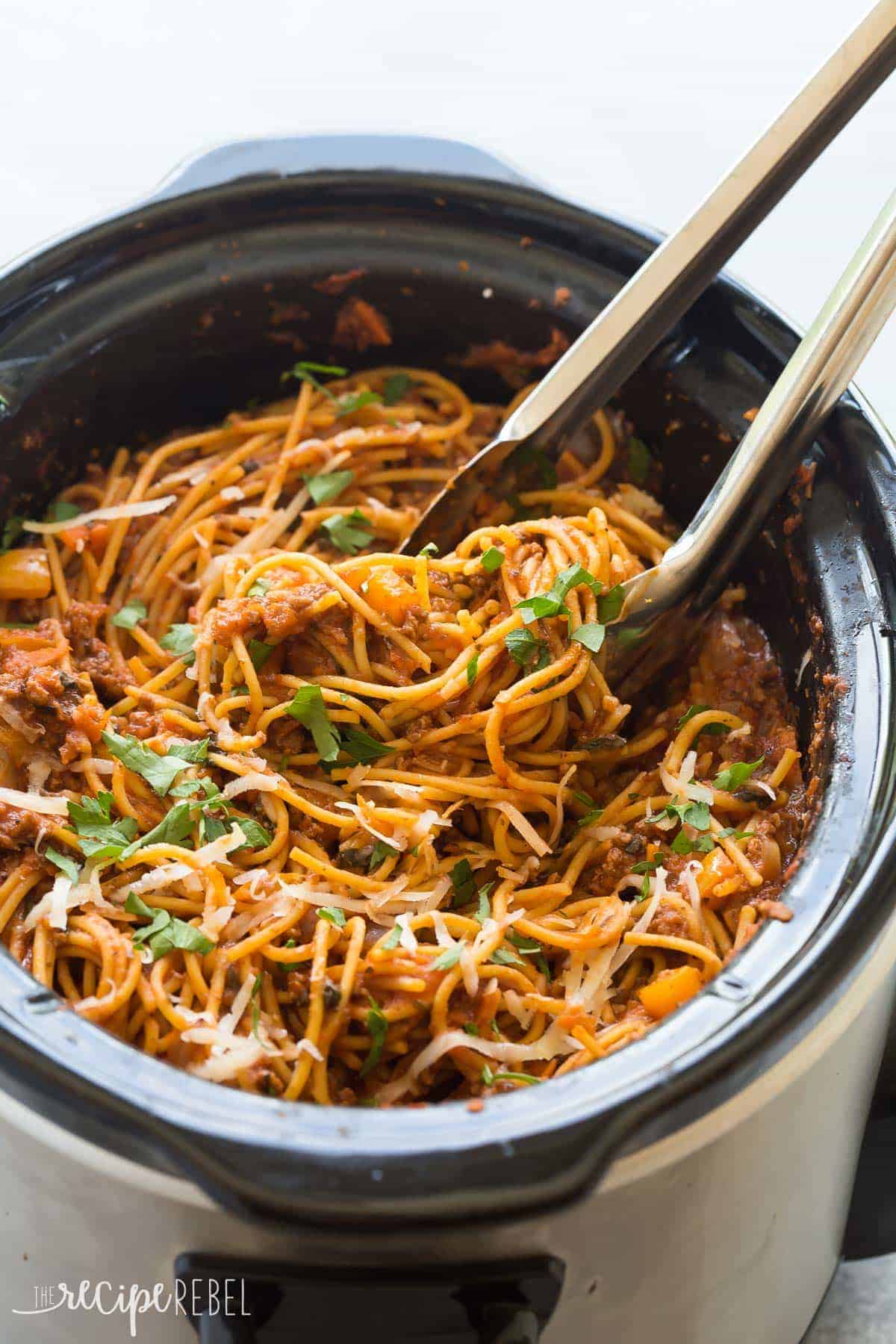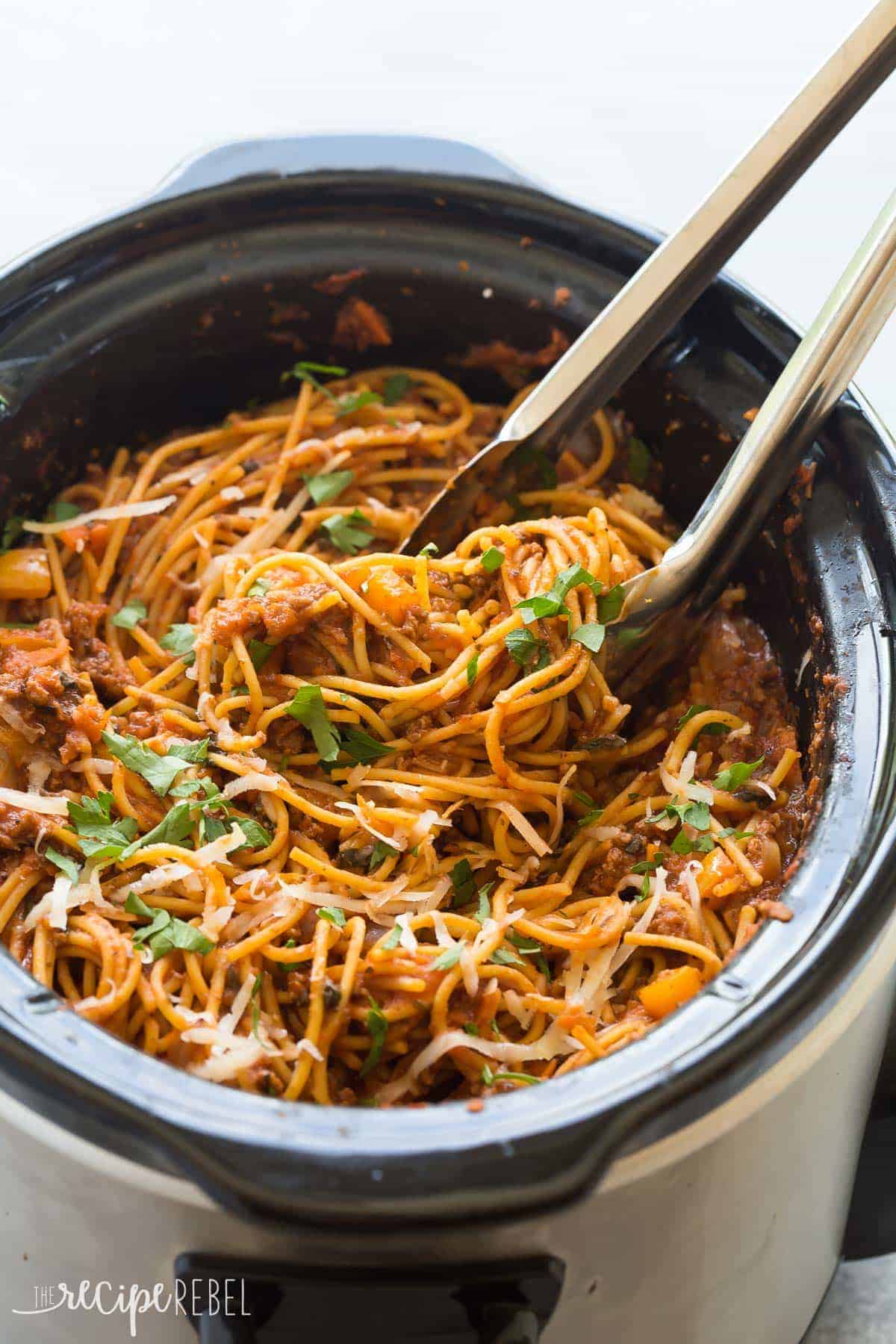 Ingredients
1

lb lean ground beef

1

medium onion, chopped

1

bell pepper, chopped

1

large carrot, shredded

1

cup fresh chopped spinach

2 1/2

cups low sodium chicken broth (or use water)

1

(28oz) can crushed tomatoes

2

teaspoons minced garlic

2

teaspoons dried basil

2

teaspoons dried oregano

1

teaspoon salt

1

teaspoon dried parsley

1/4

teaspoon black pepper

1 340g

box Catelli Smart Veggie Spaghetti

freshly grated Parmesan, optional
Instructions
In a medium bowl, microwave ground beef on high until cooked, about 6-8 minutes, stirring every 2 minutes. Drain any juices and add to 4-6 quart slow cooker.
Add onion, pepper, carrot, spinach, broth, tomatoes, garlic, basil, oregano, salt, parsley, and pepper. Stir well.
Cover and cook on low for 5-7 hours or high for 2-3 hours. Break spaghetti in half and stir into sauce in slow cooker.
Cover and cook on high for 5 minutes, stir to break up the pasta — you don't want clumps! Cover and cook another 5 minutes. Stir. If pasta is cooked to al dente, serve, or cover and cook on high for a few more minutes if necessary.
Sprinkle with Parmesan cheese and serve.