Easy20 minsGluten-Free
This Healthy Peanut Butter Cookies recipe is quick and easy to make with just 7 ingredients, it's naturally gluten-free and vegan (no butter or flour!), and it's irresistibly delicious.  Like, seriously.
This weekend marks exactly one month since we have been living in Barcelona.  And now that we're finally all moved into our (second) apartment, I've been officially feeling all of the nesting vibes lately.
We went out and purchased some new candles and thick, fuzzy blankets this weekend to make the house feel extra warm and cozy.  We (finally!) brought home some picture frames so that this place could feel a bit more like ours.  We brought home our first batch of Catalan hot chocolate, for a sweet winter treat.  And Barclay and I had a little holiday-cookie-baking date to make some little treats to take to our new neighbors, which made my heart all ? ? ?.
For those of you who've followed the blog for awhile, you know that neighbor-ing is one of my favorite things ever.
I just love how life randomly pairs you with these people living right beside you.  It kind of reminds me of how family works — you don't usually get to choose who your neighbors are, but often they turn out to be the people who see you the most, and often see the most unedited sides of you (ahem, in your PJs at 7am, pre-makeup, pre-awake, shuffling down the stairs to take the dogs out).  And even though they might not be people you'd normally hang with, there's something about the "there-ness" of neighbors that has always seemed so special to me.  And I love getting to know and learn from the people that the neighbor-lottery of life has placed nearby.
Anyway…so as probably comes as no surprise, I've been eager to get to know our neighbors in our new little building in Barcelona.  So Barclay and I decided to bake up a big batch of cookies to take around over the weekend to say "hola".  I wanted to be sure that everyone (hopefully) could enjoy them, so I've been tinkering around all week trying to make the perfect gluten-free and vegan healthy peanut butter cookies that I could wrap up in these cute little mini gift boxes from Pampered Chef.
And oh man, guys, I think I finally nailed it.
In addition to being irresistibly delicious, these cookies are made with just 7 ingredients, there's no mixer required (ha, a must, since we still don't have one here), they're naturally free of flour and butter and dairy, they only take about 10 minutes to prep, and they are perfect for gifting.  And they are — as one of our new neighbors said — "perfecto."  (Success!!!)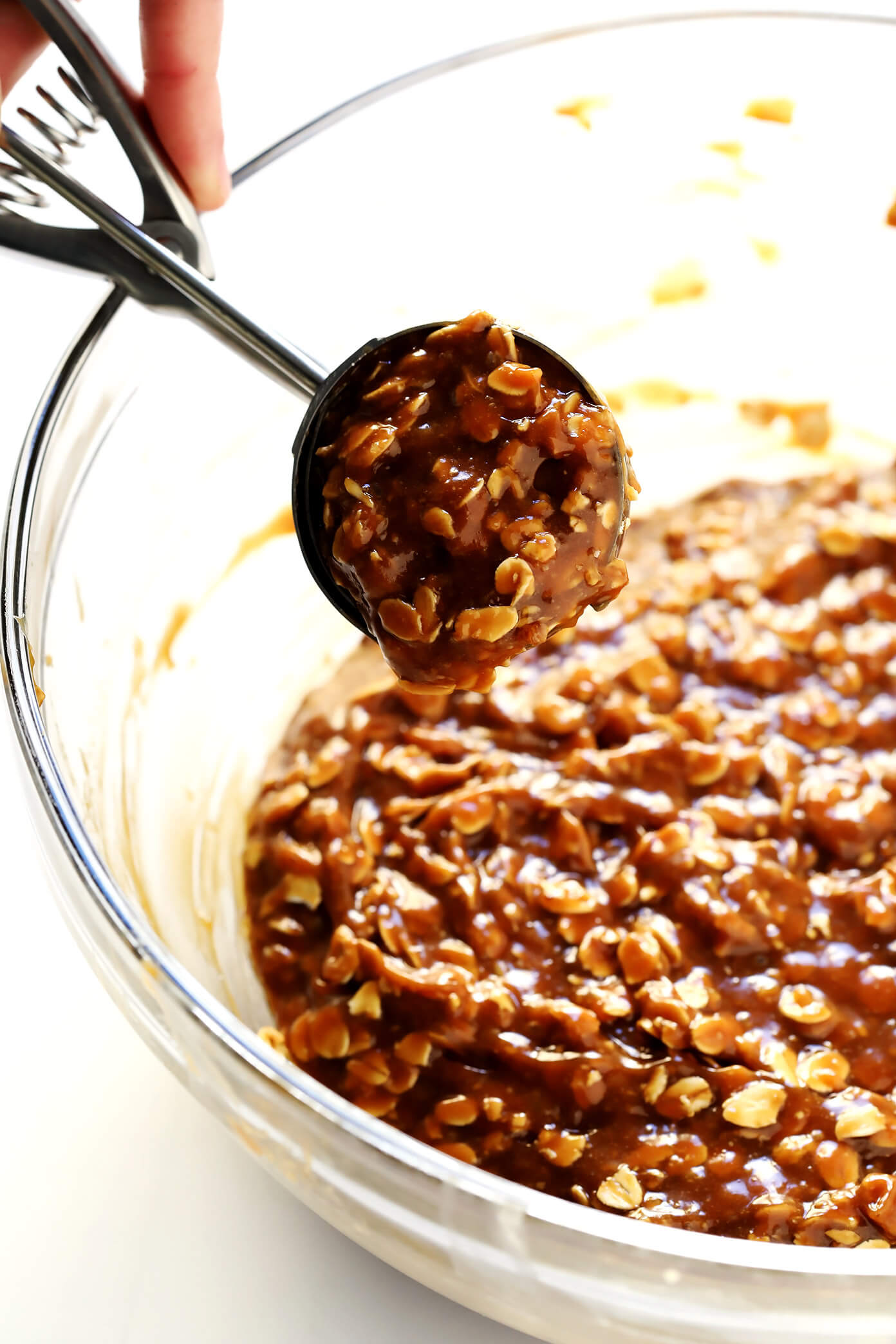 I'm not kidding about the "easy to make" part, too.  Just stir all of your ingredients together in a bowl, and you'll have a sticky batter that kind of resembles no-bake cookies.  (But don't fret, they'll bake up beautifully.)
Then, use a large cookie scoop to scoop the batter onto a parchment-covered cookie sheet.  And on that note — I'm excited to be partnering with Pampered Chef on this post because I have been singing the praises of their cookie scoops (both large and small) for years and years.  Seriously.  I've learned the hard way in the past that not all cookie scoops are created alike, nor are made to stand the test of time.  But I've literally owned my Pampered Chef scoops for over 8 years now, and they continue to perform like champs every time with cookies, muffin batter, ice cream and more.  So if you're looking for some stocking stuffers, or just getting ready to do lots of holiday baking yourself, PSA — I can't recommend them enough.  (You can purchase them through a local consultant or directly at PamperedChef.com.)
Alright, moving on.  Sprinkle those cookies with a pinch of Maldon salt (if you'd like), then pop them in the oven for about 10 minutes…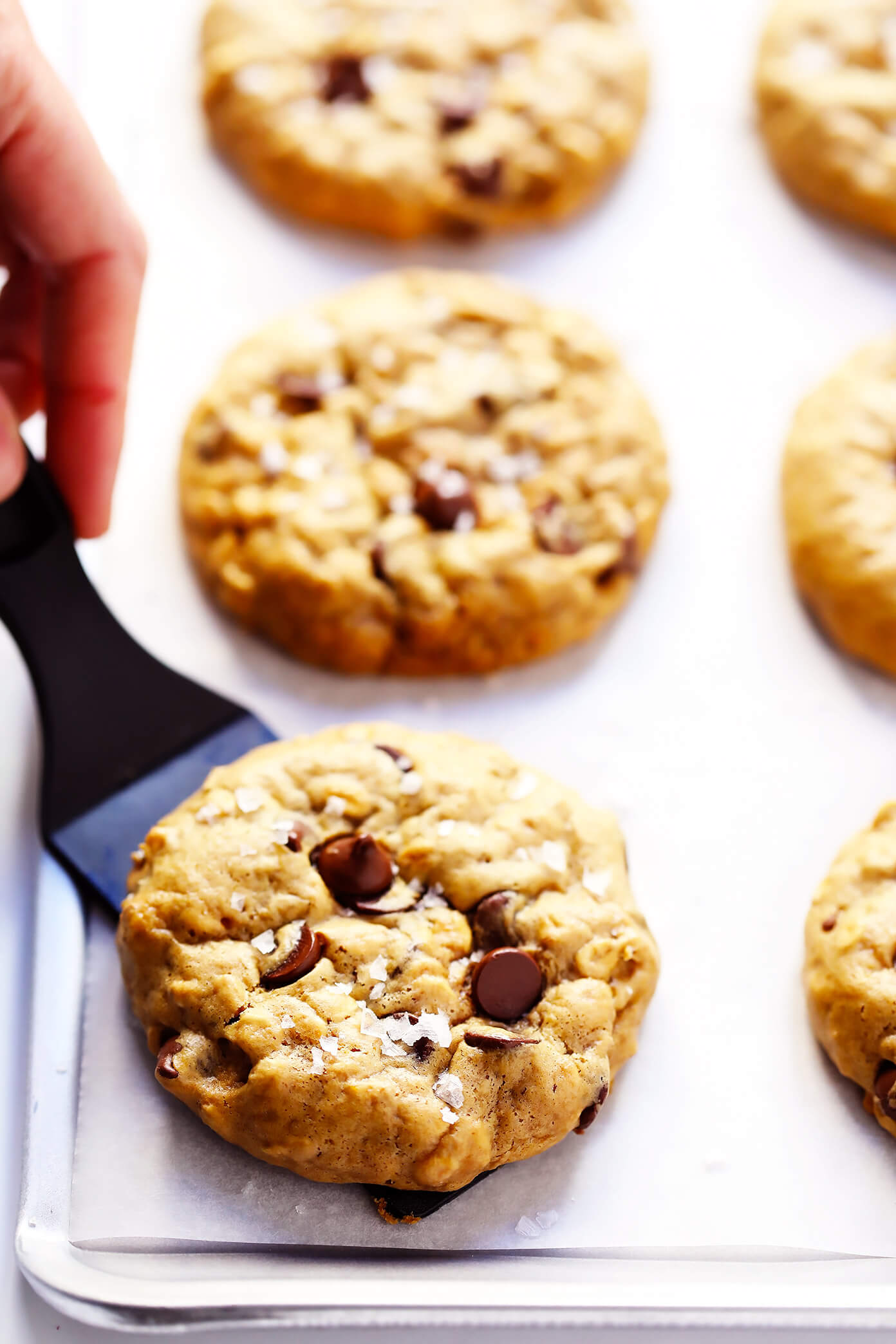 …and then these sweet treats will be yours to enjoy.
They're light and fluffy and less dense than regular flour-based cookies. But all of those delicious oats in there still make them nice and chewy. They're not overly sweet, although feel free to add in an extra 1/4 cup brown sugar if you'd like a sweeter cookie.  And — my main priority with peanut butter cookies — they legit taste very peanut buttery.  Bonus, they're made with natural peanut butter, so you can feel even better about enjoying every bite.
I also stirred some chocolate chips into mine, because, chocolate.  (Or if you're making these vegan, vegan chocolate.)  But feel free to stir in some extra peanuts or nuts, or dried fruit if that's your thing, or you can just bake them up plain.  I do just highly recommend adding a sprinkle of salt on top to bring out all of those delicious flavors.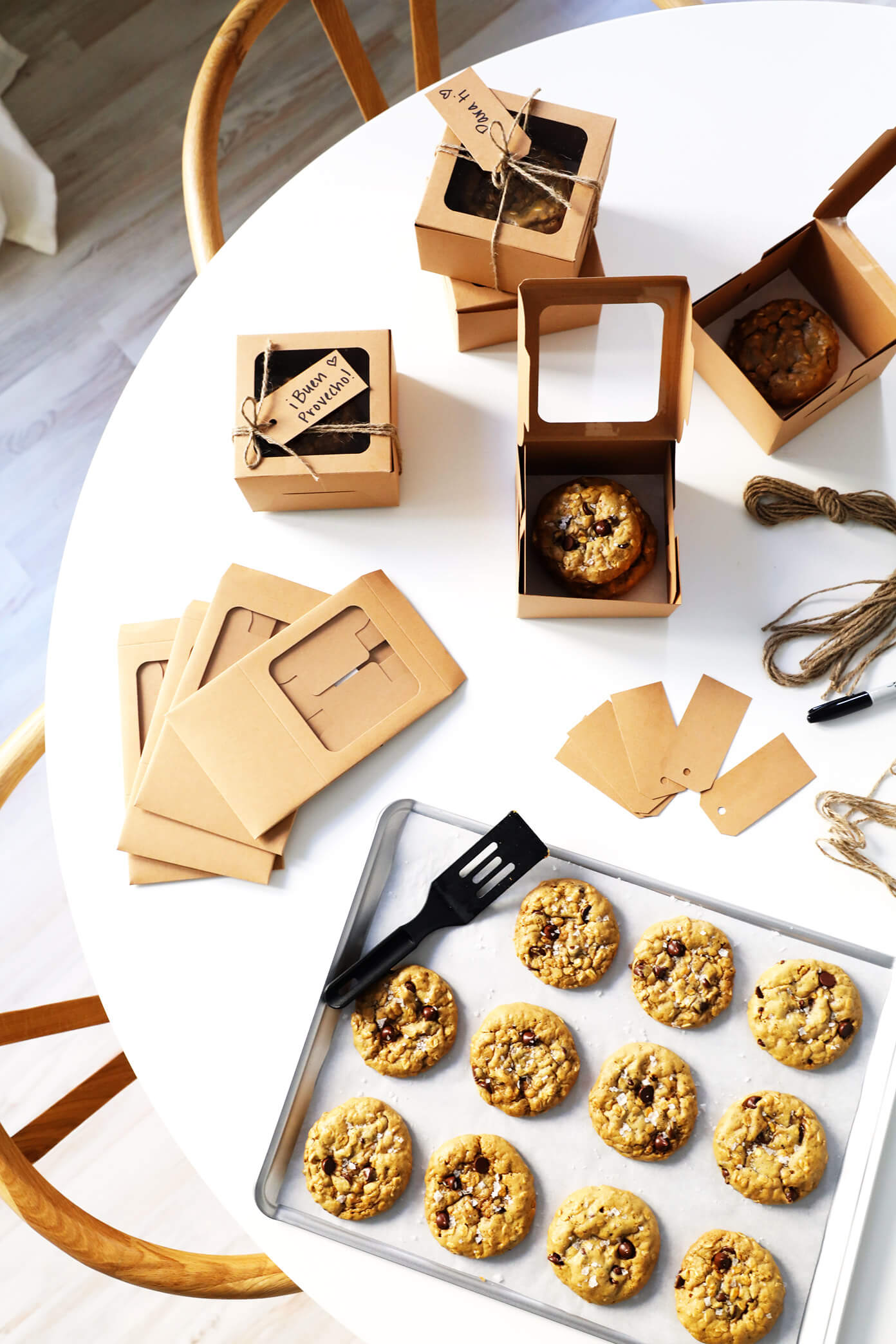 And if you feel like sharing, I can vouch that these indeed make for delicious holiday gifts!!
I wrapped mine up in these adorable mini cake boxes from Pampered Chef, which include little liners inside and twine and gift tags and everything.  And make any baked good look even cuter.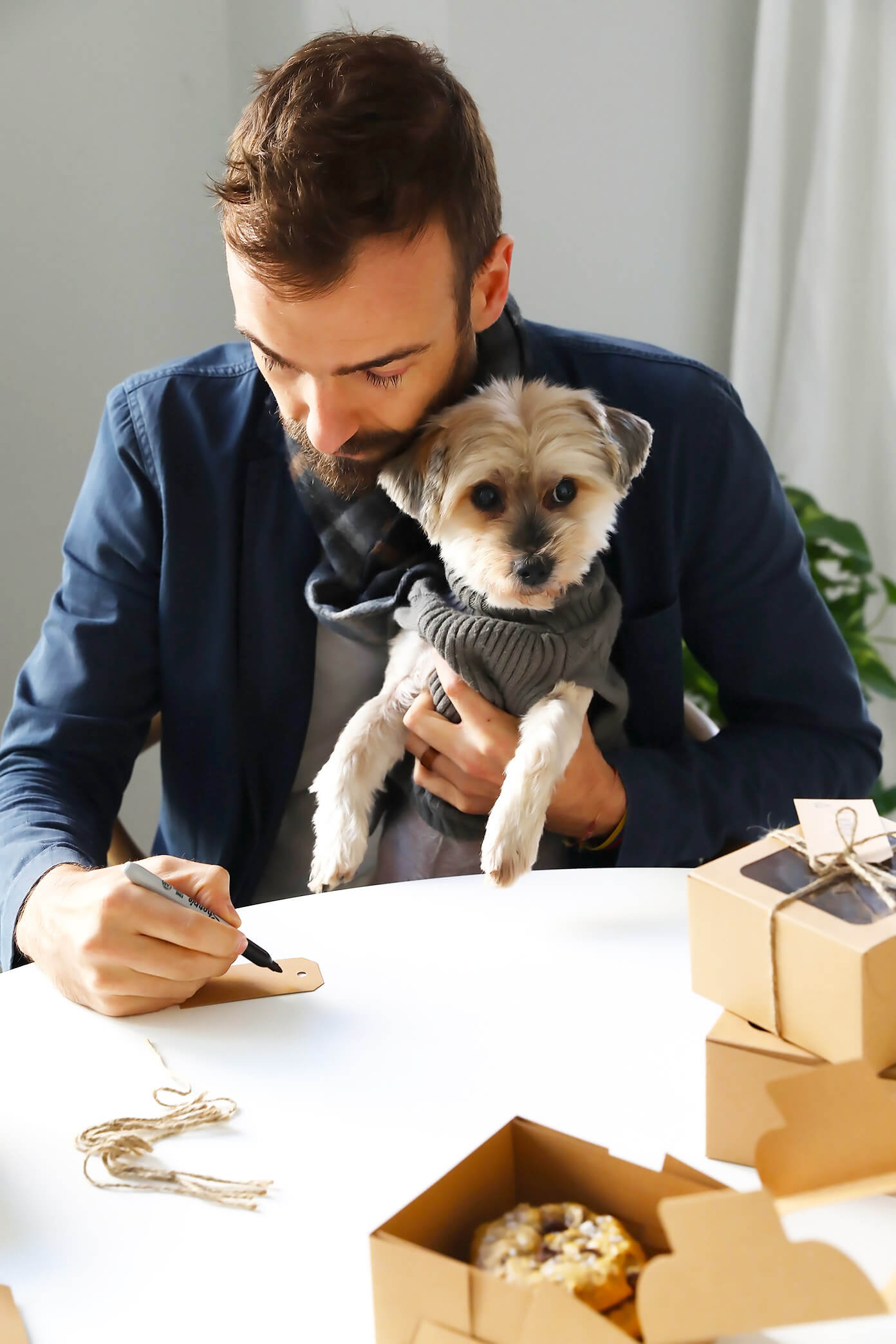 Also cute?  My two handsome helpers.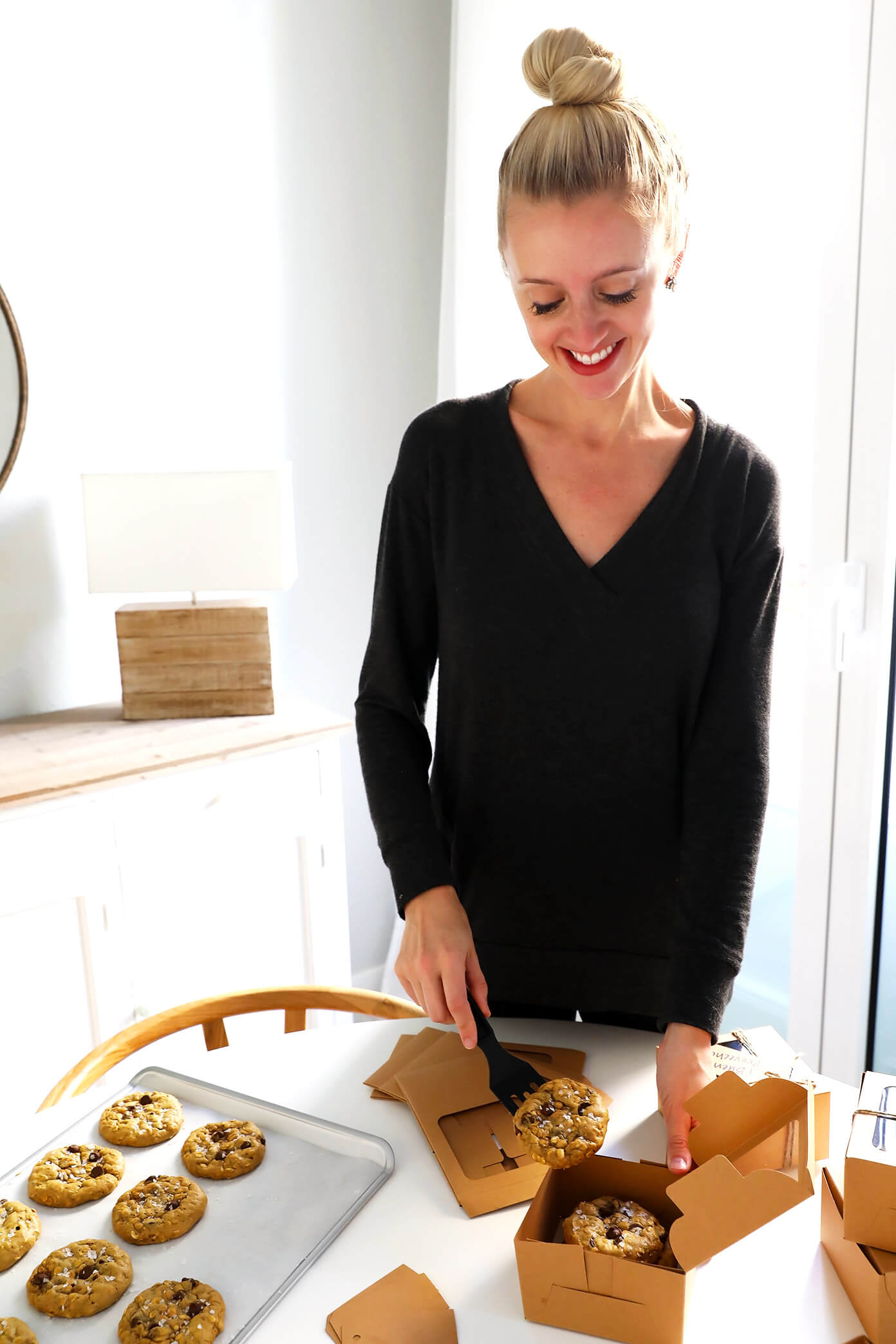 We made a half dozen boxes to take around to our neighbors.  And then also shared some with the electrical repairman who came to fix our heater, and our mailman, and two of our friends who stopped by for a visit.  Cookies for all!
And I'm happy to say, there were rave reviews all around.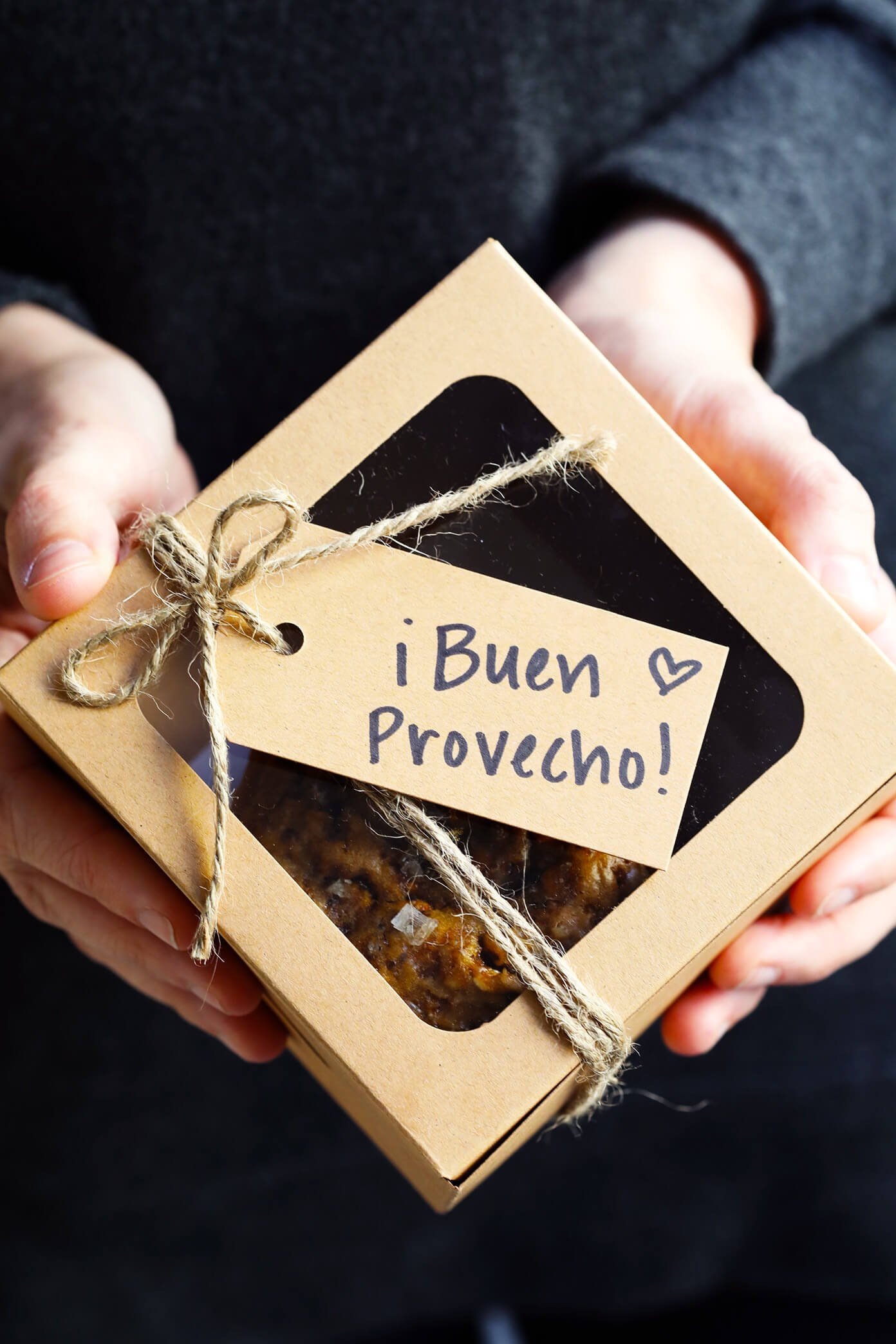 Buen provecho, everyone!
(Oh, and I couldn't resist leaving you with one extra dose of cuteness for your week ahead.  ?)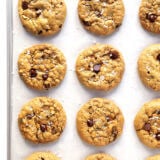 Yield: 12-14 Cookies
Healthy Peanut Butter Cookies
These Healthy Peanut Butter Cookies are easy to make with just 7 ingredients, they're naturally vegan and gluten-free, and they're so delicious!  Feel free to add in a few extra tablespoons of brown sugar if you'd like a sweeter cookie.  (And don't forget the salt on top!)
Ingredients:
2 eggs
1/2 cup brown sugar
1 teaspoon baking soda
1/4 teaspoon salt
1 teaspoon vanilla extract
1 cup 

natural

peanut butter
1 cup old-fashioned oats
optional: 1/2 cup semisweet chocolate chips* or chopped nuts, plus Maldon salt for sprinkling
Directions:
Heat oven to 350°F.  Line a cookie sheet with parchment paper, set aside.
In a large bowl, whisk eggs and brown sugar together until smooth.  Sprinkle the baking soda and salt evenly over the top of the mixture, and stir until combined.  Add in the vanilla and peanut butter, and stir until combined and smooth.  Stir in the oats (and chocolate chips, if using) until combined.
Use a large cookie scoop (approx. 3 tablespoons) to scoop the dough onto your prepared baking sheet.  Use your fingers** or a spatula to slightly flatten the tops of the dough balls, and sprinkle with a pinch of flaked salt if desired.
Bake for 10 minutes.  Then remove from the oven, and let the cookies cool on the baking sheet itself.
Serve warm.  Or store in a sealed container for up to 3 days, or freeze for up to 3 months.
*If making these cookies vegan, be sure to use vegan chocolate chips.
**The dough will be sticky, so I find that it helps to wet your fingers slightly with a bit of water so that the dough doesn't stick.
Difficulty: EasyCategory: Gluten-Free


All images and text ©Gimme Some Oven
If you make this recipe, be sure to snap a photo and hashtag it #gimmesomeoven. I'd love to see what you cook!
This post has been sponsored by Pampered Chef, whose baking products I have used and loved for years. I was compensated to write this post, but all opinions are mine as always.