This Homemade Cinnamon Babka Recipe is a sweet, buttery yeast bread with a delicious cinnamon swirl! Making babka from scratch is extra delicious! Perfect for a holiday breakfast, or even just a weekend when you're feeling extra domestic. Slather it with butter and you will be in LOVE!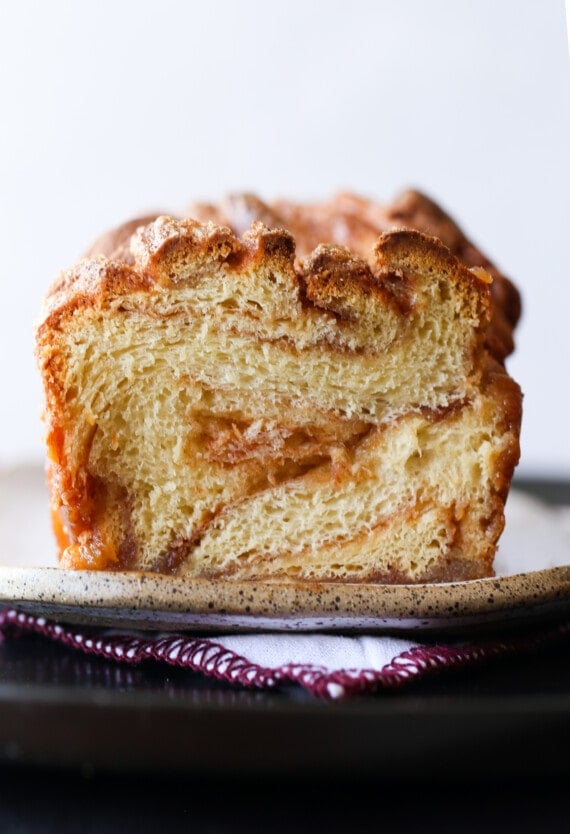 This Fluffy Homemade Babka Recipe Is the BEST!
Tired of whipping together batches of banana bread and zucchini bread? If you are, consider adding in more chocolate chips – that always renews my interest. But hold off on that for the moment, because you're going to want to give this Cinnamon Babka Recipe a try.
Cinnamon babka is so fluffy and tender, and the cinnamon-sugar combination is such a treat for the tastebuds. It's really fun to make too! How many other bread recipes call for twisting the dough together?
Also, can you think of a better indulgent breakfast? This babka is everything you love about cinnamon rolls, but with considerably less mess. Just slice yourself a piece, and be on your way!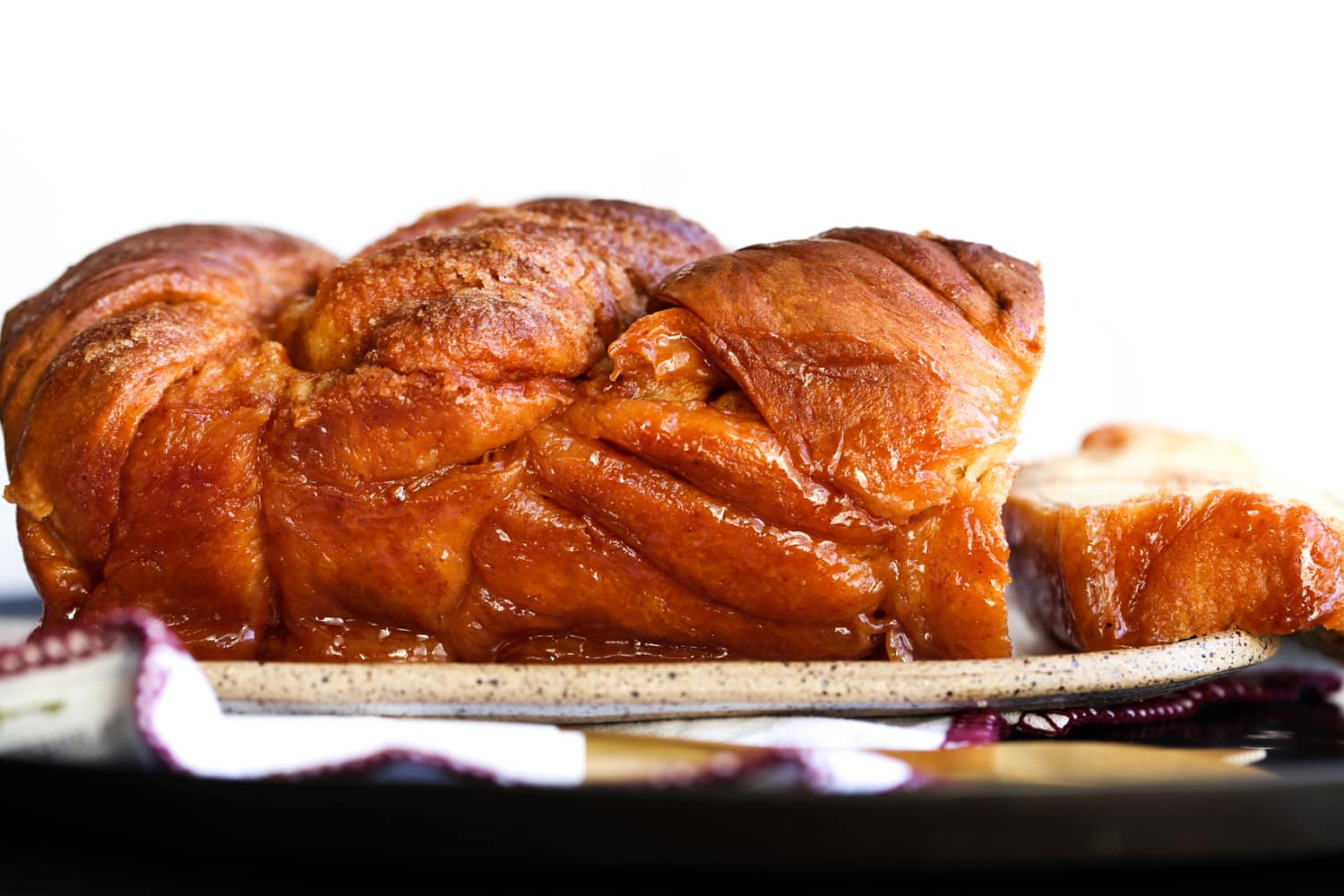 What is Babka?
Babka originated in the Jewish communities of Poland and Ukraine – it's essentially a braided bread that has become sweeter and sweeter over time. The first versions were made with challah dough, that was then twisted up and filled with jam, and baked. Now these dough twists can be packed with anything from cinnamon to chocolate – and don't forget the sugar syrup either!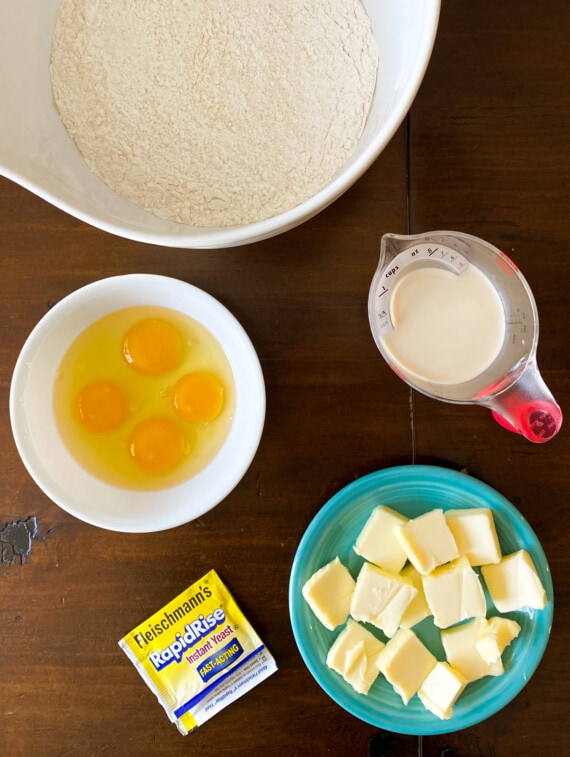 What You'll Need For This Babka Recipe:
What goes into making cinnamon babka? Quite a bit, actually; these are the ingredients you'll need to round up in order to get started:
For the Dough
Flour: This recipe uses all-purpose flour – I needed about 4 cups, but you may need a little less or a little more depending on how the dough shapes up while you're mixing it.
Salt: Kosher salt balances/enhances the sweetness of the bread.
Sugar: I used granulated sugar, but you can substitute in brown sugar instead if you want to.
Instant Yeast: Any brand of Instant Yeast will work.
Milk: Let it come to room temperature before adding it to the dough.
Vanilla Extract: For extra sweet flavor.
Eggs and an Egg Yolk: Let these come to room temperature also.
Butter: Once again, make sure it's room temperature.
For the Filling
Butter: This time you'll need to melt it.
Cinnamon: Obviously you need some ground cinnamon for Cinnamon Babka!
Sugar
Kosher Salt
For the Sugar Syrup
How to Make Homemade Babka (With A Cinnamon Swirl!)
Making cinnamon babka may seem like a daunting process, but this step-by-step guide is here to assist! Here's what you'll need to do, starting with the formation of the dough:
Form the Dough: In the bowl of your stand mixer fitted with the hook attachment mix 3 1/2 cups flour, salt, granulated sugar, and yeast, until combined. Turn the mixer to low and add in the milk, vanilla, and eggs one at a time until mostly combined.
Add in the Butter: One tablespoon at a time until incorporated. Turn the mixer up to medium speed and mix for 10 minutes. Add in more flour as needed until it becomes soft, smooth, and elastic. I generally add in 4 cups total.
Let Dough Rise: Coat a large bowl in nonstick spray or oil and place the dough into the bowl, cover, and allow to rise for 1 hour in a warm, draft-free place.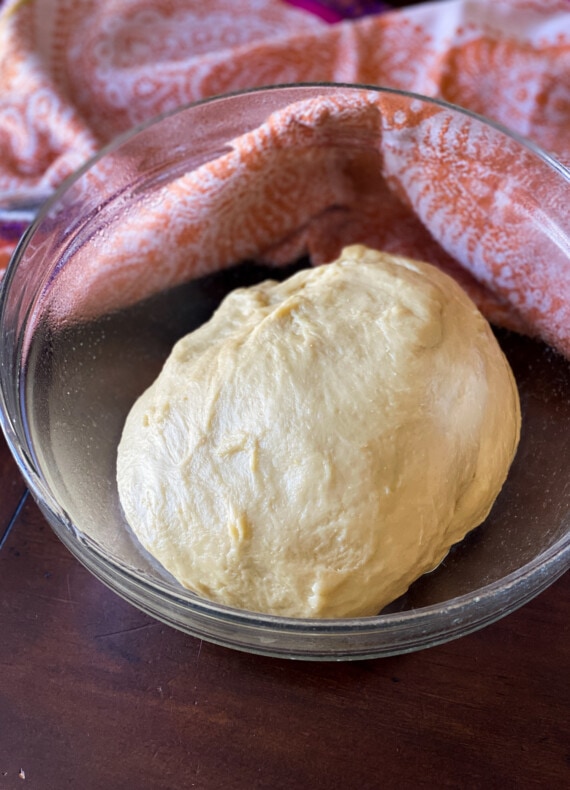 Make the Filling: In a medium bowl combine the butter, cinnamon, sugar, and salt. Set aside.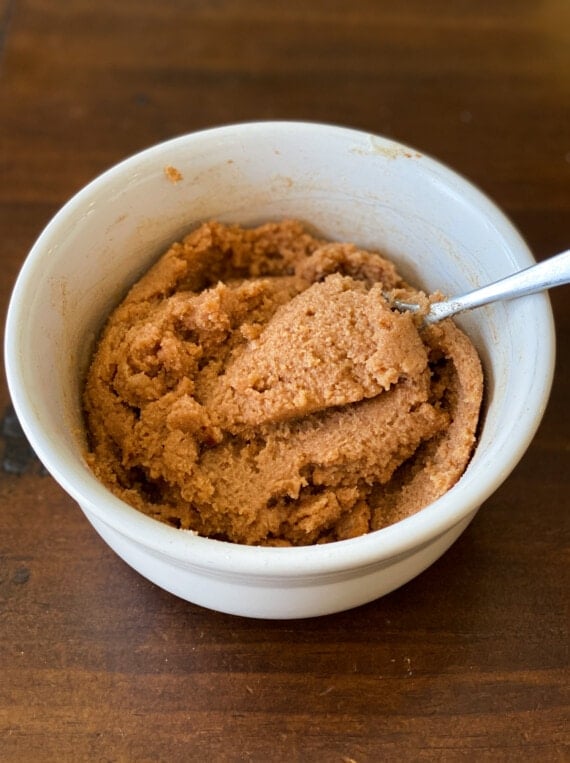 Prepare the Sugar Syrup: In a small saucepan combine the water and sugar. Bring to a boil and boil for 2 minutes, stirring frequently. Remove from the heat and set aside to cool.
Assembly: Coat 2 8×4- inch loaf pans with nonstick spray. Line the pans with parchment paper, allowing the paper to overhang the ends for easy removal.
Split Dough in Half: When the dough has risen, divide it in half. Working with one half at a time, roll out on a lightly floured surface into a 10×12- inch rectangle. Spread half of the filling onto the dough. Roll up the dough tightly from the 10- inch side into a log.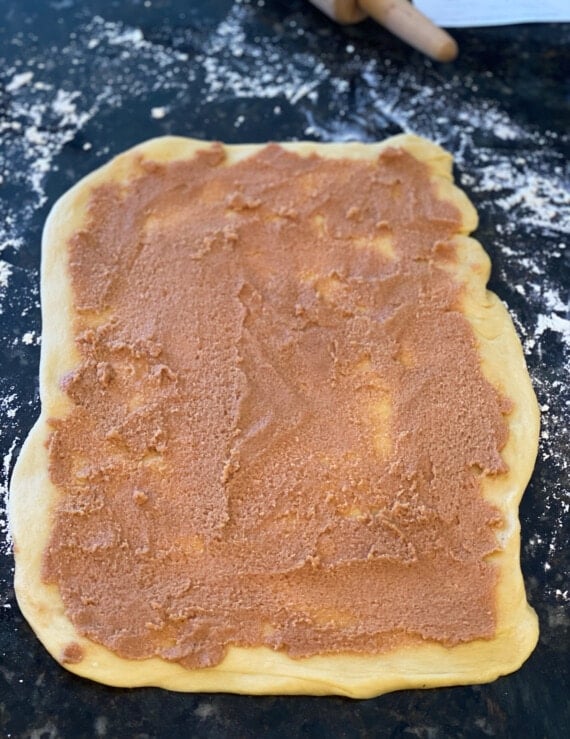 Slice the Dough: Cut the dough lengthwise down the middle, so the filling is exposed. Twist each half. Then twist the two halves together like a rope. Place the twisted dough into one of the prepared pans. Repeat this process with the remaining dough. Cover the pans and allow to rise for 30 minutes in a warm, draft-free place.