Homemade dinner rolls that are easier than you think, with a step by step recipe video and tons of garlic herb flavor! They're perfectly soft and fluffy. Includes how to recipe video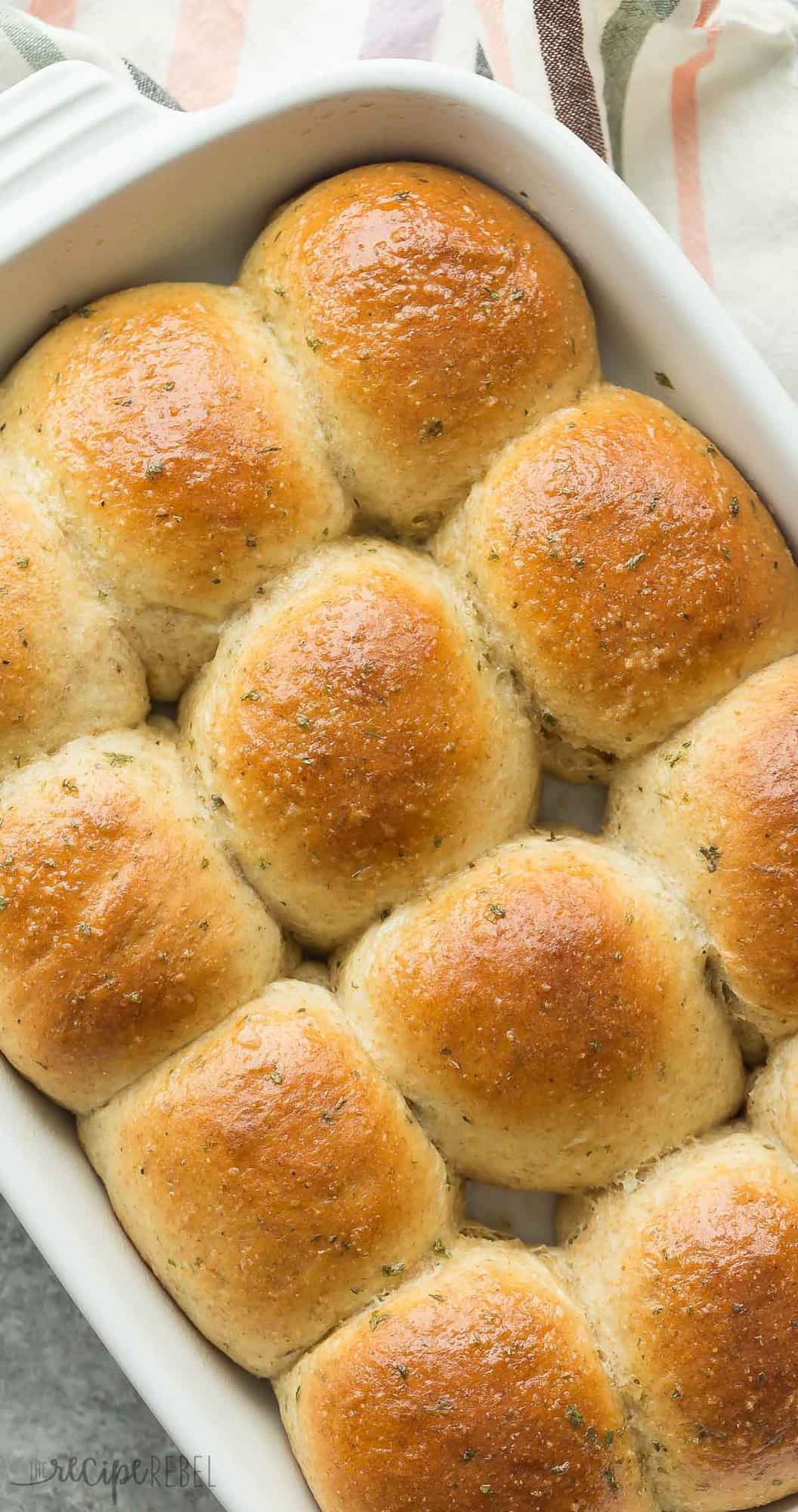 I'm curious: how often do you guys make your own yeast breads, buns or rolls?
For me, I think it actually used to be something I did more often a year or two before (right when I posted these Buttery Bread Machine Rolls), but lately I haven't been into it that much. It's easy to find good quality bread and buns these days (and they're inexpensive, too!), so often I give in and just buy it.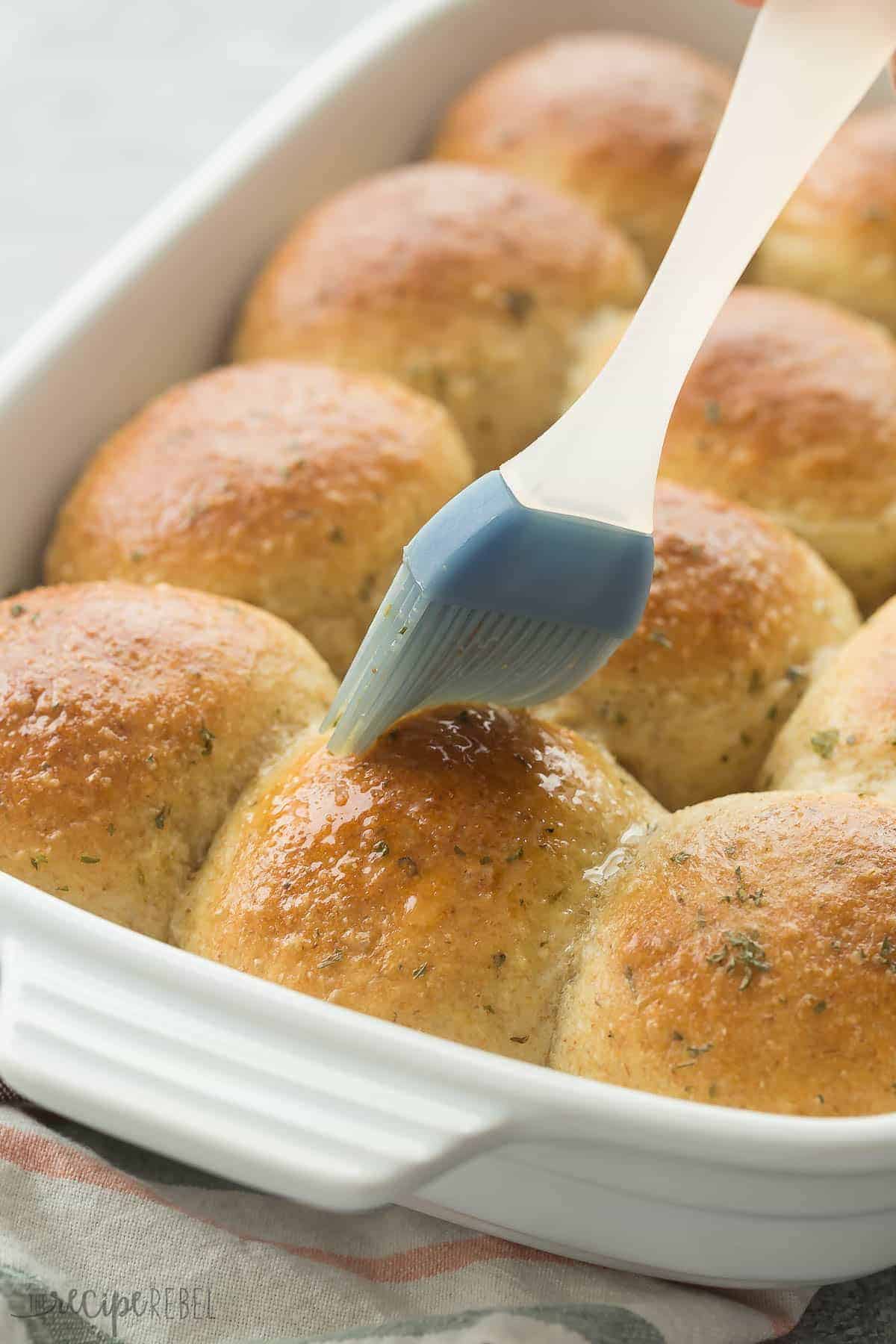 But I think there's nothing as therapeutic for me as playing with yeast dough in the kitchen when I've got nowhere else to be. It's such a labor of love, and the results are out of this world (and yes, there are some great store bough or bakery breads but nothing like the bread you make yourself!). It also opens up the world of other yeast breads — cinnamon buns perhaps??
One benefit of making your own bread is you can sample it just minutes after it's out of the oven (<— amazing). Also, that smell.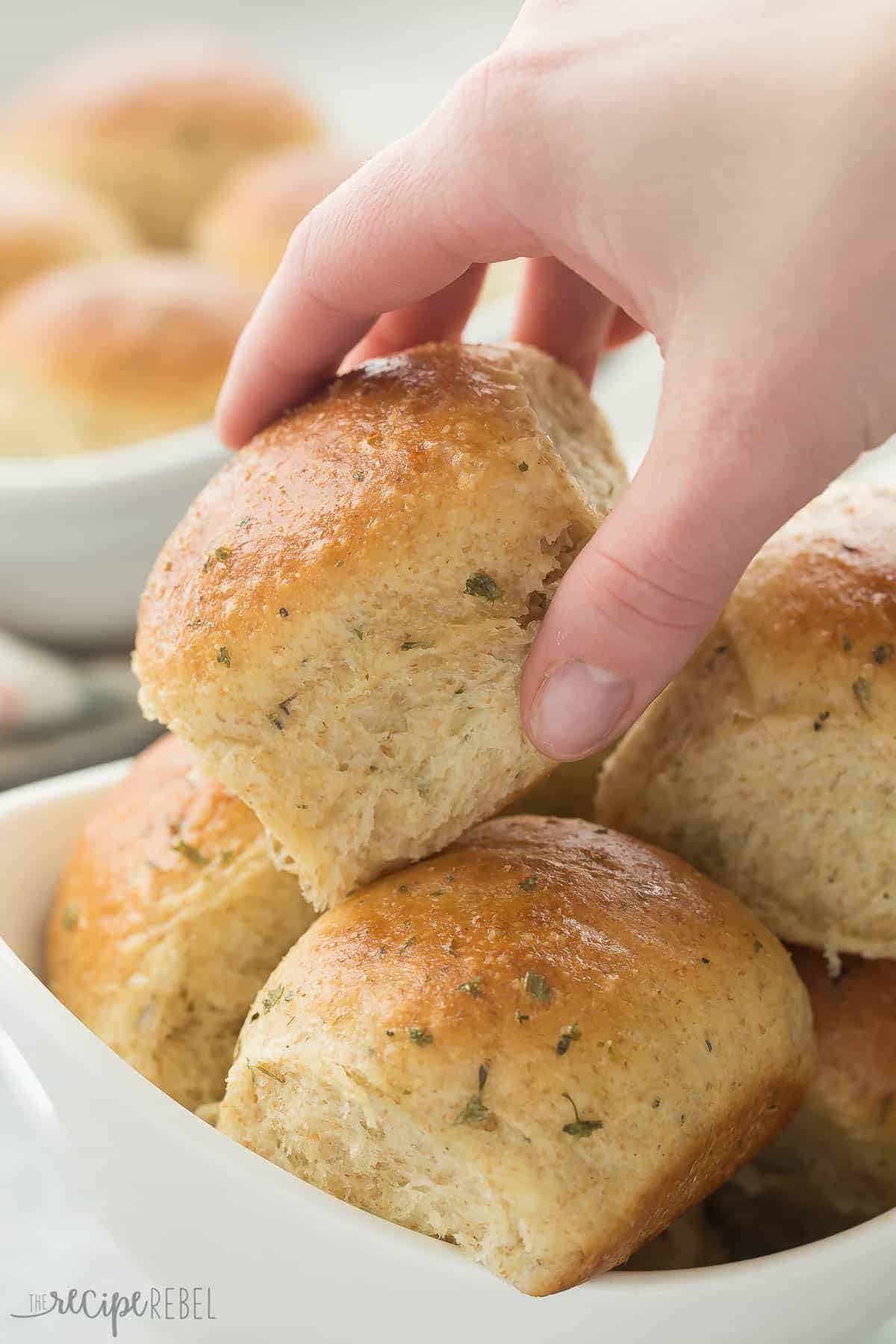 I am a bit obsessive when it comes to good smelling things. Hand soaps, lotions, shampoos, cleaning products, wax melts. Ooooh, my wax melts.
I think I have about 20 different scents in my stash and I am always on the hunt for more.
And let me tell you — if they made one that captured, "Fresh Homemade Bread", I would be all over it. That and banana bread. If someone as equally enthusiastic as I am could dream those up for me, that would be great, thanks. Maybe a new line of products here on The Recipe Rebel? Kitchen inspired wax melt scents?
Don't encourage this madness. Just keep scrolling.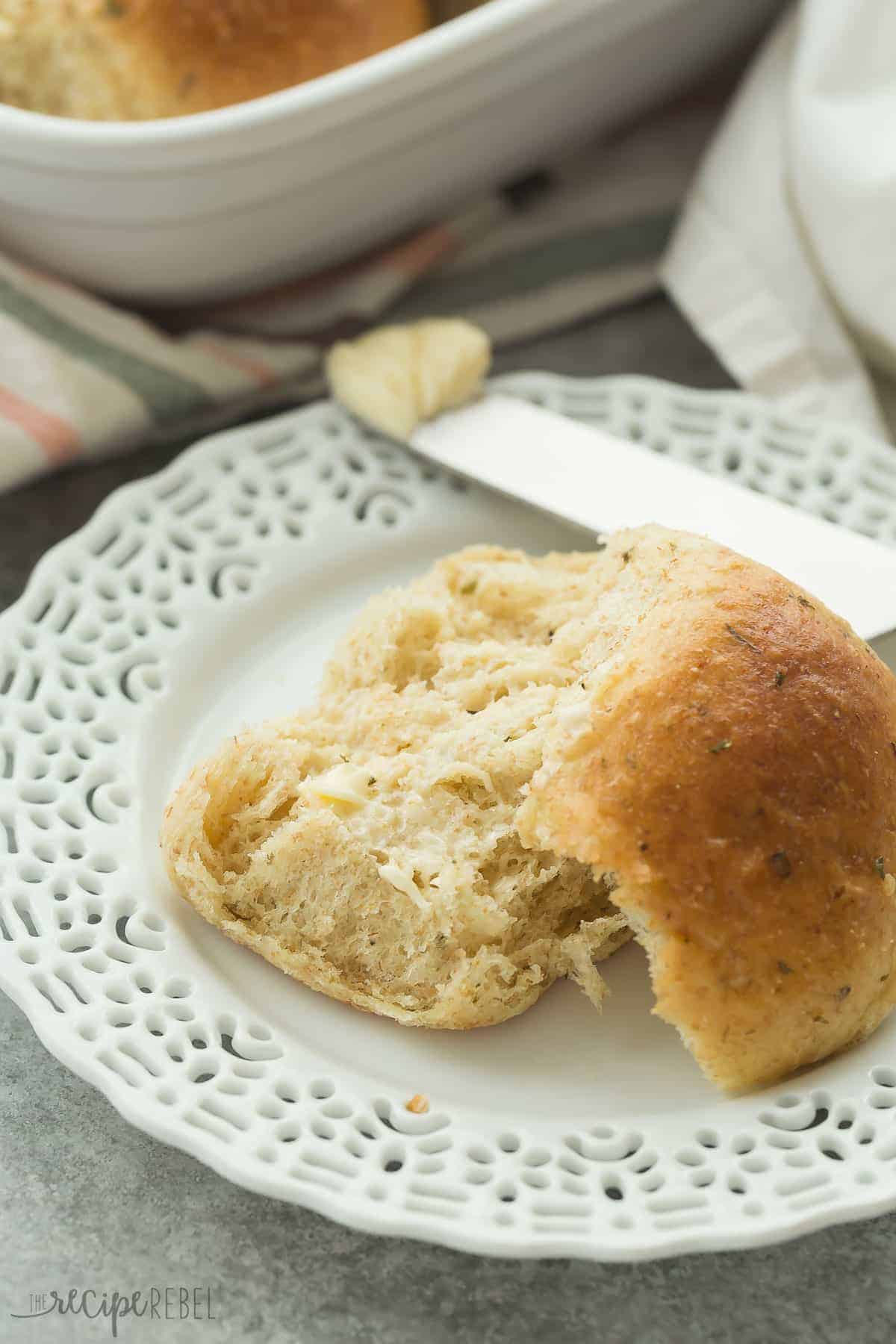 And since it's not summer yet, I'm still in full-blown soup-with-a-side-of-bread mode, and these Garlic Herb Rolls are perfect for dunking. They are soft, fluffy, and flavorful but not overpowering. No need to be intimidated if this is your first time baking with yeast! You've just got to take it slow and not rush the rise — that's what's going to get you those fluffy buns.
If you're still unsure, take a look at my recipe video below:

Homemade Garlic Herb Dinner Rolls
Homemade dinner rolls that are easier than you think, with a step by step recipe video and tons of garlic herb flavor! They're perfectly soft and fluffy.
Ingredients
1 cup warm milk (not hot — I microwave on high for about 45 seconds)
3 teaspoons instant yeast
½ cup butter, softened
¼ cup (50g) sugar
2 eggs
¾ teaspoons salt
1 teaspoon garlic powder
½ teaspoon parsley
½ teaspoon basil
½ teaspoon thyme
2 cups (250g) whole wheat flour (or use all purpose)
2 cups (250g) all purpose flour
Garlic butter:
1 tablespoon butter, melted
¼ teaspoon garlic powder
¼ teaspoon dried parsley
Instructions
In a large bowl (the bowl of your stand mixer if using), whisk together milk and yeast. Let sit for 5-10 minutes until bubbly — this is how you know your yeast is working.
Add butter, sugar, eggs, salt, garlic powder, parsley, basil and thyme and mix with whisk or stand mixer until eggs are beaten (butter will still be a little chunky, and that's okay).
Add the flour and mix with a dough hook (or your hands!) until smooth but slightly sticky. Place in a greased bowl and turn to coat the ball of dough. Cover with plastic wrap or a clean towel and set in a warm place to rise for 60-90 minutes, until doubled.
Lightly grease a 9×13″ pan and roll dough into 12-14 balls. Place in pan and cover to let rise for about 30 minutes, until doubled again.
Meanwhile, heat oven to 350 degrees F.
Bake for 22-25 minutes, until medium golden brown.
Garlic butter:
Stir together melted butter, garlic powder and parsley and brush over rolls if desired. Serve warm.
These freeze perfectly, so make a big batch to keep for later!
Notes
*Nutrition information is estimated and will depend on types and brands of products used. Calculated without additional garlic butter.
Nutrition Information
Serving size: 1/12 rolls Calories: 246 Fat: 9g Carbohydrates: 34g Sugar: 6g Fiber: 3g Protein: 7g
3.2.2925
It's totally FREE, and you can unsubscribe anytime.