This HONEY HERB PORK TENDERLOIN will change the way you feel about cooking pork. It's tender, juicy, full of flavor, and most importantly EASY! Don't you just want to bathe in that sauce?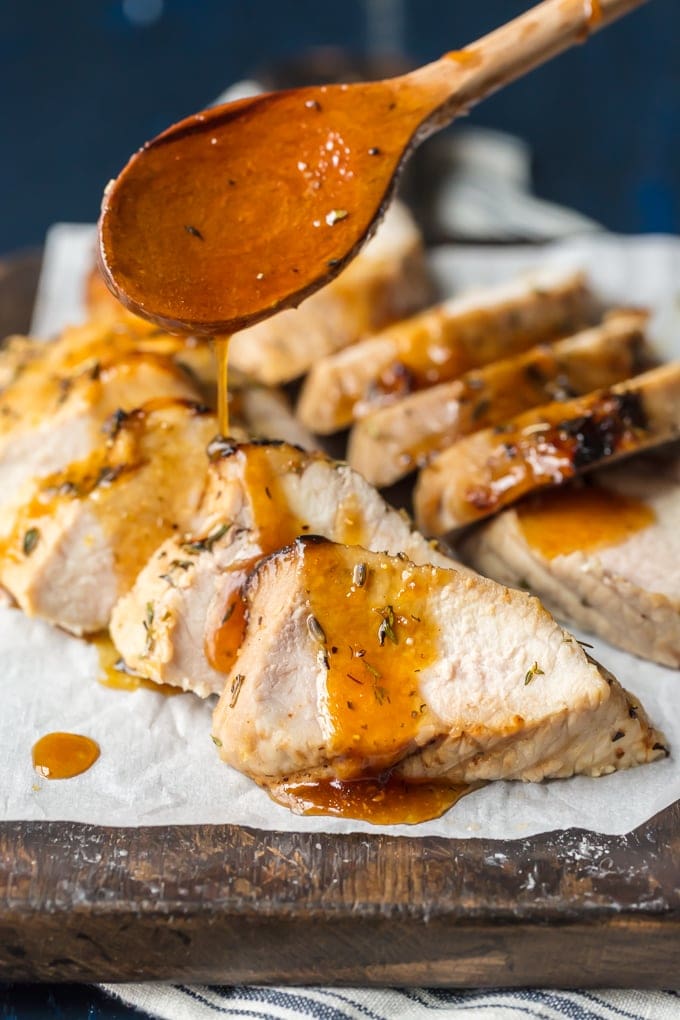 Have you ever cooked Pork Tenderloin? Do you want to? Are you not sure?? TODAY IS THE DAY! It's so much better than pork chops (in my humble opinion) because it's easier to keep it moist and tender and FULL OF FLAVOR! We have coated this little beauty in herbs and drizzled in the most amazing honey sauce to create a fancy meal that anyone and everyone can prepare and nail each and every time. You'll look like a chef in your very own home and your family will be left kissing the ground you walk on (and licking their plates clean). The perfect recipe!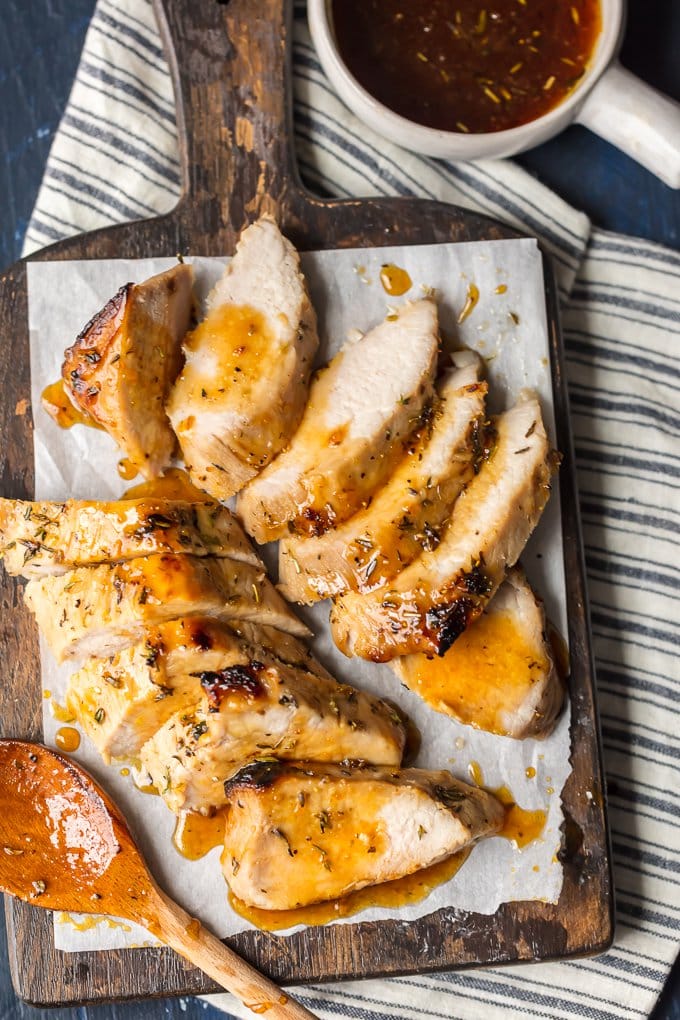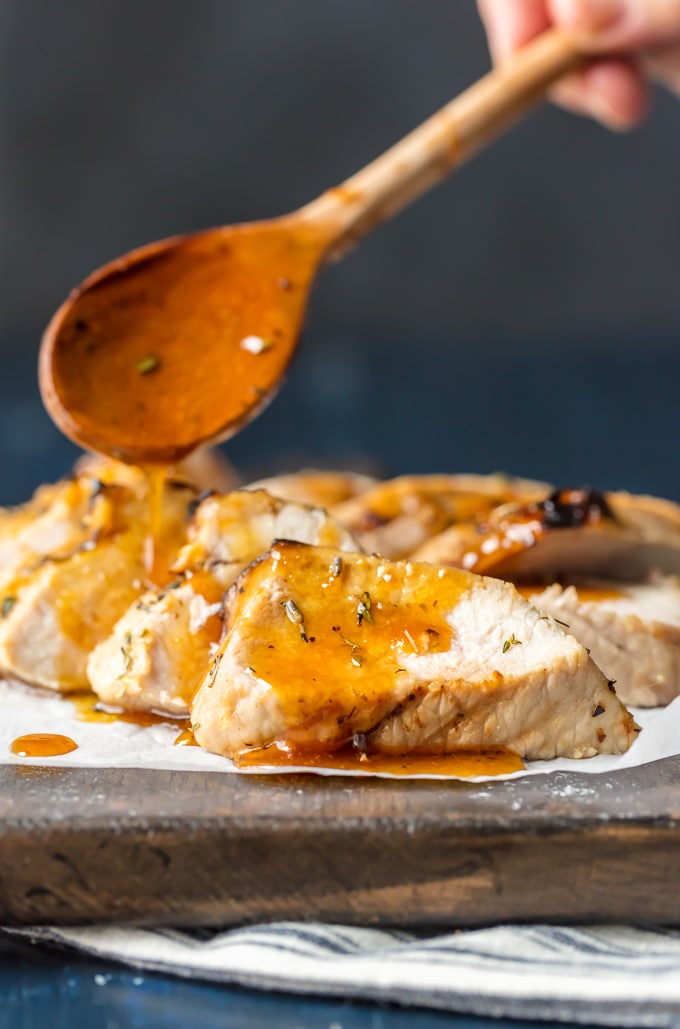 Whenever I make this Honey Herb Pork Tenderloin I feel like a kitchen Goddess. It's a great recipe for entertaining friends or family but you shouldn't feel like you have to save it for a special occasion. It's also awesome on busy weeknights and perfect to take to work the next day for a light and delicious lunch. Your coworkers would for sure be jealous of this one. Be sure to pack extra sauce because YUM!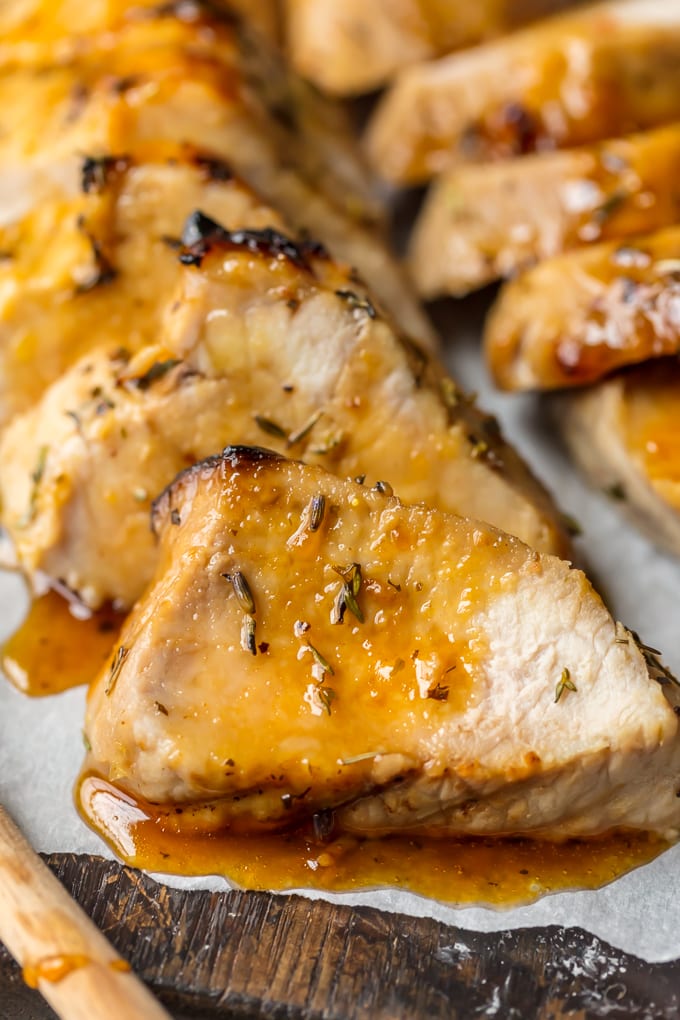 I think this meal works year round to bring flavor to the table in an unexpected way. Flavor explosion. Pair it with asparagus, oven roasted melting potatoes, or even cheesy brussels! The sky is the limit and you can't go wrong. It's like eating at the fanciest restaurant in town…but at home. And YOU made it. And it was secretly EASY! Is this real life?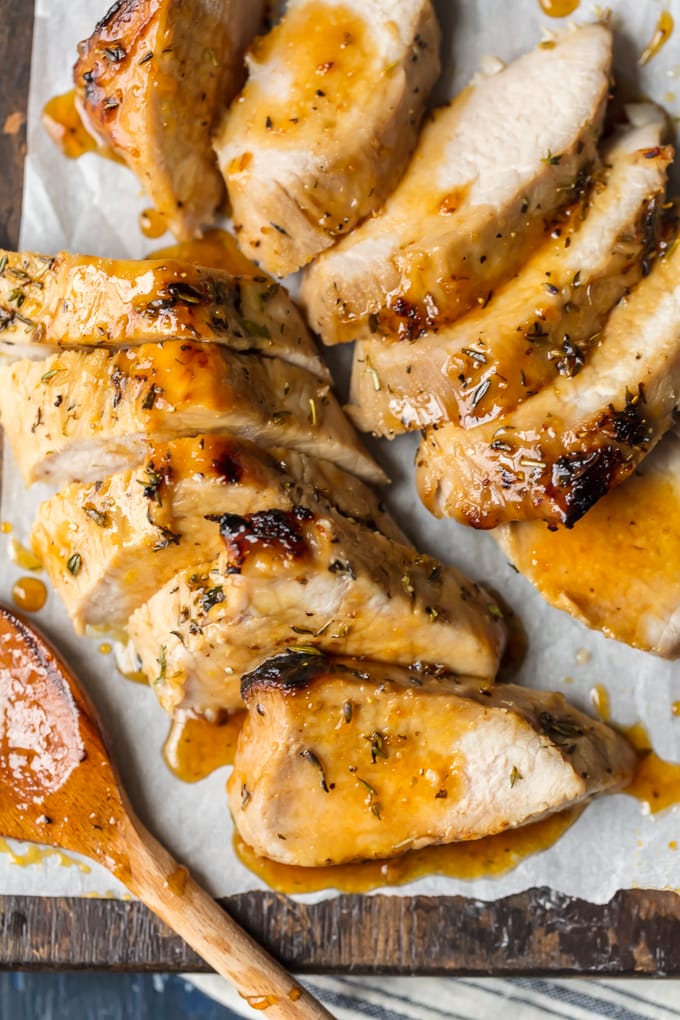 I hope you give this Honey Herb Pork Tenderloin a try ASAP. Let me know how you like it! Don't be scared. You've got this.
Enjoy!
Honey Herb Pork Tenderloin
*Note: CLICK HERE for a terrific post about cooking correct temperatures for pork.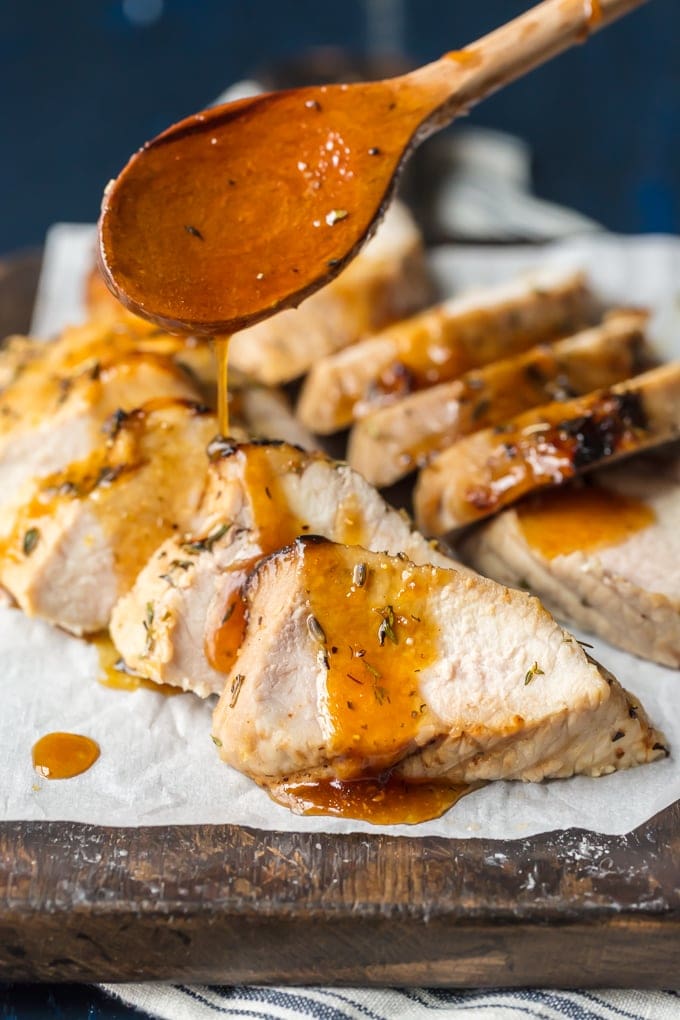 Ingredients
For the Pork:

3 lb. pork tenderloin, halved lengthwise (or two 1.5 pound pork tenderloins)
2 teaspoons kosher salt
1 teaspoon freshly ground black pepper
3 tablespoons extra virgin olive oil
½ cup low-sodium chicken broth
Juice & zest from 1 fresh lemon

For the Honey-Herb Rub:

½ cup honey
4 cloves garlic, minced
2 tablespoons unsalted butter, room temperature
1½ tablespoons Herbs de Provence
2 tablespoons Dijon mustard
¼ teaspoon kosher salt
¼ teaspoon freshly ground black pepper

Garnish:

Fresh thyme leaves
Instructions
Pat the pork tenderloin dry with paper towels and season all sides with salt and pepper. Refrigerate 1-3 hours, uncovered.
Cover a rimmed baking sheet with aluminum foil and spray the foil with nonstick cooking spray.
When ready to cook, preheat oven to 375°F and take the pork out of the fridge. Allow the pork to sit room temperature at least 15 minutes.
Heat a skillet over medium-high heat and add the olive oil. When the oil shimmers, place the pork in the skillet and cook, at least 3 minutes, until the pork has a golden brown sear. Repeat the process until all sides of the roast are golden brown, approximately 3 minutes per side.
While the pork is searing; in a small bowl, whisk together the honey, minced garlic, butter, Herbs de Provence, Dijon mustard, salt and pepper.
After the pork has a good sear, rub the Honey-Herb mixture over the entire pork roast (the pork will be hot, so be careful not to get burned) and place it on the prepared baking sheet and set aside.
While scraping the brown bits from the bottom of the pan, add the chicken stock to deglaze the pan. Add the lemon zest and lemon juice and stir to mix. Leave the sauce in the pan and remove from the heat.
Spoon any of the honey-herb mixture that runs off the meat back over the roast.
Pour the chicken stock/lemon juice mixture (from the searing skillet) into the baking sheet, and roast the pork, in the oven, until the pork reaches an internal temperature of 145°F. Remove the pork from the oven and spoon the pan juices over the pork. Tent with foil and let rest 10 minutes.
Slice the pork into medallions and serve with pan juices. If desired, add fresh thyme leaves.
Enjoy!
7.6.7
2549
Did you make this recipe?
Becky woke up on her 30th birthday and realized she didn't know how to cook, ANYTHING! She started The Cookie Rookie as a way to document her journey to learn how to cook, one recipe at a time! The Cookie Rookie is a place to find easy recipes that anyone can make, and everyone will love!