Simple and delicious, this honey-vanilla yogurt fruit salad takes fresh fruit + cream to a whole new (healthier!) level…it's a great way to change up every day fruit salad!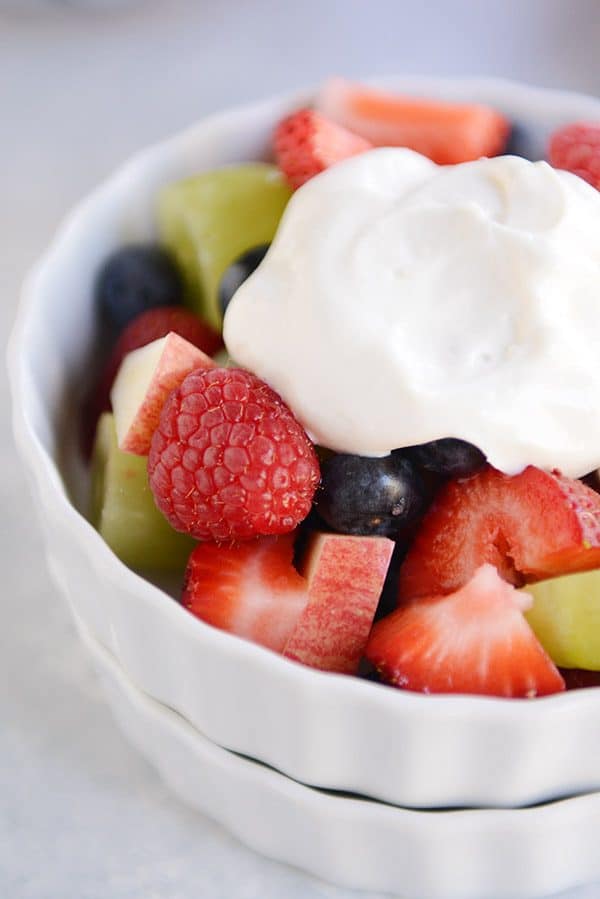 Chalk this recipe up to something that definitely should not taste as good as it does.
I mean…it's fruit. And yogurt. About as uncomplicated as you can get.
But something deliciously magical happens when creamy plain yogurt is mixed with a smidge of honey and vanilla and then dolloped over fresh fruit.
If you are in the camp of persons who don't believe fruit salad needs a recipe* (don't worry, I've been there), this simple yogurt fruit salad might change your mind.
*I'm using the term "recipe" quite loosely; if you take a glance at the ingredients and directions below, you'll see it's simple as can be.
These other favorite fruit salad recipes might change your mind, too:
Honey Lime Fruit Salad
Citrus Glazed Fruit Salad
Creamy 5-Cup Fruit Salad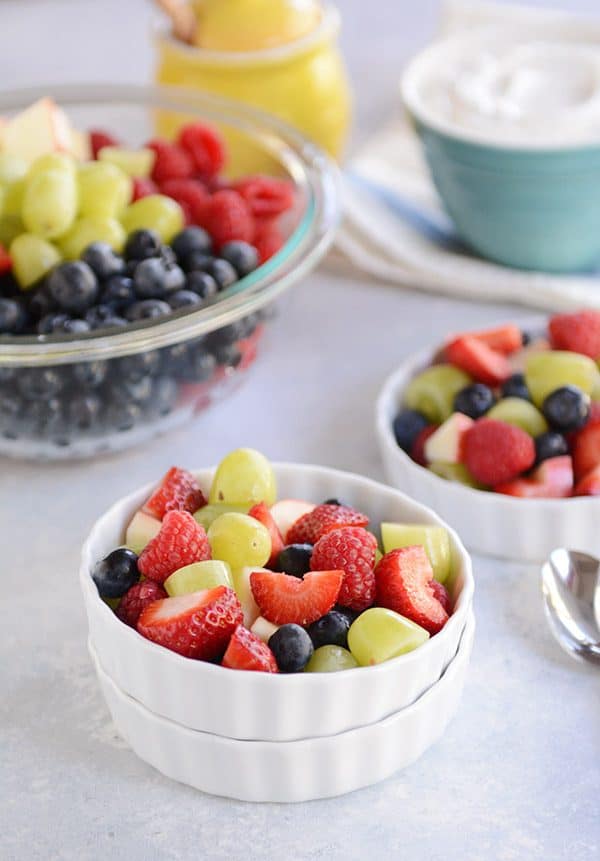 I always like to have a really yummy fruit salad at holiday dinners.
Not because anyone really needs it (or ever asks for it) with all the other food weighing down the table.
But I do it because it makes me happy to see the bright, fresh colors…and it's often a great contrast to more decadent food.
However, fruit salad is a staple of our weeknight dinners, too.
Granted, sometimes it's just cut up apple slices arranged artfully on a plate (read: piled as high as they can get as a contest to see if they'll tip on the way to the table).
Or maybe pineapple and strawberries thrown together in a bowl. Fruit salad coming atcha!
But a fruit salad as simple as this honey-vanilla yogurt fruit salad also easily makes the cut for a simple side dish.
Sometimes a complete meal (something like this Chicken Pot Pie or Mexican Haystacks) just needs a quick side dish to round everything out.
And this yogurt fruit salad is a perfect choice.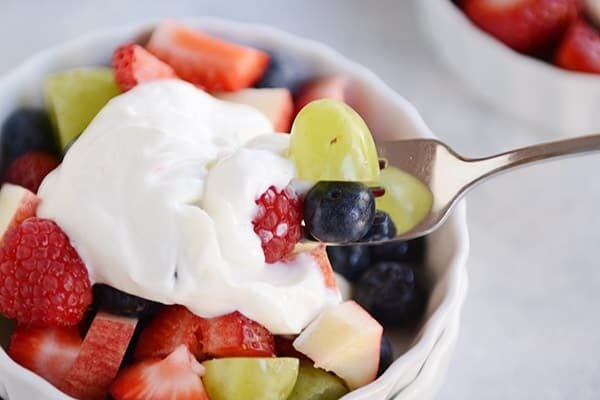 I'm kind of already thinking ahead to our Christmas Eve menu, and I'm 99% certain this fruit salad will be there.
On a personal note, I hope everyone is enjoying/surviving/soaking up this holiday season.
I've been trying to make an intentional effort to slow down the pace of life as the weeks lead up to Christmas and focus more on building memories with Brian and the kids…and also looking outward and seeing the need this time of year.
I'd say that effort is going…so-so. But I'm trying!
Tomorrow is Brian's 40th birthday (what??), and I'm excited to give you the update about the festivities (basically, what we'll be eating to celebrate)!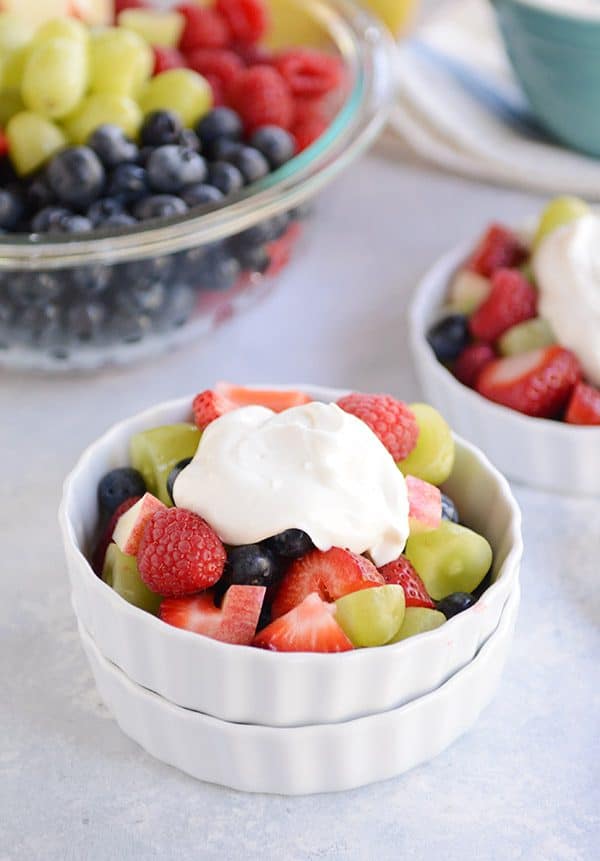 One Year Ago: Perfect Vanilla {Bean} Caramels {Step-by-Step}
Two Years Ago: Overnight Cinnamon and Sugar Sweet Rolls
Three Years Ago: Smothered Crispy Pork Cutlets with Cauliflower Mash
Four Years Ago: Chocolate Chip Toffee Blondie Mix in a Jar
Five Years Ago: 15 Top Cheesecake Recipes
Recipe Source: adapted from this Ina Garten recipe